| go to index of reviews | go to entry page | | go to other departments |

Spies in the Stacks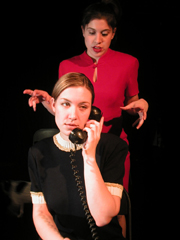 (FG) Jasmine Presson (BG) Ali Squitieri. Photo by M.E.Leger
Spies in the Stacks
Written and Produced by Lori Bonfitto and Marie Leger
Directed by Lori Bonfitto
Wow Café Theatre, 59 East 4th Street
Reservations (212) 777-4280
Opened January 2, 2003
Reviewed by Edward Rubin January 19, 2003
The Wow Café Theatre in the East Village, a local theatre collective with an international reputation has been a mainstay for the past twenty-two years for women interested in theatre and ideas. It is a self supporting, open and democratic institution that encourages creators of all stripes - as long as they and their work fall somewhere in the neighborhood of what is popularly thought of as female and feminist, be they gay, straight or transsexual - to perfect their craft.
Though technically I wouldn't particularly label Wow Café Theatre an experimental venue, one could say by virtue of the youth and inexperience of many of its members and participants that much of the work presented there however conventional, is experimental if not an experiment. This is not to say that wonderful work hasn't come out of the space, it has and does, but to stress that Wow is essentially a training ground, a learning space and home in which both the serious and the silly are allowed, without punishment, the luxury of failing gloriously. From this comes growth. In short the space, based on a number of visits over the past few years, seems to court artists that have something to say and usually for the betterment of mankind, men included.
"Spies in the Stacks", a recent Wow Café Theatre production, a collaboration between playwright producers Lori Bonfitto and Marie Leger, with Bonfitto also acting as director, falls somewhere between a stunning success and a glorious failure. Billed as a Comedy-Thriller, one that that explores a world of intrigue, romance and the politics of security, "Spies in the Stacks", strangely more filmatic than theatrical in the feeling it imparts, is a deceptively ambitious work of two obviously talented, not to mention politically minded individuals.
The storyline in its simplicity, albeit an updated version with political overtones and a 'coming out' love story, is reminiscent of any one of the Nancy Drew or Hardy Boys Mystery series books that were popular during the 40s and 50s. The year is 1962. As the lights come up on act one, we see Pearl Plotnik (Jasmine Presson) a young librarian standing at the circulation desk of the NYU library listening to President Kennedy giving his famous, Cuban Missile Crises speech. One by one, accompanied by fadeouts that account for time-lapses in Kennedy's speech, a somber Pearl is joined by her library coworkers Nikolai Spinovich (Jess Hofmann), Marcia (Angela Williams), Susan (Molly Kleinman) and Jessie Gackowski (Lisa Gluckin) the head librarian.
It is this sole event that sets the entire play in action. Not surprisingly, the library is deluged with telephone calls requesting newspaper, magazine articles and books on Cuban Soviet relations. Soon after, like the law enforcement agents who under the new Patriot Act following September 11 began visiting libraries to examine foreign patrons' borrowing and Internet-surfing records, the FBI
surfaces and Agent Lance (Ethan Carter) dispatches his assistant Lucy Walker (Maggie Burkle) to the library. Lucy's assignment is to convince the NYU librarians as a patriotic act to look for suspicious library patrons, foreign nationals from Soviet bloc countries, who are accessing unclassified technical information, information that when put together could possibly yield facts about our cutting edge technology.
An incensed Pearl, deaf to Lucy's request, while the library staff, her boss and audience look on in surprise and respect, dramatically voices the position of the library. "Access to knowledge is an inalienable human right. There is a trust, a bond between the librarian and the patron. We have a duty to all library users to make sure their rights aren't violated" Pearl intones. We ain't going to help you is her answer. It is this early act of defiance; so naturally strong and definitive that renders Pearl's future behavior in the play - along the way she does a complete sea change - unlikely if not entirely unbelievable.
In many respects, Pearl, the 'star' of the play, in her innocence, youth and confusion is us and we follow her every move intently. Before we can say World Trade Center both Kennedys and Martin Luther King are assassinated and Pearl is knee deep in friendships that include spying and sexual awakenings with Nikolai Spinovich (Jess Hofmann) a library custodian of Russian descent and Ali Squitieri (Sophia), a Cuban born American Student. Adding more spice to the pie Pearl, in an about face, believing that there is a 'spy in the stacks,' turns to Lucy for support. A visit to a disco, a hospital, an attempted murder, a real murder and a surprise love affair, not to mention much mayhem along the way, brings us to the end of the play.
While Presson certainly knows how to play both innocent and perplexed and she has the 60s look down pat thanks to costume designer Kimberly Brittingham, the lines that she has been handed by the playwrights offer her little help in building a solidly convincing character. In short, Pearl's life, being left totally unexplored, leaves both the actress and the audience rudderless. What we do learn about her rarely goes beneath the skin. Further undermining the believability of Presson's performance is the play's unannounced time-lapses between scenes. Not knowing how much time has really passed renders the role of Pearl's all too quick changes of heart and mind less than credible. Luckily for Ms Presson she speaks well, is easy on the eyes, and has the type of face that can handle to perfection the few expressions that the script calls for. Unlucky for her that she really hasn't been given a living, breathing life, at least one that would elicit any compassion.
Like Ms. Presson, most of the actors in this production are tethered to the stage by their paper-thin roles. Only Lisa Gluckin's Jessie and Ali Squitieri's Sophie are given a history strong enough to support both their behavior and actions. Not surprisingly it is their performances that glow in the dark. Gluckin, a young Nancy Walker lookalike, appears to be as she states in her bio, "forever an actress.' It is obvious that this woman is a scene-stealer. How could she not be, she studied with Uta Hagan. Her one major scene, in which she unexpectedly discloses her card- carrying Communist past, is one of the play's more deeply humanistic revelations. It is the only time during the evening when the audience is shockingly brought to attention.
Ali Squitieri, as Sophia the beautiful Cuban exile - one can hardly take one's eyes off of her, as she glides melodiously from scene to scene - is also armed with a powerful history. Bravely and most convincingly she stands her ground as a misguided Pearl accuses her of being a spy. Our hearts are softened considerably as Sophia tells Pearl, "I am not here to do harm. All I want to do is go to school, and find a job, have a family, live a normal life." It is a nice touch and much to their credit that the playwrights have Sophia, in a two-sided argument, praising the good that Castro brought to her country while damning the bad.

The only two male characters in the play, Ethan Carter as FBI agent Lance and Jess Hofmann as Nikolai Spinovich, are a to joy to watch. Carter, former drag king Lizerace, this being as the program announces 'his first formal theatrical stage appearance', is a natural born performer. In fact a couple of his star turns were definite and I assume natural attempts to steal the scene. And this they did. His obvious spoofing on macho male postures, reminiscent of the great Peggy Shaw, is both funny and erotic.
Jess Hofmann, though his Russian accent which he later drops when his character is unmasked, is less than authentic, his perfect blend of the macho and the romantic is mesmerizing in its effect. His ability to ooze sex, in fact his bio in the program, a provocative come on to all women or so it seems, is strangely intoxicating.
As far as the other cast members, despite the sketchiness of their characters - we have no idea who they are, where they came from or where they are going, a number of them did manage to bring more to their role than was there. Particularly compelling is the boyishly pretty Maggie Burkle as Lucy from the FBI and Angela Williams as Marcia, the sassy twenty-year work study assistant. I had the distinct feeling that either one of them could have chewed up the scenery had they been given the job.

On the downside, most disappointing was the miscasting of Molly Kleinman as Susan, the young library assistant. Arguably, aside from Stacey Whitmire, who as an old busybody neighbor delivered her lines in an annoying over-the-top staccato bark, Susan always worrying more about her hair appointment and clothes than the drama surrounding her, is the only truly humorous character in the play. Kleinman, probably too young and inexperienced (or is it in this case too serious in this her first on stage production at Wow) to understand the real life irony of her role, lacked the so-called comedic daffiness that would have added much needed smiles to the evening.
What success of the evening is to be had belongs in large part to the structure of the play itself. Its requisite conflicts, twists and turns and resolutions are all neatly spaced, rightly placed and textbook perfect. Sad to say, the two dimensionality of the characters in the play, its confusing mixtures of genres (is it a spoof, a semi-farce, drama, comedy, tragedy or all of the above?) and its strong didactic tone that keeps the evening from truly soaring.
Another drawback to the evening - I call it the kitchen sink syndrome in which everything more turns out to be considerably less - is the play's use of political video newsreel clips along with pop songs from the 60s. Yes, the use of old newsreel clips is terribly clever in its pointing out that things never change and here we are again. And yes, the audience, especially those old enough to have lived through the Cuban Missile Crisis, JFK's assassination, the 1963 March on Washington and the erection of the Berlin Wall, could be heard taking a deep breath on instantly recognizing the songs and events of their long fled youth. But after the first few video clip viewings the 'forced' swiveling of our heads, from stage to TV monitor, between each of the fifteen scene changes becomes a tedious act that turns the evening into two disparate, never quite coalescing events.
I might add, despite all of my carping, the play, video clips, songs and all (there must be a way of incorporating them more satisfactorily into the production) warrants a serious revisiting by the playwrights. Given the topics it examines and presents in the most simple as matter of fact manner, from recent world history to that of coming to terms with ones sexuality, that Spies in the Stacks, would make a perfect play for Jr. High School and High School students. Of course, not unlike Leslea Newman's "Heather has Two Mommies" and Michael Willhoite's "Daddy's Roommate" two gay-themed children's books that continue to spark controversy and court cases around the country, such honesty and truth, has little chance of entering into our national educational system. Still, nothing ventured nothing gained. Someone has got to break ground. [Rubin]