| return to entry page |

IRA EAKER, CO-FOUNDER OF BACKSTAGE NEWSPAPER, DIES
By Jessica Luciano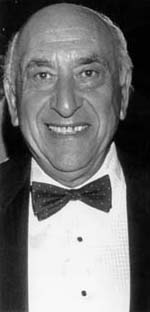 Ira Eaker (Photo courtesy of Back Stage)
Passionate, well-known, creative and hard-working are just a few of the words that were used to describe Ira Eaker, co-founder of Back Stage newspaper, in tributes following his death on June 26, 2002 from colon cancer. Back Stage is the definitive source for career information to many actors, who rely on it weekly for casting notices and industry news.
Eaker was born in New York City on Jan. 14, 1922, the son of Samuel and Hannah Conner Eaker. He got his first glimpse of the entertainment industry in 1948, when he became advertising manager of Show Business, a theatrical trade paper owned by Leo Shull. At the time, Eaker was considered an advertising man with great sales ability. He had worked at various publications during his college years at City College, where he studied business after serving in the United States Army in Europe as a corporal during World War II.
In 1960, Eaker teamed up with Allen Zwerdling, who was also an employee of Show Business, to begin a new New York theatrical weekly. According to published accounts, Zwerdling and Eaker took $500 each, installed two telephone lines and hired a lawyer to incorporate them. Zwerdling was Editor-in-Chief and Eaker was Advertising Manager, but the responsibilities were shared in their small operation. Initially, they worked from a 9' by 12' cubbyhole office on West 46th Street and the first issue of Back Stage had a newsstand price of 25 cents.
The obituary in Back Stage recounted, " It was actually the newspaper strike of 1962-63 in New York City that lifted Back Stage over the hump. A void of entertainment news in the city led Eaker to the idea of publishing Amusement Guide, an entertainment guide with theatre, movie, TV, and restaurant listings. The guide received immediate response and built to a circulation of 60,000. The profit from that publication was put back into Back Stage, helping it to fulfill its potential in serving the industry."
As it grew, the perennial backbone of Back Stage's circulation was readers who rushed to the newsstands each Thursday for casting notices. But Back Stage also contained an ever improving mix of theater reviews, film news, intensive coverage of New York's burgeoning commercials industry, and features aimed at helping striving actors establish themselves in the New York talent market.
"He was doing what he loved and accomplishing what he set out to do-despite the many roadblocks that came before him," said Eaker's daughter, Sherry, in a remembrance column in Back Stage.
Over the years, the weekly emerged from a pop-and-pop operation to a well-staffed business occupying nearly a whole floor at 330 West 42nd Street. In 1975, Eaker opened a West Coast office. Coverage was ultimately expanded to also include Chicago, New England and Florida.
Eaker innnovated by giving the commercials industry a trade paper of its own. News and advertising relating to New York commercials production began as a small part of Back Stage, but grew with Eaker's cultivation in into a free-standing, equal-sized pullout section called Back Stage Shoot. Evenually, after Back Stage was acquired by new owners, Back Stage Shoot was spun off into an independent publication with its name shortened to Shoot.
In 1986, Eaker and Zwerdling sold Back Stage to Billboard Publications and Zwerdling retired. Eaker continued as an adviser until June, 1989, when he also retired.
A year later the publication split into Shoot, devoted to television commercial production, and Back Stage, which covers the primarily theater. A sister publication, Back Stage West, based in Los Angeles, was spun off in 1994.
After leaving Back Stage, Eaker and his wife, Lee, lived in New York and Florida, permanently moving to Florida over the past three years.
He is survived by his wife, Lee; a daughter, Sherry Eaker, the current Editor-in-Chief of Back Stage; a son, Dean, of Cos Cob, CT.; a sister, Lillian Herman, of Rockaway, Queens; and two grandchildren.
Private services were held Sun., June 30, in Florida. Contributions in memory of Ira Eaker may be made either to the American Cancer Society or to any charity of the donor's choice.