All Roads Lead to the Kurski Station
Loosely based on: "Moscow Circles" by Vienya Erofeev
Adapted and Directed by Varda
HERE 155 Sixth Ave., NYC
Reviewed by Larry Littany Litt on October 16, 2018
Good poets live and die by the chance and randomness of life's unpredictable games of personal chaos. Awakening with a hangover, our poet-hero Vienya begins the day in a nude baptismal shower with water drawn and poured over him by beautiful winged angels. He has lived through another drunken revel seeking love in all its mysterious and elusive places. This time in the dangerous drunken alcohol besotted Moscow. Thus begins the poetic journey of the Russian surrealist play "All Roads Lead to the Kurski Station."
Mia Vallet, Elliott Morse, Rivers Duiggan.
It's common wisdom in artistic circles that poets and drunks have curious angels watching over them. But these angels can turn into the most horrendous harpies if a hangover isn't tended to. Actresses Rivers Duggan and Mia Vallet are a peasant pair, no, more a sorrowful duet of guardians aiding Vienya's desire to appear in Petushki via train from Moscow. He must abandon and dissolve the omniscient mystical mirage of the regime's Holy of Holies: Kremlin. Meandering in Russian trains while musing on the absurd state of Stalinist politics, unrequited love, his own dissolute life and inevitable early death makes for unique poetical experimental drama reminiscent of Hamlet's soliloquy. And always drinking as much as any proper poet can. Elliot Morse plays Vienya as a universal conscientious objector. He seeks the love of his life as we all must. He gives up to fall in love with alcohol, his angels and demons.
When Furies invade a poet's mind and wrack his head with thoughts of mass murder of authoritarian powers or even worse a dramatic public suicide it's better to stay drunk and sleep it off Vienya reasons. But no poet worth his scribbles would fail to comment on the pleasure of oblivion. Drink, sleep, dream until the poems flow like moles digging tunnels in the garden that aerate the fertile soil. Upset the status quo, the military, the apathetic, greedy, ignorant populace. Let the world know poetry is dominant, eternal, and spiritually enlightening. Even if one's fate is obscurity.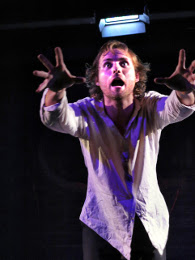 Elliott Morse.
This absorbing play is a throwback to the great days of Communist era unofficial theater. For generations Grotowski and Kantor productions have lived in the mind of Varda, Kurski Station's adapter and director. I loved the weirdness, I felt transported to a blackbox theater in Russia or Poland. I liked being there for 70 minutes. There's also a masterful comic impression of our contemporary populist leader that flows like satiric acid through the mouth of Elliot Morse. He stuns in his flexibility as an actor as does his chorus. This is a dramatic dark comedy I won't easily forget. [Litt]
See other NYTW coverage of this show by Beate Hein Bennett.