Search the New York Theatre Wire
R E V I E W S
Dance Reviews, Cabaret Reviews and Film Reviews are in their own sections
Week 2 Phoenicia Fringe Festival 2019 Reviews
This is the second week of Phoenicia Fringe Festival 2019. In this article, there are six short reviews of week two including: "Mind Salad," "Nazis and Me,""The Piece,""Fury!,""Invisibility,""Shadow Queens Rising," By Larry Littany Litt.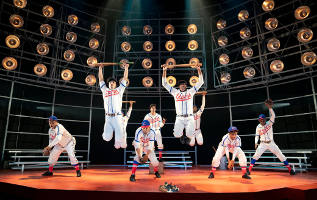 Pictured (I to r): Harvy Blanks, Jonathan Burke, Daniel J. Bryant, Ezra Knight, Toney Goins, Eric Berryman, Phillip James Brannon, April Matthis and Kenn E. Head. Photo by Joan Marcus.
Two views of "Toni Stone"
April Matthis, as Toni Stone (1921-1996), the first woman to play professional baseball in the Negro League, is knocking it out of the ballpark every night at the Laura Pels Theater through August 11.The play, lightly based on Martha Ackmann's book "Curveball: The Remarkable Story of Toni Stone," is overwhelmingly inspirational, deeply humane, and totally moving. By Edward Rubin and Lucy Komisar.
Santino Fontana as Dorothy, Julie Halston as Rita Marshall. Photo by Matthew Murphy.
"Tootsie" updates the gender-bending 80s film with a few nods to feminism
It's a stories about men pretending to be women walk a fine line between skewering sexism and practicing it. "Tootsie" falls on both sides of that divide. Book by Robert Horn based on the 1982 film, is somewhat outdated. Real gender-bending stuff makes it unbelievably tame. And those stereotypes just don't go away. By Lucy Komisar.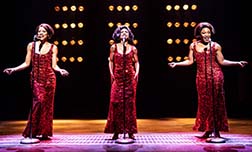 Taylor Symone Jackson as Mary Wilson, Candice Marie Woods as Diana Ross and Nasia Thomas as Tammi Terrell. Photo by Matt Murphy.
"Ain't Too Proud: The Life and Times of the Temptations" is glorious Motown
This is the best juke box musical since "Motown" and "Jersey Boys." In fact, it's about a Motown group that also started in Detroit and had the famous manager Berry Gordy. As one local explains, In Detroit, "you either sang or you join a gang. If you can't do neither, better learn to run." By Lucy Komisar.
Phoenicia Fringe Festival - Six Short Reviews
Phoenicia Playhouse in the charming upstate village of Phoenicia NY is producing the Phoenicia Fringe Festival two weekends in July. The Playhouse was built in 1887 for the Odd Fellows, a fraternal organization of theatrically inclined bizarre residents. In this article, there are six short reviews including: "Voice of Authority," "Om Shaadi Om," "I'm Just Kidneying," "I Favor My Daddy," "Smoker" and "American Horror Story." By Larry Littany Litt.

Saycon Sengbloh, Nathaniel Stampley, Eisa Davis, Anastacia McCleskey, &LaChanze in "The Secret Life of Bees." Photo by Ahron R. Foster.
"The Secret Life of Bees" Does Not Live Up to the Buzz
Fans of Sue Monk Kidd's 2002 novel, "The Secret Life of Bees," certainly greeted with great enthusiasm the news that it was soon to be turned into a musical. And considering the book had spent two years on the New York Times best seller list and was made into a film in 2008, this news came as no surprise. However, the musical that was created by Lynn Nottage, Duncan Sheik and Susan Birkenhead does not completely meet the novel's potential or the expectations of its fans. By Paulanne Simmons.
The cast in a hoedown. Photo by Little Fang.
"Oklahoma" sizzles with new look at women in early 1900s western territory
"Oklahoma." music by Richard Rodgers, book and lyrics by Oscar Hammerstein II; directed by Daniel Fish.Based on the Play "Green Grow the Lilacs" by Lynn Riggs. Racks of rifles are on walls circling the audience. Seven musicians sit in a center pit. The cast walks onto the plywood floor in cowboy boots. Patrons in the front rows are behind white-topped tables with red crock pots. The scene and audience are lit, no mikes except some hand mikes. This is going to be different. By Lucy Komisar.
Reeve Carney as Orpheus and Eva Noblezada as Eurydice. Photo by Matthew Murphy.
Workers oppression is a theme of stunning radical play "Hadestown"
"Hadestown," written and composed by Anaïs Mitchell and directed by Rachel Chavkin, is a very radical play. It takes the audience to Hell, which is peopled by oppressed workers who have been indoctrinated to fear those who are poorer. Though that is probably not how it is described in the reviews you have read in mainstream media. It won the Tony for best musical play. But you probably have no idea what it is about. It's the censorship of cultural ideas. By Lucy Komisar.
THE MOUNTAINS LOOK DIFFERENT -- Liam Forde, Ciaran Byrne, Cynthia Mace, Paul O'Brien, Jesse Pennington, McKenna Quigley Harrington, Daniel Marconi and Brenda Meaney. Photo by Todd Cerveris
Darkness On the Edge Of Town: "The Mountains Look Different"
New York's Mint Theater brings to the States one of Ireland's leading 20th-century playwrights, Michael mac Liammóir, whom The Irish Times described as "the dominant figure in the Irish theatrical world." Last Thursday night, "The Mountains Look Different," last produced 70 years ago in Ireland, finally enjoyed its American premiere. By Eric Uhlfelder.
Ademide Akintilo (Algernon) and Connie Castanzo (Cecily) in NY Classical Theatre's the Importance of Being Earnest. Photo by Jody Christopherson.
Summer In Manhattan: Laughter In the Parks with "The Importance of Being Earnest"
New York Classical is celebrating its 20th season of free summer theatre in the New York City parks with – laughter and gender-bending. In its latest offering, the dress – not the hat – unmakes the man. In one version of "The Important of Being Earnest," the Oscar Wilde masterpiece of comic invention, men are men, women are women, and often the twain collide, flirt, propose and battle for happiness. The plot is boy meets girl, boy loses girl, boy gets girl with marvelous blocking agents and lots of delicious deception. For years critics were under the mistaken belief that Wilde's aphorisms and quips were funny nonsense. A few are – like the dental jokes (cut from this production)– but most find truth in hidden places and have a depth that is probably one secret of the play's continual freshness. By Glenda Frank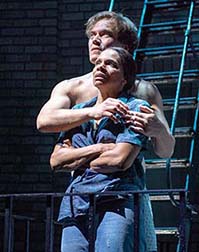 Michael Shannon as Johnny and Audra McDonald as Frankie. Photo by Deen van Meer.
"Frankie & Johnny in the Clair de Lune," a story of working-class love lives
It opens with sensual and noisy sex in the bed, the bodies turning and pushing against each other, the familiar noises with great realistic direction by Arin Arbus. And then not quite what you might expect. Frankie falls out of bed. And the post sex conversation; he compliments her breasts. She is not pleased. Is this how a love affair begins? By Lucy Komisar.
Lidia Velezheva as Baroness Shtral and Leonid Bichevin as Prince Zvezdich in practice duel. Photo by Valery Myasnikov.
"Masquerade," a Lermontov classic given striking surreal touch
Part Commedia dell'arte, part pageant, part ballet, with a touch of music hall comedy, "Masquerade" is a visual feast. Presented by the Vakhtangov State Academic Theatre of Russia in Moscow, it is directed by Rimas Tuminas of Lithuania. Though the major actors are all prominent in Russia, Tuminas is the unseen star of the show. By Lucy Komisar.

Kathleen Littlefield as convention cochair, Ginnie House as Frances Perkins and Claire Mikelle Anderson as Henry Wallace. Photo by Ahron R. Foster.
"Convention," a terrific reprise of 1944 Dem convention that chose moderate Truman for VP instead of Wallace
It could be the corruption of a convention where Bernie Sanders is set against a corporate Biden. State signs are set behind banks of seats. The music is of the 40s. Flags on the wall have 48 stars. Author Danny Rocco and director Shannon Fillion create an ambience at Irondale that makes you think you are there. By Lucy Komisar.
Danielle Brooks as Beatrice and Grantham Coleman as Benedick, Photo by Joan Marcus.
Public's "Much Ado About Nothing" takes Shakespeare to black Atlanta
A large banner on the brick house says "Stacey Abrams 2020." It's next spring. Abrams, who last year lost a close race for governor of Georgia amid reports of voter suppression, had talked then about running for president. The relevance of the sign is that Abrams is a black woman, and this version of Shakespeare's play about love and trust – or mistrust — sets it not Messina, Italy, but in modern-day Atlanta, with a black cast speaking in the local accent. By Lucy Komisar.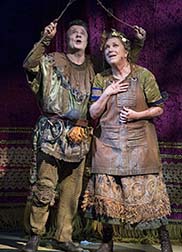 Nathan Lane as Gary, Kristine Nielson as Janice. Photo by Julieta Cervantes.
"Gary: A Sequel to Titus Andronicus" surreal comedy of mass political murder
Wildly funny and clever, this is a play a serious theater-goer cannot miss. It's a terrific campy surreal take on murderous war from the point of view of the workers who have to clean up the mess, the bloody bodies of Shakespeare's "Titus Andronicus."It takes only three actors, though the set requires some imagination. It should be produced all over the country! By Lucy Komisar.
Kate Hamill (Meg), Carmen Zilles (Amy), Ellen Harvey (Hannah), Paola Sanchez Abreu (Beth),and Kristolyn Lloyd (Jo). Photo by Matt Ross.
Louisa May Alcott's "Little Women," transcribed by Kate Hamill
If you don't know Kate Hamill, make haste to do so. New York theater is dominated by mega hits and movies turned Broadway show. But for those looking for more personal, thought-provoking evenings, Ms. Hamill, just 36, is making quite a name for herself in not just transcribing classic literature into plays, but doing so in a modern, wickedly fast-paced meter that leaves nothing sacred. This has earned her many professional honors, including a Helen Hayes Award for Most Outstanding Production and The Wall Street Journal's Best Playwright of the Year. By Eric Uhlfelder.
Pedro Pascal as Edmund & Jane Houdyshell as his father, Earl of Gloucester. Photo by Brigitte Lacombe.
"King Lear" with Glenda Jackson is brilliant and annoying
This "Lear" with Glenda Jackson as the king is sometimes brilliant, sometimes annoying.To be male and even supercilious, she makes her voice and demeanor angry, harsh, raspy, cackling. Indeed, Jackson is a brilliant actress, her voice and demeanor might be male, but she didn't persuade me she was a king. Or perhaps she was on the edge of madness very early in the plot, after her daughters' duplicity. As the play went on, I wasn't sure if she would shrivel or explode. By Lucy Komisar.
Anthony Arkin and Jane Bruce Photo by Russ Rowland
"Original Sound" Has an Interesting Theme
In our age of sampling, remixes and computer generated music, the definition of originality seems more than a little vague. Do artists own their work? Are they stifling creativity when they protect their copyrights? Are they merely protecting their own interests? All these questions, and a good deal more, are explored in Adam Seidel's "Original Sound," now staged at Cherry Lane Theatre, under Elena Araoz's skilled direction. By Paulanne Simmons.
L-R: Alexandra Bonesho, Brad Fryman (as Bruno), John Gazzale, Elizabeth Inghram in "Zen A.M."
"Zen A.M."
Larry Litt writes that "Zen A.M." by Natalie Menna is an expose of the contemporary art and high society world that calls itself high culture. The play is a farce about the trials and tribulations of an untidy, inconsistent artist named Bruno, who has to fulfill a commission or else all hell will break loose.Well, it breaks loose anyway. If you have any interest in art and society, writes Larry, this comedic farce is well worth taking in. By Larry Littany Litt.
Alice Ripley. Photo by Jazelle Artistry
"The Pink Unicorn"
At the beginning of Elise Forier Edie's new play, "The Pink Unicorn," Trisha Lee (the luminous Alice Ripley) does not understand her young daughter when she announces she is genderqueer. By the end of the play she still does not understand but she has learned to accept and even celebrate human diversity. By Paulanne Simmons.
John Lithgow as Clinton, Laurie Metcalf as Hillary. Photo by Julieta Cervantes.
"Hillary and Clinton."
You are hit by the overwhelming sadness of everyone involved in Hillary Clinton's 2008 New Hampshire primary campaign against Barack Obama. Playwright Lucas Hnath and director Joe Mantello create a landscape of utter sleaze and despair. By Lucy Komisar.
Heidi Schreck at American Legion hall with white men's photos on the walls. Photo by Joan Marcus.
"What the Constitution Means to Me"
If you don't want to go to a lecture about what is wrong with how the US government treats women and minorities, it's more interesting to go to a play. Such as "What the Constitution Means to Me," Heidi Schreck's take on how the Constitution is honored in the breach, "rugged" as the copy she carries says. Adult audiences in New York and other liberal enclaves nod their heads, and it's a good teaching moment for kids. Higher marks for politics than for drama. By Lucy Komisar.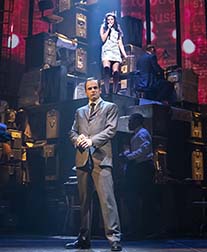 Rana Roy as Stephanie Rahn and Jonny Lee Miller as Larry Lamb. Photo by Joan Marcus.
"Ink"
The Sun is a popular newspaper for the undereducated British masses. It was a broadsheet started in 1964, then reinvented as a tabloid five years later by the Australian Robert Murdoch and Larry Lamb, a North Englander he named as editor. They were outsiders to the London Fleet Street crowd and felt it. "Ink" a vivid newspaper story mixed with Murdoch's Sun melodrama.
By Lucy Komisar.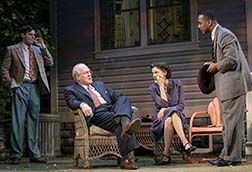 Benjamin Walker as Chris Keller, Tracy Letts as Joe Keller, Annette Bening as his wife Kate and Hampton Fluker as George Deever. Photo by Joan Marcus.
"All My Sons" denounces America's murderous corporate corruption
Jack O'Brien's crisp staging of Arthur Miller's iconic 1947 American morality play lays bare the corruption underlying the normalcy of American society. This story of 70 years ago could be easily replicated today. Oh, so easily. By Lucy Komisar.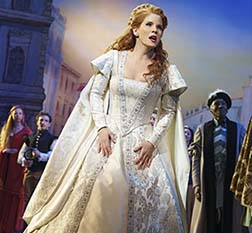 Kelli O'Hara as Katherine. Photo by Joan Marcus.
"Kiss Me Kate" at The Roundabout
How do you take a 40s musical built around a sexist Shakespeare play and make it delight today's audiences? With pizazz and charm, if you are Roundabout Theatre director Scott Ellis. In this version of Cole Porter's and the Spewacks' "Kiss Me Kate," the feisty heroine gives as good as she gets, and she and her erstwhile spouse playing Katherine and Petruchio land some good kicks to the others' derrieres. By Lucy Komisar.
Mary Candler (Mary) and Jory Murphy (Melville) in ":Mary Stuart". Photo by Allison Stock.
Hedgepig Ensemble in "Mary Stuart"
Sometimes the best theatre experience is at the small, off off-Broadway houses, like Access Theatre. It can begin with the journey – up the many stairs to the fourth floor space or the wait, while the company sends the elevator down to you. And it's even better when the company brings its passion to the stage, as Hedgepig Ensemble did to their revival of Mary Stuart. By Genda Frank.
Karl Kenzler and Tasha Lawrence in "All My Children." Photo by Maria Baranova.
All Our Children
"All Our Children" by Stephan Unwin is a story of Kindertransport in Nazi Germany. It is familiar and if you know the history, the play has no surprises, but the echoes of current events are chilling. By Glenda Frank.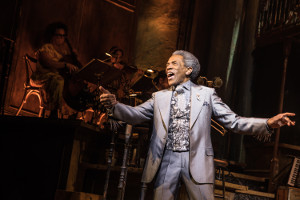 Andre De Shields as Hermes. Photo by Matthew Murphy.
Hadestown
The afternoon Paulanne Simmons saw Anais Mitchell and Rachel Chavkin's "Hadestown," at the moment when Orpheus, despite Hades' injunction, turns around to face Eurydice, a young lady seated several rows in front of her gasped, "Oh no!" It's possible she was not familiar with the myth and thus was not prepared for its tragic ending. But Paulanne likes to think the dramatic staging and absorbing retelling of this ancient tale so captivated her that she forgot everything she had previously known. Great theater can do that.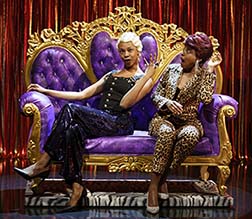 AIN'T NO MO! -- Fedna Jacquet and Ebony Marshall-Oliver as TV show ladies. Photo by Joan Marcus.
"Ain't No Mo!" at the Public
This very funny, clever, often campy satire of black life and stereotypes by Jordan Cooper hits every button, starting with a noisy evangelical church service for Brother Righttocomplain who is being interred because he was "murdered by the election of First Negro President of these United States." Director Stevie Walker-Webb expertly plays the camp to its heights, until you are surprised by reality peeking through. By Lucy Komissar.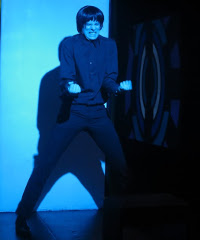 Brandon Lee Olson as Tom in "Electronic City"
Electronic City
The absurdity of modern life is so often portrayed that it gets boring to hear that our lives are hell. Yeah we live in hard times. We try to connect and sometimes we do for a while. But then there's the inevitable end game when we know something isn't working. The end is nearing to jobs, friends, relationships, homes and our lives. Pretty awful, no? That's why it's good to see a comedy about our lives that catches the potential laughs that make these lives worth living. Ildiko Nemeth the award winning director puts high energy life into Falk Richter's mad display of lives gone wild under the control of digital forces. By Larry Litt.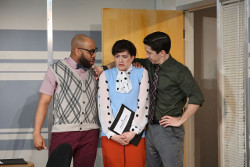 L-R: Ugo Chukwu, Megan Hill, Justin Long. Photo by Carol Rosegg.
"Do You Feel Anger?"
"Do You Feel Anger?" by Mara Nelson-Greenberg at the Vineyard Theatre is an inventive, incisive and – yes! – a funny funny absurdist comedy about male privilege in the corporate world. "Do You Feel Anger?" received its world premiere at the 2018 Humana Festival of New American Plays at Actors Theatre of Louisville. It's a very good play, which is rare. It has been extended until April 27. Go see it. By Glenda Frank.
L-R: Isabelle Huppert as Anne, Chris Noth as Pierre. Photo by Ahron R Foster.
"The Mother"
"The Mother", played at the Atlantic Theater Company, is a very feminist play about a woman whose life is destroyed because she has no other existence but through her son. It reminded me of the enigmatic cinema of the great French Nouvelle Vague. It is the perfect platform for an actress as subtle, complicated and accomplished as Huppert. And a fine work by Florian Zeller. The story is contemporary, subtle and surreal. Anne (a brilliant Isabelle Huppert), who has done nothing in life except be a mother, plays out scenarios about her husband, her son and his girlfriend. The very inventive Florian Zeller writes this not as a narrative that moves smoothly through time, but as a time-shifting, repeating replay of the same events. Under Trip Cullman's clear, austere direction, that becomes smartly, vividly apparent. By Lucy Komisar.
The Lehman Trilogy
Two views of "The Lehman Trilogy"
Glenda Franbk writes that the production, directed by Sam Mendes ("American Beauty"), is mesmerizing. The trilogy is filled with comical and quirky touches, all intrinsic to the characters. Lucy Komisar addds: it's a quite extraordinary play of how generations of an immigrant family create a major financial institution that starts as a southern cotton farming supply shop and ends as a multinational bank whose crash helps bring on the Great Recession of 2008.
L-R: Matthew Amendt, as Cassius and Brandon J. Dirden, as Brutus. Photo by Gerry Goldstein.
The Noblest Roman Tragedy: "Julius Caesar" in Brooklyn
If your attention has wandered during the last third of Shakespeare's "Julius Caesar," you are not alone, but redemption is at hand. Theatre for a New Audience's portrayal of the aftermath of the assassination of Caesar, running through April 28 at Polonsky Shakespeare Center in Brooklyn, is a revelation. Following Cassius's conscription of Brutus, who rationalizes his initial doubts, and the killing and funeral orations, all played out grippingly, the ensuing violent power struggle is must-watch Theatre. By Philip Dorian.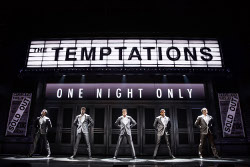 L-R: Ephraim Sykes, Jawan M. Jackson, Jeremy Pope, Derrick Baskin, and James Harkness in AIN'T TOO PROUD. Photo by Matthew Murphy.
Two views of "Ain't Too Proud– The Life and Times of The Temptations" at the Imperial Theatre.
Paulanne Simmons writes, "The story behind 'Ain't Too Proud,' as told by book writer Dominique Morisseau, is mostly a story of the music and not the men. This is both a strength and a weakness in the show. To be sure, the music of The Temptations is some of the best that ever came out of Motown." Ed Rubin adds, "I wish that I could say that Aint Too Proud turned me inside out and sent me directly to heaven."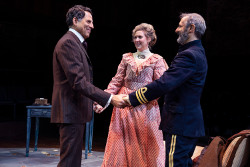 Photo by Joan Marcus.
August Strindberg's "The Dance of Death"
As far as the theater arena which where most of the world knows him best, Strindberg wanted his plays to attain what he called "greater Naturalism." He disliked the expository character backgrounds that characterized the work of Henrik Ibsen and rejected the convention of a dramatic "slice of life" because he felt that the resulting plays were mundane and uninteresting. Strindberg felt that true naturalism was a psychological "battle of the brains:" two people who hate each other in the immediate moment and strive to drive the other to doom is the type of mental hostility that Strindberg stove to describe. He intended his plays to be impartial and objective, citing a desire to make literature akin to a science. And a verbally-sparring warring couple, akin to Albee's razor-tongued George and Martha, is what we get in Classic Stage Company's production of Strindberg's "The Dance of Death." By Edward Rubin.
Photo by Pavel Antonov.
"Strangers in the World"
Honor is one of the six remaining settlers from the first Puritan colony in Massachusetts in "Strangers in the World," a new play by Randy Sharp. Distance, Coldweather, Killsin and Constance are her companions. Randy Sharp, the Artistic Director of Axis Theatre, which is celebrating its 20th anniversary, chose this unlikely bit of American history to create a moving, stylized theatre piece. Even as phrases and gestures crisscross and repeat, something new is added, sparking our attention and adding to the conflicts on stage. By Glenda Frank.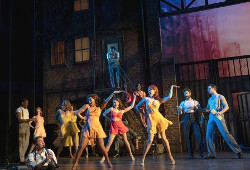 The "Too Darn Hot" number. Photo by Joan Marcus.
Kelli and Cole spark a "Kiss Me, Kate" revival
"Kiss Me, Kate" was the first Cole Porter show with musical numbers that advance the plot, none more clearly than the curtain-raiser, "Another Op'nin', Another Show." Petruchio's description of Katharina, while playful, applies to Kelli O'Hara in full measure. "She is beautiful, witty and affable, he has heard, among other wondrous qualities," and he has arrived "to make mine eye the witness of that report." You might consider doing the same. By Philip Dorian.
Faust and his servant, Wagner, with Vit Horejs (in floor).
"The Devil Made Me Do It…" A Puppet Version of the Infamous Faust Legend
Theater for the New City presents Czechoslovak-American Marionette Theatre in "Johannes Dokchtor Faust, a Petrifying Puppet Comedye," translated and directed by Vit Horejs. In this brief but entertaining production, staged in the intimate cellar space of TNC, two popular items are conjoined--the ancient art of puppetry and the dramatic legend of Dr. Faustus. In modern times, puppetry has regained attention in serious theatre as a means to express perennial topics larger than life, for example, through the art of Theodora Skipitares and Basil Twist and, since the 60s, Peter Schumann has dealt with social ills in his stagings with The Bread and Puppet Theater, a frequent and popular guest at TNC for decades. By Beatre Hein Bennett.
"The Immigrant" settles in George Street Playhouse
Ever wonder what happens to the inhabitants of Anatevka after they are driven from their village at the end of "Fiddler on the Roof?" We know that some of Tevye's family will be staying with Uncle Abram in America (he doesn't know it yet), but there must have been hundreds more than are represented in the "Fiddler"exit tableau. By Philip Dorian.
L-R: Philip Moore, Eric Berryman, Jasper McGruder. Photo by Bruce Jackson.
"The B-Side: Negro Folklore from Texas State Prisons," a record album interpretation
"The B-Side" is a show about doing time. Obviously—we can see simply from the title—that means it's a show about serving a sentence in prison. But in the hands of the charismatic and chameleonic actor/singer Eric Berryman under the subtle direction of the disciplined and imaginative Kate Valk, some other meanings present themselves. Performing music is, among other things, a doing of time. And, here, trenchantly, the performers (Berryman shares the stage with Jasper McGruder and Philip Moore) are doing what so many actors do when they render the lives or words of bygone people. They are "doing" the past to allow its spirit to show up in the present. By Dorothy Chansky.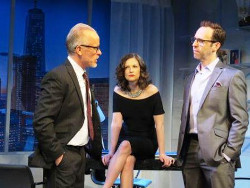 L-R: Conan McCarty, left, Eleanor Handley, Andrew Rein. Photo by SuzAnne Barabas.
Go to "The Source" for Journalistic Intrigue
There is some real good acting on display these days at New Jersey Repertory Company. Not only do the three cast members of "The Source," Jack Canfora's trippy excursion into the world of news management, toss off their snappy dialogue with wit and precision, they also appear comfortable with the inter-twined plot that might stymie lesser talents. In a scenario that swings non-sequentially among places and dates, that plot hinges on the ethics of gathering the news versus the business of disseminating it. It would seem that in Canfora's view, "journalistic integrity" is an oxymoron. By Philip Dorian.
"The Life of Galileo"
"He who does not know the truth when he sees it is an idiot. But he who knows the truth and chooses to deny it, he is something much worse. He is a criminal." This quotation from "The Life of Galileo" by Bertolt Brecht, which is enjoying a fresh, innovative production by Irondale Ensemble, could have been written yesterday instead of 1938. There are other lines that resonate. They create uncomfortable parallels between the Inquisition that eventually forced the astronomer to recant his discoveries; the rise of Hitler in Europe; and contemporary politics. By Glenda Frank.
L-R: Hari Nef and Ronald Peet in Jeremy O. Harris. Photo by Monique Carboni.
Two views of "Daddy"
"The play takes on something of a tragic aura that does not exactly fit its flippant beginning." Paulanne Simmons.
"There is nothing like an odd directorial choice to shift the audience out of the play." Glenda Frank. Here are two different point of views about the" Daddy." Even if the two critics had different feelings about the whole play and the director's choices, both of them agree on the great performance of the actors.
Kate Wetherhead, Michelle Beck and Danielle Skraastad. Photo by Joan Marcus.
"Hurricane Diane" Veers Of Course
At the very beginning of Madeleine George's new play, "Hurricane Diane," the Greek God Dionysus appears onstage as a butch lesbian named Diane (Becca Blackwell). Dionysus, dispirited by the state of the environment in the 21st century, has come to earth to gain followers in this campaign to save the environment. This gives many in the audience the impression they are going to see a play that tackles many of the issues involving global warming, pollution, habitat destruction, and much more. Alas, this is not the case. By Paulanne Simmons.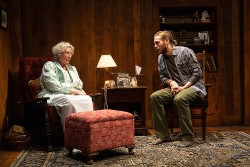 Brenda Wehle and Zachary Booth.
There's a lot to talk about in "Theo"
Criticizing a play for being too wordy might seem counter-intuitive. Character dialogue, after all, is words. But unlike narrative stories or essays, plays need to balance telling with showing. Martin Moran's "Theo," world-premiering at Two River Theater Company, relies mostly on telling, with what showing there is serving to point up the imbalance. If good intentions were enough, "Theo" would be a masterpiece. As it is, with a boatload of good intentions crammed into one dysfunctional-family drama, the result is diffuse and, at nearly three hours (including intermission), overlong. By Philip Dorian.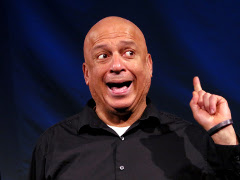 Photo by Marielle L'Hostis
ColorStruck
Theater for the New City presented writer/actor/comedian Donald E. Lacy, Jr. in his one-man show, "ColorStruck." Lacy's winning personality is evident from the outset - he's a natural performer and communicator. It's a seamless ride from hate and injustice to funny and heartwarming, all artfully blended and delivered by a master entertainer who is at once an actor, a comedian, a thinker and an activist. By Paul Berss.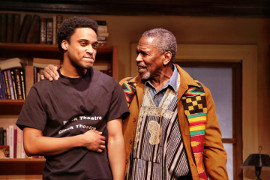 Tyler Fauntleroy as Taj, Kim Sullivan as Baraka. Photo by Gerry Goodstein.
"Looking for Leroy"
In "Looking for Leroy," which is having its work premier presented by Woodie King Jr.'s New Federal Theatre, Larry Muhammad's dramatic attempt to discover the authentic Leroy raises basic questions: What is the place and purpose of Black theater and the Black artist's relationship to himself and to his audience? These are highly charged political, existential, and aesthetic questions with artistic straightjacket potential. By Beat Hein Bennett.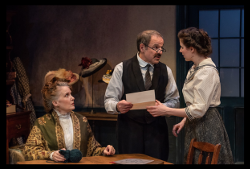 Tracy Sallows (Thomas' wife), Donald Corren (Thomas) and Emma Geer (Annie, Thomas' daughter) Photo by Todd Cerveris.
"The Price of Thomas Scott"
One can only imagine the anticipation that must have greeted "The Price of Thomas Scott" when it came to Manchester's Gaiety Theatre in 1913. Whether out of design or the lack of interest, and in spite of favorable reviews, the play enjoyed only a single showing. That didn't stifle Jonathan Bank, the Mint Theater's artistic director, from bringing Baker across the pond, targeting production of no less than three of Baker's plays. By Eric Uhlfelder.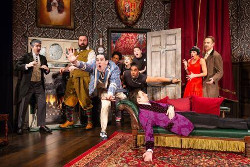 The cast lurches into "The Murder At Haversham Manor".
"The play that goes wrong" goes right Off-Broadway
Something funny happened to "The Play That Goes Wrong" on the way from Broadway to Off-Broadway. Fear not; everything that was funny during its nearly two-year run in the 922-seat Lyceum Theatre is just as funny at the 360-seat New World Stages, where it re-opened this week. The difference, though, is a subtle pickup in how the audience relates to the characters. For me – and I sensed it throughout the house – it became personal, akin to cheering-on a perpetually losing team. But a ton more fun. By Philip Dorian.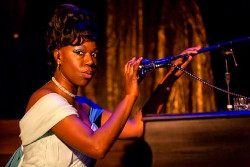 Laiona Michelle as Nina Simone. Photo by T. Charles Erickson.
A Blazing Performance As Nina Simone In "Little Girl Blue"
Laiona Michelle portrays Nina Simone in "Little Girl Blue: The Nina Simone Musical" at George Street Playhouse. Her evocation of the iconic vocalist, musician and activist is an amazing piece of work. A creation, to be sure, but equally important, a re-creation of the life, times and persona of Ms. Simone. Not only does she virtually disappear into her subject, but except for the songs, Nina's own and a dozen others, Michelle also wrote the emotionally stirring show. By Philip Dorian.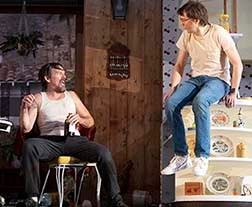 Ethan Hawke as the drinking brother Lee and Paul Dano as Austin. Photo by Joan Marcus.
"True West" by Sam Shepard is a 1980 too over-the-top satire of movies
A satire about media ought always to be in fashion. The current revival of the film "Network" as a play works brilliantly to skewer corrupt television. This revival of Sam Shepard's satire about the Hollywood movie business doesn't hit that mark. Maybe it worked in 1980 when it premiered, but nearly 40 years later, it's too over-the-top. Interesting as a piece of the times. By Lucy Komisar.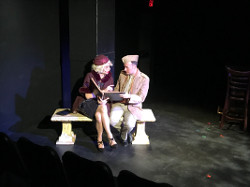 THE GLEN -- Photo by Shelter Studios
The Glen
"The Glen," written, produced, and directed by Peter B. Hodges is a 'must see' play. Currently running through Saturday, February 16 theShelter Studios' intimate 60-seat theater, "The Glen" is one of those plays, due to its short run, that sadly disappear as quickly as they appear. Hopefully future productions – its writing, direction, and acting is wonder-filled - will keep it alive and kicking. Though the play, with many unexpected twists and turns, was inspired by the life of Hodge's friend and mentor, the late theater and art critic Glenn Loney (1928-2018), the play's lead character, the twenty something year old Dale Olsen (Matthew Dalton Lynch), as the playwright's program note informs us, is not Glenn Loney. Dale is only "the character that enabled me to explore questions of identity, sexuality and family while following a path not entirely unlike the path that Glenn himself would describe to me as his personal journey." By Edward Rubin.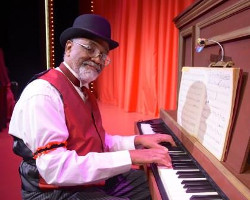 Musical director William Foster McDaniel as Thomas "Fats" Waller
Ain't Misbehavin' at Westchester Broadway Theatre'
To describe a play or musical as 'dated' mightindicate that the piece is no longer relevant by virtue of evolved social or moral standards. (You won't see Neil Simon's play about the battered alcoholic Gingerbread Lady any time soon.) But the term can also denote a positive, as in evoking an era worth re-visiting despite – oreven because of – some outmoded characteristics. So it is with "Ain't Misbehavin'," sub-titled "The Fats Waller Musical Show," enjoying a spirited revival at Westchester Broadway Theatre (a dinner-and-show venue, with a varied menu of entrees included in the ticket prices). A compilation of his melodies (Fats wrote the music; various collaborators, the lyrics) and some others' songs that he memorably recorded, the revue is set in a Harlem nightclub in the 1930s, illustrated by the costuming, the arrangements and the presentation. If there is a hint of minstrelsy, it is in the service of that time and place; performed here unabashedly, it is history – not academic, mind you, but a replication, as entertaining as it is authentic. By Philip Dorian.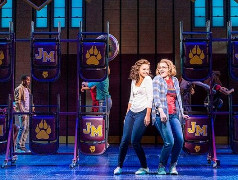 Back-to-back dancers: Isabelle McCalla, left, and Caitlin Kinunnen "Dance With You". Photo by Deen van Meer.
Prom
A couple kissing in front of Macy's in Herald Square is hardly newsworthy, but one at last year's Thanksgiving Day Parade actually marked a milestone in live TV – and was also a spoiler for a Broadway musical. Televised by NBC, "It's Time to Dance," the finalé number from "The Prom," ended with two young women sharing a loving kiss. So now you know how "The Prom" resolves. But any audience member who doubts that Indiana high schoolers Emma (Caitlin Kinnunen) and Alyssa (Isabelle McCalla) will end up together, are asheartless as the PTA folks who cancelled the prom because Emma wanted to bring Alyssa as her date. With composer Matthew Sklar and choreographer/director Casey Nicholaw, the cast is nigh flawless. Don't wait until someone else asks her/him/they/hir/zim. Get yourself a date and go to "The Prom." By Philip Dorian.
THE HARD PROBLEM -- Chris O'Shea as Spike and Adelaide Clemens as Hilary. Photo by Paul Kolnik.
The Hard Problem
Stoppard's "The Hard Problem" turns intellectual inquiry into a soap opera. Throw up issue of moral consciousness, of how science wires the brain, how capitalists (sometime predatory) make fortunes, how young quants or scientific brain analysts figure out how to use or scam the former, and throw in a Pilates instructor. Along with scenes of a Venice canal and the London City [financial district] skyline. This pretentious play does not seriously address or answer the questions it is supposed to pose: where does morality come from, is it hardwired in the brain or developed by culture, and how does this affect how people interact – especially in the world of capitalism. By Lucy Komisar.
NETWORK -- Bryan Cranston as Howard Beale. Photo by Jan Versweyveld.
Network
This play, based on Paddy Chayevsky's classic film, serves as a commentary on the corruption of the American system, based on the idea that a corrupt upper class exploits the middle class and the poor for its own monetary gain. While the "media" glorifies neoliberalism, theatrical "fiction" is the only mainstream place where such ideas are permitted. News anchor Howard Beale (played by Bryan Cranston) announces he is going to commit suicide on air because he is being fired for poor ratings, which takes away all attention paid to other major global news. Directed by Ivo van Hove, the production has the stage set up as a TV studio with cameras moving around in a unique, immersive multimedia spectacle. By Lucy Komisar.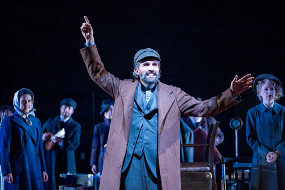 Ben Cherry as Lemml and the cast of "Indecent." Photo by C. Stanley Photography.
"Indecent" at Arena Stage
When Paula Vogel's incandescent "Indecent" opened in New York in 2016 it was the darling of the LGBT theatergoing world. Arena Stage positioned its recent production as a play addressing Jewish themes. Both angles are, of course, correct. As one of the characters in "Indecent" asserts, "the play belongs to the people who labor in it and the audience who put aside the time to see it." As this play also asserts, however, neither labor nor audience is a permanently fixed thing, and my vote is for this being a play about endurance, perseverance, and principles, although the pressure points here are certainly lesbianism, Jews, intolerance, and hypocrisy.
Clueless, The Musical
"Clueless, the Musical" has a book and score by Amy Heckerling, who authored the film, based on Jane Austen's "Emma." This means the musical retains much of the tongue-in-cheek zest that made the film so agreeable. By Paulanne Simmons.
Kerry Washington and Steven Pasquale. Photo: Peter Cunningham.
American Son
First premiered in 2016 in Massachusetts, and then performed at the George Street Playhouse in New Jersey a year later, "American Son" dealt with racially-charged encounters between police officers and Black males during years in which that theme was so prevalent. Now open on Broadway, this play tells the story once more of eighteen-year-old Jamal, who tells an emotional tale while his distraught mother reports her son missing. The mother deals with a mixed experience with the law-enforcement officers she encounters, and throughout the ordeal, tension with her separated spouse. The play is directed by Kenny Leon and runs 90 miutes. By Philip Dorian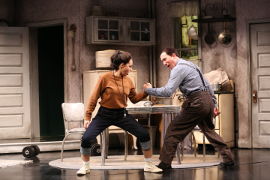 Turna Mete and Carson Elrod in "Panties, The Partner and The Profit." Photo by Carol Rosegg.
The Panties, The Partner and The Profit
Here's a quiz for American drama afficionados. What three-part play features an American family as stand-ins for "all of us"; unfolds over a few eras; shows the widespread effects of ordinary people's greed and aggression, often in the name of being hardworking; has some illicit sex; ends in the ruins of the family's one-time home; brings a large reptile onstage; and concludes with the family soldiering on? If you guessed "The Skin of Our Teeth," good for you, but the play in question is David Ives's "The Panties, The Partner and the Profit," subtitled "Scenes from the Heroic Life of the Middle Class" and now in its debut at the Shakespeare Theatre Company in Washington, D.C. By Dorothy Chansky
Raúl Esparza as Arturo Ui. Photo by Joan Marcus.
Two views of "The Resistable Rise of Arturo U1"
Brecht's "The Resistable Riuse of Arturo Ui" is set in Chicago, which appears in the play to be unable to keep out gangsters. This satire serves as a brilliant allegory of fascism and the rise of Hitler. The play was in fact written by while the playwright was a refugee at the time of Hitler's takeover of Europe, and as such, it served as a way for Americans to better understand Hitler's rise to power and the tactics his regime used. Lucy Komisar and Ed Rubin weigh in on CSC's production.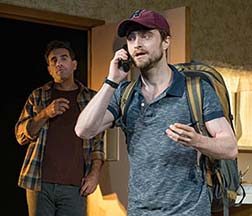 THE LIFESPAN OF A FACT -- Bobby Cannavale and Daniel Radcliffe. Photo Peter Cunningham.
The Lifespan of a Fact
Based on a nonfiction work about a real fact-checker, Jim D'Agata, this play deals with an important problem for journalism, beginning with a rather trivial argument over whether the bricks in a building are red or brown. Perhaps the building blocks represent more than what they seem to. With a strong cast, consisting of Daniel Radcliffe, Cherry Jones, and Bobby Cannavale, and directed by Leigh Silverman, this play feels very real. By Lucy Komisar.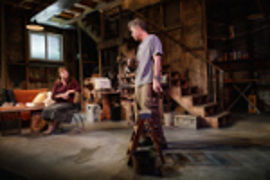 Tyne Daly and Tim Daly in Primary Stages production of "Downstairs"
Downstairs
Imagine: Stella Dubois has grown old and has no child. Stanley's sex appeal vanished as he aged; he is now simply a bully. They live in an ordinary house in an ordinary neighborhood. She rescued two dogs, whom she loved, but they disappeared. "Downstairs," Theresa Rebeck's new play at the intimate Cherry Lane Theatre, is a three-hander in which everyone plays with the truth. In this play, Rebeck is deliberately vague, leaving perhaps too much to the imagination. But the emotions are real. By Glenda Frank.
Sycorax, Cyber Queen of Qamara
The mind of the playwright can be a most mysterious country. Fengar Gael has taken one line from Shakespeare's "TheTempest" and woven it into an odd, delicious piece of theatre. "Sycorax: Cyber Queen of Qamara," stylistically directed by Joan Kane at Here Theatre, combines the ancient Muslim world, black magic and computer science to bring us a story of feminist assertion, complete with a hero and a villain who are the same person. The script is filled with magic and metaphors. The lovely, young Sycorax is the artist who creates worlds. By Glenda Frank.
Dr Jekyll & Mr Hyde
Adapted and written by Burt Grinstead and Anna Stromberg, this production of "Dr. Jekyll & Mr. Hyde" is the ideal comedy for fans of the book. Combining slapstick with subtle English Monty Pythonesque humor, the show under Stromberg's direction truly embodies high comedy. By Larry Litt.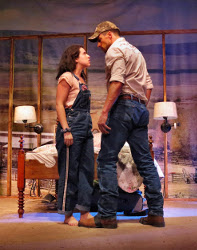 Sophia Silver and Andrew Dits.
Bi-coastal "Fool for Love"
Theater for the New City presented a fine production of Sam Shepard's 1983 "Fool for Love," a four-character drama that was a finalist for the 1984 Pulitzer Prize for Drama. The director Kymberly Harris did a fine job with a splendid cast. This Theater for the New City run closes December 2, but then the producing company, Beetlebung Road LLC, will move the production to Los Angeles for performances at The Lounge Theatre, 6201 Santa Monica Blvd, December 6 to 15. Paul Berss advises that Angel City theatergoers who have not been introduced to this classic of Shepard's repertoire would be well advised to catch it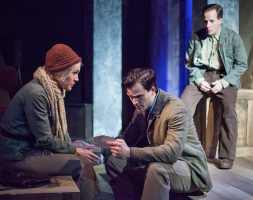 Erin Beirnard, Trevor St. John-Gilbert, Michael Turner. Photo by Vadim Goldenberg.
"Shadow of Heroes" at Metropolitan Playhouse
Robert Ardrey's play, "Shadow of Heroes" is a documentary drama about the political struggles in Hungary, beginning in the last phase of WWII, 1944-45 and ending with the 1956 abortive revolution. During the fall of 1956 Robert Ardrey (1908-1980) was in Vienna witnessing the brutal Soviet subjugation of the Hungarian uprising. He wrote the play in 1958 using real historical characters and facts as they emerged; the play premiered in London in 1958 and was produced in New York in 1961. The play follows the trajectory and conflicts of a set of historical figures central to the history of Hungarian communist politics, including the "old guard communists" Laszlo and Julia Rajk and Janos Kadar and Ernö Gerö and Matyas Rakosi, the "elite" party emissaries from Moscow who are charged with imposing Stalin's will on the Hungarians. By Beate Hein Bennett.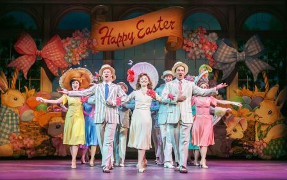 Easter Parade. Photo courtesy of Paper Mill Playhouse.
Irving Berlin songs sparkle in "Holiday Inn"
In "Holiday Inn" at Paper Mill Playhouse, there is no denying the appeal of the Irving Berlin favorites, including "Cheek to Cheek," "Blue Skies" and "Let's Take an Old Fashioned Walk," as well as some lesser-knowns like "The Little Things in Life" and "Song of Freedom." Larry Blank's orchestrations and music director Shawn Gough's fine orchestra do them justice. The Paper Mill principals, while comfortable, are outshone (with one exception) by the excellent singing/dancing ensemble and, it should be noted, by designer Alejo Vietti's fetching costumes. By Philip Dorian.
INESCAPABLE
In "Inescapable" by Martin Dockery, two guys come on stage claiming they're friends taking a short break from a holiday party in the next room. It's a big house we're told owned by one of the guys who is half of a successful couple. Except that his wife is cheating on him. Does this sound like a Twilight Zone plot? Somehow it turns into a fugue state of comedy when Abbot and Costello meet Rod Serling for a fling with a time machine. A fun night of theater because who isn't amazed at déjà vu in a play about déjà vu? By Larry Littany Litt.
Blake Morris as King Hedley II. Photo by T. Charles Erickson
King Hedley II
A 35-year old African-American woman defends her decision to terminate her pregnancy in an impassioned speech. "I ain't raising no kid to have somebody shoot him. To have his friends…or the police…shoot him," Tonya says, before relating the gut-wrenching story of a neighborhood mother whose son was shot and killed even as she had his favorite meal on the table. An angry, socially conscious play written in the wake of the #BlackLivesMatter movement, right? Wrong! Written in 1999, set in 1985, it is one of August Wilson's ten Century Cycle plays that examine "the unique particulars of black American culture" through the twentieth century, decade by decade. It is a masterful work, eerily prescient. By Philip Dorian.
Nazis and Me
David Lawson's "Nazis and Me" is a sparkling, witty and wise example of personal storytelling mixed with the sad sadistic history of anti-Semitism and outrageous current neo-nazi headlines. By Larry Litttany Litt.
Charlotte Wise as Wanda June & Craig Wesley Devino as Col. Looseleaf Harper. Photo by Jeremy Daniel.
Happy Birthday, Wanda June
Kurt Vonnegut's 1970 surreal satire dissects the extreme alpha male, a 40ish guy who sometime, in his breathing, his grunts and body movement, seems to turn into an ape. It connects machismo to violence to war. It gets a very good production by the Wheelhouse Theater Company, directed by Jeff Wise. By Lucy Komisar.
GLORIA: A LIFE -- Christine Lahti as Gloria Steinem. Photo by Joan Marcus.
Not for Women Only: "Gloria: a Life"
The bumpy road to women's liberation is dramatically illustrated in "Gloria: A Life," written by Emily Mann and directed by Diane Paulus. By Paulanne Simmons.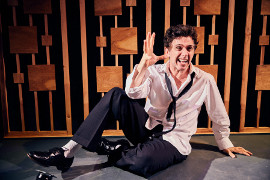 Ronnie Marmo as Lenny Bruce. Photo by Doren Sorell
I'm Not a Comedian...I'm Lenny Bruce.
You are unlikely to ever see the theatrical title "I'm Not a Comedian…I'm Richard Pryor." Or George Carlin. Or Chris Rock. Or Sarah Silverman. But appending the name Lenny Bruce is altogether appropriate.The show is recommended for admirers of Lenny Bruce (or his legend), who already know what all the fuss was about. By Philip Dorian.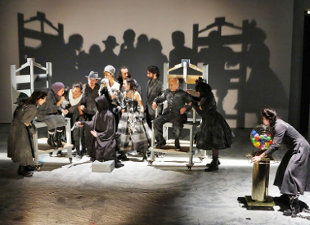 The ensemble draws lots to play Russian Roulette. Photo by James Rucinski.
"Citizens of the Gray"
Larry Littany Litt swoons for "Citizens of the Gray" by Elia Schneider and her Teatro Dramma at Theater for the New City, writing "This stimulating, gratifying and for some mystifying play is well worth your time. It speaks to our modern social dilemmas in silence, music and new forms of dance. It is a tragicomedy of philosophies and ideologies worthy of Charlie Chaplin."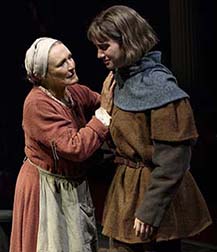 MOTHER OF THE MAID -- Glen Close as Isabelle Arc, Grace Van Patten as Joan. Photo by Joan Marcus.
Two views of "Mother of the Maid"
Lucy Komisar and Edward Rubin agree that Glenn Close is spellbinding in "Mother of the Maid," a simple storytelling recast of the life of Joan of Arc. Close is a terrific actress. She makes it worth watching, even if you cringe at Jane Anderson's script.
EAR FOR EYE -- Angela Wynter, Hayden McLean, Anita Reynolds, Seroca Davis. Photo by Stephen Cummiskey.
"Ear for Eye" at Royal Court Theatre
Debbie Tucker Green is a poet adept at thinking simultaneously in words and embodiment. "Ear for Eye," Green's new work at London's Royal Court Theatre, shares some aesthetic DNA with the late Ntozake Shange's "for colored girls who have considered suicide/when the rainbow is enuf." But four-plus decades separate these two indices of the black side of the racial divide in the United States (and, in this work, to a smaller extent in Britain). On Green's stage, the gloves are off. By Dorothy Chansky.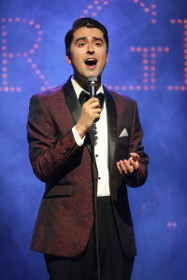 MIDNIGHT AT THE NEVER GET -- Sam Bolen. Photo by Carol Rosegg.

"Midnight at the Never Get"
If you want a bit of theatrical heaven, along with a smidgen of hell, a mini primer of late 60s gay history – with the obligatory nod to Stonewall included – and a lot of love, all both literally and figuratively, get thee to "Midnight at the Never Get," the York Theater's latest musical production before it closes on Sunday, November 4th. With a 5-piece backup band, two talented leads, and a roster of original songs, about life and love, both found, lost, and found again, well the 90-minute "Midnight at the Never Get," part theater and all cabaret, is the place to be. By Edward Rubin.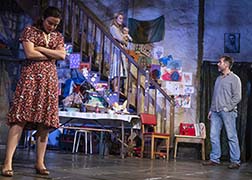 THE FERRYMAN -- Laura Donnelly as Caitlin Carney, Genevieve O'Reilly as Mary Carney and Paddy Considine as Quinn Carney. Photo by Joan Marcus.

"The Ferryman" a stunning indictment of both sides in the Irish Republican struggle
In Jez Butterworth's gorgeous play, directed by Sam Mendes with subtle power and intelligence, a dark moment suddenly is transformed into a charming rough idyll of Irish family life. Irish because it involves a brood of seven children, a lot of whiskey drinking, wit and occasional dancing of jigs. By Lucy Komisar.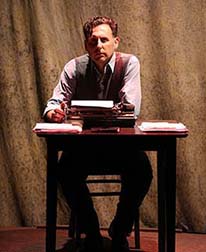 MOTHER NIGHT -- Gabriel Grilli as Campbell. Photo by Carol Rosegg.

Vonnegut's "Mother Night" turns American dealing with Nazis into political morality play
Howard W. Campbell, an American-born Nazi propagandist and double agent, served "evil too well and good too secretly." That is the subtle moral of the Kurt Vonnegut story adapted by Brian Katz in a fascinating albeit not totally successful stage presentation. Still better than most of what you will see in New York theater at the moment. By Lucy Komisar.
ON BECKETT -- Bill Irwin. Photo by Carol Rosegg.



Bill Irwin "On Beckett"
Whether you're interested in a master class on Samuel Beckett or the art of acting and mime, or you just love Bill Erwin, "On Becket" at the Irish Repertory Theatre will not disappoint. In 90 minutes, Irwin demonstrates unequivocally why he's a great actor and Becket is a great writer. By Paulanne Simmons.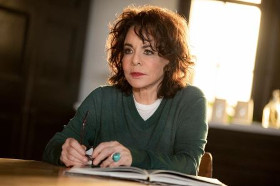 APOLOGIA -- Stockard Channing. Photo by Joan Marcus.

Stockard Channing Sparks Dysfunctional-Family Drama
Plays about dysfunctional families, with a dinner-party-gone-wrong and servings of acerbic humor, have become an over-examined genre. What elevates "Apologia" above the fray is the presence of Stockard Channing at the head of the table. Also, where many modern plays rely on multiple mobile phone intrusions to move the plot, "Apologia" includes just one brief call. And it's a doozy. By Philip Dorian.
RECOVERY -- Jill Shackner, Caitlin Cohn, Lydia Grace Jordan.

Recovery, or the nightmare of battling addiction
For the debut production of her play "Recovery" at Theater for the New City, author Anne Lucas has gathered a fine cast to illuminate her own experience - living through the drug addiction of her own daughter, who is now in recovery. Lucas tackles the subject through three drug-addicted college age women, their distraught mothers, a sincere Reverend who, as a former addict, does her best to help, and a slippery and seductive male character called the Demon, who represents addiction. By Paul Berss.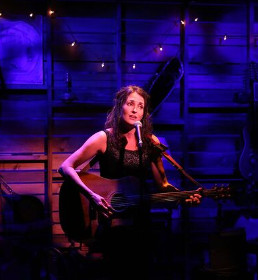 THE WILD ABANDON -- Leenya Rideout. Photo by Carol Rosegg.

The Wild Abandon of Leenya Rideout
The Irish Repertory Theatre's production of Wild Abandon, Leenya Rideout's intimate one-woman autobiographical extravaganza – housed in the Rep's second theatre, an intimate 50-seater – is one of a handful of Off Broadway plays that everybody is talking about. Critics are raving, and audiences are returning again and again with friends in tow, as they simply cannot believe that any one person can be that talented and not already household name. By Edward Rubin.
"The Resistible Rise of JR Brinkley"
It's all too easy in the Trump era to unleash barbs at the darned dangerous President and his supporters. Much more difficult to write something new and different as Edward Einhorn has done. Taking an imagined biography of a real con man demagogue who lived in the early 20th century, Einhorn has created a show that gave me a very good conception of where the Trumpster came from and how he managed to stay in power. By Larry Litt.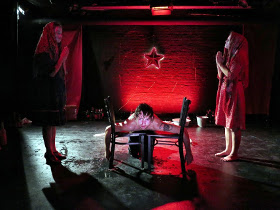 ALL ROADS LEAD TO THE KURSKI STATION -- Rivers Duiggan, Elliott Morse, Rivers Duggan.
Two views of "All Roads Lead to the Kurski Station."
At HERE, Vienya, a poet drunkard endures a nightmare journey, soaked in vodka, from Moscow's Kurski Station to Petushki, a real Moscow suburb and his hoped for paradise "where the jasmine never stops blooming and the birds always sing" and where he hopes to be saved by his love. He never makes it to Petushki because he sleeps in a drunken stupor through the station and ends where he started, in Kurski station. The 70 minute performance takes us on a wild romp through the underbelly of Soviet-Russian life with all its horror and absurdities—the laughter gets stuck in our craw. By Beate Hein Bennett and Larry Litt.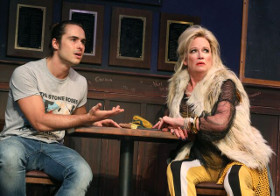 THE NAP -- Ben Schnetzer, Johanna Day. Photo by Joan Marcus.

Two views of "The Nap"
Contrary to its misleading title, "The Nap," Richard Bean's newest offering, making its American premiere under the direction of Daniel Sullivan, has nothing to do with sleep. Rather it's a rowdy and riveting farce. By Paulanne Simmons and Lucy Komisar.


PRETTY WOMAN -- Samantha Barks as Vivian Ward and Andy Karl as Edward Lewis, at the opera. Photo by Matthew Murphy.

"Pretty Woman" morality story pits prostitution v predatory capitalism
A story for our times about a billionaire Edward Lewis (Andy Karl) without morals, who would destroy a shipbuilding company and fire its workers, but learns something from a hooker. A Cinderella story which would not quite make it today. Because it's about a prostitute who reforms her John. It was a movie hit 20 years ago, but that was an epoch away. The book is by Garry Marshall and J.F. Lawton, the music and lyrics by Bryan Adams and Jim Vallance, based on the film by Lawton. Lucy Komisar would reject the story on the anti-feminist face of it, though turns out she is smarter than he is. But she liked the show.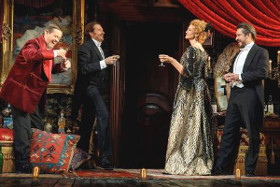 BERNHARDT/HAMLET -- A backstage dinner party. Photo by Joan Marcus.
Two views on "Bernhardt/Hamlet"
Historical fiction is a tricky genre. Plain history can be academic (read: boring), and inserting identifiable people as principals in pure fiction can be presumptuous, or a copout. "Bernhardt/Hamlet" straddles the extremes brilliantly; the precise inter-action among the actual people may or may not have happened as portrayed, but their involvement in the historical events makes it all plausible. Theresa Rebeck's comedy is period-specific without reinforcing misconceptions about how people related and communicated 'then'. It is fascinating even just for that. By Philip Dorian and Lucy Komisar.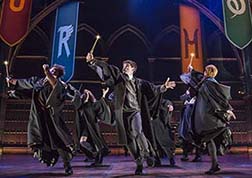 HARRY POTTER AND THE CURSED CHILD -- The company. Photo by Matthew Murphy.
"Harry Potter and the Cursed Child," a stunner for set & magic
Mixed with the magic and terrific scenery, there's a lot of stuff about fathers and sons, which is really the theme of the play, or the two plays which you can see on succeeding nights or a one-day marathon. Critics were requested not to give away the plot, which is easy to comply with since it's rather silly. By Lucy Komisar.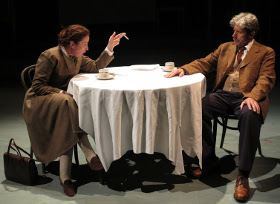 ARENDT-HEIDEGGER: A LOVE STORY -- Alyssa Simon, Joris Stuyck. Photo by Rina Kopalla.

Three views of "Arendt-Heidegger: A Love Story"
Author Douglas Lackey and director Alexander Harrington have managed to extract a thought provoking stimulating performance from two of the most controversial public intellects of the twentieth century: Hannah Arendt (1906-1975), a German-Jewish philosopher and social theorist and Martin Heidegger (1889-1976), one of the most renowned German philosophers to have succumbed to Nazism. The subject of their romantic entanglement, in conjunction with their political trajectories over the course of forty years, from the mid 1920s to 1964, is the dramatic core of this play in a series of 23 concisely scripted scenes. By Beate Hein Bennett, Edward Rubin and Larry Litt.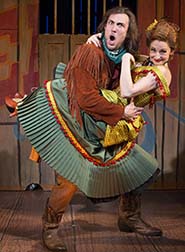 DESPERATE MEASURES -- Connor Ryan as Johnny Blood, Lauren Molina as Bella Rose. Photo by Carol Rosegg.


"Desperate Measures," a Shakespeare musical parody, is a hoot
"Desperate Measures," is a supremely clever parody that moves the Bard's story from 17th century Vienna to the American West in the 1800s. While continuing of course the rhyming couplets, where brusque rhymes with dusk. The show, book and lyrics by Peter Kellogg, music by David Friedman, is a hoot. Director and choreographer Bill Castellino is the excellent helmsman of a cast whose dancing and singing match anything on Broadway. By Lucy Komisar.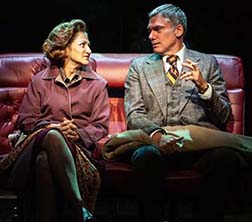 THE TRUE -- Edie Falco as Polly Noonan and Glenn Fitzgerald as Howard Nolan. Photo by Monique Carboni.

Edie Falco in "The True" sears as tough Albany Democratic machine politician
The dramatic piece is about a possible 1977 primary challenge to Corning, who held power through patronage and favors to voters as a product of the machine. Director Scott Elliott makes it a combination soap opera and political drama. Edie Falco is powerful as the acerbic, in-your-face, sometimes crude-talking Polly Noonan, a real operator in Albany's Democratic Party machine politics for about four decades. White's play suggests that whatever you think of Polly Noonan politics, she is beneficiary of a corrupt political machine. I'm not sure she would like this play. The audience will. By Lucy Kromer.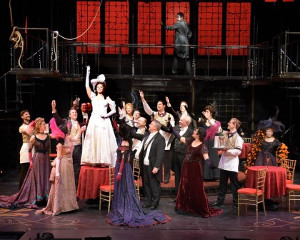 PHANTOM -- Kayleen Seidl as Christine with the cast of "Phantom". Photo by John Vecchiolla.

"Phantom" (not that one) in Westchester County, NY
While some introductory background is required in a review of the "Phantom" musical that does not append "of the Opera" to its title, be advised upfront that the production at Westchester Broadway (Dinner) Theatre in Elmsford, NY is a top-notch staging of the one-word version of Gaston Leroux's serialized 1910 novel. Lavishly staged and costumed and beautifully sung by its leads and ensemble, WBT's "Phantom" stands very well on its own 58 feet. By Philip Dorian.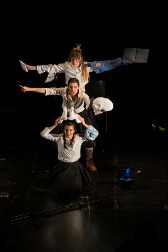 BITEF -- "Jami District". Photo courtesy of BITEF.
Belgrade International Theatre Festival (BITEF) 2018 - Svet Bez Ljudi (World Without Us)
The Belgrade International Theatre Festival (BITEF) was founded in 1967 with the explicit goal of goading audiences to think and, ideally, to act. This year's festival featured productions from ten countries under the rubric "World Without Us," itself an invitation to conversation, as the literal translation would be "world without people." The focus seemed to be—at least in the six productions I was able to see—a world without human kindness or decency. By Dorothy Chansky.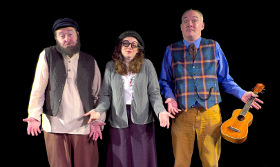 TEVYE SERVED RAW (GARNISHED WITH JEWS) -- Photo courtesy of the Playroom Theatre.
"TEVYE SERVED RAW (Garnished with Jews)"
"Tevye Served Raw," based on the stories of the incomparable Sholem Aleichem, is, at times, rollickingly hilarious, at times almost heartbreakingly sad. Although the stories date from the turn of the twentieth century, the human conditions they explore are timeless. "Tevye Served Raw" is far from a museum piece. The acting is always spirited, the script and innovated direction are clever. The show has been crafted with love for Yiddish traditions. It not only entertains, but may also motivate you to learn Yiddish so you too can laugh before reading the supertitles. As for the supertitles, much of the 90 minutes is in English because of an instant on-stage translation – and the translation is part of the comic pleasure. By Glenda Frank.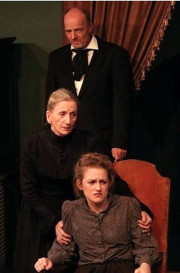 MESHANYE -- Zeleniuch, Knight, Nelson. Photo by Asia Thorpe.
Strange People on Quaking Ground - "Meshanye" by Maxim Gorky
"Meshanye," by Maxim Gorky (1868-1936) was his first play written within less than five years of the Russian uprising at the Winter Palace (1905). Owing much to Chekhov, the play takes place in a family living room, within a brief period of time, with a mélange of passionate, frustrated, depressed, cynical, and life embracing scharacters who launch into torrents of feeling. The play is set in the home of Vasily Bessemenov, owner of a house-painting business in a provincial town. The central conflict is between the head of the family and his adult children. "Meshanye" works like chamber music, in that several voices carry the dialogue forward as characters move in and out of the space, often overhearing each other off-stage and, as they enter joining the conversation, they bring a new tonality. To have the opportunity to see an excellent production of a rarely performed play by Maxim Gorky, one of the titans of Russian dramaturgy, in a superb new translation should need no extra incentive. By Beate Hein Bennett.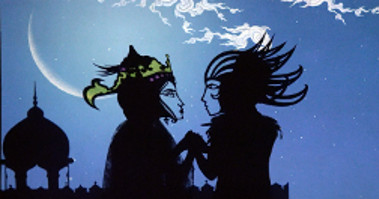 FEATHERS OF FIRE -- Zaul and Rudabeh. Photo by Fictionville Studio.
FEATHERS OF FIRE: A Cinematic Shadowplay from the Persian "Book of Kings" (Shahnameh)
Live-action, shadow puppetry, film, animation, music that seems to be now live, now recorded, images of nature on which the eye gorges, representations of good and evil, romance and tragedy, associated with storytelling on rapidly transforming scales--now epic, now lyric, now comic: Feathers of Fire has high theatrical ambitions indeed. It combines moving pictures and the stage in ninety minutes of spectacle that seems to call on story elements from every entry in Stith Thompson's folktale motif index and that recalls the 1926 shadow-puppet animation of Lotte Reiniger, The Adventures of Prince Achmed, with which Rahmanian became enamored to the point of obsession and then surpassed. By Mindy Aloff.
AGNES -- John Edgar Barker, Mykal Monroe, Hiram Delgado, Laura Ramadai.
An emerging playwright to reckon with: "Agnes" off-Broadway
"I don't think I know the difference between sexual harassment and flirting" might not seem like a ground-breaking admission, but as spoken by Charlie in Catya McMullen's outstanding new play "Agnes," it registers as profoundly moving. In a prime example of Shakespeare's What's past is prologue, each character's past influences the present: what they say and do and how they interact. And all of it – the 'before' revelations as well as what bubbles up in the present – is written and acted with unself-conscious naturalism. Catya McMullen is a playwright to watch, and "Agnes" is a good place to start. By Philip Dorian.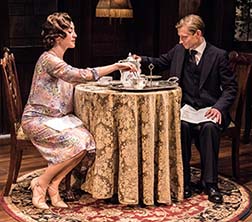 CONFLICT -- Jessie Shelton as Dare and Jeremy Beck as Tom Smit. Photo by Todd Cerveris.
"Conflict" a popular British challenge to predatory capitalism near 100 years ago
Fascinating, writes Lucy Komisar, to see a play written in 1925 that has the politics of a play that could be written today. It was penned by Miles Malleson, a prominent playwright, screenwriter and actor of the time who used his work to promote progressive politics. He was a socialist, pacifist and supporter of women's suffrage. This is very finely, subtly directed by Jenn Thompson.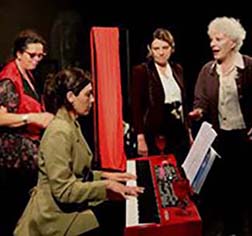 ROSA LUXEMBURG KABARETT -- The ensemble.

"Rosa Luxemburg Kabarett" tells stirring story of revolutionary leftist killed by the Germans
"Rosa Luxemburg Karabett" is an historical play with music about the life of the Russian revolutionary who became an activist in German politics, opposed WsWI, was imprisoned and, after the war, was murdered. The production at the Avignon Theater Festival OFF reflects the tradition of the German political cabaret. This excellent play, in French, is worthy of translation to reach a wider audience interested in the development of the world's anti-war movements. By Lucy Komisar.

BREXIT -- Tom Corradini and Samuel Toye. Photo by Fabio Nedrotti.
"Brexit": Politics as vaudeville at Avignon
For clarity about politics, "Brexit" at the Avignon Theater Festival does as well as any pundits. It's a clever mime and vaudeville comic take by a pair as a verbally dueling father and son. Tom Corradini and Samuel Toye, the work's authors, plays Charles, 47, and Samuel Toye is his son Eric, 25. Corradini is the director. In a pastiche of puppets, mime and vaudevillian soft-show, they argue about the June 2016 vote for the UK to stay or remain in the European Union. By Lucy Komisar.

DAYS TO COME -- Larry Bull as Andrew Rodman and Chris Henry Coffee as worker Thomas Firth. Photo by Todd Cerveris.
Lillian Hellman's "Days to Come" hints at important plays of workers' struggle
Lillian Hellman play about a labor conflict in a small town in Ohio in 1936 has some fine moments giving hints of stronger plays such as "The Little Foxes" where she takes on the corrupt, manipulating rich who exploit workers. "Days to Come," written at a time of labor struggles across America, refers to a better future when workers bested by violent strike-breakers will get the union and rights they are fighting for. Based on the text, those days would be a long time coming. By Lucy Komisar.
GETTIN' THE BAND BACK TOGETHER -- Mitchell Jarvis as Mitch. Photo by Joan Marcus.
"Gettin' the Band Back Together"
Lucy Komisar writes that John Rando is the best comic theater director she knows. The creative wit who oversaw "Urinetown," "The Toxic Avenger," "The Heir Apparent" and "All in the Timing" takes a deliberately jokey rock musical by Ken Davenport and, with excellent timing and staging, pokes fun at the genre as well as the state of New Jersey. She doesn't much like rock, she admits. She liked this play. (So did her editor.)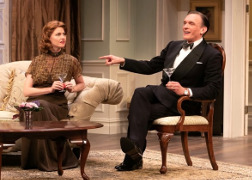 BLYTHE SPIRIT -- Ruth (Kate MacCluggage) and Charles (Brent Harris)


"Blithe" Spirit in NJ
Shakespeare Theatre of New Jersey's "Blithe Spirit" comes in at a relatively compact two and three-quarters hours, including intermission. Even at that, Noel Coward's 1940 play will lift your spirits. By Philip Dorian.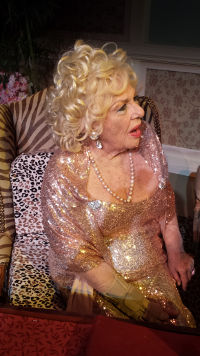 Renee Taylor. Photo by Ed Rubin.
Renee Taylor in "My Life on a Diet"
Most famous people long in the tooth, if they are not dead, quietly retired, or resting on their well-earned laurels, tend keep a very low profile. You rarely even hear about them. But not the indefatigable 85-year- old Renee Taylor, an Energizer bunny whose funny and bittersweet autobiographical one-woman-show, "My Life On A Diet," is currently playing to full houses at St Clement's Theatre here in New York City.
Jill Eikenberry and John Glover
Fern Hill
"Fern Hill" is Michael Tucker's second full-length play to premiere at NJ Rep, after "The M Spot" in 2015. Like the earlier play, "Fern Hill" explores emotional and physical (read: sexual) relationships, this time among three couples – not as in swingers, I hasten to add, but three pairs with their own histories and hang-ups. The six actors have amassed thirty-five Broadway credits among them, with six Tony Award nominations (and a win) to boot. By Philip Dorian.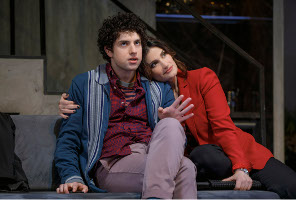 Eli Gelb and Idina Menzel. Photo by Joan Marcus.
"Skintight" Has Love, Lust, Beauty and Idina Menzel
The star and calling card of "Skintight" which gives the play its commercial legs, is Idina Menzel (Rent, Wicked, If/Then) in her first non-singing role. Joshua Harmon's provocative and wonderfully wordily written wailings about the joy of sex, emotionally delivered by a major character or two, do give us something to mull over, which is more than most playwrights have to offer. By Ed Rubin.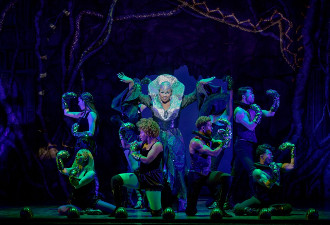 HEAD OVER HEELS -- Peppermint (center) as Pythio, The Oracle of Delphi and the ensemble. Photo by Joan Marcus.
"Head Over Heels" Creates a Topsy-Turvy World
Jeff Whitty's new musical, Head over Heels, is both a parody and a tribute to Sir Phillip Sidney's "Arcadia." By Paulanne Simmons.
Stanley Allyn Owen (Tarzan) and Leopard. Photo by Cayce Calloway.
Tarzan the Stage Musical
While the popularity of Tarzan films has dwindled over the years, replaced by humongous money-making superhero franchises like Batman and Spider-Man, theatrical productions of Tarzan, The Stage Musical, especially among high schools and community theaters, are still being mounted. A recent example is The Atlanta Lyric Theater's acclaimed production of Tarzan, The Stage Musical, which Ed Rubin had the good fortune to attend late in the run.
Anika Noni Rose as Carmen Jones. Photo by Joan Marcus.
At Classic Stage, splendid "Carmen Jones" places black wartime workers in Bizet's opera
"Win That War!" sing workers in a parachute factory in a town about 1,000 miles south of Chicago. It's a striking transformation of Georges Bizet's opera "Carmen," about a worker in a Spanish cigar factory in 1820, to wartime US in 1943 with a book and lyrics by Oscar Hammerstein II. The "Carmen" triangle is still a sultry tangle between Carmen and a military guy, now army instead of militia, and a big-time prize fighter replacing the toreador, the word Bizet's French opera invented to mean torero (bull fighter) because it had the right syllables. Hammerstein reset the story with a black cast, and this is the first major New York revival since its debut on Broadway 75 years ago. Elegantly directed by John Doyle, this is an intimate production in the Classic Stage's small theater in the square, a chamber opera where you can practically touch the performers. By Lucy Komisar.
"Conflict" at the Beckett Theater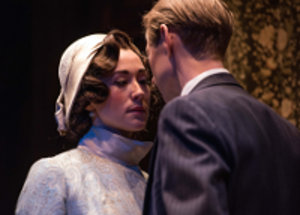 Jessie Shelton and Jeremy Beck. Photo by Todd Cerveris

In "Conflict" (1925), we meet Lady Dare Bellingdon (Jessie Shelton), the spoiled daughter of a powerful, conservative father (a patrician Graeme Malcolm). She lunches, she shops, she gossips, she clubs past 3 AM, and Major Sir Ronald Clive (Henry Clarke), who plans to run for Parliament, her beau, adores her. A homeless man, Tom Smith, (Jeremy Beck), who breaks into her father's London residence, will change her life. In rags, he has come for a handout although he and Clive were once schoolmates at Cambridge. Bellingdon and Clive condemn him roundly but offer generous alms. Tom Smith's next visit is even more surprising. By Glenda Frank.

"The Dog in The Dressing Room" at The Schoolhouse Theater
Who doesn't love a backstage drama? The revelations behind the scenes are the drama in favorites like "Phantom of the Opera," "Kiss Me Kate," and "Noises Off." "The Dog in the Dressing Room," a backstage comedy by Deborah Savadge, is now debuting at The Schoolhouse Theatre, Westchester County's longest running Equity Theatre, on June 14 and will play through July 1. Games, secrets, old wounds, stalking, champagne, a canine, and love play their parts in this smashing comedy. By Glenda Frank.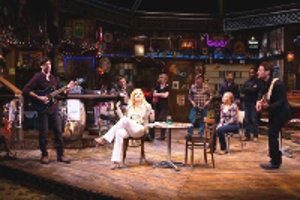 Caption: Felicia Finley and the company of "Songbird"
"Songbird" at Two River Theater
"Songbird" is based, subtly and effectively, on Russian dramatist Anton Chekhov's "The Seagull," an 1896 play you need not have seen or read (or even heard of) in order to appreciate this multi-faceted hoedown derivative. Coupled with Michael Kimmel's affecting book (and a nudge from a Century-plus-ago playwright), "Songbird" is a rare blend of foot-stomping rhythms and heart-tugging emotions, that Two River Theater Company is serving up with style. By Philip Dorian.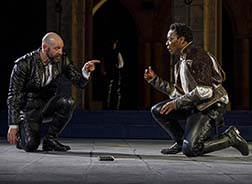 Corey Stoll as Iago and Chukwudi Iwuji as Othello, photo Joan Marcus.
Public Theater's "Othello" at Delacorte Theater
Shakespeare's "Othello" at the Delacorte Theater in Central Park seemed more about racism to me than it ever had before. Under the clear, commanding direction of Ruben Santiago-Hudson and featuring the mesmerizing, almost painfully gut-wrenching acting of Chukwudi Iwuji as Othello, you imagine what a lifetime of racial slights has done to his judgment and trust. By Lucy Komisar.
Catherine (Maggie Horan), left, Eddie (Rich O'Brien) and Beatrice (Claire Beckman). Photo courtesy of Brave New World Repertory Theatre.
"A View From The Bridge" on a barge in Red Hook
Brave New World specializes in site-specific productions, and mounting "A View from the Bridge" on a barge actually afloat on the Red Hook, Brooklyn waterfront, is inspired. The 'Waterfront Museum & Showboat Barge' is covered over and cleaned up some from its seafaring days, but its original weathered deck and spars are intact. One can only wish that Miller, who died in 2005, were still around to sneak up the gangplank into a performance. By Philip Dorian.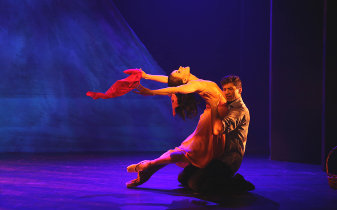 Photo of Tony Yazbeck and Irina Dvorovenko
"The Beast in the Jungle" at Vineyard Theatre
Directed and choreographed by Susan Stroman, this adaption of Henry James's 1903 novella "The Beast in the Jungle" is a melancholy treatise on unrealized romance and thwarted passion that unfolds in James's characteristically elaborate prose. The same-titled theater piece inspired by the story is essentially a ballet, with intermittent narration and some spare-dialogue passages. By Philip Dorian.
TRAVESTIES -- Peter McDonald as James Joyce, Tom Hollander as Henry Carr, Scarlett Strallen as Gwendolen and Sara Topham as Cecily. Photo by Joan Marcus.
Stoppard's "Travesties"
"Travesties" is a glorious kaleidoscope of famous people, fiction and events that converge in Zurich during World War I and raise questions about radical politics, the meaning of art, and the validity of memory to link it all. By Lucy Komisar.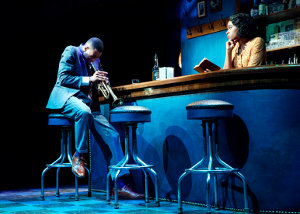 J. Alphonse Nicholson and Kristolyn Lloyd. Photo by Joan Marcus.
Paradise Blue
"Paradise Blue" focusses on what happens when a jazz joint in Detroit's Blackbotton neighborhood is thrown into turmoil thanks to 1940s gentrification; the erratic behavior of Blue (J. Alphonse Nicholson), the club owner; and the arrival of a sexy and dangerous woman named Silver (Simone Missick). By Paulanne Simmons.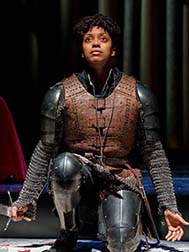 Condola Rashad as Saint Joan. Photo by Joan Marcus.
Saint Joan
Bernard Shaw was a feminist. And a religious skeptic. Who better than to tell the story of Saint Joan? How do you do that when you are a socialist and not a militarist? You focus on the hypocrisy of the religious establishment, that had no problem with war, but only with who keeps power. By Lucy Komisar.
Two views of "My Fair Lady"
Paulanne Simmons writes that from Catherine Zuber's elegant costumes and Michael Yeargan's sumptuous set, to the delightful interpretation of Lerner and Loewe's magnificent score brought to life by Ted Sperling's musical director, Robert Russell Bennett and Phil Lang's arrangements, and Marc Salzbeg's sound design, Lincoln Center's "My Fair Lady" is a treat for the eyes and ears. Lucy Komisar adds that this time there's a feminist kick. And some class solidarity. Bartlett Sher's progressive production brings the musical back to its roots with references to the women's suffrage movement. Sher is attentive to George Bernard Shaw's intentions to comment on class disparity and social inequality. With wonderful direction, vocals, and set design, this comedy of manners is sure to delight.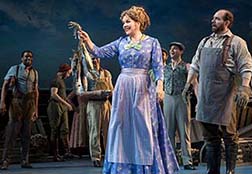 Renee Fleming as Nettie Fowler and company. Photo by Julieta Cervantes.
Carousel
"Carousel" is a gorgeous show with a hokey, simplistic, no-politics story, says Lucy Komisar. The vocals are thrilling, led by opera diva Renée Fleming who presents her solos as if they were arias. And the naturalistic sets by Santo Loquasto, from the top of the merry-go-round to whaling boats in the sea and lobster cages are entrancing. It's a gorgeous show, if you forget the story.
Brian Tree Henry as William, Beth Powley as Dawn, Michael Cera as Jeff, Chris Evans as Bill. Photo by Joan Marcus.
Two views of "Lobby Hero"
It hardly seems possible that a play about murder, rape and police corruption could be even remotely amusing. Yet, in many ways, Kenneth Lonergan's "Lobby Hero" might be the funniest show on Broadway this season. Paulanne Simmons and Lucy Komisar weigh in.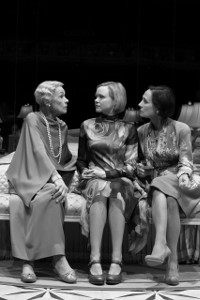 Glenda Jackson, Alison Pill and Laurie Metcalf in "Three Tall Women." Photo by Brigitte Lacombe.
Two views of "Three Tall Women," 2018
It's only a few months before the 26th anniversary of the first American appearance of Edward Albee's masterpiece, "Three Tall Women," yet we've seen surprisingly few revivals. It's admittedly difficult to perform, but hundreds of our high schools have performed the extremely demanding constant dance numbers of "A Chorus Line" without even one cast member who can really dance. Certainly those who love Albee's plays can rejoice at this masterful new version. The legendary actress Glenda Jackson—who returned to the stage after 28 years in England's Parliament and got raves playing King Lear in Shakespeare's play with The Royal Shakespeare Company—stars with two admired, award-winning American actresses. And it's gorgeously designed (Miriam Buether) as well as excitingly directed by Joe Mantello, one of Broadway's most honored directors. Herbert Simpson and Lucy Komisar weigh in ambivalently. Lucy writes she'd love to see a feminist "Three Tall Women, Part 2."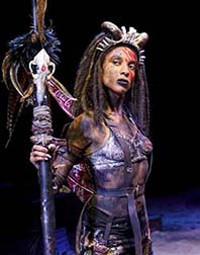 Tamyra Gray as Papa Ge. Photo by Joan Marcus.
"Once on this Island" is a Gorgeous Folk Opera About Color and Class in the Caribbean
Called a charming, surreal, and politically sharp-edged play, Lucy Komisar advises audiences not to arrive late to this production. Full of magical realism created by director Michael Arden, this charming folk opera is about class and race. By Lucy Komisar.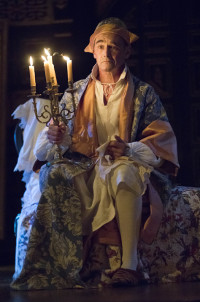 Mark Rylance as King Phillippe V in the Shakespeare's Globe production of "Farinelli and the King." Photo by Joan Marcus.
Two Views of mark Rylance in "Farinelli and the King"
Edward Rubin thought no one could rescue Rylance from his wobbly and unsatisfing portrayal of Phillipe V. However, Lucy Komisar thought this was a thrilling performane. See how the two compare. By Edward Rubin and Lucy Komisar.
Katrina Lenk as Dina and Tony Shalhoub as Tewfiq in
The Band's Visit. Photo by Matthew Murphy.
"The Band's Visit"
When a musical transfers from off-Broadway to Broadway, there are always a few essential questions. Will the production work on a bigger stage? Will the sound fill a larger house? Will the show be true to the original, even with new members in the cast? Happily, The Band's Visit, helmed by David Cromer, answers all these questions with a resounding yes. By Paulanne Simmons.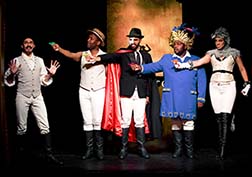 SPAMILTON: Putting down Phantom, Aladdin and Cats. Photo by Carol Rosegg.
"Spamilton"
The fellow on stage looks familiar. He wears an 18th-century blue coat and gold buttons and is rapping. In Alessandrini's "Spamilton", an affectionate pastiche of Broadway heroes which will ring true with any seasoned audience. Laugh along as Alessandrini spoofs on "The Lion King," "Cats" and of course "Hamilton" itself. If you can't get tickets to that particular constitutional classic, "Spamilton" will keep you smiling for days. By Lucy Komisar.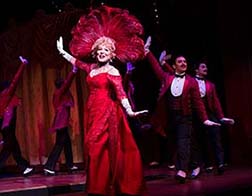 Bette Midler as Dolly Gallagher Levi and waiters at the Harmonia Gardens. Photo by Julieta Cervantes.
Aaah, hmmm, but we'll bette you'll love it too.
"Hello Dolly" with Bette Midler is outdated on feminism and talent. But the audience loved every starpower minute of it. By Lucy Komisar.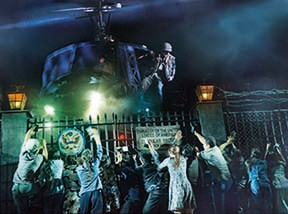 The famous helicopter escaping the fall of Saigon, and Vietnamese desperate to get on it. Photo by Matthew Murphy
Miss Saigon is Back
Claude-Michel Schönberg and Alain Boublil found worldwide success with "Les Misérables," a drama of the political. The personal stories were of Jean Valjean, the man imprisoned for stealing a loaf of bread, and the masses of the oppressed he represented. There was a minor love story. But in "Miss Saigon," the star-crossed lovers are the major focus, with the crisis of America's war in Vietnam and how it destroyed the country just a backdrop. So, this play is often hokey and not very satisfying. By Lucy Komisar.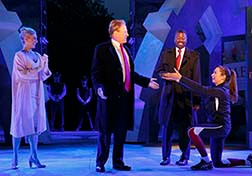 Tina Benko as Calpurnia, Gregg Henry, Teagle Bougere as Casca and Elizabeth Marvel as Marc Antony. Photo by Joan Marcus.
The Public's "Julius Caesar" brilliantly trolls Donald Trump, and masses "resist"
Oskar Eustis, director of a mesmerizing Public Theater staging of Shakespeare's play about taking down an incipient dictator, says that "Julius Caesar can be read as a warning parable to those who try to fight for democracy by undemocratic means. To fight the tyrant does not mean imitating him." By Lucy Komisar.
Serhiy Zhadan performing song inspired by Timothy Snyder's book "On Tyranny." Photo by Waldemart Klyuzko.
1917-2017: Tychyna, Zhadan & the Dogs
It is a truism to say that our present world is in turmoil. Most of us are reeling from news about bombings, civil wars, millions of refugees migrating over the face of the earth, while fanaticism, nationalism, racism, xenophobia is grabbing the psyche of young and old. And the sense of political impotence alternates with rage about signs of backsliding into tyrannical modes of governance propped up by corruption and cronyism. However, a fighting spirit has also emerged among peoples. The present production at La Mama presented by the Yara Arts Group, conceived and directed by Yara's Artistic Director Virlana Tkacz, has brought together Ukrainian and American performing artists that take us through a compendium of political activism with music, movement, poetry and video imagery. By Beate Hein Bennett.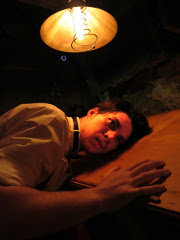 Gordon Palagi in "The Cooping Theory: Who Killed Edgar Allan Poe?"
The Cooping Theory: Who Killed Edgar Allan Poe?
Unlike most immersive experiences, "The Cooping Theory: Who Killed Edgar Allan Poe?" offers not only sounds and sights but also a delicious meal and craft cocktails. By Paulanne Simmons.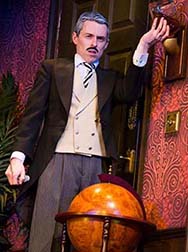 Jonathan Sayer as the butler Perkins pouring liquor down the phone. Photo by Jeremy Daniel.
"The Play That Goes Wrong"
One of the stars of this play is not human. It's the set for the riotous slapstick comedy put on by (real) British actors about a disastrous production of "The Murder at Haversham Manor" by a fakeuniversity drama society. Sometimes slapstick is silly, but this is exceedingly clever. By Lucy Komisar.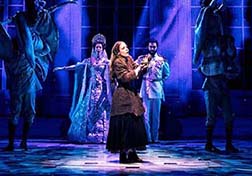 Christy Altomare as Anya, and ghosts of the past. Photo by Matthew Murphy.
"Anastasia"
Complex, fascinating and gorgeous, this fantasy tale of the young woman who might be the surviving daughter of Czar Nicholas of Russia is a colorful musical mystery with elegant singing, marvelous dancing and costumes that light up the stage. With a book by Terrence McNally, music by Stephen Flaherty, and lyrics by Lynn Ahrens, it features the top talents of Broadway. That goes for director Darko Tresnjak and choreographer Peggy Hickey, who have "big Broadway show" written all over them. "Anastasia" a fine colorful big-musical Russian Romanov princess fantasy. By Lucy Komisar.
2 Views of"Come From away"
"Come from Away," a new musical by Irene Sankoff and David Hein at the Gerald Schoenfeld Theatre, is based on the true story of the almost 7,000 stranded passengers from 38 flights who were not permitted to cross into the United States on Sept. 11 and landed in the small town of Gander, population 9,000. By Glenda Frank and Lucy Komisar.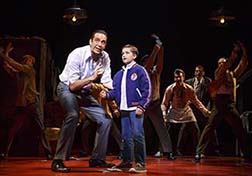 Nick Cordero as Sonny, Hudson Loverro as Calogero. Photo by Joan Marcus.
"A Bronx Tale"
It's a knock off of "West Side Story," here Italians vs blacks, and very hokey, but "A Bronx Tale" has a certain charm and pizazz nonetheless. The place is Bedford Avenue, tenements with fire escapes and pushcarts. And kids singing doo-wop. They are working class Italians, circa 1960."A Bronx Tale" is musical coming of age with a twist: kid grows up among hoodlums By Lucy Komisar.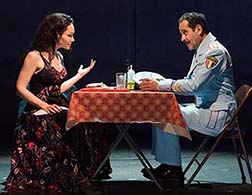 Katrina Lenk as Dina, Tony Shalhoub as the conductor. Photo by Ahron R. Foster.
"The Band's Visit."
An Egyptian police band, the grandly named Alexandria Ceremonial Police Orchestra, is supposed to play at an Arab cultural center in Israel, but gets the town's name wrong at the bus station and ends up in an Israeli backwater. "The Band's Visit" is a charming gem about human connections across political divides. By Lucy Komisar.
"A Bronx Tale"
Since "A Bronx Tale" has already been a solo show and a film, it might have been inevitable that it eventually become a musical. This is not necessarily a terrible thing. In fact, the show currently at the Longacre Theater is not at all bad. By Paulanne Simmons.
---
© copyright 2019, Metro New Media, Inc.
| lobby | search | home | cue-to-cue | discounts | welcome | film | dance | reviews |
| museums | NYTW mail | recordings | coupons | publications | classified |