Welcome to the New York Theatre Dance Wire Attic.
This is a directory page for archival articles indexed by our internal search engine.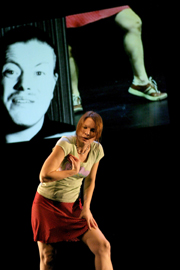 Sourcing Stravinsky-- "Track 11," Dayna Hanson and Linas Phillips. Performer: Dayna Hanson. Photo: Julieta Cervantes.
Stravinsky Reassembled
Almost ever since there was music by Stravinsky, dancers have danced to it. That the choreographic possibilities of his rhythmically supple scores have not been exhausted was demonstrated in "Sourcing Stravinsky," the program of new dances and theater pieces Annie-B Parson curated at Dance Theater Workshop. By Jack Anderson.
Stephen Petronio Company, "BLOOM." Elena Demianenko, Jonathan Jaffe, Jimena Paz. Photo: Chris Woltmann.
Petronio's Springtime
Just look at our world: global warming, devastating storms, political scandals, wars, threats of war, unending disasters. No matter what the calendar says, this may be a perpetual winter of discontent. But at the Joyce Theater, the Stephen Petronio Company keeps dancing through spring. Petronio has often choreographed mysterious and even disquieting works. Nevertheless, in these troubled times he turns his attention to spring. What's more, his dances do not appear to be mere escapism. Petronio's spring has significance. By Jack Anderson.
MARTHA GRAHAM -- Dancer Fang-Yi Sheu in "Cassandra." Photo by John Deane.
Martha Graham: Synthetic and Real
On April 18, 1926 the Martha Graham Dance Company gave its first performance. On April 18, 2006, the company celebrated that event with a gala. In the 80 years since its debut, it has survived many crises including recent managerial and directorial ones. Yet it dances on, and so there was an appropriate air of festivity about this program of excerpts from Graham works, plus a few by Ruth St. Denis and Ted Shawn with whom Graham danced before striking out on her own. By Jack Anderson.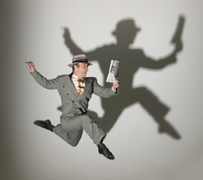 James Sewell Ballet -- Benjamin Johnson in "Guy Noir: The Ballet." Photo by Erik Saulitis.
James Sewell Ballet
James Sewell creates ballets with ideas. Some of them work better than others. Nevertheless, when his Minneapolis-based James Sewell Ballet came to the Joyce Theater, it avoided familiar balletic formulas. Just as villains in fiction and drama often prove more interesting than noble heroes, Sewell's demonically possessed individuals were more striking than his angelic celebrants. Yet he made their journey to serenity convincing. By Jack Anderson.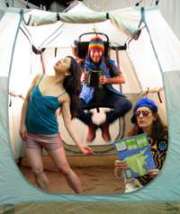 "Travels, Tours and One-Night Stands" -- Kim Ima, Chris Wild and Onnie Johnson.
Travelers' Tales
Journeying became a joy in "Travels, Tours and One-Night Stands." What the production at La MaMa celebrated was wanderlust itself, the excitement of taking off just for the adventure of experiencing the unfamiliar. By Jack Anderson.
TOOTHPICK EPICS -- Photo of Tero Saarinen by Marita Liulia.
Tero Saarinen's Toothpick Epics
Finland's Tero Saarinen originally called his group Company Toothpick. He soon must have found this a frivolous name for a serious endeavor. So it's now the Tero Saarinen Company. But during its first New York season, that old name sometimes seemed apt. Saarinen's works are as pared down as toothpicks, with never more than three people on stage at any time. Simultaneously small-scale and grand, these dances are toothpick epics. The choreography often makes people appear to be carving movements out of space, as if out of stone, and Mikki Kunttu's protean lighting designs fill empty air with a sense of mysterious presences.
Mark Morris' "Four Saints in Three Acts"
Mark Morris Premieres
The New York premieres of the Mark Morris Dance Group's 25th anniversary season at the Brooklyn Academy of Music came during the company's final set of performances (March 22-25). By Jack Anderson.
Paul Taylor's Many Worlds
Paul Taylor's dances are often seductive. But just as theatergoers are ready to succumb to them, Taylor can provide a choreographic sock to the jaw. His works both caressed and attacked viewers' sensibilities in a City Center season notable for its generous repertory. Two premieres demonstrated how Taylor can create distinct choreographic worlds, some of them contradictory. By Jack Anderson.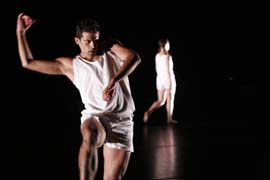 Antonio Ramos (front) and Paige Martin (back) in ''Not-About-AIDS-Dance'' by Neil Greenberg. Photo by Chris Woltmann.

Neil Greenberg: As Time Goes By
Neil Greenberg's program came during Gay Pride Week, an ideal time for this double-bill. AIDS first attracted attention 25 years ago. In 1994, a slide projection in Greenberg's "Not-About-AIDS-Dance" confessed that he was HIV-positive. Today, Greenberg is still dancing, still choreographing, and offering a revival of "Not-About-AIDS-Dance." By Jack Anderson.
Julio Bocca's Farewell
Julio Bocca has retired from American Ballet Theatre. The great Argentine dancer has always been both a showman and an artist, and his artistry was remarkable in four works during the company's summer season. By Jack Anderson.
Jenifer Ringer, with from left, Jonathan Stafford, Amar Ramasar, and Sean Suozzi in "Russian Seasons." Photo by Paul Kolnik.
NYC Ballet: Final Diamonds
The New York City Ballet's last two diamonds truly glittered. These were the final new works in its Diamond Project series of premieres: Jorma Elo's "Slice to Sharp" and Alexei Ratmansky's "Russian Seasons. Neither choreographer is widely known in America. These works suggest they should be. "By Jack Anderson.
ROD RODGERS: CONTINUING -- Kim Grier and Martha Tornay in "When We Were Young." Photo by Herbert Delancey.
Rod Rodgers: Continuing
Rod Rodgers, a longtime presence on the downtown dance scene, died in 2002. But his Rod Rodgers Dance Company, now directed by Kim Grier, remains a presence there. A festival called "The Dance Legacy Continues" proved that Rod Rodgers Dance Company seeks to be a continuing presence. By Jack Anderson.
Eiko and Koma: "Cambodian Stories: An Offering of Painting and Dance"
Eiko and Koma usually dance alone, rarely choreograph for others, and often concern themselves with mighty cosmic forces and archetypal patterns. Yet their new "Cambodian Stories: An Offering of Painting and Dance" has a cast of 11, and mingles earth and cosmos, history and myth, and life and art in an unusually poignant manner.
See: NYC Ballet: NYC Ballet--Concertos, Etc.
NYC Ballet--Concertos, Etc.
"Let's choreograph a concerto!" Concertos inspired two recent productions in the New York City Ballet's Diamond Project festival. Both received their premieres May 10, and were repeated together, May 20. By Jack Anderson.
"Saints and Sex"-Dancers: Aaron Mattocks, Jennifer Lafferty, Laura Arrington, Renee Archibald, Rebecca Serrell, Omagbitse Omagbemi, Derry Swan, and Darla Villani. Photo by Paula Court.
Saints and Sex
Religion and sex often find themselves locked together, sometimes in rapture, sometimes in torment. Christopher Williams vividly choreographed both conditions. By Jack Anderson.
CEDAR LAKE - "HAMMER" Dancer: Jessica Lee Keller. Photo: Paul B. Goode.
Nietzsche at Cedar Lake
New York City has recently gained some fine new spaces for dance, and Cedar Lake in the Far West of Chelsea is a particularly impressive one. The 16,000-square-foot Cedar Lake, originally two adjacent garages built in 1914, is especially well-equipped, with generous rehearsal areas and a 191-seat theater with a spacious stage. The building has its own dance company, Cedar Lake Contemporary Ballet, directed by Benoit-Swan Pouffer, formerly of the Alvin Ailey American Dance Theater, and he appears to favor a sharp, assertive performance style. The last production was "Dream Collaborations," a program of one-act ballets inspired by dreams. The dreams are back, this time sharing a season with Pouffer's new "Hammer," an hour-long piece inspired by Friedrich Nietzsche's "Twilight of the Gods," in which, the choreographer says in a program note, that the philosopher "talks about posing questions and challenging life with a hammer." By Jack Anderson.
Forsythe's Contrived Chaos
In "Kammer/Kammer," William Forsythe creates chaos for his Forsythe Company, which now has dual headquarters in Frankfurt and Dresden. Because Forsythe is a brainy choreographer, the chaos is cunningly contrived. That's why this two-act piece is often pretentious and yet, for me at least, finally gripping. But the key word here is "finally."
NYC Ballet: Two Diamonds
The New York City Ballet has opened its sixth Diamond Project festival of premieres by international choreographers. This one's first two offerings included intriguing pieces by Mauro Bigonzetti, from Italy, and New York's Eliot Feld. Just mentioning Feld's name can make some balletgoers furrow their brows, for he can be an exasperating choreographer. Yet Feld may also be an essential one. By Jack Anderson.
Gary W. Jeter, II. Photo by Lois Greenfield.
Philadelphia Energy
Philadanco commands the stage. Joan Myers Brown has trained her Philadelphia dancers to attract, and hold, attention, and they certainly did so at the Joyce. By Jack Anderson.
Photo by Bruce R Freeley.
Shen Wei's Moving Brushstrokes
Shen Wei has studied painting, as well as dancing, which may help account for the distinctive look of his productions, which he both designs and choreographs. He also invests the choreography itself with painterly qualities. In both of his pieces at the Joyce, the stage could be likened to a painter's canvas and movement phrases resembled lines or brushstrokes. By Jack Anderson.
Animals are permitted at Yubiwa Hotel. Photo by Kunihiko Hatase.
Strange Doings at Yubiwa Hotel
The flier for "Candies: girlish hardcore" quotes a Japanese newspaper's claim that the company "stimulates all five senses." The more I thought about this the more alarmed I became—smell? taste?—but the performance, though a bit puzzling at times, was not so traumatic as all that. By Henry Baumgartner.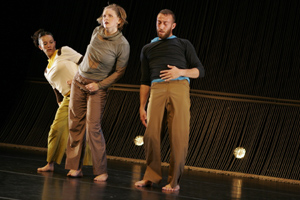 Rebecca Serrell, Meredith McCanse, and Lawrence Casella in Nelson's new ''Mean Piece.'' Photo by Julieta Cervantes.
A Mean Piece from Jeremy Nelson
Jeremy Nelson's program at DTW began with a work from 2004, "Accent Elimination." Five dancers slide and spin in front of a backdrop that shows a large red feather and a line of meaningless characters such as computers like to spew out when something's not going right. By Henry Baumgartner.
Neil Greenberg soloing in his ''Disco Project.'' Photo by Julieta Cervantes.
The Bessies: Rite of Autumn
One of the harbingers of a new dance season in New York is the return of the Bessies, the downtown dance and performance world's annual awards ceremony. Of course it is written on high that such awards must have a pompous-sounding official name as well as a friendly-sounding official nickname, so these are the New York Dance and Performance Awards. By Henry Baumgartner.
The San Francisco Ballet Returns
Making its first New York appearances in four years, the San Francisco Ballet demonstrated that it remains a major company. Its most eagerly awaited production was Mark Morris's three-act "Sylvia" which, at its premiere in 2004, apparently surprised some San Franciscans who, knowing that Morris can be prankish, expected an iconoclastic treatment of Delibes's score. Instead, he took this tale of nymphs, dryads, and shepherds quite seriously, with classically-based dancing and unexaggerated mime. All this attested to Morris's musical intelligence. By Jack Anderson.
"Sundown" on the Gowanus Canal by Yoshiko Chuma and the School of Hard Knocks. Photo by Jonathan Slaff.
"Sundown" on the Gowanus Canal
Yoshiko Chuma's "Sundown" celebrated urban gawking. It also suggested that seven is Chuma's lucky number, for this seven-hour event (3-10 p.m.) presented in the year's seventh month involved seven dancers under Chuma's direction, seven trombonists playing a score by Christopher McIntyre, and a set of seven-foot cubes designed by Ralph Lee. By Jack Anderson.
Photo by Igor Sapina.
Chunky Move and Clunky Men
Just as social dancing causes certain men to show off on the floor, it keeps others clinging to the wall. Gideon Obarzanek choreographed a sympathetic portrait of both agile and maladroit gentlemen in "I Want to Dance Better at Parties," presented by his company, Chunky Move, from Melbourne, Australia. By Jack Anderson.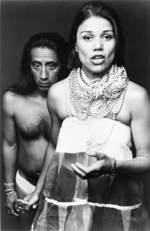 Patricia Hoffbauer & George Emilio Sanchez in "LaMaMa Moves!"
La MaMa Dances On
Dance events have long come to La MaMa. But now dance abounds in the theater center's three spaces in "La MaMa Moves!", a series featuring 50 attractions curated by Nicky Paraiso and Mia Yoo. By Jack Anderson.
"underground" Heather McArdle and Joseph Poulson. Photo by Vartoogian.
Dorfman Among the Weathermen
Although David Dorfman's "underground" lasts less than an hour, it could be debated for hours on end. At the same time, it must be said that the questions it asks might be raised equally well by newscasts or ethics textbooks. However, in this case, it is, unquestionably, Dorfman's dance-theater work that provokes thought, even though his creation does not abound in revelatory theatrical images: "underground" is more important for what it suggests, than for what it shows. By Jack Anderson.
''Several Witty Observations'' Katarzyna Chmielewska. Photo by Piotr Woloszyk.
Polish Playfulness
The Dada von Bzdülöw Theatre of Gdansk has made its American debut with Leszek Bzdyl's "Several Witty Observations à la Gombrowicz." No one need know anything about Gombrowicz to enjoy these choreographic observations, presented in association with the Polish Cultural Institute. By Jack Anderson.
Keigwin's Finger Food
Larry Keigwin called his program of brief dances "Portraits," an appropriate title for these sharply-drawn sketches. His portraits also provided choreographic finger food, for finger motions dominated much of the evening. By Jack Anderson.
"Dancing vs. The Rat Experiment" by Witness Relocation.
Rat Dancing
Life can be a rat race, people can act like rats, and Dan Safer makes such behavior intellectually provocative in "Dancing vs .The Rat Experiment (or: I Have to Believe That All Men Are Basically Good)," the dance-theater piece he directed and choreographed for Witness Relocation, a troupe that has recently returned from a two-year residency at the Patravadi Theater of Bangkok, Thailand. By Jack Anderson.
Laughing Stone Dance Theater.
Laughing Stone's Pilgrimage
It was easy to tell that seven members of the Laughing Stone Dance Theater had embarked upon a mighty quest in Sin Cha Hong's "Pilgrimage." They were impossible to miss in their long thick robes and enormous headdresses that rose like spires. There were yoke-like poles attached to their backs, and footgear resembling pedestals or stilts made everyone tower over the stage. By Jack Anderson.
Conscience, Elegies, and Ballet Theatre
American Ballet Theatre deserves praise for once again including "Dark Elegies," Antony Tudor's ritual of mourning, and "The Green Table," Kurt Jooss's anti-war ballet, in its autumn season. Both are ballets of conscience and compassion. By Jack Anderson.
Meredith Monk, Theo Bleckmann, Katie Geissinger. Photo by Stephanie Berger.
Monk and Transience
A capital letter wasn't necessary. Meredith Monk calls her new production "impermanence," and she's right in making her title lower-case. By Jack Anderson.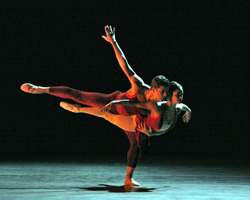 Misty Copeland and Marcelo Gomes in Jorma Elo's " Glow-Stop". Photo: Marty Sohl.
Ballet Theatre's Affirmations
American Ballet Theatre's fall seasons at the City Center feature what it has always done best: mixed programs of diverse one-act ballets. Of course, it can also offer other things: for instance, multi-act spectacles in spring at the Metropolitan Opera House. But the company first achieved fame in the United States, and then abroad, with its mixed bills. By Jack Anderson.
"Push". Photo by Bill Cooper.
Guillem and Maliphant
Sylvie Guillem, a French ballerina with what appears to be an infinitely pliable body and equally stretchable artistic interests, and Russell Maliphant, a Canadian-born British-trained dancer and choreographer with equally eclectic tastes, have joined forces. The result is "Push," an evening of three solos and a duet, all choreographed by Maliphant, that is the first event in an exchange program involving the New York City Center and London's Sadler's Wells Theater. By Jack Anderson.
Merce Cunningham's "eyeSpace." Photo by Anna Finke.
City Living, Cunningham Style
At first an intriguing announcement: the audiences uses iPods to hear Mikel Rouse's score for Merce Cunningham's new "eyeSpace." And it is fun. According to the company, because Rouse's complete score lasts 60 minutes and the dance lasts only 20, no one can hear the entire composition at any one performance. Moreover, setting the iPod on "shuffle" means that the device will randomly order the sections of the score. So you have no idea if you heard anything that anyone else did. By Jack Anderson.
Falling for Dance Again
The excitement continues. The third annual Fall for Dance Festival at City Center was once again a success, possibly even a greater one than its predecessors. By Jack Anderson.
What's New at Ailey
The Alvin Ailey American Dance Theater's winter seasons at the City Center have become welcome alternatives (or, some might say, antidotes) to the "Nutcracker" epidemics that sweep through this region annually. The performances were packed, audiences were enthusiastic (usually with good reason) and, in addition to many old favorites ("Revelations," of course, among them), there were new pieces and revivals. By Jack Anderson.
Walking Pretty
Oopalie Operajita avoids strutting. She has a gold business card. As one turns and shifts it, the panel glitters. Type font: deep red. Printing: double-sided. One side of the card reads: "Oopalie Operajita, Political Adviser and Strategist, Choreographer and Classical Odissi Danseuse, Adviser to Mr. Naveeen Jindel, Honourable Member of Parliament." The other side reads: "Cicero, A Trans National Advisory, Oopalie Operajita, CEO." Her diplomatic and political service may well have helped to hone a certain tactical panache—and dignity—in her stage persona. Reviewed by Molly McQuade.
Charemaine Seet, Krista Jansen, Alexis Murphy. Photo by Steven Schreiber.
Elkins and His Favorite Things
In "Fraulein Maria," Doug Elkins and some of his friends danced their way through one of his favorite things: the film version of "The Sound of Music." Elkins left no doubt about his fondness for this adaptation of the Rodgers and Hammerstein Broadway hit, calling it in his program note "the greatest movie musical ever made," presumably surpassing such other possible contenders for the title as "The Wizard of Oz," "Singin' in the Rain," "42nd Street," "An American in Paris" and, more recently, "Chicago." By Jack Anderson.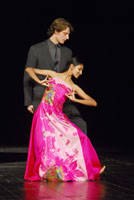 Nefés: Pascal Merighi with Shantala Shivalingappa. Photo by Stephanie Berger.
Bausch's Ode to Istanbul
Gorgeous. That's not a word often applied to Pina Bausch's choreography. Her works can easily be called powerful, scathing, satiric, and yes, at times, compassionate. But gorgeous? How many are gorgeous? "Nefés" is. By Jack Anderson.
Ballet Preljocaj: "Noces." Photo by JC Carbonne.
Ballet Preljocaj
Angelin Preljocaj may be an idea-driven choreographer. His two works at the Joyce were certainly dominated by ideas. Even his company's name reflects a certain idea about dance, one now common in Europe. In America, the word "ballet" in a company's name can indicate that, however far that company strays from classicism, it nevertheless remains grounded in traditional technique; in Europe, however, "ballet" can be a synonym for theatrical dance in general. By Jack Anderson.
''Kagemi: Beyond the Metaphors of Mirrors'' Sankai Juku lines up under the lotuses. Photo by Jacques Denarnaud.
Kagemi: Beyond the Metaphors of Mirrors
A man covered in dusty-looking white paint stands on a round platform in front of a small forest of strange white flowerlike things; the rest is darkness and silence. Everything we see is either black or white. By Henry Baumgartner.
''Ballet Memphis'' at Joyce Theater
Martha Clark's "Garden of Earthly Delights"
Tanztheater Wuppertal Pina Bausch: "Bamboo Blues" at BAM
A theatrical portrait of Anita Berber
American Ballet Theatre at City Center
Eiko and Koma in "Hunger" at Joyce Theater
San Francisco Ballet at City Center
"Trajal Harrell at the End of Time" at DTW
Fall For Dance: Thoughts on Programming at City Center
Christopher Wheeldon's Second Season at City Center
BalletMet's Mild Audacity at Joyce Theater
Three Filipino Choreographers at Flushing Town Hall