| go to index of reviews | go to entry page | | go to other departments |

Agate Elie
The 56th Obie Awards
WEBSTER HALL-- Venue of the 56th Village Voice Obie Awards. Photo by Willie Davis.
A big crowd from Off and Off-Off Broadway gathered for the Obie Awards Ceremony to celebrate the art of Theater at Webster Hall on Monday May 16 in Greenwich Village. S. Epatha Merkerson and David Hyde Pierce co-hosted the ceremony, accompanied by stars such as Alec Baldwin and Liev Schreiber, who introduced the awards and the winners. Other names such as Andrew Rannells, Arian Moayad, Frank Wood, Jim Parsons, John Larroquette, Lin-Manuel Miranda, Mamie Gummer, Margaret Colin, Nina Arianda, Patina Miller, and Rose Hemingway presented Obies to the winners. Anthony Rapp, of the original cast of the Obie Award-winning musical "Rent", and his band from the musical "Without You" performed at the ceremony.

Michael Feingold, chief theater critic of The Village Voice, chaired the awards committee. Joining him were Voice critic Alexis Soloski and four guest judges: Critic Hilton Als of The New Yorker; playwright David Henry Hwang, a three-time Obie Award winner for his plays F.O.B, Golden Child, and Yellow Face; director Evan Yionoulis, an Obie award winner for her production of Richard Greenberg's Three Days of Rain; and critic Andy Propst, of TheaterMania AmericanTheaterWeb.com (also a frequent Voice contributor), who serves as secretary to the committee.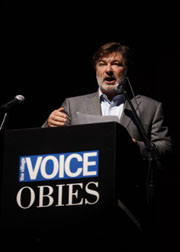 Alec Baldwin presenting the Best New American Play award. Photo by Willie Davis
After Antony Rapp's performance and Michael Feingold's introduction, the ceremony began with Alec Baldwin, who presented Kristoffer Diaz an award for the best new American play "The Elaborate Entrance of Chad Deity," accompanied by a $1000 check.

Obie awards for performance went to Michael Chernus for "In the Wake," Andre Braugher for "The Whipping Man," Scott Sheperd for "Gatz," Charlayne Woodard for "The Witch of Edmonton," Thomas Sadoski for "Other Desert Cities," Ethan Hawke for "Blood from a Stone," Brenda Whele for "The Intelligent Homosexual's Guide," Laurie Metcalf for "The Other Place" and Hamish Linklater for "School for Lies".
Ethan Hawke, winner of the Best Performance award for "Blood from a Stone." Photo by Willie Davis.
Frank Wood and Nina Arianda introduced a playwriting Obie Award to Samuel D.Hunter for "A Bright New Boise," a directing Obie Award to Leigh Silverman for "In the Wake" and "Go Back to Where You Are" and a Special Citation Award for "Sleep No More."

There were Special Citation Awards for Debbie Tucker Green and Leah C. Gardiner of "Born Bad" and Young Jean of "Lee in We're Gonna Die!" Sustained Excellence Awards were given to Jill BC DuBoff for sound design, F. Murray Abraham for performance and Donyale Werle for set design. Jim Parsons and Mamie Gummer conferred a playwriting Obie Award to Jonas Hassen Khemiri for "Invasion" and a directing Obie to Roger Rees and Alex Timbers for "Peter and The Starcatcher."
Austin Pendleton won a directing Obie for "The Tree Sisters." Metropolitan Playhouse and Wakka Wakka got Obie Grants. A Ross Wetzsteon Award was given to Belarus Free Theatre. René Buch and Repertorio Español were honored with a Lifetime Achievement Award.