Dancing in the Dark,
wearing "Life Masks"
"Life Masks" by Lorinne Vozoff and Eduardo Machado
September 29 - October 15
Theater for the New City (Community Space)
Presented by Theater for the New City, 155 First Avenue (at E.10th Str.)
Thurs – Sat @ 8:00 PM
$15 general admission; Box office (212) 254-1109, www.theaterforthenewcity.net
Reviewed by Beate Hein Bennett September 29, 2016
Sharon Ullrick (L) and Lorinne Vozoff (R) in "What's Mine" by Lorinnne Vozoff. Photo by Remy.S.
Performer/playwrights Lorinne Vozoff and Eduardo Machado contemplate the vicissitudes of age in three one-act plays under the title, "Life Masks." The first play, "What's Mine" written and directed by Lorinne Vozoff, takes us into the situation of aging and female sexuality through the comic lens of two "golden girls" who have competed for the same lovers throughout their life-long apparently unbreakable friendship.
The scene starts out with Lorinne Vozoff as jazz singer Fran, dressed in a long black gown, singing "Dancing in the Dark" on a small podium with a microphone, in some nightclub—her age, her exhaustion are palpable despite her routine and wistful humor. The other, Celia, is a travel-agent, played by Sharon Ullrick with high-octane energy and seemingly unbounded sexual hunger. The characters and their dialogue, full of pithy one-line retorts, feel at times a bit like a TV sitcom but the play does expose the pathos of the longings of single older women. The intimate space of theatre is simply furnished with a shabby dressing-room table crowded with wine and make-up accoutrements; it is the main place of action. The cool focused lighting, designed by Alexander Bartenieff, keeps the audience attention on the two women.
Eduardo Machado and Lorinne Vozoff in "Speak to Me" by Lorinne Vozoff. Photo by Remy.S.
The second one-act, "Speak to Me" also written and directed by Lorinne Vozoff, is a variation on the theme of being left on the side-line of life as time and life move on. An elegant man sits on a green park bench in the middle of the stage; he is dressed in a jacket, black trousers, and a black beret—his posture intimates melancholy or perhaps a suggestion of ennui as well as a certain self-conscious awareness of being in public. There is a theatrical stillness about him. This is Franklin Moffett, played by Eduardo Machado, who turns out to be an actor of former great fame.
His repose is disturbed by Sophie Beck, played by Lorinne Vozoff, who trundles on stage, clutching a little brown paper-bag containing her lunch; she zeroes in on the park bench and, after a polite request to sit down, she settles in. She is a sprightly lady who makes a strange request of the man: she wants him to say something because she longs to hear a male voice which she finds a most pleasing sound. He obliges hesitantly and introduces himself as Franklin Moffett; this absolutely enthralls Sophie as she recognizes him as the famous theatre actor she had seen in many roles when she was young. Their dialogue spirals from trivial irritations into the darker side of loneliness, fear, and disorientation. Sophie at one point gives in to despair: "You had a life but you can't remember it. Most of it is gone…We are lost..." And in that moment the actor Moffett steps in with Romeo's irresistible lines: "What light through yonder window breaks…" and rescues Sophie and himself from the despair of age. It is a lovely lyrical theatrical divertissement about elusive fame, theater, and life.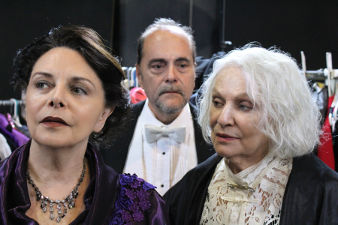 L: Sharon Ullrick as Sarah Bernhardt, C: Eduardo Machado as Duse's acolyte, R: Lorinne Vozoff as Eleonora Duse in "Acting" by Eduardo Machado. Photo by Remy.S.
The third one-act, "Acting" written and directed by Eduardo Machado, pits two of the most famous turn-of-the-19th century actresses against each other: Eleonora Duse played by Lorinne Vozoff, and Sarah Bernhardt played by Sharon Ullrick. The scene takes place in Pittsburgh in the 1920s when both were no longer young but still drawing crowds to their performances of youthful heroines, in this case Marguerite "La Dame aux Camelias." The play's conceit is that both are playing the same part in the same city on the same night, thus competing with each other for audiences. Eleonora Duse was known in her time for playing in a naturalistic style, for inhabiting her characters, while Sarah Bernhardt was demonstrably the diva who exhibited her characters.
Photo by Remy.S.
The former was known for her profound emotional rendering while the latter was a virtuoso of style who played Hamlet and Juliet even into rather advanced age and with a wooden leg. The two could not be farther apart in their approach to acting and to life. Duse says: "I am here to serve...I want to connect to everything. I want to be. I want to know the inside of everything and everyone. I want to play a moth. I want to be a moth." Bernhardt: "There is no puzzle, the script is the map! The words are the soul. You say the words right, job done."
Photo by Remy.S.
Machado's play brings the two together for a behind-the-scenes show-down. And they joust with each other while the Duse friend/sycophant Gino, played by Machado himself, attempts rather humorously and vainly to keep peace. Bernhardt/Ullrick does not shy away from vulgarity (sometimes the language is a bit anachronistic), Duse/Vozoff tries to maintain the dignity of her calling and displays the pathos of her lost love, the poet Gabriele D'Annunzio, to the mercantile interests represented by Bernhardt.
There is one line given to Duse which rings of contemporary truth and was delivered with great conviction by Vozoff: "They don't write parts for women in their 70's." These three one-acts try to rectify that lack and are worth seeing for that reason—and the fact, that they render a vigorous image of what parts for older actors can contribute to the theater repertory.