Daddy Dearest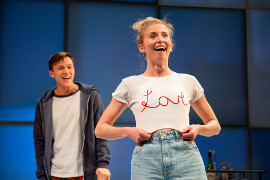 Photos by Danny Kaan.
"Herding Cats" by Lucinda Coxon, directed by Anthony Banks, live at the Soho Theatre, London, and streamed. May 20- June 21, 2021. Schedule: Thursday, May 20, at 2:30 PM ET / 7:30 PM GMT – press performance; Friday, May 21 at 2:30 PM ET / 7:30 PM GMT; Friday, May 21 at 6 PM ET / 11 PM GMT; Saturday, May 22 at 11:00 AM ET / 4:00 PM GMT; Saturday, May 22 at 2:30 PM ET / 7:30 PM GMT. June 7–21: on-demand streaming. Livestream tickets start at $19. Visit www.herdingcatsplay.com for more information and to purchase tickets. Reviewed by Glenda Frank.
You might want to cover your ears. "Herding Cats" by Lucinda Coxon ("The Danish Girl") opens with twenty-something Justine ranting against her Gen X, pot-smoking, ex-hippy boss. But not listening would be a mistake. Justine is charismatic, a smart, witty, outraged woman, wondering how soon she can take a drink. Michael, her roommate, is so quietly supportive, you know he's harboring a secret. Maybe more than one.
"Herding Cats" is about generational war -- and what these resentment-fueled young workers feel they are entitled to. Justine, stuck at the bottom of the labor pool, feels her talent is being exploited. But she doesn't realize is how needy she is. On the other hand, Michael, who admits he is damaged, is remorseless in getting what he wants. Playwright Lucinda Coxon will have you admiring her gift of gab and jokes. Her daring in this play will take your breath away.
Ironically this revival of the 2010 play, again directed by Anthony Banks, has been facilitated by both intergenerational and transatlantic cooperation in a unique technical experiment. The lovely, high-octane Sophie Melville as Justine and the versatile Jassa Ahluwalia as her roommate perform on the Soho Theatre stage for in-person London audiences, while Greg Germann ("Ally McBeal" and "Grey's Anatomy" ) as Saddo is patched in from Los Angeles. The performance began streaming on May 20 and will continue through June 21.
The millennials' problems are easy to identify with: the stress of earning a living, climbing the career ladder, finding love. Justine is an assistant to the new guy. He's a superrich, entitled, married man, who is lost in his new patronage job. He's hard to work with – inappropriate, verbally abusive, maybe even predatory. The other assistants offer Justine condolences and advice. One used to dip her boss's cup in the toilet before she made his tea. Justine complains that she leaves her apartment in darkness and returns from work in the dark, with little recognition. Her double dialogue, what she wanted to say and what she said, will strikes a nerve with almost everyone. She declares that the company would not survive without her. Her need to be appreciated is her unraveling.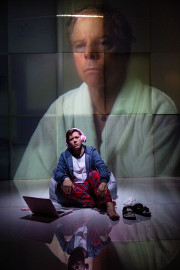 Michael is a telephone sex worker. At first he's a sympathetic character, limited by early myalgic encephalomyelitis or Chronic Fatigue Syndrome. He never leaves the apartment, and as Justine points out when he offers to help her find work on his site, his job is unsavory. We hear him talking to Saddo, a customer he calls Daddy, his male voice modified to sound like a girl. He's good at seduction, so good that when Saddo decides to resist his pedophilic fantasies, Michael lures him back. He even uses the unwitting Justine to bolster Saddo's fantasy. It's horrific and masterful.
I was disappointed that the play was not updated for the #MeToo Movement. Justine did not even consider reporting her boss to HR. Her not being fired or transferred by her boss when he hires a new assistant, who is probably his lover, struck me as unbelievable. I'm also disappointed that the production wasn't rawer, explosive – more like the play in my head when I read the script. Maybe some of Justine's more outrageous phrases were cut. But then again, perhaps the subtlety enhanced the shocks of discovery. I streamed the play a few days ago, and I can't stop thinking about it.