| go to entry page | | go to other departments |

Lucy Komisar
"Monty Python's Spamalot" is outrageously brilliant political satire.
Class struggle, love and the search for the Holy Grail prove a witty mix
'Monty Python's Spamalot'
Book & Lyrics by Eric Idle. Music by John Du Prez & Eric Idle.
Directed by Mike Nichols. Choreographed by Casey Nicholaw
Shubert Theatre, 225 West 44th Street.
212-239-6200.
Opened March 17, 2005
Reviewed by Lucy Komisar March 23 and May 14, 2005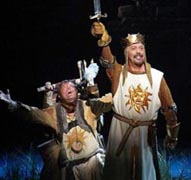 "Monty Python's Spamalot." (l-r) Michael McGrath, Tim Curry. Photo by Joan Marcus.
There's nothing like an outrageous political satire written by left-wing Brits! John Patrick Shanley, who won this year's Pulitzer Prize for "Doubt," wondered at a Drama Desk panel on theater and politics, which I moderated last year, why most plays were written by people on the left. The puzzle wasn't solved, but 'Monty Python's Spamalot' proves how lucky we are that it's true. And that Brits still have a vital leftist culture.
Who else could have a woodcutter (Christopher Sieber) rail at King Arthur (an ebullient Tim Curry) -- "Who elected you king?" "I object to you treating me like an inferior." -- and inform him that he and his mother lived in an anarcho-syndicalist commune? Or have the servant Patsy (the comically sad-sack Michael McGrath), burdened with luggage, ruefully remind the complaining Arthur ("I'm All Alone") that he really isn't. (Servants are invisible to the upper classes.)
Then of course, the Brits give us the knock-down, drag-out fight with the French, which is understood better if you follow the daily political battling across the Channel/ la Manche.
So, thank you Eric Idle, who wrote the book and lyrics of this brilliantly witty show. Idle was a writer and actor in the original Monty Python TV series and films.What American writing a Broadway musical in an age of creeping religious fundamentalism would dare introduce us to medieval Britain with a line of chanting monks smashing their heads against prayer books?
Or have King Arthur, explaining that the missing Holy Grail is the vessel used at the Last Supper, field the question: "Did God misplace a cup?" No, "it's a metaphor, a symbol." Cymbals crash! Segue to the Lady of the Lake (a multi-talented, sultry-voiced Sara Ramirez) singing "Find Your Grail" as a country & western song.
"'Monty Python's Spamalot." (l-r) Tim Curry, Sara Ramirez. Photo by Joan Marcus.
Of course, thanks to the amazing and inventive director Mike Nichols for all that as well. Idle and Nichols have proved that hysterically funny Broadway comedy can be intelligent! And the jaunty music by Idle and John Du Prez can actually by remembered after you leave the theater.
Nichols startles us all through the show with changes of style. There is outrageous black humor: a comically pathetic plague victim (the wonderfully naive Christian Borle) musically insisting, "I'm not dead yet!" as his body is thrown on a cart piled with corpses.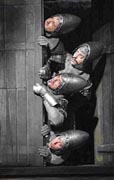 "Monty Python's Spamalot." Thomas Cannizzaro, Christian Borle, Hank Azaria,Greg Reuter. Photo by Joan Marcus.
Or Nichols turns to vaudeville, with tap dancing knights, and Las Vegas excess: Ramirez as a Liza Minnelli look-alike and glittering, leggy showgirls who seem to have stepped out of a 40s musical. The over-the-top sets and costumes by Tim Hatley are even more garish than in Las Vegas, if you can believe it. But this is not Las Vegas, it's Spamalot. And as we are reminded, "What happens in Spamalot, stays in Spamalot."
May this show stay in New York and run for the decade or two it deserves. Unless it's cut down by rightwing censors. Just joking. [Komisar]