'The Constant Wife' satirizes marriage among rich Brits:
Maugham's 1927 comedy gets delicious Roundabout revival
By Lucy Komisar
"The Constant Wife."
Written by W. Somerset Maugham. Directed by Marc Brokaw.
American Airlines Theatre, 227 West 42 Street.
212-719-1300.
Opened June 16, 2005.
Reviewed by Lucy Komisar July 29, 2005.
Closes August 21, 2005.
http://www.roundabouttheatre.org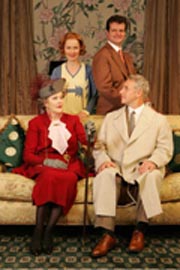 'The Constant Wife,' Lynn Redgrave, Kate Burton, Michael Cumpsty, John Dossett,photo by Joan Marcus.
Kate Burton twists the characters and the audience around her little finger in the Roundabout's delightful production of W. Somerset Maugham's 1927 satire of marriage among wealthy Brits.It is a romp of a feminist drawing room comedy about a wife who expertly confront her husband's affair with her best friend, learns the lessons of female power, and comes out on top, figuratively speaking.
The sophisticated Maugham, educated in France, England and Germany, began as a medical doctor, published his first novel in 1897, and went on to write plays. The suffragette movement had riveted Britain in the pre-war years, freethinkers were blasting marriage and writing about free love, and Maugham's play about the hypocrisy of upper-class coupling was part of the vogue. It must have made the rich spectators laugh in discomfort.
Constance (Kate Burton) is the idle wife of a successful surgeon, John (Michael Cumpsty), 45, who is keeping himself busy having an affair with her best friend, Marie-Louise (Kathryn Meisle), the idle wife of a boorish, rich businessman (John Ellison Conlee).
Her mother (Lynn Redgrave) and sister (Enid Graham) busy themselves over whether they should reveal John's infidelity. Mother's attitude is of the old school that boys will be boys. She doesn't attach importance to the philandering of men: "If John is going to deceive Constance, it's much better with somebody we know." And, "So long as a man's kind and civil, do you blame him? We are naturally faithful, because we have no inclination to do anything else." (That doesn't quite explain Marie-Louise, does it?)
Sister Martha, on the other hand (who designer Michael Krass dresses in the mannish clothes some feminists of the time adopted) wants the truth out.
But Constance is way ahead of them. Without giving the plot away, let us say that she operates on several assumptions. First, she admits she had married because, "It looked like an easy, honorable, lucrative occupation." Now, she acknowledges that working class wives give good value, but wealthy women do little; they are just mistresses, parasites. Therefore, an honest woman must earn and pull her economic weight.
Second, though she displays unusual sympathy and understanding toward both John and Marie-Louise, she also knows that a little subtle manipulation can give her the upper hand.
And, third, turnabout is fair play. Being economically independent ought to give her sexual freedom.
Constance's possibilities are expanded when a friend (Barbara Fawcett) invites her to join her interior decorating business. More choices appear with the arrival of an old flame (John Dossett), who is still smitten with her even after 15 years in Japan.
Their comings and goings pass through Allen Moyer's fabulous drawing room, decorated with elegant wall paper of birds in tree branches, furniture of green and gold Chinoiserie, gilt mirrors and a crystal chandelier.
Mark Brokaw directs with due archness, taking the absurd turns of plot not altogether seriously, but pulling the audience into the game. Burton is charming and direct as Constance, Crumpsty has a little-boy-with-fingers-caught-in-cookie-jar appeal, and Kathleen McNenny is sultry as the errant wife. (Still, the double standard is apparent there. Marie-Louise seems almost trampy, while John's myriad affairs don't mark him as even a roué.)
Lynn Redgrave as the mother and Enid Graham as sister Martha seem to be engaging in a pas de deux of "old woman" and "new woman," both rather exaggerated, to set off Constance's finally sensible choices (according to Maugham) which turn the marriage hand she's been dealt to her advantage.
Maugham's own nine-year marriage ended in divorce the year he wrote the play. Perhaps he was sending a message to his wife as well as the audience.

| home | discounts | welcome | search |
| museums | NYTW mail | recordings | coupons | publications | classified |