Reviews by Lucy Komisar
"The Intelligent Design of Jenny Chow"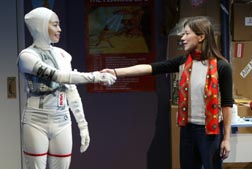 "The Intelligent Design of Jenny Chow," photo by Carol Rosegg
Written by Rolin Jones.
Directed by Jackson Gay.
Atlantic Theater Company, 336 West 20th Street.
Opens Sept. 19, 2005.
Reviewed by Lucy Komisar Sept. 16, 2005.
Closes Oct 15, 2005.
212-239-6200 or 212-691-5919 x126
http://www.atlantictheater.org.
In the world according to young playwright Rolin Jones, mothers are nagging screaming witches, dads are laid-back but ineffectual, and a brilliant 22-year-old interacts with a virtual universe through the internet.
Perhaps in a subtle jab at internet junkies, obsessive compulsive Jennifer (Julienne Hanzelka Kim) is tethered to her computer. The real world outside terrifies her, and she freezes like a crashed operating system when she nears the front door. This quirky, entertaining, well-acted production dealing with advanced engineering has some serious things to say about what makes people tick.
Appropriate for a play by and for 20-somethings, it is about finding your identity. The plot device is that Mom is horrible and all would be well if only Jennifer could find her "real" mother, Su Yang, who actually exists -- in China. Jennifer was born there and adopted as a baby by the Marcuses. They live in Calabasas, California.
As in any search these days, the prime tool is the internet, in this case, chat rooms. Jennifer finds and enlists a Mormon missionary in China (enticing him with sexual advice) to trace her genealogy and locate her mother. She revives contact with a nutty East European professor who gags at being forced to teach near-brain dead students at Yale, where playwright Jones attended the Drama School. She makes a deal with a spit-and-polish general who gives her a contract to engineer a guidance system to refurbish obsolete missiles. In exchange, he supplies parts for the robot that will fly to her birth mother's village. Oh, yes, there's a bit of sci fi.
One of Jones's best throwaway lines is delivered by a functionary for the Raytheon subcontractor in Georgia, who declares that he doesn't eat avocados "because we don't have the right kind of Mexicans to do anything about it." He and the other online men are splendidly portrayed by Remy Auberjonois, who has a talent for both verbal slapstick and deadpan humor.
Mom and Dad are also exaggerations, as viewed by young Jennifer. Mom (Linda Gerhringer), whom Jennifer calls by her first name, has her face screwed into a permanent scowl and never talks when she can yell. (Gehringer's angry Adele is to mothers what Martha ("Who's Afraid of Virginia Woolf?") is to wives. Dad (Michael Cullen), a fireman sidelined by a job injury, scouts for fires, gazes at shooting stars and never pressures his daughter. Her buddy, young Todd (Ryan King), is a pizza deliverer so dumb that he slices off the top of his car to make it a convertible.
Director Jackson Gay does a nice job launching the robot into the sky and moving the actors through Takeshi Kata's simple but effective sets which establish both sides of the internet chats as well as a starlit roof and a drive through the California hills.
Sometimes Jennifer's monologues and internet chats verge on the tedious. The vivid interpretation by Kim exudes energy that sets off sparks and almost makes you tired. Personally, I'd rather spend time with her clone robot, Jenny Chow, played with dash and charm by Eunice Wong. But her mother might have the same opinion: self-absorbed youth can be hard to take.
Jones looks a little deeper to understand the clash of personalities. Both women are smart and ambitious. They are arrogant, stubborn and fiercely independent. Adele staunchly believes that her daughter is brilliant and wants her to be "normal." Plus, she is emotionally and physically stressed by her job, which involves constant travel, missed plane connections, long meetings, all to support her unemployed child and spouse.
As Jones subtly points out, finding your identity is a complex matter. You have to come to terms with the givens, starting with your "virtual" parents. [Komisar]