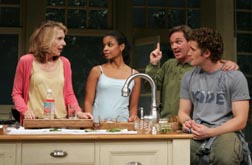 A NAKED GIRL ON THE APPIAN WAY -- Jill Clayburgh, Susan Kelechi Watson, Richard Thomas, Matthew Morrison. Photo Joan Marcus.
"A Naked Girl on the Appian Way"
Written by Richard Greenberg.
Directed by Doug Hughes.
American Airlines Theatre, 227 West 42 St.
212-719-1300
Opened Oct. 6, 2005.
Reviewed by Lucy Komisar Oct. 13, 2005.
Closes Dec. 4, 2005
http://www.roundabouttheatre.org.
Richard Greenberg's new play "A Naked Girl on the Appian Way" is billed as a farce but looks like a sitcom that escaped from television. It's got everything that no-brainer TV requires: a dizzy couple, three adopted kids of ethnic origins spanning the planet, hints of bisexuality and lesbianism, and an epithet-spewing tough old lady. The only thing it's missing is wit, intellect, characters that arouse your interest, and a plot even vaguely clever. Successful farce is broad satire of reality, not simply silliness.
Richard Thomas, who made his career in TV, plays banker Jeffrey Lapin as if he were still on the tube. The poor wide-eyed fellow – who is writing a book about business and art -- doesn't know right from left and is always losing his notes. Wife Bess (Jill Clayburgh) is a cookbook author who is so flighty that you worry she will set their elegant frame and glass Hamptons house on fire. Is it significant that lapin is French for rabbit? Homage to the upper middle class families of John Updike? Or just a reference to an object of cookery?
The secondary characters are also a bit nutty, but at least more interesting. I liked Ann Guilbert as Sadie, the slightly foul-mouthed old lady. (Why is it assumed that people who used salty language when they were young or middle aged should change when they get old, and that they are comical if they don't?) Leslie Ayvazian gives a lively performance as Elaine, who was married to Sadie's dead, unlamented-by-everyone son. The Hamptons writers joke is that Elaine is still talking about her outdated claim to fame, a book she wrote in 1978.
As sex is the prime commodity of sitcom, it is central to the supposedly shocking revelations of the play. It seems that two of the kids have gone to Europe for a year and a half and made a discovery that will shake the family equilibrium. A third kid, who is a Hamptons librarian -- ironic in a writers community to suggest that as a nerdy job -- is morosely bisexual, though that has no significance in his life other than that he announces it. Mom has a revelation, too, but it gets lost in the family turmoil. Greenberg, who is gay, seems to be making a political statement on that subject. But political statements ought to have a role in a play, not just be signs to post or flags to wave. (The title of the play is an arcane reference that doesn't have anything to do with the work, either.)
Clayburgh and Thomas are actors who deserve better scripts. One assumes they are playing their roles according to the instructions of director Doug Hughes, who hasn't brought to this play the talents he showed in "Doubt." Susan Kelechi Watson as Juliet Lapin is the only character who seems psychologically grounded, Matthew Morrison as Thad is as ditzy as his adoptive parents, and James Yaegashi as Bill maintains an expression and demeanor that looks like he has a stomach ache.
The best part of the production is a two-story glass-walled living room to die for, courtesy of designer John Lee Beatty.
I and others in the audience occasionally laughed at some of the lines, as you do in any TV comedy. But one expects more from the theater and especially from Greenberg who has written such fine and subtle works as "Take Me Out," "The Dazzle," "Hurrah at Last" and "Three Days of Rain."
This play's subjects – Hamptons writers, multicultural adoptions and diverse sexuality – can be the stuff of farce, but they require handling with a bemused, light touch, not the heavy-handedness of this production. [Komisar]