Lucy Komisar
"Born Yesterday" is a funny skewering of crooked capitalists and politicians

"Born Yesterday."
Written by Garson Kanin; directed by Doug Hughes.
Cort Theatre, 138 West 48th Street, New York, NY.
212-239-6200; http://bornyesterdayonbroadway.com/
Opened April 24, 2011; closes June 26, 2011.
Reviewed by Lucy Komisar May 4, 2011.

Garson Kanin's 1946 comedy is a delightfully clever political romp which pits a crooked businessman and a bought U.S. Senator against a supposedly dumb kept woman who gives everyone a civics lesson while taking the bad guys down a few notches.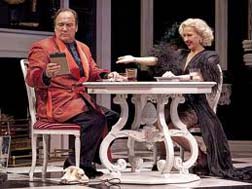 Jim Belushi as Harry Brock, Nina Arianda as Billie Dawn. Photo by Carol Rosegg.
Harry Brock (Jim Belushi) is the businessman who doesn't want rules and regulations interfering with his scrap iron sales. "No interference with free enterprise!" he declares. Harry is a capitalist crook; he's been a crook since age 12.

Billie Dawn (Nina Arianda) is a 25-year-old who left home still in her teens and ended up with Harry as the best deal an uneducated but very attractive young woman could make.

Harry is assisted by lawyer Ed Devery (Frank Wood), who used to be an assistant attorney general, but now declares, "I can see a loophole at 20 paces."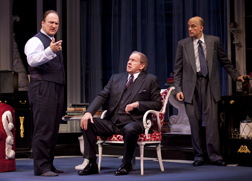 Jim Belushi as Harry Brock, Terry Beaver as Senator Hedges, Frank Wood as lawyer Devery. Photo by Carol Rosegg.
They can both see votes-for-sale politicians such as Senator Norval Hedges (Terry Beaver), who arrives at the Art Deco hotel suite where Harry holds court. (The luscious set is by John Lee Beatty.) Harry screams at the senator, who meekly takes the abuse, along with the cash.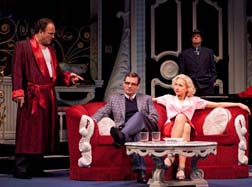 Jim Belushi as Harry Brock, Robert Sean Leonard as Paul Verrall, Nina Arianda as Billie Dawn, Michael McGrath as Eddie Brock, photo Carol Rosegg.
Kanin's own views are clear, spoken in the words of Billie and an honest journalist, Paul Verrall (Robert Sean Leonard) who comes to write a profile of Harry. He find his reporter's chops when he smells corruption.

At the same time, Paul falls for Billie and sets about liberating her mind with some civics lesson books and pamphlets. She starts out with Thomas Paine and proceeds to denounce the cartel Harry is building and to explain what turns a government fascist.

This production is valuable for two reasons. First, it's fascinating to see how in the 1940s, when strong political ideas had to be slipped into theaters more subtly than today, Kanin leavened his political lesson with brash comedy.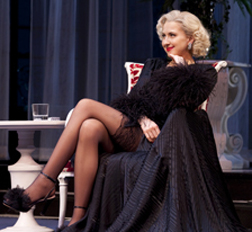 Nina Arianda as Billie Dawn. Photo by Carol Rosegg.
And second because Nina Arianda is an astonishing talent as Billie. In her heavy New York accent, she is at first tentative, empty-headed and cheerful and then increasingly feisty. She is a charmer; she lights up the stage.

Unfortunately, the staging falls down with Jim Belushi, who is too loud, crude and nasty as Harry. His performance is cartoonish and has no subtlety. That must be taken as the fault of director Doug Hughes. Frank Wood's lawyer is so mild and effacing that he almost disappears. Robert Sean Leonard does a creditable job as the journalist.