| go to other departments |

La Vie Noir
by Larry Litt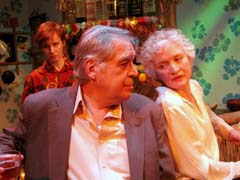 Jim Neu amd Mary Shultz play two patrons of the Blue Heron who play mind-bending games of concealed identity.
"La Vie Noir"
By Jim Neu
Directed by Keith McDermott
Music by Harry Mann and Neal Kirkwood
At La MaMa E.T.C.
74A East 4th Street, NY, NY
Opened Feb 15th, closes March 4th
www.lamama.org
This is a play about adults, for adults, and surprisingly--in this age of youth worship--by an adult mind. It's wit and word play; lack of youthful angst and multilayered characterizations create an evening of mature delight. Playwright Jim Neu subtly asks existential questions such as: are there lessons we can actually use from our love affair with Hollywood? Are some of us physically and psychically trapped in dialogues with characters from our favorites movies?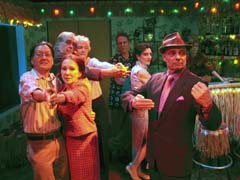 Tuesday night patrons of the Blue Heron take to the floor for the Blue Heron Tango as a storm rages outside.
In our often mediated world, where we are now used to having our opinions molded by celebrities and stars, can we be individiuals true to our own ways of thinking. When we meet other people who spout movie dialogue and we don't know the script, are we lost to the moment, never to know that person or their inner most responses to our overtures? When did we lose ourselves to film characters? When do we need to lose ourselves to them?
The Blue Heron Bar sits atop the tallest building in flatland, somewhere in the Midwest. It's a tropical themed bar: thatch bar, fruit and palm light strings, a sultry chanteuse in long tight Asian influence dress. Right out of Bogie and Bacall. The patrons are forty-plus somethings who come to drink liquor, not wine, to escape from the reality of what? Herein lies the existential question that makes this play one of the funniest and quirkiest of the season.
Can Cody Bates (played by playwright Jim Neu) score, or seduce as they say, Cora Carlisle (Mary Shultz) with good old fashioned film noir movie dialogue, or does he have to transform into a simpering, yet sincerely vulnerable contemporary man, begging for a bit of the love in Cora's hard hearted heart?
Jim Neu's intimate persiflage kept the seduction going and my interest in Cody and Cora's future peaked for most of the play. However, interruptions abound. Self declared, ego maniacal murderess Betty Borcus (Black-Eyed Susan) needs immediate and eternal attention. She believes the Blue Heron is a stop on her journey to media stardom. Only after she's fully formed as a media heroine does she become a seductive bar patron. Recognition before intimacy.
Fortunately for Betty, Peter Furyk (Agosto Machado) arrives seeking excitement from his lonely exostence as a trends researcher. He declares his interest in people as objects of study; his is a purely academic interest in contemporary life. Tropicalization of America is the trend Peter predicts, but when tropical music stimulates the patrons to dance, Peter forgets his pedantry and shows Betty his best foot forward.
Deborah Auer plays Ivy, a lounge singer at The Blue Heron, who sings songs that reveal the identities of the patrons.
This would seem to be the perfect night out for adults--good drinks, good talk possibly leading to sex; good music, especially the sexy song styling of Ivy (Deborah Auer) who reminds them of the beloved old movies, where romance was as hot as the dialogue.
Enter two men of mystery, Scott (Tony Nunziata) and Paul (John Costelloe), friends from a previous life as mobsters. They cast a pall of danger in the Blue Heron. What is it that makes them so intimidating? Why are they so macho in the Midwest? Can anyone know their secrets and not die for the knowledge?
All is personally revealed during the perverse revels when a tornado threatens the existence of the Blue Heron and it patrons. For answers you have to go to the bar, buy another drink and talk old movies.
To contact the author write: larry.litt@yahoo.com