| return to reviews page | go to other departments |


Larry Litt
"Gang of Seven"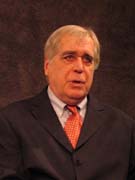 Playwright Jim Neu plays a member of the focus group in his comedy, "Gang of Seven. "
"Gang of Seven" by Jim Neu
Directed by Keith McDermott
La MaMa E.T.C.
74A East 4th St., NYC 10003
December 4 to 21, 2008
Reviewed Dec. 14, 2008 by Larry Litt

If you've ever been in a focus group and marveled at the solemn commitment the group makes to the facilitator and their client, Gang of Seven will be a comic revelation. On the other hand, if you never had the fortune, or misfortune, to focus on a completely inane subject until you absolutely were thrilled or revolted by it, then Jim Neu's writing and Keith McDermott's directing will give you a a warm welcoming wink to the possibilities of focus group as theater and pop psychology.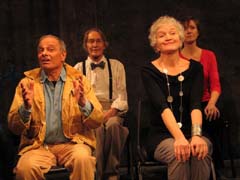 L to R: Tony Nunziata, Byron Thomas, Mary Shultz, Chris Maresca.
Since focus groups are usually about communicating opinions, and theater is sometimes about communicating the playwright's intentions, Mr.Neu has succeeded in showing the banality of these realities with his brilliant writing skill. As an observer of multiple contemporary activities and events, he has forged therapy, marketing and our deepest desires to combat alienation into an hour's entertainment that had me laughing from its first moments.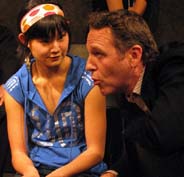 Kristine Lee, John Costelloe in "Gang of Seven. " Photo by Nadia Kitirath.
The cast consists of unusually compatible actors who I suspect were performing in awe of Mr. Neu being onstage with them. His appearance in the cast made me wonder what the other actors feel. Not that he was a negative force, he was perhaps more so overwhelming. His delivery of his own lines was right on, with the perfect touch of irony, sarcasm and facetiae. Only Kristine Lee as Sandy Mansfield equaled his projection of character. Her clueless ingénue rang so true, I actually thought she wasn't acting. That's a sign of a true professional in the making.
The rest of the stellar downtown cast, John Costelloe, Chris Maresca, Mary Shultz, Tony Nunziata and Byron Thomas, of course demanded focused attention in the group. Perhaps they were distracted by the word power of Mr. Neu's simplistically complex sentences. Not to say that they negated anything in their acting. I felt they were holding back. Perhaps could have contributed more to the comic rather than the real. After all, comedy is about exaggeration as Jim Neu knows so well.