ASIANS & AMAZONS BY ABALOS
inside news about Asians and women on stage
By Marilyn Abalos
THEATRE:
Bai Ling
2G's CONCERT OF EXCELLENCE: Second Generation presented Rémy Martin X.O Excellence Awards to notable Asian American artists at the Third Annual Concert of Excellence on Monday, Dec. 1, at the New York State Theater at Lincoln Center celebrating their outstanding achievement in the performing arts.. Hosted by Jason Scott Lee, the Concert of Excellence honored Golden Globe-nominated actor Lou Diamond Phillips (La Bamba, Courage Under Fire, Stand and Deliver), Tony Award winner B.D. Wong (M. Butterfly, Law & Order SVU, Oz), acclaimed actor Bai Ling (Red Corner, Anna & the King, the upcoming Star Wars: Episode 3), and legendary dancer and talent manager Jadin Wong (Forbidden City nightclub).
Led by Artistic Director Welly Yang, Lucille Lortel Award winner Director/Choreographer Devanand Janki, and Tony Award-winning Musical Director Jason Robert Brown, the evening's program featured Broadway-scale performances, including the cast of 2G's world premiere production The Wedding Banquet: The Musical and the Children's Choir of Excellence. An ensemble of 30 performers, including stars of such musicals as Flower Drum Song (Jose Llana, Emily Hsu), Avenue Q (Erin Quill), Wicked (Marcus Choi), and Second Generation's own musical The Wedding Banquet (Tyley Ross and Dina Morishita), were showcase the best of Broadway in over 14 numbers assembled just for the evening.

The select 60-voice Children's Choir of Excellence led by All American Boys Chorus Director David Albulario, performed 2 songs, including Stephen Sondheim's "Our Time." Legendary Mandarin singer, Tsai Chin, made her first ever performance in New York City at the third annual Concert of Excellence. Tsai Chin is an internationally acclaimed singer whose voice has been called by critics as "elegant and soothing like velvet" and has released over 40 top-selling albums during her career.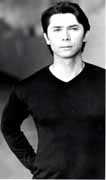 Lou Diamond Pillips
Before making a name for himself as the ill-fated teenage rock star Ritchie Valens in La Bamba (1987), Lou Diamond Phillips cowrote and starred in the little-known Trespasses (1983). Good movies have been few and far between for this earnest young performer (who's part Cherokee, part Hawaiian, part Chinese, part Spanish and part Scotch-Irish!), but he never seems to stop working. Highlights include Stand and Deliver (1988, as a gang leader inspired by a great teacher), Young Guns (1988), Young Guns II (1990), and A Show of Force (1990, a Puerto Rico-based political thriller which gave him one of his best roles), and Courage Under Fire (1996). He continued to work on both sides of the camera, as associate producer and star of Dakota (1988), screenwriter and star of Ambition (1991), and director and star of Sioux City (1994). Other films include Disorganized Crime, Renegades (both 1989), Extreme Justice (a telefilm) and Shadow of the Wolf (both 1993). He also starred in Errol Morris' unreleased The Dark Wind (made in 1991).
B.D.Wong
Ling Bai, star of film was honored at The Third Annual Concert of Excellence. Born in the Szechwan province of China in 1970, Ling Bai began her show business career when she was in grade school with the school choir. When she was 14 she enlisted in the Chinese People's Liberation Army where she spent three years in a performance troop entertaining soldiers stationed in Tibet. After her service, Ling became a performer in a local theater in Beijing where she eventually became involved in the pro-Democracy protests in Tiananmen Square in 1989. As a result of her involvement, Ling immigrated to the USA in 1991 where she soon found work in the Hollywood acting industry with her first English-language role as a villain in "The Crow." Ling from then on found steady work in playing various character roles from the villainous Miss East in "Wild, Wild West" to a Chinese interpreter in Oliver Stone's "Nixon" to a part in "Anna and the King," in which she was forced to cut her long hair short for the role. Her appearance in the controversial "Red Corner" in playing a pragmatic Chinese People's lawyer jeopardizes her returns to her homeland every year since the film's release. She can be see in the upcoming movies "Beautiful Country" and "Star Wars III".
B.D. Wong was born and raised in San Francisco, CA, USA. He made his Broadway debut in "M. Butterfly". He is the only actor to be honored with the Tony Award, Drama Desk Award, Outer Critics Circle Award, Clarence Derwent Award, and Theater World Award for the same performance. He starred in the television series "All American Girl", and has made guest appearances on "Sesame Street" and "The X-Files". He starred in the critically acclaimed HBO series "OZ" and can be seen as George Huang, a detached and highly focused forensic psychiatrist and expert on the criminal mind, in "Law and Order: SVU".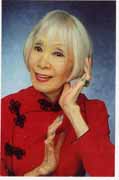 Jadin Wong
Jadin Wong always wanted to sing and dance since an early age. Being Chinese did not deter her and she went to San Francisco after High School to pursue her dream. There she mentored with a Russian ballet teacher and her talent was recognized and she joined the San Francisco Opera Ballet. Charlie Low, owner of the Forbidden City nightclub, hired her and soon she was dancing for stars and celebrities. She toured and danced around the world three times, have delighted the military personnel with USO tours. Jadin worked in practically all aspects of the entertainment industry from Broadway to film. She embarked upon a career of an agent to help Asian Americans entertainers get treated fairly in Hollywood and Broadway. for all her work, we honor Jadin Wong, a pioneer Chinese American in the US entertainment industry.
Founded in 1997 by Artistic Director Welly Yang, Second Generation is a non-profit theater company dedicated to bringing Asian American stories to the world's stage. Our productions range from full-stage musicals including Making Tracks , a story of six generations of an Asian American family, to the current production The Wedding Banquet: The Musical, based on Ang Lee's internationally acclaimed film, to smaller events like the 2g After Dark cabaret series and In the Works, a free reading series featuring new works by emerging playwrights, and The Karaoke Show, an interactive musical.

RICH'S ONE MAN SHOW: Peeling's Rich Kiamco returns to New York City with "Unaccessorized," his one man show at the Kraine Theater 85 East 4th Street through December 5, 6, 12, 13 @ 8PM. Solo performer Rich Kiamco romps through "Unaccessorized," his autobiographic decathlon of laughter and tears. A queer Filipino boy escapes the cornfields of Illinois to the streets of New York City and embarks on a global odyssey among fashionistas, millionaires, and con artists, searching for love, enlightenment, and the perfect shade of beige. Dan Bacalzo directs. For tickets, call 212-352-3101 or visit ww.TheaterMania.com. For more information visit www.richkiamco.com
Rich Kiamco has been seen performing with comedian Judy Tenuta in Las Vegas, on The Howard Stern Show, and nationwide as her love slave/go-go dancer/drag sidekick. Rich has also performed and facilitated workshops with Peeling, an Asian American performance collective based in New York City. An excerpt of his writing can be found in Take Out: Queer Writing From Asian Pacific America, Temple University Press.
Dan Bacalzo is the former Artistic Director of Peeling. Previous directing credits include The Virginity Monologues by Aileen Cho and Reddy or Not by Gita Reddy. He is also the writer/performer of two
one-man shows. He is completing his Ph.D. in Performance Studies at New York University, and teaches in the Undergraduate Drama Department at NYU.
Nicky Paraiso. Photo by Jonathan Slaff.
NICKY PARAISO & FRIENDS: "Nicky Paraiso and Friends: Christmas 2003" is the annual Christmas/End of the Year celebration in La MaMa's The Club on 74A East 4 Street, Dec. 18-21. This year the evening, hosted by Club curator Nicky Paraiso, features special guests Alien Comic, Little Annie, Carmelita Tropicana, Scotty the Blue Bunny, singers Rebecca Moore and David Clement, and The Jesubelles (Jim Andralis, Clint Asay and Ben Lerner from that hot East Village boy band, The Isotoners). Paraiso also promises a bevy of Downtown divas, superstars and unusual suspects. For tickets, call 212-475-7710 or visit www.lamama.org.
The evening is successor to the La MaMa tradition of "Salón Paraiso," a variety evening of comedy and song, emceed by and featuring Nicky Paraiso, which started in 2000. It's the show that got Nicky the gig as Cultural Minister of The Club. Ellen Stewart, Founder/Artistic Director of La MaMa, saw that the well-known Filipino-American actor, musician and performance artist, could deliver a boffo lineup. A performance curator was born.
Nicky Paraiso is widely noted for the excellence of his supporting work in prestigious ensembles led by Meredith Monk, Jeff Weiss and others. When these Salóns were born, Stewart was urging Paraiso to step out of the supporting shadow and become a headliner in his own show at La MaMa, where he had been a prolific actor since 1979.
Paraiso was a member of Meredith Monk/The House and Vocal Ensemble (1981-1990), touring extensively throughout the US, Europe and Japan. He has also worked with Jeff Weiss and Carlos Ricardo Martinez since 1979 and was an actor and musical director in "Come Clean" and the Obie-winning "Hot Keys." He is also affiliated with Yoshiko Chuma and the School of Hard Knocks, with whom he has appeared in four major productions since 1988. His solo play, "Asian Boys" (1994), was co-produced by Ma-Yi Theatre Ensemble and P.S. 122 and excerpts of it have been published. He is also a frequent performer with Ma-Yi Theatre/NATCO. Paraiso's awards include a 1987 Bessie and a NYSCA Performance Art Initiative Grant. He was nominated for the prestigious Cal Arts/Alpert Award in 1998. His films include "Book of Days," "Fresh Kill" and "Jeffrey."
TOM X. CHAO: The Confluence Theatre Company present the reading of "Summer, Deepening Then Gone," an original tragicomedy by Tom X. Chao Dec. 11-13, 8:15PM at The Repetti Chocolate Factory at 44-02 23rd Street, 4th Floor, Long Island City in Queens, New York. As a callow poet celebrates what should be the greatest night of his career, a magic whistle summons him. He discovers that an offhand
promise made to a young girl years ago inextricably compels him to kill. For tickets, call 212-462-9233 or visit www.confluencetheatre.org.
"Summer, Deepening Then Gone" is directed by Elisa Malona, featuring Aileen Chumard, Chad Corbitt, Brian Ferdman, Michael Thurstlic, Beth White and (digitized) Tom X. Chao.
Tom X. Chao recently wrote and performed in his comedy Cats Can See The Devil, a hit in the NY International Fringe Festival and an extended run. The script of CCSTD was selected for Plays and
Playwrights 2004, the annual anthology of the best of Off-Off-Broadway. Chao has presented original theater pieces including The Negative Energy Field and Can't Get Started at numerous NYC theaters. He is a Resident Artist of the Horse Trade Theater Group and resides far from this venue--in Manhattan. For more info, visit www.tomxchao.com.
FOOL'S MASS: The international experimental theatre group DZIECI "(the Polish word for "children") offers four performances of its beloved "Fool's Mass" from Dec. 14 - 21 at various churches in Manhattan. In this unique work set during the plague in medieval Europe, a group of village idiots are forced to enact their own Mass due to the sudden death of their beloved pastor, an extraordinary man who had given them shelter and trained them to sing. Though it sounds bleak, the piece combines buffoonery and comic audience participation with choral singing of sacred hymns and chants from the 9th through the 17th centuries to create a work that travels from the ridiculous to the sublime. For more information call (718) 638 6037.
"Fool's Mass'" schedule is as follows: Sunday December 14th, 11am (as the morning service), Jan Hus Presbyterian Church, 351 East 74th Street at First Avenue; Saturday December 20th, 1pm & 5pm, Grace Church Chantry, Broadway and East 10th Street; Sunday December 21st, 7:30pm, The Cathedral of Saint John the Divine, the Saint James Chapel, Amsterdam Avenue and 112th Street.
"Fool's Mass" premiered on December 19, 1998 at the Grace Church Chantry, where it has been performed every December since. It was performed at Union Theological Seminary, at Jan Hus Church, and at La MaMa, ETC Experimental Theatre as an adjunct to DZIECI's successful world premiere performances of "The Devils of Loudun. "Fool's Mass" also honors the marginalized communities DZIECI works with in hospitals and clinics.
Founded by Matt Mitler in 1997, DZIECI uses techniques garnered from Jerzy Grotowski and the Polish Theatre Laboratory, Peter Brook, and ritual forms derived from Native American and Eastern spiritual disciplines in its search for the "sacred" through the medium of theatre. The essence of being "poor theatre" artists in this society was thrown into sharp focus by the death of Grotowski, a mentor for company director Matt Mitler and inspiration for the Ensemble. As a group, DZIECI had lost its pastor; "Fool's Mass" was dedicated to Jerzy Grotowski. DZIECI was Artist in Residence at St. John the Divine in October, 2003.
THE LARK: The Center Stage Company is proud to present the World Premiere of the first new translation in fifty-years of Jean Anouilh's classic French drama about Joan of Arc, "The Lark," adapted and directed by Vanya Pawson at the Sanford Meisner (164 11th Avenue at 22nd Street) through December 21st. In this classic drama, which is surprisingly humorous, this fabled telling by Jean Anouilh about the life and legend of Joan of Arc is literally dramatized in front of Joan's persecutors. This is designed to compellingly demonstrate her bravery, faith, and most importantly, her veracity. Despite the sincerity and innocence of the lark, the rigidity of the church will only accept one outcome - a full renunciation of Joan's "voices". This though provoking new translation paints a biting and sardonic picture of politics, morality, and religion and how they affect the affairs of men, with not such a distant echo of current events. For tickets, call SmartTix at 212.868.4444 or visit www.smarttix.com.
"When I could not get the rights to the Lillian Hellman translation, the only translation to ever be performed in America, I sat down with the original French for the first time since I was a child and just started to type, " says director/ adaptor Vanya Pawson. "Mme Anouilh came our original little showcase and was very happy with it. I think that my little French girl's love of Joan is giving this play a new perspective."
The cast includes: Lindsay Halladay, Clay Cockrell, Matt Semrick, Michael Boothroyd, David McCamish, Carlyle Lincoln, Ron Hirt, Peter Whalen, Patrick Mahoney, Silviane Chebance, Max Goldberg, Lino Alvarez, Gloria Garayua.
VIRGIN MARY, MAKE MINE A DOUBLE: Adored by critics and fans alike, Lea DeLaria returns to the New York stage in "Virgin Mary, Make Mine a Double: A Very Lea Christmas." Performances run through December 20th at the hot new off-Broadway venue, The Belt (sister to Zipper Theater), 336 W. 37th Street (between 8th and 9th). Singing songs from her new album, "Double Standards," and Christmas classics, Lea DeLaria stars in this limited holiday run. Performances run Thursday through Saturday at 9 PM and Saturday at 11 PM. Tickets are $15- $35. For reservations call (212) 563-0485. Tickets can be purchased at the door on the night of the show, as well.
Lea Delaria made her solo album debut in May 2001 with "Play It Cool" (Warner Bros. Jazz), which received rave reviews across the country and was voted the number one jazz album by The London Times. Lea will be releasing her new album "Double Standards," this summer, and in the spring of 2004, she will perform at the Newport Jazz 50th Anniversary Tour. She starred in The Rocky Horror Show on Broadway, and toured Europe performing at the Montreax and London Jazz Festivals. She also was the master of ceremony for Just for Laughs at the Montreal Comedy Festival and just finished co-starring in the new Michael John LaChiusa production of Little Fish at the Second Stage Theatre in New York. Ms. DeLaria received a 1998 Obie Award, Theatre World Award, Drama Desk nomination, and was a Drama League honoree for her portrayal of Hildy in The Public Theater production of On the Town. Other
theatre credits include The Most Fabulous Story Ever Told, L'il Abner (City Center Encores!), Chicago
(National Tour), Boys From Syracuse (Reprise Series) and As You Like It (Williamstown Theatre Festival). Film: "Edge of Seventeen", "The First Wives Club". TV: The WB's animated series "The Oblongs," "Friends," "The Job," "The Drew Carey Show," "Politically Incorrect." Concerts: Tribute to Judy Garland, Broadway Favorites: The Leading Ladies (both at Carnegie Hall), It's Delightful, It's Delicious, It's DeLaria. Lea just finished a European tour in support of her newest Jazz album DOUBLE STANDARDS, before heading to Los Angeles to be a guest star on "Will & Grace."
HIGH HEELS AND RED NOSES: The Bindlestiff Family Cirkus returns to Times Square and the Palace of Variety with a brand new show "High Heels and Red Noses," created by Keith Nelson and Stephanie Monseu and directed by Michael Preston and Barbara karger and presented by chashama. Previews begin Friday, Dec. 12 for a limited engagement through Sunday, Feb. 29. Performances take place at the Palace of Variety at 125 West 42 Street. For tickets, call 877-BINDLES.
"High Heels and Red Noses" is outrageous antics ensue when Kinko the clown finds a mysterious high heeled shoe in the trash. The unexpected arrival of its owner conjures a world of thrills, where surprises literally come out of the woodwork. Loaded with Bindlestiff's trademark burlesque humor and jaw dropping theatrics, "High Heels and Red Noses" is a spectacular peek into the spine tingling world created in the Palace of Variety.
Bindlestiff family Variety Arts Inc is an integral part of New York's outstanding traditions of circus, sideshow, vaudeville and burlesque. BFVA hosed its first "Bindlestiff Family Cirkus Winter Cabaret" in 1995 in Brooklyn, NY. In seven years, that weekly variety show has grown into a year round public exhibition of variety artists: musicians, comedians, actors, clowns, dancers, novelty acts, circus performers and sideshow acts.
Bindlestiff Family Circus recently appeared on HBO's "Real Sex," VH1's "Rock of Ages," The Discovery Channel, PBS's "Souls of NY" and MTV's "Oddville."
HOLIDAY: The Gallery Players, Brooklyn's premiere Off Off Broadway theatre, presents the classic American comedy "Holiday" by Philip Barry, author of "The Philadelphia Story." Well known from the film version starring the late Katharine Hepburn and Cary Grant, "Holiday" is a bittersweet look at a New York Family in the 1020s, brimming with Barry's sparkling wit and effervescent characters. Although essentially a comedy, "Holiday" was considered a politically charged social commentary when it premiered on Broadway in 1928, with its examination of the privileged and the poor foreshadowing the reevaluation of class, wealth and societal values precipitated by the Great Depression.
When Julia Seton, an heiress from a powerful family, becomes engaged to the middle class Johnny Case, her family's world is disrupted and a charming battle over responsibility, independence and the nature of freedom begins. Set on New Year's Eve, Julia's oppressive father, her rebellious sister, Linda, her brother Ned and other members of their elite social circle become involved in the dilemma, but Old Money is the silent central "character"of this classic American comedy.
For tickets, call 718-595-0547 or visit 222.galleryplayers.com. The Gallery Players Theatre is located at 199 Fourteenth Street, between 4th and 5th Avenues in Park Slope, Brooklyn. Directed by Yvonne Conybeare, the cast includes Susan Atwood, Richard Brundage, David Crommett, Ken Dray, Brian Letscher, Stacy Mayer, Shawn Reese, Wayne Temple, Andy Waldschmidt, Leigh Williams and Inga Wilson.
WOMEN ON FIRE: Cherry Lane Theatre is heating. "Women On Fire", a new play by Irene O'Garden, starring two time Tony Award winner Judith Ivey, and directed by Mary Robinson moves from a developmental production in the studio space at Cherry Lane Theatre to an Off Broadway run at Cherry Lane's mainstage on 38 Commerce Street. Judith Ivey plays nine passionate women on the brink of self discovery, each burning with her own personal fire. The production will play a limited engagement through Dec. 21. For tickets, call Telecharge at 212-239-6200 or visit www.cherrylanetheatre.com.
Judith Ivey celebrates her 30th year in sho9w business with her directorial debut of "Soccer Moms" by Kathleen Clark at Fleetword Stage. Ms. Ivey has won the Tony Ward twice, the Drama Desk Award twice, The Obie Award, The Dramalogue Award twice and the Topaz Award. She has starred in four TV Series, "Designing Women" being the most memorable. She has starred or was featured in over 35 films, both for the big and small screen. Her most recent film performance is in the soon to be released "What Alice Found," which was recently awarded the Grand Prize at the Deauville Film Festival, and a Special Jury Prize at the Sundance Film Festival. This year, Ms Ivey starred opposite James Black in Edward Albee's "Who's Afraid of Virginia Woolf?" at the Alley Theater and was part of the ensemble cast of "The Women of Lockerbie," produced by the Women's Project and The New Group. This performance is a continuation of past explorations of "Women on Fire," performed by Ivey at the Fredonia Opera House and the Actors' Theater of Nantucket.
Hai-Ye Ni
MUSIC:
MUSICIANS ON STAGE: Numerous Asian American musicians will be on stage around town this month. In a nutshell, check out the following: NY PHILOMUSICA: Thursday, Dec. 11, 8PM, Merkin Hall. Robert Johnson, artistic director. Rieko Aizawa, piano; Ju-Young Baek, Jesse, violin, Ah Ling Neu, viola; Gregory Hesselink, cello and Gail Kruvand, contrabass. Performing works by Haydn, Mendelssohn and Dvorak. Call 212-501-3330. MEET THE VIRTUOSO: Friday, Dec. 12, 2PM, 92nd Street Y. Momoko Gresham, piano & Hanako Yamagata, piano. FREE. MUSICIANS FROM MARLBORO: Friday, Dec. 12, 8PM, Metropolitan Museum. In a tradition that began in 1970, both prominent and recent alumni of this venerable school and festival will present flutist Paula Robison, violinists Soovin Kim and Scott St. John, violist Che-Hung Chen and Hsin-Yun Huang, and cellist Jonathan Karoly. Performing works by Mozart, Martinu, Ginastera and Grahms. Call 212-570-3949 or visit www.metmuseum.org.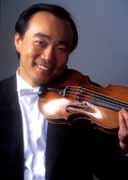 Cho-Liang Ling
CHO-LIANG LING, VIOLIN: Friday, Dec. 12, 5PM, Alice Tully Hall. With Chamber Music Society of Lincoln Center. Bach's Complete Brandenburg Concertos. Call 212-875-5788.. LYDIA WONG, PIANO: Saturday, Dec. 13, 11AM, Walter Reade Theater. Great Performers with Shauna Rolston, cello. With works by Falla, Part, Rachmaninoff, Popper. Call CenterCharge at 212.721.6500, or visit www.lincolncenter.org, HAI-YE NI, CELLO: Wednesday, Dec, 17, Avery Fisher Hall. With New York Philharmonic, Jeffrey Kahane conducting. With works by Mozart, Hayden. Call 212-875-5656.
REEL TO REEL: Saturday, Dec. 20, 11:30AM & 2PM, Walter Reade Theater. The Secret Maestro & His Holiday Gift. Bruce Adolphe, 14 year old violinist Elizabeth Woo, The Juilliard High School Ensemble, and the Young People's Chorus of New York City. Film clips from classic holiday films show the power of music to transform people's lives and heart. CALL Call CenterCharge at 212.721.6500, or visit www.lincolncenter.org, KYOKO TAKEZAWA, VIOLIN: Sunday, Dec. 28, 8PM, Carnegie Hall, Isaac Stern Auditorium. With New York String Orchestra, Jaime Laredo conducting. Program includes works by Vaughn Williams, Barber and Beethoven. Call Carnegie Charge at 212-247-7800 or visit www.carnegiehall.org.
DONIZETTI'S ANNA BOLENA: The trailblazing Opera Orchestra of New York, America's preeminent opera-in-concert organization, opens its 33rd season at Carnegie Hall under the intrepid leadership and baton of Eve Queler with a major revival of Gaetano Donizetti's masterpiece "Anna Bonea" on Sunday, Dec. 14, 8PM. Superstar "heldenbass" James Morris returns opposite two international stars Bulgarian soprano Krassimira Stoyanova and American mezzo Jennifer Larmore. For tickets, call 212-799-1982 or visit www.oony.org.
The opera offers five exciting leading parts for the five international stars OONY has assembled. The outstanding Krassimira Stoyanova sings Anna Bolena, a role debut for her. Stoyanova was triumphantly hailed upon her American debut with OONY in April 2001's Les Huguenots. Peter G. Davis in New York cited her as "another important Opera Orchestra of New York discovery who should be at the Met, a disciplined lyric soprano with an appealingly plangent texture and generous expressive instincts." Davis's prediction came true: Stoyanova soon made a highly praised Met debut in La traviata. She also returned to OONY in an equally effective Lida in La battaglia di Legnano.
Jennifer Larmore (Giovanna Seymour) is also one of OONY's "own": her tremendously successful debut as Bellini's Romeo (I Capuleti e I Montecchi) in 1994 marked her first significant American engagement after an increasingly high-profile eight-year European career, and led directly to her Met debut as Rossini's Rosina the next year. She also shone in OONY's La Favorita in 2001, cited by Anthony Tommasini in the New York Times for her "dusky sound, impressive coloratura agility and exciting top notes."
James Morris returns to OONY after 21 years to sing Henry VIII. Before he took to stardom, Eve Queler had cast him in the very first OONY performance at Carnegie Hall-William Tell in 1972. He soon returned to sing more bel canto with OONY: Parasina d'Este in 1974, La Favorita in 1975, and then Boito's Nerone in 1982. In no time he was conquering international stages and became one of the world's most celebrated singers. Morris is particularly famous for his mastery of Wotan in Wagner's Ring Cycle, making the fact that he retains Mozart and bel canto roles in his vast repertory the more remarkable.
BACHANALIA: On Thursday, December 18 at 8PM Bachanalia opens its 15th season with a concert featuring Bach's "Coffee Cantata" and the world premiere of "Recuerdos" by Roman Yakub. Artistic Director Nina Beilina offers a unique transcription of the Villa-Lobos Bachanias Brasileiras No. 5. The program takes place at Merkin Concert Hall at the Kaufman Cultural Center, 129 West 67th Street. For ticket, call 212-501-3330.
The program includes Pyotr Il'yich Tchaikovsky's "Arab Dance" from The Nutcracker (transcription), Roman Yakub, piano, Johann Sebastian Bach's "Coffee Cantata" BWV211, Heitor Villa-Lobos's Bachianas Brasileiras No. 5 for violin, voice & strings (transcription), and Roman Yakub's "Ole, Jobim" (transcription), and "Recuerdo" (World Premiere).
Bachanalia, an orchestra of international competition winners and soloists, was founded in 1988 by violinist Nina Beilina. The ensemble performs an annual series of six concerts at Merkin Concert Hall and St. Peter's Church. Each concert opens with a work by Bach and continues with a musical exploration of different chamber music traditions which have developed and been influenced by his work.
Violinist Nina Beilina, of whom The New York Times wrote: "Russia's loss is our gain," concertizes extensively in Europe, and in the United States with BACHANALIA. She studied with Abraham Yampolsky, Julius Eidlin, and David Oistrakh. Her competition honors include the Gold Medal in Enesco, Grand Prix in Long-Thibaud, and Laureate in Tchaikovsky. She received the Gold Medal as Musician of the Year in Vercelli, Italy.

DANCE: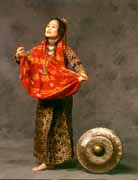 Choreographer Potri Ranka Manis.
MULBERRY ST THEATER: The Mulberry Street Theater is pleased to present its semi-annual
commissioning series Ear to the Ground. With the support of the Jerome Foundation, this series was created in 1995 to support the community of emerging artists who develop innovative and risk-taking works. This season will feature a world premiere by choreographer, Potri Ranka Manis, Dec. 4-6, 8PM at 70 Mulberry Street, 2nd Floor, in Chinatown. For reservations, call 212 349-0126.
Daughter of a Maranao sultan from Mindanao, Philippines, Ms. Manis created and directs the New York troupe Kinding Sindaw in order to preserve the dance, music and martial-arts traditions of the Maranao people of the Southern Philippines. Kinding Sindaw will premiere Parang Sabil (Sword of Honor), a dance and music drama of the legendary Parang Sabil ballad of the Tausug people. This work narrates the colonization and massacre of the Tausug people by the U.S. military through juxtaposition of Tausug dance, music and storytelling with letters from Mark Twain, who was outraged by the U.S. subjugation of the Philippines. Ms. Manis weaves traditional dances into her work- a maiden ready for marriage performs the Pangalay, a classic Tausug dance; and during battle scenes, dancers perform Kuntaw Silat, akin to Indonesian Silat and Kali martial arts. This production features guest direction by Andrea Assaf and puppetry by Parker Pracjek.
The Mulberry Street Theater is an intimate black box performance space created in 1988 with the mission to promote understanding through the arts, provide professional opportunities for artists, increase participation in the arts and develop future audiences. As a co-presenter of independent artists and presenter of the dance series, Newsteps, Ear to the Ground, Moving Word, and the Ladder Series - the theater supports the development of dance artists by providing a professional theater space in which artists
of high caliber receive visibility in the dance community and press. The theater serves as a home base for local and visiting artists to develop and showcase their work, and claims the distinction of being Chinatown's first professional performance space. The theater also hosts H.T. Chen & Dancers annual educational series for children, provides affordable rehearsal space for modern dance artists, and serves as a venue for community events.
NAI-NI CHEN DANCE: The Nan-Ni Chen Dance Company will celebrate its 15th Anniversary with a 2-week season, December 4-14, at Baruch Performing Arts Center, Nagelberg Theatre, 150 East 25 Street, premiering "Unbroken Thread," Chen's new collaboration with composer Jason Kao Hwang and set designer Myung Hee Cho. The program will also feature "Incense," to music by Joan La Barbara, who will perform live, and "Raindrops" to a music collage from Tibetan Bells to Tuvarian throat singing. The eclectic musical themes underscore Ms. Chen's dynamic fusion of the global cultural differences on her choreography. For reservations: 1-800-650-0246.
The eternal cycle of birth, life, relationships and death are highlighted in the new dance "Unbroken Thread," inspired by the choreographer's fascination with the art form of knotting, which dates back to the beginning of human civilization when different forms of knots were used to record significant events in history. Today, decorative knotting is still very popular in Asian American communities. The exploration also led Ms. Chen to Asian American historians who are discovering the intricate relations of early Chinese American immigrants in New York and New Jersey communities. Set designer Myung Hee Cho has created a visually stunning web from which the dancers descend and climb. The Jason Kao Hwang Quartet will perform live for this new dance.
Another of Ms. Chen's frequent music collaborators is renowned composer Joan La Barbara, who will join the company in "Incense," an elegant quartet for two men and two women. La Barbara, a longtime resident of New Mexico who recently moved back to New York, integrated sounds from Native Americans and nature in her original score. The new dance was inspired by a contemporary piece of sculpture by Carlos Dorrien titled "Nine Muses," which is installed at the Ground for Sculpture in Hamilton New Jersey. "Incense" was presented last September by Dancing in the Streets in New York.
The program will be completed by Ms. Chen's "Raindrops," a nostalgic work inspired by her childhood in Keelung Taiwan, also known as the Rain Harbor. In this dance, Ms. Chen recalls the joyful memory of sisterhood that she knew as a child.
The dancers include Ya-Chih Chuang, Ha Yan Kim, Yoon-Jeong Jin, Leah Barsky, Heather MacNeill, Gabriel Hernan, Eddie Stockton, Dardo Galleto and musicians: Jason Kao Hwang Quartet, Joan La Barbara.
"Accadde domani: Butoh, Flamenco and Rituals," La MaMa E.T.C Shigeko Suga and Ernest Abuba
Photo by Kaori Fujiyabu
SHIGEKO SUGA & ERNEST ABUBA: La MaMa E.T.C. will present Indalo Artists in "Accadde Domani: Butoh, Flamenco and Rituals," the latest of Shigeko Suga's innovative series of Butoh/Flamenco Dance Theatre adaptations from classic plays, from Dec. 11 to 20 in it's First Floor Theatre. The production features, Suga, Ernest Abuba, an ensemble of eight and two live musicians. For tickets, call 212-475-7710 or visit www.lamama.org.
"Accadde Domani" ("It happened tomorrow") is adapted by Suga from the collection "Orgasmo Adulto Escapes from the Zoo" by Franca Rame and Dario Fo, (the latter a 1997 Nobel Prize literature awardee). It is a piece about Irmgard Moeller, a German terrorist and member of the RAFF (Red Army Faction) who was sentenced to 22 years in jail for bombing and killing three US soldiers in 1972 and who was stabbed during her detention. She was revived by a young doctor who noticed her breathing on her way to the morgue. The play is Moeller's monologue describing her state of mind and her sensations before, during and after the stabbing.
Suga plays Moeller and Abuba plays the assailant. The adaptation blends chants, music, Flamenco, Butoh, and various rituals, some of which come from the Japanese Zen temple where Suga was raised. Poetry written by Abuba has been set to traditional melodies by Suga and the resulting songs will be performed by the ensemble and chanted by Abuba. The ensemble includes Minouche Waring, Michal Gamily, Stephanie Rafferty, Gian Marco Lo Forte, Kendra Ware, Del Wright, among others.
Coinciding with this production, La MaMa's Annex Theater will also resound with the powerful rhythms of flamenco from Dec. 11 to 21 with the American premiere of Maria Elena Anaya's newest dance production, "De Passiones Sin Retorno" (Passions with No Return). This nine part evening is the renowned Spanish Dancer's first show at La MaMa since 1999 and a blend of Flamenco, Tango and modern dance.
Shigeko Suga is a member of La MaMa's Great Jones Repertory Company and a noteworthy Flamenco dance. She adapted Genet's "The Maids" into a Flamenco story at The Kitchen in 1991; the production was subsequently presented as part of the International Tallwood Festival in Munich in 1998. Her interest in Genet's work then led to an adaptation of "Le Balcon" into Flamenco at La MaMa in 1992, featuring the late Maria Alba in her final performance. Her dance theater works at La MaMa also include "Sotoba Komachi, Teatro Flamenco," adapted from Yukio Mishima's play, "asando", an evening of steamy, sexy, Spanish dance designed to evoke a traditional Andalusian nightclub; and "Shiku Haku: The Eight Sufferings", a show combining Flamenco, Butoh, African tap and modern dance with speech and acting. Her latest creation at La MaMa was "Siguiriya, the Heart Beats," an account of an illness, in 2002. Her dance company, Indalo Artists, is named for an extinct civilization from the south of Spain. Her acting appearances with La MaMa's Great Jones Rep include Hecuba in "The Trojan Women" and Ellen's Stewart's "Dionysus Filius Dei", "Mythos Oedipus" and "Yunus."
Ernest Abuba performed on Broadway in "Pacific Overtures," "Loose Ends," "Zoya's Apartment" and "Shimada" and Off Broadway in "Shogu McBeth," "Yellow Fever," "Change Fragments," "Three Sisters" and "Long Day's Journey Into Night." He co-starred in the films "King of New York" (with Christopher Walken) and "12 Monkeys." His TV appearances include "New York Undercover," "Kung Fu: The Legend Continues" and "The Bill Cosby Show." His plays include "The Dowager Empress of China", "An American Story," a stage adaptation of Louis Chu's novel, "Eat a Bowl of Tea", and "Cambodia Agonistes." He played the title role in Robert Wilson's "Promethius". He has received an Obie for sustained excellence, a CAPS, Rockefeller and five NYSCA fellowships for directing and playwriting. He is a founding member of Pan Asian Repertory.
His collaborations with Shigeko Suga include "Night Stalker" and "Leir Rex." He played the lead in Suga's "Sotoba Komachi, Teatro Flamenco y Botoh." They co-directed "Spleen," a performance work inspired by Baudelaire's "Les fleurs du Mal.
MUSIC & DANCE OF MYANMAR (BURMA): Asia Society and Lotus Music & Dance present a rare opportunity to see and hear masters of the distinctive and dazzling performing arts of Myanmar (Burma) Friday and Saturday, December 12 and 13, 8:00PM and Music Workshop on Sunday, December 14 at Asia Society at 725 Park Avenue. This is the first major presentation featuring performers traveling directly from Myanmar (Burma) in New York City since 1975. Several prominent Burmese performers currently residing in the United States will also take the stage. For tickets, call 212.517.ASIA or visit on www.AsiaSociety.org.
"Burmese music and dance is one of the most dynamic and unique artistic traditions. The music is beautifully versatile in that it can be both quietly lyrical and exuberantly explosive. The dance is mesmerizing with its classical gestures and movement vocabulary taken from the marionette puppet tradition. The performing arts have a long and proud history in Myanmar (Burma) and we are thrilled to feature the artists that uphold this tradition," according to Rachel Cooper, Director of Performing Arts and Public Programs at Asia Society,
Neighboring Thailand, India and China have influenced Burmese performing arts, but its style and character is still distinctively Burmese. It is a vibrant and thriving form of art and requires plenty of stamina on the part of the performers.
Under the direction of lead master musician Kyaw Kyaw Naing, the musicians will perform an array of stylistic traditions, from the elegant classical music of the court played on the harp and xylophone, to the exuberant music of the saing waing, a circle of 21 tuned drums played by an ensemble. Burmese music is known for its wild musical phrases and predominately percussive expressions. The percussion is also melodic, as even the drums of the saing waing can carry the melody. This performance also demonstrates the ingenuity of the Burmese adaptation of western instruments, which were introduced to the country over 100 years ago. Virtuosos of sandeya (Burmese piano) and the dobro (an American acoustic slide guitar played on the lap) will be featured.
As a complement to the musical performances, master dancer U Win Maung will lead a distinguished group of dancers in two lively dance pieces. Originating from the marionette theater tradition, Burmese dance has also been influenced by its neighbors and yet, the postures, gestures and ambience are very discernibly Burmese. The dancers will perform a classical dance as well as an excerpt from a zat pwe, an animated variety show-drama-comedy that often starts at nightfall and lasts until dawn.
A pre-performance lecture by Ward Keeler, a specialist in Southeast Asian performance, art and culture, will take place at 6:30 p.m. each evening. Ward Weeler is Associate Professor of Anthropology at the University of Texas at Austin and has co-produced the CD Mahagita: Harp and Vocal Music of Burma (Smithsonian Folkways 40492). He is a Trustee of the Burma Studies Foundation and the editor of the Bulletin of the Burma Studies Group.
To provide audiences with an in-depth look at the musical tradition of Myanmar (Burma), a Music Workshop will take place at Asia Society on Sunday, December 14 at 1:00 p.m. The program will be led by Kyaw Kyaw Naing, and members of the audience will have an opportunity to learn and play the instruments featured in the performance. Tickets for the workshop are $15 for members and $25 for nonmembers. Advanced registration is required as space is limited.

LITERATURE:
ASIAN AM LITERARY AWARDS: The Asian American Writers' Workshop, in conjunction with The Asia Society and Museum presented The Sixth Annual Asian American Literary Awards to Treadwinds: Poems and Intermedia Texts (Wesleyan University Press) by Walter K. Lew, Video: Stories (Pantheon Books) by Meera Nair and When the Emperor Was Divine (Alfred A. Knopf) by Julie Otsuka on Monday, Dec. 8. Sonia Sanchez was the keynote speaker.
Walter K. Lew is the editor of Crazy Melon and Chinese Apple: The Poems of Frances Chung and the poetry anthology Premonitions, and co-editor of Kori: The Beacon Anthology of Korean American Fiction. Poet Patricia Spears-Jones accepted the award on behalf of Walter K. Lew.
Meera Nair was born and raised in India and came to The United States in 1997 to study creative writing. She received an M.A. from Temple University and an M.F.A from New York University, where she was a New York Times fellow. He stories have been published in The Threepenny Review and Calyx. Nair lives in Brooklyn with her husband an baby daughter..
Julie Otsuka was born and raised in California. She is a graduate of Yale University and received her M.F.A from Columbia University. She lives is in New York City.
This year's finalists for the Members' Choice Award are: Waylaid (Kaya Press) by E Lin, When The Emperor Was Divine (Alfred A. Knopf) by Julie Otsuka, and In The Mynah Bird's Own Words (Tupelo Press) by Barbara Tran.
Sonia Sanchez is the author of more than a dozen books of poetry, including Shake Loose My Skin: New and Selected Poems (Beacon Press, 1999); Like the Singing Coming Off the Drums: Love Poems (1998); Does your house have lions? (1995), which was nominated for both the NAACP Image and National Book
Critics Circle Award; Wounded in the House of a Friend (1995); Under a Soprano Sky (1987); Homegirls & Handgrenades (1984), which won an American Book Award from the Before Columbus Foundation; I've Been a Woman: New and Selected Poems (1978); A Blues Book for Blue Black Magical Women (1973);
Love Poems (1973); Liberation Poem (1970); We a BaddDDD People (1970); and Homecoming (1969).
Among the many honors she has received are the Community Service Award from the National Black Caucus of State Legislators, the Lucretia Mott Award, the Outstanding Arts Award from the Pennsylvania Coalition of 100 Black Women, the Peace and Freedom Award from Women International League for Peace and Freedom (WILPF), the Pennsylvania Governor's Award for Excellence in the Humanities, a National Endowment for the Arts Award, and a Pew Fellowship in the Arts.
She was the first Presidential Fellow at Temple University, where she began teaching in 1977, and held the Laura Carnell Chair in English there until her retirement in 1999. She lives in Philadelphia.
Ed Lin was born in New York City and grew up in New Jersey and Pennsylvania. He played Little League Baseball on a team appropriately sponsored by Hinck's Turkey Farm. Lin holds degrees in mining engineering and journalism from Columbia University.
Julie Otsuka was born and raised in California. She is a graduate of Yale University and received her M.F.A from Columbia University. She lives is in New York City.
Barbara Tran received her BA from New York University and her MFA from Columbia University. She is co-editor, along with Monique T. D. Truong and Luu Truong Khoi, of Watermark: Vietnamese American Poetry and Prose. One of the featured poets in the documentary video Between the Lines: Asian American Women's Poetry by Yunah Hong, Barbara has been awarded writing residencies by The Millay Colony for the Arts, the MacDowell Colony, and the Lannan Foundation. She is the recipient of an Edward and Sally Van Lier Fellowship and a Pushcart Prize. [Abalos]