"Holiday Inn" Open For Business
At Paper Mill Playhouse
Easter Parade. Photo courtesy of Paper Mill Playhouse.
Through December 30
Paper Mill Playhouse, Millburn, NJ.
Wed & Fri 7PM; Thurs, Sat & Sun 1:30 and 7PM.
For tickets ($34-$132): 973-376-4343 or online at www.papermill.org
The musical now officially titled "Irving Berlin's Holiday Inn" is based on the 1942 movie "Holiday Inn," which was updated on screen as "White Christmas" in 1954, which in turn was adapted into a stage musical ("Irving Berlin's White Christmas") in 2000, with Broadway stints in 2008 and '09. This latest one, "Irving Berlin's Holiday Inn," premiered regionally in 2014 and had its own Broadway engagement over the 2016 holiday season.
Did you follow that? No matter; just know that Berlin's immortal "White Christmas" is sung in all of them. The show remains popular thanks to its score (in two meanings) of Irving Berlin songs, for which he composed both music and lyrics. "Irving Berlin's Holiday Inn" is running through December 30 at Paper Mill Playhouse in Millburn, NJ.
The makeshift plot is little more than a flimsy bridge between musical numbers. Jim, one of two men in a night-club trio, retires to a farm in Connecticut, leaving former partner Ted to carry on the act as a duo with Lila, Jim's (soon-to-be-ex) fiancée. Turns out the old Mason Family Farm is in foreclosure, which Jim learns just before Linda Mason shows up to collect some left-behind bric-a-brac. (Jim learned the farm was in hock after he bought it? Whatever…)
How to save the farm...well, since Jim is a singer and Ted is a dancer and Lila does some of each, and, oh yes, schoolteacher Linda also sings and dances, they come up with the only possible solution: Let's put on a show! Furthermore, since all their show-biz pals are laid-off during all the holidays (except at Paper Mill, fortunately), their shows will run only during those times. Ergo, the Mason Farm becomes…wait for it: Holiday Inn!
Happy New Year. Photo courtesy of Paper Mill Playhouse.
Say what you will about that business plan, it is made to order for matching up set pieces, costumes and Berlin selections with the holiday calendar. For Thanksgiving we get Pilgrims, turkeys and "Plenty to be Thankful For." Easter brings pastels, bonnets and "Easter Parade," and so on through the year. (If you have to ask about Christmas, you haven't been paying attention.)
There is no denying the appeal of the Berlin favorites, including "Cheek to Cheek," "Blue Skies" and "Let's Take an Old Fashioned Walk," as well as some lesser-knowns like "The Little Things in Life" and "Song of Freedom." Larry Blank's orchestrations and music director Shawn Gough's fine orchestra do them justice. The Paper Mill principals, while comfortable, are outshone (with one exception) by the excellent singing/dancing ensemble and, it should be noted, by designer Alejo Vietti's fetching costumes.
Nicholas Rodriquez, as Jim, is an agreeable baritone, and Jeff Kready (Ted) is a decent hoofer, but neither is charisma-endowed; Paige Faure shows some flair as under-written Lila, who book-ends the show with leggy routines. Fortunately, much of the singing and some neat dance turns fall to Linda, in the person of Hayley Podschun (who originated the role of Lila in 2014). She sings "Nothing More to Say" solo, and in various duets and ensembles, "…Old Fashioned Walk," "Be Careful, It's My Heart," "Cheek to Cheek" and, of course "White Christmas."
Ms. Podschun is the show's treasure, along with the vibrant ensemble that energizes Denis Jones's choreography, including a pretty nifty jump rope break. Jones and director Gordon Greenberg performed those same functions for the 2016 Broadway production. Greenberg also co-authored the book (with Chad Hodge).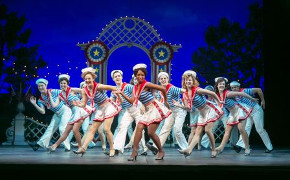 Independence Day. Photo courtesy of Paper Mill Playhouse.
Several supporting roles stand out. As the farm handywoman, Ann Harada makes hay with the corny gags and manages to dance with her feet stuck in buckets. Jian Harrell is amusing as a precocious young bank messenger ("You'll be working for me someday"). Jordan Gelber is the agent who, with one phone call, entices Hollywood producers across the country to attend a farm-show in Connecticut. (Really?)
As for the scene-stealing costumes, see the photos. They and others, like the gorgeous rose-colored Valentine's Day gowns, are as pleasing to the eye as Irving Berlin's melodies are to the ear. Paper Mill Playhouse is not a farm, but it is a worthy stand-in this Holiday season.