| go to entry page | | go to other departments |

Lunching and Munching with "Food for Thought"

By Paulanne Simmons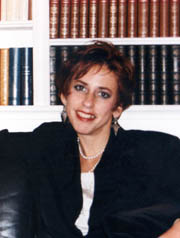 Susan Charlotte, artistic director of " Food for Thought"
"Food for Thought" Lunch-hour Theater
The National Arts Club
15 Gramercy Park South (between Irving Place and Park Avenue)
Monday, Wednesday and Thursday to Dec. 19, 1 to 2 p.m.
Tickets are $42 (Subscription packages available.)
Reservations: (212) 362-2560 or visit www.foodforthoughtproductions.com

For those who crave insightful, theater-in-progress and are also blessed with mid-day free time, "Food for Thought", a lunch-time play-reading series under the artistic direction of founder Susan Charlotte, is a true feast.
Staged readings take place from 1 to 2 p.m. on Mondays, Wednesdays and Thursdays, at The National Arts Club at 15 Gramercy Park South, following a buffet lunch.
On Sept. 22, "Food for Thought" presented a double bill: "The Rocking Horse Winner" by D.H. Lawrence and "The Neon Sign Man" by Susan Charlotte.
After a lunch of sandwiches, salads and an array of desserts that included cheesecake, pecan pie, and petit fours, the audience - mostly women of a certain age and a certain income - gathered in the walnut-paneled Grand Ballroom where the actors performed on a makeshift platform.
"The Rocking Horse Winner" (directed by Melvin Bernhardt) is Charlotte's adaptation of Lawrence's short story about a woman who is preoccupied by her failing financial situation and her failure to love - her husband, her son or even herself.
"The Neon Sign" (directed by Susan Charlotte) is a Pinteresque, surreal story of a woman who seeks sexual liberation from her older, inadequate husband.
What ties the two stories together is their supernatural quality and their focus on the inability of people to communicate even with those they love the most.
The readings were followed by a Q&A with the cast and director that was noteworthy for the openness of the actors and directors, and the intelligence of the audience.
Charlotte, a former writer for soap operas and CBS's "Comedy Zone," initiated the reading series three years ago after trying unsuccessfully to stage a production of her one-act "Love Divided By," which had been produced five years earlier at the Actors Studio. When this didn't pan out she asked four writers she knew, Peter Stone, Tony Kushner, John Ford and Edward Pomerantz, if they would like to do a reading series of their own one-acts. Charlotte decided lunchtime would be perfect for one-acts, a friend suggested serving lunch, and the series was born.
The National Arts Club's double brownstone is itself a building with a dramatic past. Samuel J. Tilden originally bought the Gothic Revival-style house at 15 Gramercy Park South in 1863 and spent two years altering it.
Tilden was elected governor of New York State in 1874 and was in the house on election night in 1876 when it looked like he might defeat Rutherford B. Hayes for the presidency. In the end he lost the election through shady dealings that make our last presidential election look good.
The following year he decided to combine number 15 with number 14 behind a new Gothic façade designed by Calvet Vaux (of Central Park fame). The renovation was completed in 1884, with two entrances, one on the left for residential visitors and the one on the right for political or literary guests, who entered beneath a bust of Michelangelo.
Tilden died in 1886, and almost ten years the building was a boarding house, until in 1905 it was bought by The National Arts Club, which had been founded in 1898 by Charles de Kay, an art and literary critic for The New York Times.
The magnificent, stately building is a perfect venue for Charlotte's innovative venture.
The series presents the lesser-known plays of established writers as well as the work of emerging writers - like Charlotte herself. This season the series features plays by Arthur Miller, D.H. Lawrence, August Wilson, Noel Coward, G.B. Shaw, Steve Martin, Edward Pomerantz, Tennessee Williams, George Malko, William Saroyan, Joyce Carol Oates, David H. Hwang, and Charlotte, performed by an alternating repertory of Broadway and Off-Broadway actors.
The highlight of the season will be on Friday, Nov. 14 when "Food for Thought" honors leading lady Julie Harris. The afternoon will include the reading of an excerpt from Carson McCullers' "The Member of the Wedding," with child actress Hallie Kate Eisenberg playing Frankie Addams, the role Harris created on Broadway and also played in the film. After the reading, Harris will present the "Food for Thought/Julie Harris Emerging Playwriting Fellowship" to a local student.
Last spring, Charlotte launched the evening "Cocktail Hour," held once a month on Friday nights at 6 p.m. These play readings are preceded by a wine and cheese reception and followed by a Q&A with the cast and director. ($45, 4 for $170)
"Food for Thought" best fits the schedule of either tourists or the wealthy. This is unfortunate, because for those who can find the time, at $42 for lunch and a show, it's the best bargain in town. [Simmons]