PAULANNE SIMMONS
"The Persians" - 21st Century-style
"The Persians: a comedy about war with five songs"
Perry Street Theatre
31 Perry Street (at West 4th St.)
Wed. thru Sat. at 8 p.m.
Opened July 13, extended to Aug. 20
$25, (212) 868-4444 or visit smarttix.com
Reviewed by Paulanne Simmons, July 27, 2005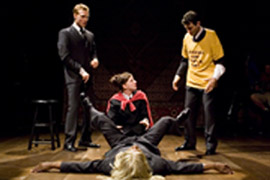 L. to R. - Tom Ridgely, Hanna Cheek, Arian Moayed (with Rodney Gardiner below) Photo by Ryan Jensen.
Aeschylus wrote "The Persians" almost 2,500 years ago. But in the hands of the Waterwell company, it's as fresh as a newborn baby. Of course, the parallels between the Greek dramatist's tale and modern times are deliciously obvious.
But after it has been established that Xerxes, the "dumb, proud son of the former king [Darius]" is trying to "settle an old score" by conquering the Greeks, and a transition is made in which the war is presented as a contemporary news segment, the company is satisfied that the point has been amply made. And neither the adapted text (created by the actors with additional material contributed by Nicole Parker) nor the performers ever let the comparison get out of hand.
In fact, what makes this production so delightful and powerful is the complete control director Tom Ridgely (also a performer) and the other three actors, Hanna Cheek, Arian Moayed and Rodney Gardiner, have over their material. This is even more impressive considering the endless riffs they make on Aeschylus's story.
The Persians, with an extended run until Aug. 20 at the Perry Street Theatre, is performed as a play-within-a play. The actor's are introduced by the emcee (Gardiner) - Queen Atossa (Cheek), Xerxes (Moayed) and the messenger (Ridgely). Gardiner doubles as Darius. Within this framework, the company presents a veritable cornucopia of American entertainment - vaudeville, cabaret, television, burlesque, mime, even a boxing match. The actors wear the formal black suits and white shirts of old-time nightclub entertainers and perform against the backdrop of a Persian rug.
At the same time the "comedy about war with five songs" remains faithful to the spirit of the ancient tragedy. Ridgely in a verbal tour-de-force relates the violent and tragic events that have taken place offstage. The other actors form a chorus and react to the terrible news.
The five songs (Loren Cregor is the composer) range from disco to soul to the gut-wrenching, anthem-like final number that is worth the price of the ticket all by itself. The singers are backed by an onstage, four-piece band - Jeremy Daigle (guitar), Joe Morse (bass), Gunter Gruner (drums), and William David Fastenow (piano).
Not only does The Persians move swiftly and smoothly from beginning to end, it also contains many outstanding moments. Memorable scenes include Moayed (who is Iranian) singing in Persian while Ridgely hold up cue cards in English, after which Ridgely sings in English while Moayed holds up cue cards in Farsi; Cheek's antic humor as a Persian housewife minding the home front; and Gardiner plumbing his own African-American heritage in music and comedy when he appears as the homeboy Darius.
But it is Moayed lamentation at the end of the war that furnishes the emotional core of the production. Because comedy, at its best, is serious business. One would like to believe Aeschylus would have approved.[Simmons]