Paulanne Simmons
"Seascape" Mixes Wisdom and Wisecracks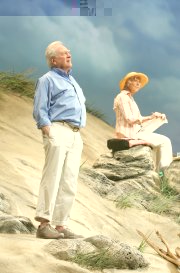 George Grizzard and Frances Sternhagen in "Seascape" by Edward Albee
Directed by Mark Lamos
Presented by Lincoln Center Theater
Booth Theatre
222 West 45th St.
Opened Nov. 21
Tues, Thurs., Fri 8 p.m., Wed., Sat 2, 8 p.m., Sun 3 p.m.
$80-$85. (212) 239-6200 or (800) 432-7250
Closes Jan. 8
Reviewed by Paulanne Simmons Dec. 15, 2005
In Edward Albee's famous "Who's Afraid of Virginia Wolf?" the playwright presents two married couples--the embattled George and Martha and the naïve Nick and Honey. In the lesser known "Seascape," now at the Booth Theatre, directed by Mark Lamos, Albee also presents two couples--the loving Nancy and Charlie, and the equally loving Leslie and Sarah. But in this case, the main difference between the two couples is that Leslie and Sarah are lizards.
The action takes place on sand dunes by the ocean--a "Seascape" beautifully evoked by set designer Michael Yeargan. Nancy (Frances Sternhagen) and Charlie (George Grizzard, who played Nick in the original Broadway production of Who's Afraid of Virginia Wolf?) are preparing to leave. But Nancy is in a reflective mood.
As the couple nears retirement, Nancy, a feisty woman who has not lost a desire for adventure, suggests she and Charlie become what can only be called elder beach bums--traveling from shore to shore as the spirit move them. Charlie is content to wile away the days.
Nancy recalls the time Charlie was so distant she thought he might be having an affair; it was the only time she contemplated leaving him. Charlie, who doesn't seem exactly bursting with optimism even so many years later, tells Nancy there was never another woman.
While the couple discusses their life and love, Nancy spies people in the distance. At the end of Act I, it turns out these are no people but giant lizards (Catherine Zuber supplies the off-beat but true-to-lizard costumes). Nancy and Charlie assume attitudes of submission, but this proves unnecessary, as Leslie (Frederick Weller, this night played by the very capable Steve Kazee) and Sarah (Elizabeth Marvel) are revealed to be an amiable and harmless couple.
In Act II, which enfolds much like a piece of science fiction, the two couples discover that, despite major difference is mating and childbearing, they have much in common. Both are eager to learn more about each other. Their conversation progresses like one between alien creatures. But as so often happens in science fiction, the aliens are really quite human.
"Seascape" is Albee at his most benevolent and funniest. Nancy is unpredictable and rueful but not bitter about the vicissitudes of life. Leslie swaggers over his sexual prowess, much like a male homo sapien.
Although "Seascape" moves along energetically, thanks to Albee's sparkling dialogue and the excellent cast, in many ways all the principal issues the play tackles are elucidated in the first act. The new elements introduced by the lizards are funny at first, but after a while the joke becomes stale--and how long can an audience remain interested in a pair of humanoid lizards?
But, for the most part, "Seascape" is an amusing and insightful look at life on this earth and the major hurdles most couples face as they make the journey through it. It can be as deep as the ocean and as light as the foam.