Paulanne Simmons
Post-Modern Hedda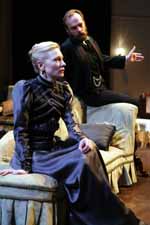 HEDDA GABLER -- Cate Blanchett and Hugo Weaving. Photo by Richard Termine.
"Hedda Gabler"
Directed by Robyn Nevin
Presented by The Sydney Theatre Company
BAM Harvey Theater
651 Fulton St. between Ashland and Rockwell Places
Opened March 1, 2006
Tues.-Fri. 7:30 p.m., Sat. 2, & 7:30 p.m., Sun. 3 p.m.
$30, $50, $85 (718) 635-4100 or www.bam.org
Reviewed by Paulanne Simmons March 2, 2006
In 1890 Henrik Ibsen wrote "Hedda Gabler," a play about a bored, neurotic woman who ruins the life of the people who surround her and then takes her own. It is a solid piece of drama with a preternaturally modern theme.
For some reason, Andrew Upton saw fit to update the play with "spare dialogue and diminished exposition." Then The Sydney Theatre Company took this version and, under the direction of Robyn Nevin, turned it into something that seems to be a cross between a sitcom and a soap opera.
The production stars the undoubtedly accomplished Cate Blanchett, who should have known better than to mug her way across the stage – tossing pillows, pouting, muttering nasty remarks and, in general, making herself obnoxious in a way familiar to anyone who has ever seen a Neil Simon comedy.
To be sure, the audience does laugh. When Judge Brack (Hugo Weaving) explains to Hedda the obvious reasons why her scholarly but not very worldly husband would not succeed in politics and she responds dryly, "So you don't think Tesman could be the Prime Minister," who wouldn't laugh? But when the exasperated Hedda confides to her old schoolmate, Thea Elvsted (Justine Clarke), "I pulled everybody's hair. You always took the longest to react. I could pull your beautiful hair for ages before you would try and get away. Remember? I loved our little game," the audience laughs, as well.
It's easy to make fun of Tesman (Anthony Weigh), whose academic specialty is Brabant Domestic Crafts during the Middle Ages. But it's important to take Hedda seriously.
The problem is that this production turns Hedda, a powerful woman, a lion roaring in her cage, into a petulant child sulking in her corner. And those famous pistols might easily be toys if they didn't do so much damage at the end of the play.
Nevin keeps his actors in constant motion. Often the movement seems gratuitous or distracting. This is a pity, because much of the acting is quite good.
Annie Byron as the servant Berte, and Julie Hamilton as Aunt Julle are wonderfully fussy and sincere. Weaving's Judge Brack is as cynical as he is diabolical. And Weigh knows how to make Tesman naive and silly without making him stupid and ridiculous.
There are many entertaining moment in this production, but there are no moments of riveting drama. One leaves the theater disappointed and wanting more. This is not Hedda Gabler, but a parody of Hedda Gabler.