THIS WAS THE SUMMER THAT WAS
By Glenn Loney,Report from Euroland in Summer 2015
About Glenn Loney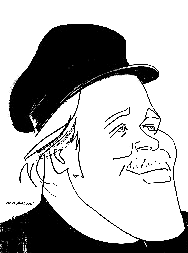 Caricature of Glenn Loney by Sam Norkin.
Please click on " * " to skip to each subject in this index:



Think Twice About Spending Three Weeks in a Tourist Infested Firenze! *
Richard Strauss's ARABELLA [*****] *
Gaetano Donizetti's ROBERTO DEVEREUX [****] *
Giacomo Puccini's MADAMA BUTTERFLY [***] *
Oskar Schlemmer's DAS TRIADISCHE BALLETT [*****] *
Igor Stravinsky's LE SACRE DU PRINTEMPS [*****] *
Thomas Hermanns' BUSSI - DAS MUNICAL: Those Crazy Munich Eighties [***] *
"DEGENERATE ART" ON VIEW IN PINAKOTHEK DER MODERNE KUNSTAREAL MÜNCHEN *
Wagner in Bayreuth, but Still in Bavaria *
Giacomo Puccini's TURANDOT [*****] *
Stefan Herheim's TALES OF HOFFMANN [*****] *
"Es Ist der Coolste Arbeitplatz der Welt!" *
Think Twice About Spending Three Weeks in a Tourist Infested Firenze!
My Annual Summer Theatre Pilgrimage has - since 1956 - involved Week Long Visits to such Famous Festivals as those of Bayreuth, Salzburg, Munich, Bregenz, Holland, & Edinburgh.
Not to Overlook Brit Fests such as the Chichester Festival, the Stratford Festival, the York Festival, the Malvern Festival, the Buxton Festival, the Glyndebourne Festival, & the Aldeburgh Festival, where we had Strawberries & Devonshire Clotted Cream onstage at Intermission with Benjamin Britten & Peter Pears…
But, as I will be 87 Years Old on Christmas Eve, I can no longer manage Three Months on the Road with a Three Month Eurail Pass…Age Takes Its Toll, but being Banned from both Bayreuth & Salzburg was a Cruel Cut. I would still Make the Effort, not only because Salzburg & Bayreuth are both Architecturally & Historically Awesome, but also because their Theatre Venues & Idiomatic Productions are so Impressive.
Munich is My Favorite City, not only because I once Lived, Taught, & Wrote there, but also because it has Fabulous Museums & Galleries, as well as Major State & City Subsidized Theatres, such as the Nationaltheater, the Gärtnerplatztheater, the Prinzregententheater, & the Kammerspieltheater.
Of course, Munich is not only a Show City, it is also the Heartland of Bavarian Beer Culture. Once Catholic to the Core, its Name even means Monks: München or Monaco. The Cloistered Brothers Brewed, Prayed, & Drank Deeply. The Franciscan Fathers were among the Malt & Hops Elite: Hopfen und Malz: Bayern Erhalts…Unfortunately, Priestly Vocations seem to be Dying Out. Who wants to spend His Entire Life in a Monastery?
So this Summer, the Arch Diocese in Munich offered to sell the Franciscan Cloister in Bad Tölz for Only One Euro! When you visit Bad Tölz - where I once taught Our Troops - you may well go for a Concert of the famed Tölzer Sängerknaben, or Tölz Choirboys, Bavaria's Answer to the Wiener Sängerknaben. But you can also enjoy a Foaming Mug of Franziskaner Bräu, brewed in Munich. Why didn't the Munich Franziskaner Management buy the Cut Rate Cloister & turn it into a Brew Haven?
This July was primarily dedicated to Stagings in Munich & in Bregenz, as reported below. But, beyond Bregenz, was Zürich, which has a remarkable Historical Museum: You could spend Days inside & still not have Seen It All. The Real Reason I wanted to stop off in Zürich, however, was to Return To Lucerne.
Lucerne - or Luzern, as Deutschsprechender Leute are pleased to call it - seems to have Endless Festivals. The Luzern Festival sends me Monthly Brochures of its Wide Ranging Cultural Attractions. But my Real Reason for returning to this Lovely Laked City was to finish Photographing its Medieval Dance of Death.
Lake Lucerne is Criss Crossed by Two Historic Wooden Bridges. One of them features Ancient Paintings of Historical Events, set into the Triangles formed by the Roof Beams. The Other is distinguished by a Series of Images of the Medieval Vision of the End of Life, for both Popes & Peasants. Even Six Hundred Years Ago, not Everyone talking about Heaven was Going There…That Specter with the Scythe - the Grim Reaper - was always Waiting in the Wings.
The Devil & his Demon Fiends had the Red Hot Tongs & the Hell Fires glowing for Wicked Swiss. Even if a Prosperous Merchant had Bought His Way Out of Hell, he still had to spend some Fiery Time in Purgatory. Perhaps for Centuries, if Christ didn't come back as Quickly as Optimists had Hoped.
In fact, we are still waiting for The Last Judgment. Will the Angelic Supreme Court decide that Corporations Are Persons worthy to be Saved? How Many Angels Can Dance on the Head of a Pin? On Line, Digitally they can do Much More. Anyway, the last time I was in Lucerne - on the way to Photograph the Dance of Death - I tripped on a Paving Stone & fell over backwards. It was very nearly My Very Own Dance of Death. This time, Everything worked out OK. But where do all those Young & Old Chinese Tourists come from?
Beyond The Alps Lies Italy! Not Over, But Under - Endless Kilometers of Rail Tunnels
Last Summer, an Old Friend rented an Apartment in Florence, across the Piazza from the Palazzo Vecchio. As I had twice spent some time in Firenze - notably during the Maggio Musicale - I longed to return. Initially, way back in the 1960s, I stayed with a California Classmate who was renting a Top Floor Apartment adjoining the Ponte Vecchio. We shared with an Aged Count & his Beloved Contessa, but I was also visiting the Marchesa Nanina Fossi, Cousin of my Beloved Rosamond Gilder, Editor of Theatre Arts & Daughter of Manhattan Editor Publisher, Richard Watson Gilder, who lived on Gramercy Park.
Rosamond's Boston Cousins had married into Tuscan Nobility, the Ruccellai, who were the strongest supporters of the Medici. When I was taken to the Hills above Prato to visit the Medici Summer Villa, I was surprised to see in the Great Hall, Twin Busts of Lorenzo the Magnificent & his Beloved Sister, Nanina. Not Up on My Tuscan History, I gasped: "Marchesa Fossi has the Same First Name!"
"Of course she has: She is a Direct Descendant of Nanina d'Medici!"
In the Villa Library there were Twin Portraits of Boston Nobility. I recognized Thomas Wentworth Higginson, a Founder of the Boston Symphony. But I was also able to see some Outstanding Opera Productions. Composer Luciano Berio was the Festival Director, whom I had already met at the Holland Festival. He arranged some Prestigious Interviews for me, but a London Friend opened the doors to an Interview with Dr. Jonathan Miller, who was staging a Bohème at the Historic Teatro alla Pergola.
What impressed me most on that Eventful Afternoon - I made a Haunting Photo of an Exhausted Miller - was watching Conductor Zubin Mehta in Action. He was helping the Technicians set the Stage Lights! That's ordinarily not part of a Conductor's Duties…What's more, Mehta was directing the Techies in a mixture of German, Italian, French, & English.
No Operas This Time: Just Slogging Through Museums & Basilicas
What I Should Have Realized: You do not go to Florence in Mid Summer, when it is Overrun by Tourists with iPhones & Rolling Suitcases. Rather, Go in the Autumn or in the Spring…
Why Wait in Line for Two or Three Hours to get inside the Duomo or the Ufizzi? There is a Three Day Pass which gets you into All the Major Venues without an Endless Wait, but I only found out about this when we were packing up to Go To Rome.
Our Apartment Rental was between the Central Station & the Duomo & Giotto's Tower. Talk about Central! Unfortunately, we had only been inside the High Windowed Suite a few minutes when our Local Host threatened to Call the Police.
Not a Good Start…But being On Our Own proved a Big Money Saver. Eating Out for Three Press Pass Americans isn't Cheap anywhere in Italy. Fortunately, Scott's Beloved Valentina - Born & Raised in Byelorussia - is a remarkable & resourceful Chef! Borscht & Blinis were only the Culinary Tip of the Eating Experience…
Fortunately, ArtsArchive Director Scott Bennett had ordered a Ten Trip Eurail Pass, so we were able to Escape to Milan & Stand in Line to see its even more famous Duomo; not to forget the Duomo in Sienna, where we were only Two Days before the Running of the Palio.
In Parma, we were able to Photograph the Historic Teatro Farnese, which could be flooded for Mock Naval Battles, not to overlook being dried out for Equine Tournaments.
Of course I had to return to Lucca & Pisa. Last time I was in Pisa, there was a Keith Haring Mural across from the Bus Station. I like to photograph the Leaning Tower so it looks Vertical…
In Rome - where we spent Eight Days - we were lucky to live Up the Avenue from the Colosseum, always under Repair & Reconstruction.How Very Central can you get! At least to the Major Antiquities: the Circus Maximus, the Arch of Titus, the Arch of Vespasian, If Foro Romano, the Palatine Hill…
The Hop On/Hop Off Open Roof Bus took us to Vatican City & Castle Sant Angelo, among other Five Star Attractions. I got lost in the Kilometers & Kilometers of Over Decorated Corridors on my way to the Sistine Chapel, where Photography Was Forbidden.
There was one more Train Trip on our Eurail Pass. We were flying back to Manhattan from Rome Fumacino, so I hated wasting that One Last Coupon. Half a Century Ago, I used to teach in Naples at NATO HQ. So why not a Quick Trip to Mafia Land? But the Forest of Modernist Skyscrapers didn't look like the Naples of 1957, so we went onward to Pompeii. To what looked like Miles & Miles of Roofless Ruins…
It was almost the Last Days of Loney, to paraphrase Lord Bulwer Lytton.
PASSING GLANCES AT SCENES SEEN
The Munich Festival - At The Nationaltheater:
Richard Strauss's ARABELLA [*****]
All About Art Deco Staircases - Endlessly Revolving in a Modernist Vienna…
The Stunning Design of Munich's new Arabella alone makes it worthy of a Transatlantic Crossing.
Four Quadrants of handsome but stark Black & White Staircases revolve & regroup to help Tell the Tale of Impoverished Viennese Aristocrats who need to marry off their beloved & beautiful Arabella to restore their Funds & Social Credibility.
Traditionally, Arabella is mounted in a Historical Vienna of the Belle Epoque or Jahrhundertwende.
This - even with Powerful Performances - often makes it look like some Antique Artifact: Frozen in Time & in Form.
But now - thanks to the Ingenious Designs of Matthias Fischer Dieskau & the Staging Savvy of Andreas Dresen - Strauss's Vintage Arabella is reborn as a kind of Art Deco Debutante, surrounded by Stylish Admirers.
At times, Arabella's Romantic Quandries are almost eclipsed by the Artful Movements of the Stair Sections & the Elegant Gentlemen & Lovely Ladies who Promenade - Astaire Like - up & down those Stark & Stunning Stairs.
Nonetheless, Anja Harteros is emotionally & musically superb as Arabella: She really has some Hard Choices to make…
Will she settle for one of those Vain Viennese, who obviously believe that they are the Best of the Catch this Season?
Or will she opt for the Crusty Rural Landowner, Mandryka, who will take her away from all those Whirling Stairs out into the Countryside where there are Crops to Plant & Sausage to Stuff…
As vigorously embodied by Thomas J. Mayer, Mandryka is not much for Style or Ceremony.
He presents Arabella with a Challenge & a Reality that she will never encounter with her Three Elegant Suitors: Graf Elemer, Graf Dominik, & Graf Lamoral.
But Finances are so fraught with Arabella's Father, Graf Waldner [Kurt Rydl], that her Younger Sister, Zdenka [Hanna Elizabeth Müller], has to dress like a Young Lad.
Can't have Two Eligible Girls when there's not even Dowry enough for One!
In Period Productions, it's not always easy to Understand just who the Fiakermilli actually is & what Function she fulfills in Aristocratic Viennese Society.
As fleshed out by Eir Inderhaug, it's clear that there was an Underlife - even Orgies - in the Vienna of Librettist Hugo von Hofmannstahl's Memories…
Both Sabine Greunig, with her Elegant Deco Costumes, & Michael Bauer, with his Striking Lighting, make this Arabella a Vivid Experience that ought to be seen even Outside the Euro Zone!
With both Flair & Elegance, Conductor Phillip Jordan made this an Arabella to Remember…
Even the Arabella Program is a Major Production, its Four Section Cover unfolding to reveal Endless Interlocking Vistas of all kinds of Stairways: Up, Down, Spiral, Sliding, even Bannistered!
Gaetano Donizetti's ROBERTO DEVEREUX [****]
Trendy Updating Doesn't Make Elizabeth I Look or Act Like Q E II:
Nor Does the Historic Earl of Essex Do Well in What Looks Like a Corporate Boardroom…
If you feel Opera Audiences - even in Munich - are desperate for yet another Exposure to the Passions & Poutings of The Virgin Queen, why not explore Friedrich Schiller's Maria Stuarda in its Operatic Manifestations?
Donizetti's Period Piece, however, was not safe from the Current Continental Virus of shoving the Romantic Past into the Plainspoken Present.
Instead of such Historic Venues as The Tower of London, we seemed to be in some kind of Colorless Conference Room, with Queen Elizabeth One as an Angela Merkel Style CEO.
This made the Banality of Evil seem even more Banal.
There were even Two Water Coolers, rather than One - complete with Conical Paper Cups.
The Historic Devereux/Essex was the Queen's Favorite, but he made a Bad Mistake in attempting a Coup with an Armed Force.
Nonetheless, even though Essex is betrayed by his Wife & his Best Friend, he could still be Saved from Execution if that Golden Ring Elizabeth once gave him as a Love Token were to be sent to her…
Perhaps Stage Director Christoph Loy decided to Update Donizetti because ISIS has recently put Beheadings back in the News?
Despite this Production's Modern Trappings, Elizabeth still wears that Historic Portrait Wig.
As inhabited by Edita Gruberova, the Role of Elisabetta [Librettist Salvatore Cammarano's Italianate Designation] was less Angela Merkel Like than an Echo from the Past.
Alexy Dolgov was a vigorous Devereux/Essex, while Goran Juric impersonated Sir Gualtiero Raleigh.
King James I of Scotland - who succeeded the Heirless Heiress Elizabeth, who Beheaded his Mother, Mary, Queen of Scots - briefly appeared as Giacomo, König von Schottland.
Friedrich Haider conducted, but there were no Water Coolers or Conical Cups near the Podium of the Bayerische Staatsoper!
I had forgotten that there's a Hint of My Country 'tis of Thee in the Overture…
Donizetti owed No Cultural Debt to American Colonials, so where did this Patriotic Melody come from?
Giacomo Puccini's MADAMA BUTTERFLY [***]
Into the Archival Storage Vaults: Saving on Production Costs with Worn Out Scenery…
Considering the Vast Sums that are regularly expended to mount Major New Productions at the Bavarian State Opera, why did its Current Intendant decide to pull a Shop Worn 1973 Madama Butterfly out of Storage as a Festival Centerpiece?
Even the Official Program was an Archival Reprint of the Original 1973 Brochure.
At first, I thought this was some kind of Historic Salute to David Belasco, who expanded John Luther Long's Short Story into the Drama that inspired Puccini.
But No! Even Belasco - famed for the Fantastic Detail & Period Accuracy of his Manhattan Stagings - would have been appalled that Otto Stich's Shabby Settings should be used for his Magic Tragedy.
Fortunately, the Powers of the Fable, the Heartbreak in the Music, & the Glorious Voice & Ardent Presence of Kristine Opolais as the Trusting Butterfly overcame Other Obstacles.
Her Cio Cio San was sympathetically supported by the Suzuki of Okka von der Damerau.
As for Un Bel Di, when Pinkerton finally returned, he was still as Stocky as he was at the Start.
Wolf Busse is credited with the Stage Direction: It looked like it had also been in Storage, along with the Sets & Costumes…
Daniele Callegari conducted, but this Heartbreaking Music was definitely not hauled in from Storage in Ingolstadt.
At The Prinzregenten Theater - Two Historic Reconstructions:
Oskar Schlemmer's DAS TRIADISCHE BALLETT [*****]
OK, Oskar Wasn't Either a Choreographer Or a Composer -
Schlemmer Was a Bauhaus Design Genius: Three D Geometric Abstractions Made To Move!
Talk about Historic Reconstructions!
It's Challenging enough to recreate Historic Costumes, but if they were originally intended to Function in a Stage Setting - not just to exist as Striking Solids - how do Ballet Masters rediscover the Moves & the Music?
This is a Problem that was somewhat solved in Berlin some years ago.
Only now are the Berlin Costumes in Munich, but there's New Choreography.
It is, however, very much in the Spirit of the Dessau Original.
In Wiemar initially, then in Dessau, & finally in Berlin, the Bauhaus was Innovative & Modernist with a Vengeance!
Oskar Schlemmer was but one of a group of Inspired Innovators at the Bauhaus.
He envisioned his Triadic Ballet as "a Celebration in Colour & Form."
Schlemmer actually tried on the Various Elements of the Complicated Costumes, but he didn't finally function as a Seamstress.
He did help devise the Movement Patterns for Bauhaus Performers.
Schlemmer was present at the World Premiere in 1922, so he could rejoice in the Actualization of his Initial Fantasy.
Triadic was taken from Triad, a Musical Term, used by Schlemmer & his Colleagues as an Organizing Principle in ordering the Various Formal Elements.
One to Three Dancers performed at Given Times - also a Triad - wearing a Total of 18 Costumes in 12 Dances.
The Dances were performed in Three Rows - another Triad - lit Yellow, Pink, & Black.
The Costumes were Three Dimensional Forms, with Padded Textiles laid on Rigid Shells, which thus determined the Movement Possibilities.
One Female Costume looked rather like a Spinning Top
Instead of Form Follows Function, Oskar Schlemmer had turned this Architectural Formula Upside Down.
In 1977, at the Akademie der Kunst in Berlin, Gerhard Bohner created a New Choreography, complete with Costume Reconstructions by Ulrike Dietrich.
These Unusual Artifacts are now in the Repertory of the Bayerisches Staatsballet II, with New Movement devised by Colleen Scott & Ivan Liska.
A Night To Remember!
Igor Stravinsky's LE SACRE DU PRINTEMPS [*****]
Dance Until You Die! Your Blood Will Nourish the Earth!
When Pina Bausch - the Late German Wonder Woman of Modern Ballet - decided to give a New Look to Mary Wigman's Historic Staging of Stravinsky's Pagan Pageant, Le Sacre du Printemps, she opted for a Primitive Dance Circle, each evening singling out a different Young Woman, who would then Dance Herself To Death.
The current Munich Production, however, is a Reconstruction of the Original Mary Wigman Choreography.
It is Wonderfully Danced on a kind of Sloping Circle or Declining Disc, but with a Certain Formality that makes Pina Bausch's Vision seem more Raw & Passionate…
The Gärtnerplatz Theater in the Reithalle:
Thomas Hermanns' BUSSI - DAS MUNICAL: Those Crazy Munich Eighties [***]
Yes, That's Munical, not Musical, But Why is the Subtitle in English Instead of German?
The Historic Gärtnerplatz Theater is still Far from Home, performing on the other side of Munich in the former Bavarian Cavalry Manège.
Every Summer since 1956, I have been a Regular at the Munich Festival, so, if the Eighties were really so Crazy, how did I miss out on all the Fun & Games?
Apparently, there was a Lot More Going On than just Oktoberfest & Fasching…
Fasching is the German Term for Mardi Gras, but Munich has always been an On Going Fest & Feast.
Immer Wo Die Gaudi Ist!
Always where the Gaudi is, as in Gaudeamus Igitur…
Unfortunately, although the Gärtnerplatz had Standing Fans for their previous Cabaret at the Reithalle, there was No Form of Klima Anlage, or Air Conditioning, for Bussi.
Which is the Fictional Name of a Fun Club in 1980s Munich.
As the Riding Hall was divided into a Performance Space & a Waiting Area for Ticket Sales, Beverage Sales, General Sweltering, & Impromptu Encounters with Trans Gendered Performers, we all had a Taste of Things To Come when we were herded into the Main Show, where Sing a Longs were genially conducted, as we witnessed Casual Sex, Pop Songs, Crazy Costumes, & Consumerism Run Rampant.
One of the Sing a Longs was in English: Look of Love…
One of the Craziest Costumes was that of Bavaria Toleranta, lustily embodied by Marianne Sägebrecht.
But even its Excesses were exceeded by Enrico De Pieri's Bavarian Drag, with Big Breasts, Giant Bretzel, Antlers in a Nest of Piggies, & the Blue White Diamonds of the National Flag of Freistaat Bayern as a Party Dress.
Who knew that there were Sex Shops & Private Clubs for Every Taste all over the City?
I guess that's what I get for going right back to Hotel Luitpold to write my Opera Reviews after each Performance at the Nationaltheater…
Savvy Münchners - on the Other Hand - knew where to get both Pot & Blow Jobs After Hours…
At The Max Joseph Saal der Residenz München
Carl Orff's CATULLI CARMINA [Sold Out]
Beyond Carmina Burana: Long Time Orff Admirer Loses Out…
Years & Years Ago, when I First Interviewed & then Got To Know Professor Carl Orff, I told him I thought the One Thing for which he'd Be Remembered was for his Carmina Burana: Musical Settings for Medieval Texts & Bawdy Lyrics.
Nonetheless, I made many efforts to interest Producers & Conductors in Other Orffs such as Astutuli, Die Bernauerrin, Der Mond, Die Klüge, Catulli Carmina, Trionfo di Afrodite, & The Comedy of the End of Time.
With Prof. Orff's Approval & Encouragement, I urged Productions of Salt of the Earth & Ballad of Agnes Bernauer, Americanized by Our Mutual Friend, Dr. Fritz Andre Kracht.
All of this Material - plus my Orff Interviews - will soon be On Line as a Carl Orff Source Book.
So I was especially excited to receive an Orff Fest 2015 Program from the Munich Based Orff Zentrum.
Unfortunately, I did not immediately reserve Press Tix for various Orff Concerts.
I was advised to wait until I'd arrived in Munich from Manhattan: Big Mistake!
Looking forward to the Orff Festakt in the Max Joseph Saal of the Famed Munich Residenz, I was devastated to discover that Not a Seat Remained.
As an Old Age Pensioner, I could have bought a Ticket for only Ten Euros.
I should have realized this was much more than Just a Concert.
Not only was there a Festrede by Prof. Dr. Hans Maier - Staatsminister a. D. - but also Grussworte from Dr. Ludwig Spaenle, MdL - Bayerischer Staatsminister für Bildung & Kunst.
Star Studded Speeches, plus Orff & Monteverdi, sung by the Chorus of the Bayerischen Rundfunk.
Oh, Well. Can't Win Them All…
"DEGENERATE ART" ON VIEW IN PINAKOTHEK DER MODERNE KUNSTAREAL MÜNCHEN
There have already been several Major Retrospectives of what Hitler & Goebbels called Entartete Kunst, or Degenerate Art, including some Bulky Catalogues of these Shows in New York & Los Angeles.
Major Modernists were Banned by The Nazis, but there were No Book Burnings for Artworks by Picasso, Matisse, or Braque. Their Valuable Canvases were Sold at Auction in Switzerland.
But What a Surprise to see some of these Modern Masters again in Munich - where they had been exposed to Public Shaming in 1937.
Even more astounding was the inclusion in the Current Show of a Painting by Adolf Hitler's Favorite Artist, Adolf Ziegler, as well as Post Nazi, Post War Paintings by Banned Natives like Max Beckman.
But the Title of this Comprehensive Exhibition is Enlarged into GEGEN KUNST, including Entartete Kunst, but also probing Beyond 1945, including Francis Bacon, never a Known Nazi…
Oddly enough, in an effort to make Americans Aware of the Heroic Fascist Deco Artworks replacing Expressionism & Abstraction, Adolf Ziegler came to Manhattan in 1937, where he was Interviewed by the Late Barrie Stavis for the Proto Soviet New Masses.
I'm sure Ziegler had No Idea that he was Chatting with The Enemy.
Fortunately, Barrie gave me His Copy of the Interview, which is now in the ArtsArchive of the Glenn Loney Charitable Trust.
Wagner in Bayreuth, but Still in Bavaria
Wagner's Wahnfried Now Heart of New Wagner Museum Complex
Years ago - before I was Banned from Bayreuth by Eva Wagner Pasquier - I was invited to the Festive Reopening of Haus Wahnfried, long ago badly damaged by Allied Bombings.
Quite an Event, although Winifred Wagner was not Invited.
Frau Wagner lived just next door, in the Siegfried Haus, where her Husband, Siegfried Wagner, struggled to Compose Operas that would not Shame the Wagner Name & Wagner Fame…
The Birth Mother of Wieland & Wolfgang Wagner, Winifred was actually a Welsh Lady, not an Ethnic German.
Every Summer, when I came to Bayreuth to Review Wieland & Wolfgang's often Controversial Stagings, I'd come to visit with Winnie, who remained an Unrepentant Hitler Admirer.
She was De Nazified Twice, but it didn't work either time.
I was forbidden by Wolfgang & Wieland to make any Audio Interviews, but I took many Notes & made many Photographs. So there is a Record…
In fact, I knew Two of the Three Women closest to Der Führer, Adolf Hitler.
Winifred Wagner, of course, but also Leni Riefenstahl, the Actress Filmmaker who created Die Macht des Willens, or The Triumph of the Will, which was both Documentary & Propaganda.
Who knew that Hitler had a Mistress, Eva Braun?
But Eva did not Survive to give me an Audio Interview…
Now that the New Wagner Museum is open - splendidly extended by Berlin Architect Volker Staab - there seems to be a Notable Omission.
Bayreuth & Hitler, Hitler & Bayreuth: Somehow, this Historic Segment of the Wagner Cycle has gone lost on the 104 Anniversary Celebration of the Wagner Festival.
This cannot be just an Unfortunate Oversight…
Operatic Border Crossing into Austria's Fartherest Western Province:
Onward & Upward to Bregenz for The Great Wall of China on the Bodensee…
Can it be Mere Coincidence that both the new Bregenz Opera Productions - on the Lake & inside the Festspielhaus - were not completed by their Respective Composers?
Giacomo Puccini died before he could finish Turandot. Fortunately, he left both Notes & Sketches.
Jacques Offenbach also was not given a Time Extension to complete Tales of Hoffmann.
This is not the Musical Equivalent of, say, Shubert's Unfinished Symphony, however, so we do not have what German Musicologists might be pleased to call Die Unvollendete Turandot.
As for an Unvollendet Hoffmann, Not To Worry, for Regisseur Stefan Herheim has created his own Hoffmann Libretto, with results that would surely have Baffled - if not Downright Outraged - the Master of Parisian Operetta Culture.
But before even One Note was sung in Premiere on the Great Lake Stage of the Annual Bregenz Festival, Dr. Heinz Fischer took the Podium of the Festspielhaus Stage to Salute the Festival on its being named European Festival of the Year.
Dr. Fischer - as President of the Federal Republic of Austria - every Summer flies from Far Off Vienna to Vorarlberg to greet Prestigious Locals in Historic Ethnic Costumes, followed by a Festrede in the Festspielhaus, which, in effect, Opens The Festival.
In the Wake of the Disastrous Defeat of the Nazi Overlords in 1945, much of Germany & Austria lay in Ruins.
Repair & Rebuilding were the Order of the Day, but Bregenz had escaped most of the Military Carnage, so, in 1946, it launched the Bregenz Festival.
Dr. Fischer festively noted that this Summer - some 69 Years Later - the Name & Fame of the Festival has grown so much that more than a Quarter Million of Opera Lovers have flocked to Bregenz in July & August.
Most of his Celebratory Summing Up centered on the Fest & its Creators, but Dr. Fischer did close by making a Major Point of Austria's willingness to welcome Asylum Seekers who are now flooding into Europe from the Middle East.
Some Euro Lands are seeking to Stem the Time by Closing Borders. Not so Austria Felix…
Giacomo Puccini's TURANDOT [*****]
THE GREAT WALL OF CHINA DOMINATES THE GREAT LAKE STAGE,
OVER WHICH SWEEP PLATOONS OF TERRA COTTA WARRIORS:TURANDOT IS SECURE!
BBT - or Before Bregenz Turandot - the most elaborate Production of Turandot was that Super Pageant that Franco Zeffirelli designed for the Metropolitan Opera.
Now, nothing can Top the Turandot that Director/Designer Marco Arturo Marelli has devised for the Concrete Cored Lake Stage, which rises up out of the Bodensee, or Lake Constance.
The Great Yellow Stones of The Great Wall of China were all Hand Crafted On Site, but almost immediately, after we first see them stretching across the Wide, Wide Stage, the Center Sections Collapse.
Way, Way Upstage, standing in Racks of Rows are Glowing, Transparent Plastic Versions of those Famed Terra Cotta Warriors, buried Long Centuries Ago in China with their Dead Emperor.
Other Live Terra Cottas sweep over the Stage, which also has a Great Revolve that not only Turns but also Rises & Opens…
Fortunately, Maestro Marelli does not let his Turandot [Mlada Khudoley] be eclipsed in all this Throbbing, Surging Antique Chinoiserie.
Nor does the magnificent Nessun dorma become drowned in all the Furious Stage Activity.
As Calaf, the Mystery Prince, Ricccardo Massi was both Stalwart & Unyielding in his Quest for the Frozen Heart of Princess Turandot.
As Ordained in the Libretto, Foreign Princes who seek the Hand & Heart of the Heiress Princess must first answer her Three Riddles.
Failing that, they are Beheaded, leaving the Stage littered with some Loose Heads.
Considering the Current Actions of ISIS Executioners, the Choice of Turandot for Bregenz 2015 seemed Timely indeed.
Calaf - who has come from Far Away, with his Aged Father & the Lovelorn Lady Liu [Guanqun Yu] - knows All the Answers, infuriating Turandot, who is accustomed to Always Winning.
So he retaliates by challenging Turandot to discover his True Name!
The Lovely Liu dies rather than reveal his Name to the Adamant Turandot.
This is what we now call Collateral Damage…
Fortunately, there is a Happy Ending, witnessed every evening by some Seven Thousand Spectators.
Even more fortunate - considering the Visual & Musical Impact of this Monumental Production - it will be repeated in Summer 2016
For the Record: The Great Wall weighs 335 Tons, being no less than 72 Meters Long, containing no less than 59 Loudspeakers.
Part of the Bregenz Budget of 20 Million Euros was spent on some 205 "Terra Cotta Warriors" - who are not made of Ancient Earths.
Some of these Warriors are sunk in the water in front of the Great Wall, while 144 are the "Air Warriors" Upstage.
Maestro Paolo Carignani presided over the Wiener Symphoniker, but not from an Orchestral Pit, as there is None.
Conductor & Orchestra are safely inside the Festspielhaus, their Sound piped to the Stage.
Considering all the Fireworks & Acrobatics which are Standard Treats in Lake Stagings, it's good to have the Musicians out of the Line of Fire!
Bravos also for Costume Designer Constance Hoffman & Lighting Magician Davy Cunningham.
For those Festival Visitors who wanted to see some real Terra Cotta Warriors, some of the Original Cohort was On View in nearby Dornbirn!
They may not really be the Originals, however, for those Clay Soldiers are still Standing Tall in their Excavated Mountain Tomb near Xian.
In fact, when you visit Xian, you will be able to purchase Exact Replicas of Soldiers & Horses: Life Sized!
These Historic Figures also come in Plush Lined Boxes in Smaller Sized Editions…
Some were on sale in Bregenz for the Souvenir Trade.
None of the recent Lake Stage Spectacles - which have included West Side Story & Porgy & Bess - could have worked so well had it not been for the Production Supervision of Gerd Alfons, whom I first knew when he worked backstage at the Bayreuth Festival.
Bregenz's 2015 Turantdot & Tales of Hoffmann were Gerd's Last Hurrah.
Stefan Herheim's TALES OF HOFFMANN [*****]
HEY! HOFFMANN! WHO ARE ALL THESE PEOPLE WHO LOOK JUST LIKE YOU?
There is a Traditional Track for the Stage Appearance of Hoffmann's Lovely Ladies.
Regaling Fellow Students in a Tavern, he tells of his Doomed Affair with Olympia, who turns out to be nothing more than a Wind Up Doll. Then there's the Seductive Venetian Courtesan, Giulietta, followed by Antonia, who has been forbidden to Sing, but, nonetheless - at the urging of Her Dead Mother - sings herself to Death. This Soprano Triad is followed by the Arrival of Stella, Hoffmann's True Love, who ignores him…
But Stefan Herheim's Tales of Hoffmann works quite differently.
In fact, it begins with Characters & Actions never before seen in Conventional Productions. So I was both appalled & confused at what I was initially seeing on the Festspielhaus Stage. But I had forgotten that Composer Offenbach died before he had "set" his Show.
So there is No Complete Definitive Score, let alone a Master Plan Libretto.
Even worse - for those who demand Authentic Texts & Scores - some Offenbach Scores were destroyed in Paris & Vienna when two theatres burned down.
From time to time, Lost Offenbach Music keeps turning up…
Whatever the Order of the Fantasy Ladies, so much of Offenbach's Fantastic Music is so Thrilling, Chilling, Haunting, & Daunting that it's a Total Delight that Director Stefan Herheim has been able to put it to such Ingenious Uses.
The Original Tall Tale Teller, ETA Hoffmann, was an Awesome Fantasist - Not a Composer…
But Offenbach certainly saw in Hoffmann a Self Adoring Fabulist.
Herheim has raised this Perception to the Nth Degree: Everyone Looks Like Hoffmann!
Well, All the Men, at least…
What is more, thanks to the designs of Christof Hetzer, Herheim is working with a Quadrant of Moving Stairs, rather like those used in Munich in Arabella.
This makes possible some Revue Scenes, with Glamorous Fantastic Ladies arrayed along a Curving Staircase, as well as a Parade of Elegant Hoffmanns.
Bravos for Costume Designer Esther Bialas! - not to Overlook the Lively Conducting of Johannes Debus.
Although One Hoffmann is himself a Big Come Apart Puppet, others in the Fred Astaire Like Stairway Line Ups are wearing Hoffmann Masks.
They are Disguised Fugitives from the Prague Philharmonic Choir.
The Real Hoffmann is energetically, even frenetically, played & sung by Daniel Johansson, with Rachel Frenkel as his Muse, Niklausse.
Mandy Friedrich & Kerstin Avemo double as Olympia, Giulietta, & Antonia.
There's even an Offenbach Look Alike in the Cast!
Finally, I came to love this Show: Busby Berkeley in Bustiers…
This is a Co Production with Oper Köln & the Danish Royal Theatre in Copenhagen, so it may be available for other Opera/Operetta Venues.
"Es Ist der Coolste Arbeitplatz der Welt!"
New Artistic Director Elisabeth Sobotka Knows Opera Theatre as well as What's Really Cool!
Not only is the Charming & Savvy Elisabeth Sobotka an Honored Veteran of such Major Stages as the Salzburg Festival, the Vienna State Opera, the Leipzig Opera, Graz Opera, & Berlin's Staatsoper Unter den Linden, but she is also In the Moment, not In the Past.
Sobotka's Specialty initially was Arts Management, not Stage Direction, but it's very clear, from talking with her, that she Misses Nothing: always Alert for the Next New Thing.
So What's the Deal with Next Season's Hamlet Opera by a Totally Forgotten Composer?
Forgotten Franco Faccio was Sobotka's MA Thesis in Vienna, at the University of Music & Performing Arts - an Austrian Version of the Juilliard School.
The Lakeside Turandot will return next July.
Hoffmann will not. Instead, Sobotka's Operatic Hamlet is scheduled.
Years & years ago, Dr. Alfred Wopmann - who was a longtime Artistic Director of the Bregenz Festival - decided that Major Operas & Musicals should be mounted on the Lake Stage, but no Carmens or Bohèmes inside.
So entirely worthy but Forgotten or Neglected Operas were featured in the Festspielhaus.
This led to some Amazing Discoveries.
But what will Audiences think of Shakespeare's Hamlet, as Set to Music by Franco Faccio?
Franco Faccio? Who was Franco anyway?
The Faccio Hamlet had its World Premiere in Genoa in 1865 - The Year The North won the Civil War.
Hamlet was forgotten; the Civil War not.
But Who has rediscovered Faccio's Hamlet?
No less an Ensemble than Opera Southwest in Albuquerque, NM!
Not so long ago, we had an Austrian Opera titled Mozart in Santa Fé - or was it Don Giovanni in Tombstone?
One Thing Is Certain: Under the Magic Wand of Bregenz's New Intendant, Elizabeth Sobotka, there will be a Lot of Discoveries, as well as more Fantastic Musical Spectacles on Lake Constance/Bodensee.
Copyright © Glenn Loney 20015. No re-publication or broadcast use without proper credit of authorship. Suggested credit line: "Glenn Loney Arts Rambles." Reproduction rights please contact: jslaff@nymuseums.com.


| home | discounts | welcome | search | international | lobby |
| museums | NYTW mail | recordings | coupons | classified |