INTERNATIONAL
a section devoted to the cultural traveler
Bitef 53
The Belgrade International Theatre Festival (Bitef), whose theme for 2019—its fifty-third iteration—was community, favors generally leftist, not-necessarily linear productions that unapologetically take up social issues. Productions always come from several countries. If those of the former Yugoslavia enjoy pride of place, at their best they also speak across borders new and old. By Dorothy Chansky.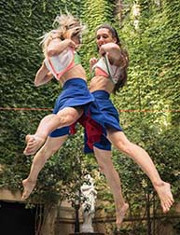 Beatrix Simkó and Jenna Jalonen. Photo by Daniel Dömölky.
Avignon Festival's "Sujets a Vif"
This dance production takes language as theme, but contradicts its title
This dance event of the Avignon Festival featured two productions about words and language. "A Vif" means bright, or lively, keen, vivid. Neither production lives up to those words. "Prononcer Fénanoq". It had to come that a production called "dance" had nothing to do with dance, but was about words. Perhaps in the same way that installations called "art" were really assemblages of life's detritus, or sometimes just the takings of a messy apartment. By Lucy Komisar.

Pippa Evans, Diana Purdy, Tim Bentincks, and Hal Cruttenden as British MPs. Photo by Steve Ullathorne.

"Brexit" at Edinburgh Festival Fringe
Examining Britain's relatively recent decision to leave the European Union, "Brexit" takes a jab at politicians on both sides of the aisle. Written by Robert Khan and Tom Salinskyis, and acted by a famous British cast, the play is an excellent commentary on the current state of British politics. By Lucy Komisar.
The Firetruck. Photo by Beate Schaaf.
The Arsonists
A firetruck circles houses, watching for threats of arson. Inside one home, a lady serves red wine. Her husband comments, "You open anewspaper, another house burned down." They are days of mistrust. They are imaginative in their use of a toy firetruck and other staging elements that make a small production achieve what the author wanted. The firetruck, voiced by Tamara Astor, takes the place of a Greek chorus of firemen. A famous and iconic political allegory about Nazism and Fascism, by Swiss playwright Max Frisch, this play was first staged in Zurich in 1958. This version, directed by Tom van der Klugt and Felix Schaaf at the Edinburgh Fringe, is done in English and includes actors from London and Berlin. By Lucy Komisar

Karen Alvarado as Hero and Sufi Malhotra as Aqeel argue about the
consequences of collaborating with the British Army
"Bride of the Gulf" at Edinburgh Festival Fringe
In a thought-provoking and and captivating production, this comedy provides a view of what the West did to Iraq, through the eyes of the people who lived there. The period depicted is one of exceptional violence, following the British withdrawal from Basra, southern Iraq. Playwright John Meyer had been in Iraq that year as a US Airborne Ranger. The play was built on a collaboration with artists from Basra. By Lucy Komisar.
Hannah McClear as the maid victorious, photo Madelaine Moore.
"Ladykiller" at the Edinburgh Festival Fringe
She is cool outside but furious inside, near hysterical but also calculating. This is a woman who reads books, goes to the cinema, even pretends to read the party manifestos at the general election. But this hardworking maid snaps at the way she is treated by a rich hotel patron. What results is a bloody scene.Written by Madeline Gould, directed by Madelaine Moore, set by Baska Wesolowska, "Ladykiller" is the revenge of the working class and a look at the irony of how much access and potential power is given to hired help who are most taken for granted. By Lucy Komisar.
EAR FOR EYE -- Shaniqua Okwok, Seroca Davis and Kayla Meikle. Photo by Stephen Cummiskey.

"Ear for Eye" at Royal Court Theatre
Debbie Tucker Green is a poet adept at thinking simultaneously in words and embodiment. "Ear for Eye," Green's new work at London's Royal Court Theatre, shares some aesthetic DNA with the late Ntozake Shange's "for colored girls who have considered suicide/when the rainbow is enuf." But four-plus decades separate these two indices of the black side of the racial divide in the United States (and, in this work, to a smaller extent in Britain). On Green's stage, the gloves are off. By Dorothy Chansky.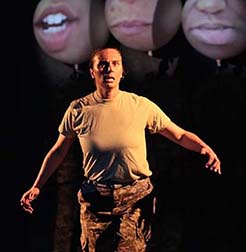 Rebecca Johannsen as member of U.S. Army's Female Engagement Team. Photo by Eden Orfanos.
"Women at War" at the Edinburgh Festival Fringe
Rebecca Johannsen's "Women at War" cuts to the heart of the irony of American military women serving in Afghanistan to relate to women in one of the most benighted anti-female countries in the world. The women in the U.S. Army's Female Engagement Team, deployed to Afghanistan in 2012-2013, were supposed to engage with local Afghan women to build relationships (hearts and minds) and also gather intelligence.
By Lucy Komisar.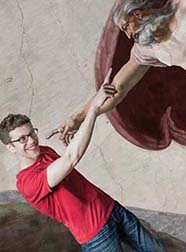 R ichard Marsh as Todd touchesthe finger
of God, according to Michelangelo.
Photo by David Monteith-Hodge
"Todd and God" at the Edinburgh Festival Fringe
Todd (Marsh) is a mild-mannered fellow in his 20s, in jeans and black-rimmed glasses, a copywriter for alumni magazines. He is in a difficult relationship with Helen (the voice of Marsh), his superior wife, a pediatric surgeon. Todd and Helen are atheists, though Helen seems more insistent about it. One day Todd is approached by God (Sara Hirsch), who explains, "God is a woman. I make life and I take it." As proof of her power, he demands a bacon sandwich delivered by an owl, and gets it. (The owl has something to do with Harry Potter.) He is impressed. God quickly advises him to ditch segueing into such traditional ideas as heaven and hell: "Actually, they're both made up. Most of that stuff, and Original Sin was invented by St Augustine. It's basically Biblical fan fiction."
By Lucy Komisar.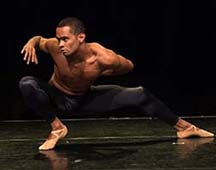 Brandon Lawrence, soloist Birmingham Royal Ballet. Photo by Garry Platt.
"Dance Forms 2017" at Edinburgh Festival Fringe
Dance Forms has been presenting performances at the Edinburgh Festival Fringe for 16 years, everything from classical to avant garde, from major company principals to unknowns. This year's International Choreographers' Showcase had major European and American ballet soloists and the iconic post-modern choreographer Douglas Dunn, who danced with Merce Cunningham's company. As one expects from Dance Forms, there were some very fine pieces. Of eleven, I selected these six. By Lucy Komisar.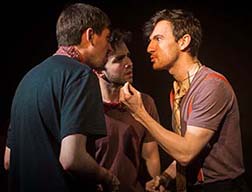 The Three Gods – Patrick Medway, James Charalambous, Simon Hannon, photo Caitlin Taylor
Edinburgh Festival Fringe: Brecht's "The Good Person of ..."
Bertolt Brecht's "The Good Person of Szechwan" (Der gute Mensch von Sezuan) is often translated less literally as "The Good Woman of Setzuan." Here a group of second-year students at London's Italia Conti Academy of Theatre Arts gets the right translation, uses working class Scottish, Brit and Irish accents to establish class, and does a very good modern interpretation, realism tempered by abstraction. By Lucy Komisar.
Dom Luck as Josh, Rosa Caines as Chris.
Photo by Molly-Rose Curran
Edinburgh Festival Fringe: "Action at a Distance"
"This play is a satiric modest proposal that appears inspired by Jonathan Swift's 1729 essay of how one could benefit from catastrophe. If you recall, Swift wrote "A Modest Proposal for Preventing the Children of Poor People in Ireland, from Being a Burden on their Parents or Country, and for Making them Beneficial to the Publick." To deal with the great poverty in Ireland, he suggested that the Irish eat their children. By Lucy Komisar.
George Mann as Odysseus, Photo by John Rankin
Edinburgh Festival Fringe: "Odyssey"
George Mann's performance in "Odyssey," the Homer classic, is a tour de force. Directed by Nir Paldi, who co-authored the adaptation with Mann, it is stunning, overwhelming, brilliant. Mann's voice takes on the sounds of a musical scale, like a many-stringed orchestra. His movements are striking physical theater. He creates time and space peopled by a cast of dozens. He gives a masterclass in acting. By Lucy Komisar.
Graham O'Mara as Sebastian Nightingale, Avital as Farah.Photo by Steve Ullathorne
Endinburgh Festival Fringe : "Borders"
Sebastian, an idealistic photojournalist just out of university, accompanies a reporter who has gotten an interview with a man hiding in a cave. He takes photos of Osama bin Laden. Sebastian is 21 and wants to change the world. "Borders" is the fourth in Henry Naylor's Arabian Nightmares Series inspired by the catastrophes of the wars in the Middle East. It is the interweaving monologues of two artists, in which one, a Syrian (a vivid Avital Lvova), identified as Nameless, uses art to fight for political liberation and the other, the Brit Sebastian Nightingale (the intense Graham O'Mara), trades photojournalism to take pictures of celebrities. By Lucy Komisar.
Claire Moore as Edith Rigby. Photo by John Woudberg.
Edinburgh Festival Fringe : "Woman on Fire"
This is a thrilling paen to the bomb-throwing and window-smashing militant British suffragists. A powerful play written and directed by John Woudberg and vividly performed by Claire Moore, that will set every feminist's blood boiling in anger and pride at what Edith Rigby, a heroic woman who forswore the advantages of being a doctor's wife, suffered and achieved in the British struggle for the vote. Lucy Komisar reports from the 2017 Edinburgh Festival.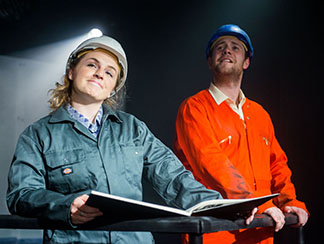 Charlaye Blair as The Artist, and Ross McKinnon as Jim. Photo by Tim Morozzo
The 1988 Piper Alpha oil rig disaster off the coast of Aberdeen, Scotland was the world's deadliest oil rig calamity. Occidental Petroleum, the American company which ran the North Sea oil platform with faulty maintenance and safety practices, is happy about that. It tried to bribe a painter who had been on the rig documenting the workers and their conditions. Coming on the 30th anniversary of the tragedy that killed 167 workers, that is the story of this play, written and directed by Tom Cooper based on interviews conducted by the Glasgow Bletherbox theater company. The music is a good collection of late 70s pop, Scottish music, and work songs. Lucy Komisar reports from the 2017 Edinburgh Festival.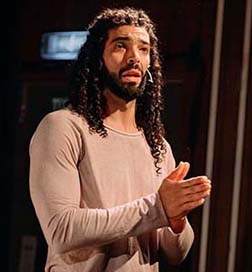 Ramy Essam. Photo by Lucy Komisar.
Ramy Essam: "They can't kill my music. "
Ramy Essam became an iconic figure of the 2011 Egyptian mass protest that toppled dictator Mubarak but lost to military power. This autobiographical show is his powerful and moving story. And it's very good theater. Lucy Komisar reports from the 2017 Edinburgh Festival Fringe.
FOREIGN RADICAL -- Audience examining lock box. Photo by Cande Andrade.
"Foreign Radical" asks the audience to profile themselves
In "Foreign Radical," set in the age of surveillance aimed at catching terrorists, border controls become an immersive game show. The first dark space you enter has an Arab naked, leaning over a table. There is Arabic writing on a wall; the emoji is a skull. In 2014, the US changed its requirements for putting individuals on a terrorism watch list. They no longer need "concrete facts" or "irrefutable evidence," just suspicion. Get on the list, and you get enhanced surveillance and screenings at airports. In 2015 U.S. security added half a million people to the watch list. You will learn why this matters when the host, snazzy and slick in a white tux, orders the audience/participants into quadrants of a set where they will be interrogated and self-profiled. They will be moved to use the same vague standards to decide whether a suspected terrorist, ie. a Muslim, should be subject to enhanced interrogation. Lucy Komisar reports from the 2017 Edinburgh Festival Fringe .
Éowyn Emerald and Josh Murry. Photo by David Krebs.
Edinburgh Festival Fringe: dance is classical, jazzy, sometimes almost like sculpture
I spent six days in August, 2016 at the Edinburgh Festival Fringe, the world's largest arts festival. The Fringe is not only about theater. There is also dance. Here are performances I found important.. By Lucy Komisar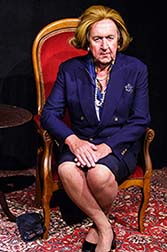 Pip Utton as Margaret Thatcher.Photo by Andy Doornhein.
Edinburgh Festival Fringe: The struggle for justice
Of the plays I saw during six days in August, 2016at the Edinburgh Festival Fringe, these plays about justice stood out: "A Common Man: The Bridge that Tom Built," "The Red Shed," "Playing Maggie," and "Undermined." By Lucy Komisar
Lois Chimimba as Mel McCloud and Louise McMenemy as Mel Sheeran. Photo by Oona Firouzabadi.
Edinburgh Festival Fringe:the people the system chews up
I spent six days in August, 2016 at the Edinburgh Festival Fringe, the world's largest arts festival. Out of the hundreds of plays presented, I sought out those about politics. I've divided the best by their themes. Here are three about the people the system chews up: "Diary of a Madman," "Trainspotting" and "A Streetcar Named Desire." By Lucy Komisar
Amy Gavin as Elsa and William J. Holstead as Josef K. Photo by Shay Rowan.
Edinburgh Festival Fringe: plays on the system's corruption
I spent six days in August, 2016at the Edinburgh Festival Fringe, the world's largest arts festival. Out of the hundreds of plays presented, I sought out those about politics. I've divided the best by their themes. Here are two about the system's corruption: "The Trial" and "Enron.." By Lucy Komisar
Glasgow Girls in school ties with sign 'save our neighbours.'
Edinburgh Festival Fringe: plays about war and its fallout
I spent six days in August, 2016 at the Edinburgh Festival Fringe, the world's largest arts festival. Out of the hundreds of plays presented, I sought out those about politics. I've divided the best by their themes. Here are several about war and its fallout: "Angel," "Glasgow Girls" and "Hess." By Lucy Komisar
Glenn Loney in Munich and Bregenz, 2015
Glenn Loney's annual summer theatre pilgrimage has - since 1956 - involved week-long visits to such famous festivals as those of Bayreuth, Salzburg, Munich, Bregenz, Holland, & Edinburgh. He's been winding down and his 2015 report only takes us to Munich and Bregenz, with reflections on Florence.
David Hayman as Bob Cunningham in "The Pitiless Storm."
Edinburgh Fringe political plays: Party Politics
The third and last group of this festival. "The parties ought to be the solution to the first two. But maybe not so much," says Lucy Komisar. The plays are "The Pitiless Storm," "Spoiling" and "Kingmaker."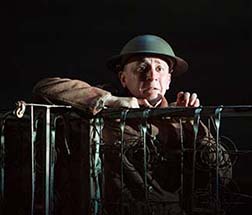 Andy Daniel as "Private Peaceful." Photo by Jonathan Keenan.
Edinburgh Fringe political plays: War
Here's the second group, about war. "The Bunker Trilogy" and "Private Peaceful" about World War I and "The Collector" about more organized cruelty in Abu Graib. By Lucy Komisar.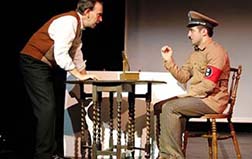 James Bryce as the Old Charlie and Christopher Page as Young Charlie in "Chaplin."
Edinburgh Fringe political plays: Repression
The Edinburgh Fringe in August is the largest theater festival in the world, with hundreds of plays as well as musicals, dance, comedy, cabaret and spoken word performances. "I chose political plays, and nine out of ten I saw were excellent," says Lucy Komisar.

The Bayreuth Wagner Festival 2013
THIS WAS THE BAYREUTH WAGNER FESTIVAL THAT WAS..., Closed for Restorations: Haus Wahnfried & Margravine Wilhelmine's Baroque Opera House, Richard Wagner's LOHENGRIN, Richard Wagner's DER FLIGENDE HOLLÄNDER,
Richard Wagner's DER RING DES NIBELUNGEN, WAGNER FOR KIDS & KINDER: ON BOARD WITH TRISTAN & THAT IRISCHE KIND.
Bregenz Festival 2013
Report for The Bregenz Festival of July/August 2013, Austria's President Dr. Heinz Fischer Invokes the Festival Theme: Toward the Light, WA Mozart's DIE ZAUBERFLÖTE, André Tchaikowsky's DER KAUFMANN VON VENEDIG , Speaking & Singing Shakespeare's Less Loved Sonnets.
The Munich Festival of June/July 2013
THIS WAS THE MUNICH FESTIVAL THAT WAS…, Kander & Ebb's CABARET, Giuseppe Verdi's SIMON BOCCANEGRA, Giuseppe Verdi's RIGOLETTO, Richard Wagner's TRISTAN UND ISOLDE, Richard Wagner's SIEGFRIED, Get a Lump of Rheingold…, Now for The Valkyries: DIE WALKÜRE, Modest Mussorgsky's BORIS GODUNOV, George Benjamin's WRITTEN ON SKIN. By Glenn Loney.
"The Soongs: by Dreams Betrayed" by Joanna Chan at Hong Kong Rep. Photo: Cheung Chi Wai Keith Sin@Hiro Graphics.
Monstrous Dynasty
Aeschylus had the house of Atreus. Shakespeare had the house of Lancaster. Playwright Joanna Chan's terrain is the house of Soong in her historical drama, "The Soongs: By Dreams Betrayed." Hong Kong Rep presented the piece in January, 2014. By Dorothy Chansky.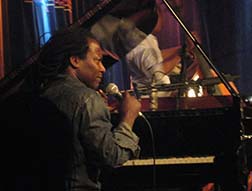 Ramón Valle on piano, photo by Lucy Komisar.
Ramón Valle at Berlin's A-Trane: "The Other Face of Cuban Jazz"
Jazz Pianist Ramón Valle and his trio performed "The Other Face of Cuban Jazz" at the A-Trane in Berlin. He and the members of his trio are Cubans, but they don't play with the Latin rhythm we might expect. This "Cuban jazz" is modern jazz played by Cubans. By Lucy Komisar.
BOTANICAL NIGHT -- Lars Grünewoldt. Photo Lucy Komisar
Botanical Night is Berlin's best music party of the year
On a Saturday night in mid-July, Berlin's Botanical Gardens hosts the Botanische Nacht (Botanical Night), the city's biggest party of the year. With pianos in the bushes, baritones in row boats and patrons enjoying the music by the water's edge or at picnic tables, the event was truly delightful. By Lucy Komisar.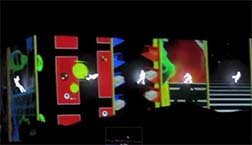 AVIGNON THEATER FESTIVAL -- dancers on perpendicular wall with projection of factory, video by Bernard Gilhodes.
Avignon Festival's avant garde and traditional dance-theater pieces tell haunting stories of life and politics.
Avignon Theatre Festival is 65 years old. This time it brought up a series of plays in which the political mood was echoed. The three-week Festival, supported by the national culture ministry and other French government agencies, gets as many as 40,000 paying customers and thousands more to free events.
Munich Opera Festival 2012
LA CENERENTOLA, LA BOHÈME, TOSCA, MITRIDATE, RÉ DI PONTO, ANTONIUS UND CLEOPATRA.
Bregenz Festival 2011
The Arrival of Austria's President, Dr. Heinz Fischer, To Open The Bregenz Festival! / Festrede for the 2011 Festival: Changes To Be Made--New Horizons! / Inside Jean Paul Marat's Head: Umberto Giordano's André Chénier Loses His Own Head! / Schöpfung with England's Judith Wier… / On an English Achterbahn or Roller Coaster: Burning the Kebabs Wagon! / Lake Stage André Chénier Will Survive the Alpine Winter To Live Again Next July! / A Potent Plea from Kunsthaus Bregenz: Free Ai Wei Wei! By Glenn Loney.
Munich Festival 2011
Look Where It Comes Again! Munich's Annual Opera Festival--In Various Venues… / Don't Kill Bambi's Mother! Dead Deer Violated in "Director's Theatre" Rusalka! / Da Ponte's Don Giovanni Staged in Perambulating Cargo Containers! / Brilliant Post Modernist Minimalist Ariadne auf Naxos: Truths Revealed… / In Ferrara, Don't Drink the Wine when Lucrezia Borgia Is Pouring! / Tired of Romeo & Juliet? How About Focusing on Capulets & Montagues Instead? / Outside the Official Festival--But Still a State Theatre: The Gärtnerplatztheater! / Very Early German Opera: Georg Philpp Telemann's Der geduldige Socrates… / Madame Butterfly in the Middle of Munich: Modernist Japonoiserie auf Deutsch! / Wright & Forrest's Grand Hotel Still Open for Business & Monkey Business Also. / Getting Ready for Oktoberfest in July: Looking Forward To More Beer Busts! By Glenn Loney.
Report on Charleston's Spoleto Festival USA: May 27 to June 12, 2011
Channeling Gian Carlo Menotti in a New Medium…, Elizabeth Futral Channels Émilie du Chatelet: Fearing Death & Translating Newton!, More Genius from Cornwall & Emma Rice: Not The Red Shoes You Thought You Knew., Brilliant Dancing & Choreography from the Corella Ballet: Come Back to Manhattan Next Time!, Mozart's Magic Flute Gets the French Treatment: Falling Through the Floor a Lot…, No Khmer Rouge Makeup for Cambodian Khmeropédies: Ritualized Court & Temple Dancing., Anne Marie McDermott Brings Louie Gottschalck Back To Vibrant Life: The Union. By Glenn Loney.
GLENN LONEY 2010: BACK ON THE GRAND TOUR
Annual Munich Festival at the Bavarian State Opera, Plus Powerful Productions at the Second Tier Staatstheater am Gärtnerplatz
Figaro in a White Box!, Tosca, Fresh from the Metropolitan!, Colorful Watering Cans for L'Elisir d'Amore!, Meanwhile, Across Town at the Gärtnerplatz Theater, Bert Brecht & Kurt Weill's Aufstieg und Fall der Stadt Mahagonny.

Two Wolfgang Wagner Sisters--Eva & Katharina--Give the Bayreuth Festival a New Look & New Directions…
HUGE LAB RATS ENGULF ELSA & LOHENGRIN IN NEW BAYREUTH STAGING! Genetic Engineering Gone Wrong & Plucked Swans? / GERMAN HISTORY: 1870 TO POST WORLD WAR II SOCIO POLITICALLY REPRISED IN BAYREUTH PARSIFAL! Or an Opera about a Big Bed in the Middle of Haus Wahnfried? / A SECOND LOOK AT KATHARINA WAGNER'S DIE MEISTERSINGER From the Show Notes Archives: / What Really Happened in Nuremberg? / Hans Sachs: Painter & Poet Versus Sixtus Beckmesser: Avant garde Artist! / Katharina Wagner's Bayreuth Beckmesser Bombshell! / Theoretic Bases for This Wagner Innovation? / What Looked Different in Meistersinger 2010? / Two Wagner Song Contests--Quasi Comic vs. Religio Tragic: Basic Prize Concept: The Winner Is Supposed To Get the Girl! / Wagnerian Opera for Kids: Find the Pink Flamingo! / WHAT TIME'S THE NEXT SWAN? / AGAIN, ECHOES FROM THE LONEY BAYREUTH ARCHIVES: / BACKGROUND: / The Great Opera Debate: Who Will Be the Artistic Director of the Bayreuth Festival? / Is There a Katharina Campaign? / The Other Wagner Candidates: / Should the Bayreuth Season Be Longer? / Could Bayreuth Become an International Opera Festival City? / The Wagner Family Inheritance & The Gremium: / Is the Bayreuth Festival Sexist? Only Two Women Have Staged Wagner in His Festspielhaus / Is Katharina Wagner's Meistersinger Her Meisterstück? / What's Blowing in the Bayreuth Festival Winds: Is the Wind Vane Beginning To Turn?

Fragments of the Shattered Statue of Liberty Rise Up Out of Lake Constance for Bregenz Aida!
Festive Opening of the Bregenz Festival 2010 / DIE PASSAGIERIN: Honeymoon on an Ocean-Liner Becomes a Horror-Story! / Mieczyslaw Weinberg [1919-1996]: A Great Modern Composer, Virtually Unknown in the West! / STATUE OF LIBERTY SMASHED INTO FRAGMENTS--POSSIBLY BY TERRORISTS--FOR BREGENZ-FESTIVAL AIDA PRODUCTION! / Not Only Performing-Arts in Bregenz: Also Art in Kunsthaus-Bregenz & Antony Gormley's Iron-Men in the Alps! / French-Revolution To Take Center-Stage on Lake-Constance: Giordano's André Chénier To Rise Out of Bodensee-Waves in Festival 2011!

The Obergammau Passion Play 2010
Jesus' Last Week on Earth--the Passion of the Christ--Is Recreated in the Bavarian Alps Every Ten Years! / A New Look for Oberammergau: Passion-Play 2000 With New Sets & Costumes / Robert Wilson's Oberammergau Installation: A New Vision of The Stations of the Cross.
Dorothy Chansky in Paris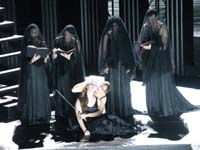 Electra, embraced by the Chorus leader and surrounded by the Chorus in Choephores, part 2 of "l'Orestie." Photo by Alain Fonteray.
"L'Orestie" d'Eschyle
To have vengeance or to have justice, that's the question. At least since the premier of Aeschylus' Oresteia in 458 BCE, the answer has been to have justice. The problem, which this trilogy of plays continues to make abundantly clear, is that ideas of justice are human-made. Laws give us rules to play by, but that doesn't mean they satisfy everyone. In fact, if they don't leave you with a feeling that you got revenge, then they may feel distinctly less than just.
Glenn Loney in Jordan
Portals of Petra: Eroded entrance-cleft to Long-Lost Hidden-City of Petra. Photo: © Glenn Loney INFOTOGRAPHY 2008. See" Return to Petra."
Return to Petra
Return To Petra After Half-a-Century!/Why Is There No Jordanian National Theatre?/Where Is Moses Buried?/At Lot's Cave: What Became of the Pillar of Salt?/Sighting the Golden-Calf at Mount Sinai!/Saint Catherine of Alexandria's Holy-Relics Now in Sinai Monastery!/Baptismal-Site of Jesus in Muddy River Jordan!/Elijah's Launching-Pad for the Chariot of Fire!/No Road-Signs for Israel Borders!
Glenn Loney at the 2007 European Festivals
The Edinburgh Festival 2007
Edinburgh Festival Celebrates Monteverdi's 400th Birthday: Tiger Lillies Do Their Stuff!/Wooster-Group Combines Cavalli's Didone & SciFi-Italian-Vampires/Mabou Mine's DollHouse Staged with Mini-Men in Reality-Doll-House!/Beowulf Grabs Grendel's Claw at the Hub/Orpheus & Oedipus Legends at Usher Hall, Plus Rinde Eckert's Orpheus X at the Lyceum/New-Broom Aussie-Fest-Director Sweeps-Clean!/Remembering Festival-Directors-Past: From Bing to Bryan/Festival-Visual-Arts Set in Edinburgh-Venues.
Salzburg 2007: Jürgen Flimm & The Night-Side of Reason!
At the Salzburg Festival, After Mozart 2006 & The Enlightenment Comes the Nocturnal-Side of Reason 2007 Under New Intendant Jürgen Flimm/Hector Berlioz Influenced by Batman: Benvenuto Cellini in the Batmobile?/Carl Maria Weber's Twin Peaks-Der Freischütz—Not an Opera for the National-Rifle-Association!/Haydn's Armida: No Sex But Lots of Violence!/A Marriage of Figaro without Anna Netrebko—But Lots of Feathers!/Bunraku-Puppet-Puck: A Midsummer Night's Dream in a New-Dimension/Dread Outbreak of Cancellitis in Salzburg!/Herbert Von Karajan Centenary Coming-Up!/How about Christmas-In-Salzburg?
The Bayreuth Festival 2007
Katharina Wagner: First Woman To Stage a Richard Wagner Opera in Bayreuth Festspielhaus Since Her Great-Grandmother, Cosima Liszt-Von Buelow-Wagner; Is Die Meistersinger Katharina Wagner's Meisterstueck? Will Katharina Wagner Be the Next Intendant of the Famed Bayreuther Festspiele? Why Is the Bayreuth Festival So Special for Opera-Lovers? Two Wagnerian Song-Contests: Die Meistersinger & Tannhauser, Philippe Arlaud's Tannhäuser Triumphantly Returns: From Storage & From Rome! Second-Time-Round for Tankred Dorst & Ursula Ehler's Ring, Tradition vs. Experimentation or Archiving vs. Renewing: Are Wagner's Operas In Danger? Are They Really Old, Tired, Boring, & Too Long? Bayreuth Fest Facts & Fictions
Britain and Britten in Bregenz Festival 2007
Festival-Time in Austrian-Vorarlberg, Britten & Britain Onstage in Bregenz, Haunting DEATH IN VENICE, All-Seeing Eyes in Bodensee TOSCA, Innovative Bregenz-Festival Technology, AIDA Waiting in the Wings, Other Unusual Austrian Festivals, Celebrating the Genius of Angelika Kauffmann, Joseph Beuys Inspires Cy Twombly & Matthew Barney & Douglas Gordon To Make MYTHOS.
Festival Season in Munich 2007
World-Premiere for Alice in Wonderland! Enchanting Alcina, Resplendent Rosenkavalier, Enormously-Moving Norma, Leaping Le Corsaire, Messy Merry Wives of Windsor, Bernstein's Candide in Concert-Illustrated by Loriot, Cinderella for School-kids!
John Neumeier's Hamburg Ballet Festival!
From Bayreuth to Hamburg: Thanks to John Neumeier, The 33rd Annual Hamburger Ballet-Days! A New Vision of the Old Cinderella Fable, The Last Days of Nijinsky, Balanchine's Jewels Sparkle in Hafenstadt-Hamburg, Overseas-Travel-Advisory!

Philippa Wehle
Festival TransAmériques
The Festival de théâtre des Amériques no longer exists, but the new Festival TransAmériques is very much in place. Directed by Marie-Hélène Falcon, founder and director of the Festival des Amériques, this new festival took place in Montreal from May 23 to June 7. As with the Festival des Amériques, the Festival Transamériques promotes the work of cutting edge contemporary artists, but it now features both dance as well as theater and it will be an annual rather than a biennial event. This inaugural festival presented more than twenty dance and theater works, a total of 105 performances over a period of 16 days.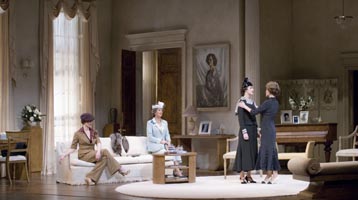 The Constant Wife at the Spoleto Festival. Photo by Shane McCarthy, 2006.
Glenn Loney in Greece
European Theatre Prize XI Awarded to Quebec's Robert Lapage and Germany's Peter Zadek
European Theatre Prize XI Awarded to Quebec's Robert Lapage and Germany's Peter Zadek / In Historic Macedonian Thessaloniki / Growing Old-Being Old / No-Show Prize-Winner Prof. Dr. Peter Zadek! / A Problematic Peer-Production / The Berliner Ensemble's Peer Gynt-in 2004 / Paging Robert Lepage! / Latvian Innovations-Alvis Hermanis Revolutionizes Riga Theatre / Belgrade's Biljana Srbljanovic Explores the Uneasy Recent History of Fellow-Serbians / European Culture-Cities Should Take Turns Hosting the Premio Europa per il Teatro! / Europe-Prize Colloquium 2007: Prizes-Who Needs Them? / Culture-Venues in Thessaloniki / Health Advisory for Visitors to Thessaloniki: / And now for the Back-story on Thessaloniki & Central Macedonia & Thrace / The Jewish Presence in Thessaloniki / Is a Pilgrimage to Mount Athos in the Future?

Jack Anderson in Denmark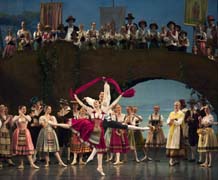 August Bournonville: Napoli Act III in Coprnhagen.
Updating Classics: When? Why?
''There come times when people staging classic works of theater or dance feel an urge to update them, perhaps because they fear those pieces are now so familiar that they should be seen afresh. So drastic changes may be made in period and locale. The results are sometimes stimulating, sometimes merely peculiar.'' Jack Anderson went to Copenhagen and came back with some thoughs on new stagings.
Glenn Loney in Korea
50th Anniversary of IATC Celebrated with "Extraordinary Congress" in Seoul
What Exactly Is the "New Theatricality"?--Eric Bentley Wins First Thalia-Award at 90!--Leading Theatre-Critics from Asia, Europe, & the Americas Share Visions of New Work--Old Critics Fund Young Critics' Seminars: Jobs in Jeopardy?--Israeli Arabs & Jews Explore the Horror in Plonter--From Russia with Love: Between Dog & Wolf--Korean Saga: Fairy in the Closet--Shamans on the Mountainside--Touring Changdoek Palace & Gardens--45 Years of Waiting for Godot
Dorothy Chansky in Turkey
"Battuta"
Battuta
Zingaro's newest show, "Battuta, " features the company's signature mix of equine and human athlete, artists, with members of both species cast for their combined physical skills, personalities, and showmanship.
Glenn Loney at the Festivals
Balanchine's Don Quixote. Photo by Paul Kolnik.
Edinburgh Festival 2006
Sixty Years for the Fest--Fifty for GML! Productions of New & Old Works-- Peter Stein's TROILUS & CRESSIDA-- Missed Opportunities-- Dance Entertainments-- Brazil's Grupo de Rua de Niterói-- Suzanne Farrell's Balanchine's DON QUIXOTE-- Stolen from The Golden Bough: THE ASSASSIN TREE-- Festival Centerpiece: The Edinburgh Military Tattoo-- Skirting the Edinburgh Fringe-- Henry Adam's PETROL JESUS NIGHTMARE #5-- At Other Important Venues--
Bayreuther Festspiele 2006--Parsifal. Actors: Robert Holl, EvelynHerlitzius. Photo by Jochen Quast.
The Bayreuth Festival 2006
Ring in the New Bayreuth Ring, Playwright-Poet Tankred. Dorst takes on Valhalla & the Norse Gods, American Helden-tenor Stephen Gould Stretches His Vocal-folds as Siegfried, Tristan Still Acting as Cruise-Director on the Titanic, Richard Wagner's Historic Bayreuth Festspielhaus as Safe Harbor for both Flying Dutchman & Tristan und Isolde Ships!, Fest-Director Wolfgang Wagner Turns 87 on 31 August, But Ring-Director Dorst Is Only 80.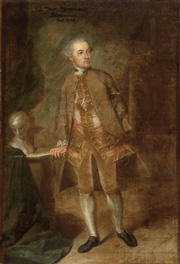 Portrait of Hagenauer--see Fifty Years at The Salzburg Fesrtival.
Fifty Years At The Salzburg Festival
All Mozart's 22 Operas on View: Was This a Good Idea?, 50 Years at the Salzburg Festival!, Remembering Max Reinhardt, Sitting in The New Haus für Mozart, Tartuffe: Almost in the Salt-Mines!, Ascanio, Where Are You & Why: Where Is Alba Anyway?, Anna Netrebko: New Austrian Citizen & Star of Salzburg Festival, Figaro Is a Thing with Feathers, Così fan tutte: All About an Egg?, Mozart's Abduction from the Seraglio--or Seven Brides for Seven Brothers?, Jürgen Flimm Takes Over Festival Intendancy: No More Mozart Next Year?, Can Carl Orff Live Again at the Salzburg Festival?, The Hagenauer Family's Artist-Architects in the Barock-Museum, Kunst auf der Bühne: Adolf Appia & Others--Innovative 20th Century Stage-Design at Museum der Modern, Salzburg's MoMa, Mozart's Balls at MdM: Bürgerschreck Christoph Schlingensief Strikes Again.
Vienna Mozart Jahr 2006
MozartHausWien: See How & Where Mozart Lived, Virtual & Historic Mozart All Over Vienna, Mozart Tours: Re-Mapping Mozart, Lorenzo Da Ponte Escapes the Venetian Ghetto, Lorenzo Da Ponte Becomes a Priest, Lorenzo Da Ponte Makes His Mark in Vienna, Lorenzo Da Ponte Writes Figaro & Don Giovanni Libretti, Lorenzo Da Ponte Moves to New York City!, Mozart & Strauss--Strauss & Mozart in Palais & Hof, Julian Rachlin Masterful in Mozart Violin Concertos at Theater-an-der-Wien, Chick Corea & Peter Sellars Celebrate Mozart in Their Own Ways, Give Mozart a Phone-call at 50 Vienna Sites!, Play Mozart's Music Backward on Digital-Screen!, Don Giovanni as Hotel-keeper--Leporello as Concierge, New Chamber-Opera: Don Juan Comes Back from War, Kammeroper Re-Mixes Mozart: Sarastro's Dream of the Magic-Flute, Of Birds & Birdmen: Papageno at the Folk-Museum, Shock-headed Peter's Tiger-Lilies Now Take on Mozart's Weber-Women, Mozart the Free-Mason & The Magic-Flute, Mozart Enlightened, Albertina Hosts Mozart Magic, An Enlightenment Scientific Wunderkammer, Magical Multi-Media MusikHaus, Be Your Own Virtual-Conductor, Mix & Make Your Own Mozart CD, Become Part of the Brain-Opera, Hear Pre-Natal Sound, Relive Mozart's Coach-rides at ZOOM, Royal & Imperial Stables Now Multi-Museum-Quarter, World's Largest Egon Schiele Collection, Also Lots of Klimt in Leopold Museum.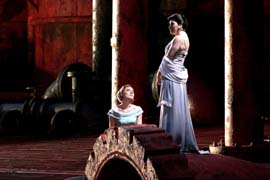 BREGENZ -- Trovatore 2006. From left: 'Ines' Deanne Meek, 'Leonora' Iano Tamar. Photo by Dietmar Mathis.
60th Anniversary Bregenz Festival
Flaming Trovatore Returns to Lake Constance See-Bühne!Unimaginable Orchestral-Sounds in Friedrich Cerha's Musical-Mirror: Spiegel, Vienna Symphony Stars in Bregenz Operas & Concerts: Under Fabio Luisi's Baton!, Acoustic-Engineers Create Ideal Music-Milieu in Festival Theatres, Bregenz Festival's Lake-Stage & Opera-house Reborn, Western Austria's Premiere Festival-Complex Now Also A Major Convention-Center!, Michael Craig-Martin Lights the Bulbs at KUB.
MUNICH -- Gewähltes Profil: lautlos: avant-garde like La MaMa forty years ago.
Munich Festival 2006
Humperdinck's Forgotten Fairytale: Königskinder, LaMaMa Déjà Vu in Munich: Gewähltes Profil, Prinzregenten-Theater Coronation for Poppea, Handel Revised: Rousing Film-Noir Rodelinda & Outrageous Orlando, Gärtnerplatz Opera's Avant-garde Earthquake: Beben, Kammerspiele Shames Neoliberal Biographien--and then some.
Cyrano de Bergerac. See: Festival Time North & West: Shakespeare and Shaw.
2006 Festival-Time North & West: Shakespeare & Shaw!
Shakespeare Festivals North by Northwest: Stratford-Canada & Ashland-Oregon, Bernard Shaw Celebrated in Niagara-on-the-Lake, Toronto Lord of the Rings Sings!, Arms & the Man: Chocolate-Time!, Colm Feore's Curious Coriolanus, Nightmare-Gothic Duchess of Malfi, Bryan Bedford's Foppish London Assurance, Colm Feore's Creepy Fagin in Oliver!, Much Ado Benedick Old Enough To Be Beatrice's Dad, Marvelous Marco as Oregon Cyrano, OSF's Bus Stop: Greyhound Doesn't Stop in Ashland Anymore, Merry Wives Reduced To Broad Buffoonery, Betrayals in Milan: Two-Timer in Two Gentlemen of Verona, Arthur Miller's Crucible Witch-hunts Still Resonate, High Society: Cole Porter & Philip Barry No Blend, Magic Fire in Peronista Argentina, Ashland Earnest Better than BAM Redgrave Import, Anne Frank in Ashland, Portland: New Theatre, New Season, Back in NYC: LaBute's Some Girl(s) at the Lortel Is Some Play, Kotis' Pig Farm More Bloody Fun than Inishmore!, Greenberg's House in Town Set on Millionaire's Row, Frank Wedekind Sings at the Atlantic, Central Park Woods Come To Dunsinane in Delacorte Macbeth. By Glenn Loney.
Photo courtesy of Jochen Quast.
The Bayreuth Festival 2005
Cruise-Ship Tristan und Isolde, No Salvation for Parsifal in Sight, Child-Abuse in Wagner's Flying Dutchman?, Tannhäuser Improves Every Summer, Last Look at Keith Warner's Lohengrin?, New 2006 RING to Be Staged by Very Old Playwright, Director. By Glenn Loney.
Photo by Karl Foster.
The Bregenz Festival 2005
Gigantic Oil-Refinery Rises Out of Lake Constance, Verdi's Il Trovatore Soars Aloft Above the Bodensee, Bregenz Festival Celebrates Its Second Masked-Ball: Carl Neilsen's Maskerade-A Covent Garden Co-production, US President In Love With His Doberman in New Austrian Seventh Heaven Opera, Ambitious Summer Season Developed by New Bregenz Intendant, David Pountney.
The Edinburgh International Festival 2005
Epic Synge Marathon: Irish Accents Galore!, Klinghofer Dies Again-But Off-Stage, Peter Stein Protracts Blackbird, The Prayer Room: Equal Time for Major Religions on Campus?, Balanchine Lives Again at Edinburgh's Playhouse .
The Salzburg Festival 2005
Make Way for Mozart: 250th Birthday Looms!, Red-Coats Roister in Mozart's Mitridate, Monstrous Anti-Mozartian Magic-Flute, Transcendent Traviata with Netrebko & Villazon, Handsome Post-Modernist Tales from the Vienna Woods, Horrific Tales from Bohemia: King Ottokar's Fortune & Fall, Compelling Alceste in Concert, Schreker's Branded Far from Schreklich, Jedermann Still Seeking Salvation!, Still Stomping Carnations in Nelken
The Munich Festival 2005
Changes in the Bavarian Cultural Winds, Celebration of David Alden Opera Stagings: Lulu, Forza, Pique Dame, La Calisto, Rolando Villazon's Faust, Mozart's Flying Sofas, Orpheus in the Frying-Pan, Christoph Loy Reworks Handel's Alcina & Saul, Baydadère Orientalism, An Old Magic-Flute, Three Wishes Gone Wrong at SchauBurg, Mayakovski Lives-and Dies-Again at Gärtnerplatz, Also an Opera-Ball and an Abduction, Carl Orff Remembered, Oberammergau Passion-Play-Theatre Hosts King David, King Ludwig II Musical Opens in Munich.
The New-New Bayreuth 2004
Is This Nonsense Really Necessary?, Wolfgang Wagner Takes Over!, Outsiders Out of Austria!, About The Scourge of AIDS in Africa, not a word, Venusberg Like an Open Powerbook?, A Production with a Hole in Its Heart, Waiting-Not for Lefty-But for Parsifal?, A 'Ring' Fit for a Prince-Or Vice Versa?, Moratorium on Multi-Media Opera-Productions Now!, AIDS in Africa Ignored by New Parsifal Production!, Do You Know What You Have Just Seen?, Is Death the Real Redeemer in Parsifal? Is That a Wagnerian Concept?, Sinister Cremaster Influences, Plus Josef Beuys!, Workshopping Parsifal for 2005?, The Flying Dutchman Flies Again- With Videos That Work Wonders!, All At Sea in Senta's Living-Room!, A Last Sad Look at a Remarkable 'Ring, Visualizing a New 'Ring' To Be Different from All Others?, Goodbye, Flimm 'Ring', Goodbye!, Personnen-Regie-and Then Some!, Credits To the Cast!, What's Hagen Doing in Siegfried's Opera?, Götterdämmerung Sensations, Who Will Stage the 2006 'Ring'? Who Is Competent To Do It?, Loney Bayreuth Festival Website Project, Bayreuth Goes To The Dogs!

Cornelia Froboess in "Eines langen Tages Reise in die Nacht" photo by Thomas Dashuber. See: Salzburg Festival.
The Salzburg Festival 2004
Finding a New Festival Intendant, A Remarkable Rosenkavalier: On the Brink of the First World War!, Henry Purcell's King Arthur Lives Again in Mittel-Europa!, Getting Ready for Mozart Year 2006: A New Vision of Così fan tutte Takes the Stage! Salzburg Gives Erich Wolfgang Korngold A Belated Retrospective: Die tote Stadt!, Sebastian Nübling's Edward II: A Very Long Way Off From Marlowe!, JEDERMANN Again and Again!, Gene O'Neill auf Deutsch: Eines langen Tages Reise in die Nacht, Now, How about Heimat, deine Sterne?, MONTBLANC Young Directors Award 2004.
The Munich Festival 2004
Cleaning Out the Bavarian State Opera-Closet: New, New, New Music-Theatre Stagings in Munich!, David Alden's Lulu Axe-Murder: More Horrors on the, American Home-Front!, Multi-Media Updated Meistersinger: Smart Women's Shoes by Hans Sachs!, A New Look for Roberto Devereux: Good Queen Bess as Margaret Thatcher!, In Class with "Roméo et Juliette": Old School Ties, Monster Desks, & Giant Pens!, Down into Post-Modernist Hades: "Orphée et Eurydice" On the Road!, The "Rape of Lucretia" Modernized: Britten Gets the Stripped-Down Treatment!, Munich's Second Opera Goes Avant-Garde: The Gärtnerplatz Is in the Grip of Trendiness!, Including Drama in the Munich Festival: Residenz-Theater, Kammerspiele, and More!, New Visions of Modern Classics at the Residenz-Theater.
Bodensee Lake Stage of Bregenz Festival. Photo by Karl Forster.
Bregenz Festival 2004
New Intendant David Pountney: But Lake Constance Remains the Same, Farewell To West Side Story on the Lake!, A Word or Two from the Wiener Symphoniker!, Rediscovering Early Kurt Weill: Der Protagonist & Royal Palace, Sir Harrison Birtwistle's Story of Io: Outstanding Offering of Bregenz 2004, After the Festival: Stomp and Other Tours.
Carles Santos - El Compositor-- Clàudia Scheider as The Singer (La Cantant). See: Edinburgh Festival--With No Fringes Attached.
Edinburgh Festival--With No Fringes Attached
Peer Gynt as Brechtian Story-Theatre, Catalan Celestina from Birmingham, Post-Modernist Pelléas et Mélisande, Luigi Nono's Communist Manifesto in Music, Carles Santos' Mad Catalan Symbolist Melange, Ballet West Brings Antony Tudor Back to Britain.
Bregenz Festival 2003Our perennial globetrotter, Glenn Loney, attended the Bregenz festival in July, where there were many well-deserved tributes to the departing Director of the Festival, Dr. Alfred Wopmann. But of course the Lake Constance was also a spectacular stage for some heart-breaking and monumental productions such as "Das schlau Füchslein" directed by Leos Janacek and a revival of Leonard Bernstein's world-famous "West Side Story".
"SIEGFRIED" IN EDINBURGH -- Elizabeth Byrne as Brünnhilde, Graham Sanders as Siegfried. Photo:Douglas Robertson.

Edinburgh Festival 2003
On the road again with Glenn Loney in Edinburgh, where he reviewed a Scottish production of Wagner's "Ring", a modern-dress production of '"Hamlet" directed by the innovative Catalan stage-director Calixto Bieito, and a return of The San Francisco Ballet with a Christopher Wheeldon World Premiere. But Glenn Loney also explored the off-stage festival and attended an Asian-immigrant "West Side Story" from London: Sudha Bhuchar and Kristine Landon-Smith's "Strictly Dandia."
SEXY WEAPON OF MASS DESTRUCTION-- in "Rinaldo, " shown in Munich Opera Festival. Photo: ©Wilfried Hösl, 2003.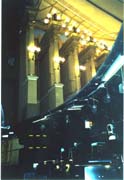 BAYREUTH FEST--Wagner's famous sunken orchestra-pit, with neo-classic auditorium seen above it. See: "At the Bayreuth Festival 2003" by Glenn Loney.
Innovation and Tradition: Opera at the Munich Festival 2003
Most of the re-visions of old opera war-horses have proved both memorable and consonant: "Der Rosenkavalier, " "Entfürhung aus dem Serail, " "Rinaldo, " "Tannhäuser, " "La Traviata" and "Das Gesicht im Spiegel."
At the Bayreuth Festival 2003
"Lohengrin, " the "Ring, " a new "Flying Dutchman" and a second "Tannhäuser" were on Bayreuth Festival's menu.
Salzburg Festival Surprises in Summer 2003
Back in Salzburg's Altstadt, where the new Festival Intendant, Prof. Dr. Peter Ruzicka, is trying to program operas, dramas, concerts, and allied events which will appeal to a wider audience, such as a fantastic "Peer Gynt", Elfriede Jelinek's "Macht Nichts, " a psychotic "Woyzek", Mozart's "Entführung, " a return of Wernicke's "Don Carlo, " a wide-stage "Tales of Hoffmann, " and Henze's last opera, "L'Upupa."
Side-lined in the Arena di Verona
Viewing "Carmen" from the wings and "Aida" from beyond the scenes.
London Theater
Last stop in London. Our indefagitable Loney reviewed a few West-End productions (the West-End does not seem to be what it used to be, according to him and attended some at The Donmar Warehouse Theatre, The Royal National Theatre, and at The Globe Theatre. Read here for all that is hot in London now.
2002
WELCOME TO THE PERTH FESTIVAL! Photo: ©Glenn Loney, 2003.
Perth Fest, Rabbit-Proof Fence, Wagner by the River, Errol Flynn Fantasy, Salt Lake Sculptures, Quokkas on Rottnest, Sacred Ayers Rock, Town Called Alice, Australia's Great Barrier Reef, Nixon in Adelaide, Aussie Ballet, Sexy "Blue Room" in Melbourne, Lion Witch Wardrobe World Premiere, Don Giovanni Brings Down the House, Lucia's Sumi Jo Checks Out, Harry Potter's Witch-Prof Margoyles at Sydney Opera House, Wharf Theatre "Shape of Things"
FLYING AUTO AT THE PALLADIUM--"Chitty Chitty Bang Bang" triumphs. See: London Calling.
London Calling
Tom Stoppard's New Utopian Trilogy , Festival Hall "Follies", "Golden Ass" Brays at Globe, Cutting Up Corpses in "Lieutenant of Inishmore", Car Flies Over Audience: "Chitty Chitty Bang Bang", Fresh New "Mikado" at Savoy, Losey's "Servant" Transformed To Dance, Mime Drama, Vince Van Gogh Rents a Room in Brixton.
Giant cafe tables and chairs sproutyed out of the Bodensee for the Bohème at Bregenz. See: Loney's Show Notes, "Bregenz Festival at 56.".
Bregenz Festival at 56
There's a curious connection between Austria's distinguished yet popular Bregenz Festival and the somewhat off-hand, yet occasionally magnificent, Edinburgh Fringe Festival. This summer they were both 56 years old. Our own Glenn Loney's been going to Bregenz since 1956 and Edinburgh since 1958. In this column, he celebrates the 56th Summer of the Bregenz Festival on Lake Constance. Hot topics: Desperately Seeking Juliette, Martinu's Dream Opera Rediscovered, Immense Chairs in Lake Constance, Large-Scale La Bohème Played on Cafe Tables, Spectacular West Side Story Next Bodensee Summer, David Pountney New Bregenz Chief.
DUEL TO THE DEATH--The Governess fights with the ghost of a dead man for her pupil's soul in "Turn of the Screw." See: Edinburgh Festival.
Edinburgh Festival, also at 56
Fringe Invades Edinburgh Festival, Special Tix for Classical Concerts, Peter Stein's Parsifal, Luc Bondy's Screw, Scots Opera's Siegfried, Nearly Million Fringe Tix Sold, Sarandon & Robbins in 9, 11 Drama, Girl on Sofa World Premiere, Last Show of Variety Artistes, Macbeth Deeply in Dutch, Live Owl in Swan Lake, Six Genres of Indian Dance, Anthrax Tests for Outlying Islands, Blue Orphan: The Singing Butterfly, Safety: War-Photographer's Moment of Truth, Drowned World: Kill All the Radiants, Hilarious Gestures in Canadian TV Weather Forecast.
New Era for the Salzburg Festival under Peter Ruzicka
Tom Hampson & Ladies Undies on Parade, Lorenzo Da Ponte Turns Up in New Mexico, Luciano Berio Finishes the Unfinished, Magnificent Mechanistic "Turandot", Myth of Gyges' Ring as Opera, Montblanc Pens Sponsor Young Directors, Mozart's "Magic Flute" as Circus, Oberammergau Passion-Play Director Overhauls Salzburg "Jedermann", Alberto Vilar Showers Salzburg with Subsidies, Schloss Arenberg New Home of American-Austrian Initiatives, Salzburg Festival's American Friends Make a Difference, Genius Director-Designer Herbert Wernicke Dies in Midst of New RING Staging.

MUNICH--Soprano Ann Murray ignores stuffed shark as she impersonates Julius Caesar in Handelian opera of the same name.
Munich's Annual Opera Festival Gives New Look To Music-Theatre Classics
Wild Sex Scene in Munich "Rake", Forester Falls for Fox in "Clever Little Vixen", Mozart's "Titus" as Video Show, Miming & Dancing Teenage Problems: "Klasse Klasse", Julius Caesar Among the Sharks, Recreating the World of Baroque Theatre, Wagner's RING staged in Bayreuth Festspielhaus Setting, Domingo Sings in Russian.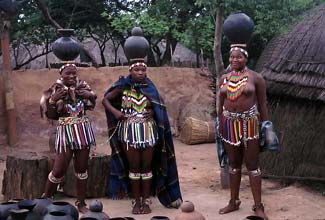 WOMEN'S WORK IN SHAKALAND--Zulu beauties balance water-vessels. See: Glenn Loney's Travel Notes.
Glenn Loney's Travel Notes
Back to Africa
Bungee-Jumping Bridge Between Zambia & Zimbabwe, Luxury on The Blue Train, Flying Low Over Victoria Falls, Five-Star Hotels Amid Dire Poverty, God-Given Zebra Photo-Op, Deserted Downtown Durban, Mugging in Cape Town, High-Rise Ghost-City Johannesburg, Cape of Good Hope Lighthouse, Ostrich-Egg Omelets, World's Biggest Hole, Kimberley Diamond Mines, Zulu's TV Shakaland, Thatched-Hut De Luxe, Brigadoon in Mpumalanga, Robber's Grave in Pilgrim's Rest, Bartolomeo Dias' Caravel Reconstructed, Wine-Tasting in Cape Winelands, Fog in God's Window, After Apartheid-South Africa's Problematic Futur
2001
WORLD'S BIGGEST CAFE TABLE!--Giant Chairs & Parisian Bistro Tables are stages for new lake-stage Bregenz Festival production of "La Bohème." Photo: ©Karl Forster, Bregenz Festival, 2001. See: Fantastic Productions at Bregenz Festival.
Fantastic productions at Bregenz Festival
Steinbeck's "Of Mice and Men" as Carlisle Floyd's Opera at Bregenz Festival, Outsiders Dreaming Impossible Dreams, Spectacular "La Bohème" on Lake Constance Stage, Austria's President Warns of Intolerance Against Outsiders & Dissidents
STEINBECK SMILES--Mural detail of celebrated Salinas author. Photo: ©Glenn Loney, INFOTOGRAPHY, 2001. See: Discovering Steinbeck.
Discovering Steinbeck
Bregenz Opera Workshop: Of Mice and Men& La Bohème, Proposal for STEINBECK PhotoBook!, John Steinbeck PhotoPanorama, John Steinbeck: IN CONTEXT.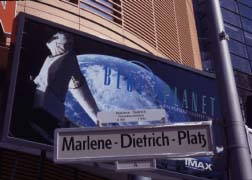 MARLENE & IMAX--Giant films on street named for Screen-Giantess. Photo: ©Glenn Loney, INFOTOGRAPHY, 2001. See: Berlin and Beyond.
Berlin and Beyond
Berlin Love ParadeChristopher Street Day, Protest "Holocaust Never Happened" Poster, Handel's "Saul" at Felsenstein's Comic Opera, Berlin Theatres in Danger?, Music-Theatre Crisis in Weimar, V2 Rockets in KZ Dora's Tunnels, American POW Slave-bLaborers Dig Tunnels in Berga-am-Elster.
Wagner Rides Again in Bayreuth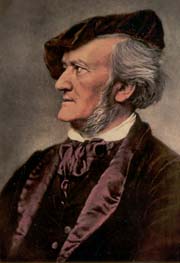 THE MASTER-BUILDER--Tinted photo of Richard Wagner circa 1880. See: Wagner Rides Again in Bayreuth
Bayreuth Festival: At 50 & 125!, Wagner Family Festival Succession Riddle?, Is Gottfried Wagner an Enchanted Swan; A Prodigal Son?, Year Two of New Flimm-Wonder RING, Dragon-Giant Fafner as Airbag, Lohengrin-Siegfried Synergies!;New Bayreuth "Tannhäuser" Promised.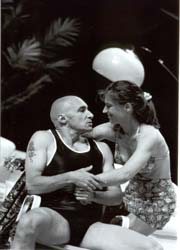 LEISURE-TIME FOR THE MACBETHS--Scots Royalty in Salzburg: "A little water clears us of this deed." Photo: ©Salzburg Festival, Sebastian Hoppe, 2001. See: Festival Futures-Salzburgh and The Ruhr.
Macbeth in Salzburg, and more
The Invisible College-Inheriting Adam's Memory, Jewish Music in Jesuit Church!, Visconti's "The Damned"Live, Salzburg Mocks Shakespeare, EuroTrash & EuroGarbage Onstage, Lady Macbeth's Real Name!, "Don Carlo"-Burn the Heretics!, Batty Fatty "Fledermaus."
TENNESSEE WILLIAMS & MEDUSA--Poster for trendy Salzburg production of "Streetcar Named Desire." Photo: ©Glenn Loney 2000. See: Festival Futures: Salzburg and The Ruhr..
Festival Futures: Salzburg and The Ruhr
Gerard Mortier Out as Salzburg Festival Chief, Modern-Music Composer Peter Ruzicka New Artistic Director, The Passion for the New in Theatre, Innovative Ruhr Triennale in Dis-Used Industrial Spaces, Mortier Moves from Austria to the Ruhr, Classical Record Companies Return to Salzburg Fest, Salzburg Scourge & Playwright Thomas Bernhard Honored, Herbert von Karajan Statue Unveiled, New Salzburg Modern Art Museum-But Not the Guggenheim.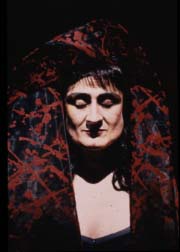 CATALAN MEDITATION--Mysterious Señora in Carlos Santos' "Ricardo I Elena" at the Edinburgh Festival. Photo: ©Carlos Santos, 2001. See: Epics in Edinburgh.
Epics in Edinburgh
Crazy Catalan Opera Sung in Latin, Wagner's Hefty Valkyries in the Highlands, Gertrude Stein's New Opera, Dancing To Digital Architecture, NY City Ballet "Diamonds" Look Like Rhinestones, 18th Century Scots "Gentle Shepherd", Thomas Bernhard's "Old Masters", Agota Kristof's Novels as Plays, ThreeGenerations of Irish Women Hurting in "Midden", First Nation Canadian "FareWel" Satire.
MOSES CONFRONTS GOLDEN CALF--Old Testament "Living Picture" in newly designed Oberammergau Passion Play. Photo: Brigitte Maria Mayer, ©Oberammergau 2000.
Oberammergau: Passion Play 2000
Millennial German Passion Play, New Sets & Costumes for Jerusalem Jews, Outrageous Hats for Temple Priests, 2010 for Next Oberammergau Drama, Was Jesus a Jew or a Christian?, Is Oberammergau Passion Play Anti-Semitic?, Robert Wilson Transforms Stations of the Cross, What Happened To St. Veronica?
BREGENZ'S BIG SKELETON (Photo: Glenn Loney 2000, The Everett Collection.)
Bregenz Festival 2000
World's Largest Skeleton, Dangerous "Golden Cock", Dance of Death on Lake Constance, Slashing Arts Subsidies, Singing "Of Mice & Men", Steinbeck's Social Relevance, Threats from Vienna
TWO ROYAL DREAMERS--King Ludwig of Bavaria & Empress Sissi of Austria in the new Ludwig musical, with Dream Castle Neu Schwanstein inset.
The new Ludwig Musical Theatre in Bavaria
Bavaria's Mad King Ludwig Lives Again, New Multi-Million-Dollar Purpose-Built Musical Theatre, The Real Inspiration for Disney's "Magic Castle",
Neu Schwanstein
, Broadway Prices in the Bavarian Alps?, Can Historical Bio-Musicals Attract International Audience?, Who was Empress Sissi?, Did King Ludwig Love Richard Wagner, Or Only His Operas?
THIS KING IS A KILLER!--See: Munich Festival 2000.
Munich Festival 2000
U. S. Green Cards Lottery, Munich Festival 2000, Haunting "Cinderella Story", Doom-Laden "Don Carlo", Off the Tracks with "Faust", Jonathan Miller's Puritanical "Puritani", Giving "Ariodante" an Airing, Reviving "Rinaldo", Upstairs, Downstairs with "Fidelio", Debbie's "Diary", Ballet Trio with Updated "Petrouchka", Lively Parisian "Pariser Leben."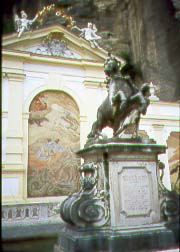 SALZBURG PRINCE-ARCHBISHOPS' HORSE-BATH--Cardinals don't like to ride sweaty horses. Photo: ©Glenn Loney 2000, The Everett Collection.
Salzburg Festival 2000
Subsidy Slashes for Salzburg Festival, Anti-Arts Austria?, Jörg Haider Yodels!, Mozart's Three Frogs, Abused Greek Children, Iphigenia & Orestes, "Trojans" Seen Through a Slit, All Aboard with "Tristan & Isolde", Raping Gertrude & "Hamlet", "Streetcar" Off the Tracks, Seldom Seen "Saul & David"
Anne Bogart's "War of the Worlds" at Edinburgh Festival
Savage Spanish "Barbaric Comedies", Anne Bogart's "War of the Worlds", Argentine Bathroom Drama, Scots Opera "Rheingold", Pierre Boulez 2000, Greco's Soaking Wet "Extra Dry", Bosch Meets Bausch in "Körper", Montpellier's Mathilde Monnier Ensemble, New Scots Dramas at Traverse, "Further Than the Furthest Thing" Erupts, East-West Tensions in "Shetland Saga", Soccer Triumph in Limerick, The Glowing Girl in One Yellow Rabbit's "Thunderstruck", One Dutchman, Five "Voices"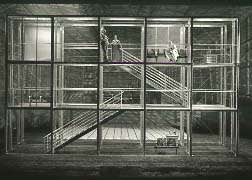 Post-Modernist set for Wagner's Götterdämmerung at Bayreuth.
Which Wagner Will Win Top Post at Bayreuth Festival?, New Ring's Powerful Human Drama, Designer Erich Wonder's Contemporary Vision of Ring, Three New Books About Bayreuth Rings
HOW DO I FIND THE VICTORIA PALACE THEATRE?--Aren't three signs enough for you? See: London Season Begins.
The London season
New London Season Heats Up, Lucie Arnaz Is a Flying Witch, Visigothic Musical "La Cava", Ken Campbell's Anal Fixations, Callow Dickens, "World Upside Down" at the Globe, Fanny's First Play, Irish Film Extras in "Stones", New Ambassadors' "In Flames", Flowers for Princess Di, Secrets of Millennium Dome, New Tate Powerhouse
Tchaikovsky's neglected Maid of Orléans at the Wexford Festival.
Wexford Festival
Forgotten Operas in Irish Wexford, Sendak's "Three Oranges" at City Opera, Counter-tenor David Daniels in Handel's "Rinaldo", Juilliard's Youthful "Cenerentola"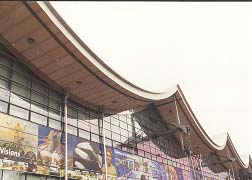 PLANET OF VISIONS--Major Theme Pavilion at EXPO 2000. Photo: ©Glenn Loney, 2000, The Everett Collection.
Performance and Design at Expo 2000
EXPO 2000 in Hannover, Peter Stein's "Faust" Epic, "Gilgamesh" Opera Premiere, Baroque Herrenhausen, Eight Plays in One Hannover Evening, Post-Modernist Mozart at Frankfurt Opera, Monumental "Trovatore", Rosalie's "Dandelions" in the Palmengarten, Hundreds of New Shows Set for Edinburgh Fringe
CAPULET WEDDING--Big scene in Covent Garden Royal Opera's "Romeo et Juliette." See:"London Assurances."
London Assurances
Powerhouse West End Shows, Ayckbourn's Actoids in "Comic Potential", Maggie Smith Is "The Lady in the Van", Joe Orton's Agent in "Peggy for You", New Work at Royal National Theatre, "Battle Royal", The Anger of George IV, "Honk!", Ugly Duckling Musical, Opera Always in Engish at ENO, World Premiere of "Silver Tassie", Magical "Magic Flute", Covent Garden's Royal Opera Reborn, Alagna & Gheorghiu in "R&J", Charming Royal Ballet "Coppélia", The Millennium Wheel, The Millennium Dome, "1900, Art at the Crossroads"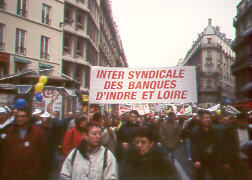 FREEZE THE ACCOUNTS!--Unwilling to let drama remain entirely in the theaters for Glenn Loney's visit, bank-workers from all over France staged a protest march up Boulevard Lafayette. Photo: Copyright ©, Glenn Loney 1999, The Everett Collection.
Parisian Holiday
Eiffel Tower Countdown, Opéra Bastille Sold Out, Ballet Murder at Palais Garnier, "Drummers on the Dike" at Théâtre du Soleil, Sex & Violence at Comédie-Française, Offenbach "Shoot 'em up", Masks & Faces at Comédie Italienne, English-Language Theatre in Paris, "Godot" at Petit Hébertot, Beethoven in Notre Dame, Millennium Manifestations, Noël in Paris, Protests in the Streets, Shooting Famous Dead Frenchmen
Dublin Festival
Family Drama at the Dublin Theatre Festival, The Abbey, Ireland's National Theatre, World War II in "Dolly West's Kitchen", Violence and Suicide in "The Map Maker's Sorrow", Farce and Fear in "The Spirit of Annie Ross", Dublin as Celtic Tiger "Boomtown", Jane Eyre's Libido Unleashed, "Cloudstreet" 5-Hour Marathon, Gersher Theatre's Pre-Israel "Village", 60 Shows on the Fringe, Picasso's Cubism in 3-D
Oh, for an Irish Opera!
Irish Opera Oxymoronic?, Rescuing Forgotten Operas, Karl Goldmark's "Queen of Sheba", Umberto Giordano's "Siberia", Stanislaw Moniuszko's "Haunted Manor", Condensed Operas
London in the Summer
London Bank Holiday Shows, Long-Running West End Musicals, Lloyd Webber's "Whistle Down the Wind", The Play's No Longer "The Thing, Atomic Physics in Frayn's "Copenhagen", Bankside Globe Theatre Sam Wanamaker's Memorial, Elizabethan Rose Theatre Ruins Open, Interactive "Comedy of Errors", Mark Rylance Globe Cleopatra.
Edinburgh Diary
Four Edinburgh Festivals, New HUB Club, "Speculators": John Law in France, 1720, Barcelona's "The Meeting", Gloom & Doom in Dramas, Marathon Krakow "Sleepwalkers", "The Wake" from Dublin's Abbey, Bunkamura "Turandot", Mod Mad "Giselle", ENNIO and His Cut-Out Costumes, "Eleanor of Acquitaine", 1000 Years in 100 Minutes, "Complete Millennium Musical", Young Vic's "Arabian Nights", Adolf Hitler Speaks, The God That Failed, "Juju Girl", Gogomagogs' Gobbledygook, Anal Male Rape on Stage in "Drummers", Richard Brinsley Sheridan's Mom's Comedy, "Whisperers", Baltic "Werewolves" with Scots Accents.
Baden-Baden Diary
Baden-Baden Fest Survives, Kurhaus Casino, New Kirov and Bayreuth Lohengrins, Nuremberg's 950th Birthday, Millennium RING, Wagnerian Succession, Berlin's New Musical Theatre, Disney Premieres in Berlin, Hunchback-Glockner von Notre Dame, Weimar Europe's Culture City 1999.
Bregenz Diary
Bregenz, Festival with a Theme, Unmasking A Masked Ball, Second World Premier of Greek Passion, New Bregenz Fringe Festival, Rimsky-Korsakov's Golden Cockerel Next Summer.
Munich Diary
Innovative Munich Festival, Orfeo in a Taverna, Lohengrin Swan-Song, Jonathan Miller's Anna Bolena, , Dockside Otello, Gun-Control for Freischütz, Bottom in a Ballet, Bohème in a Loft, Urfaust Rituals, Bavarian Amphitryon, Redneck Trailer-Court Streetcar, Zorba the Cat.
Salzburg Diary
Salzburg Splendors, Innovative Salzburg Festival, Startling Artistic Squabbles, Gerard Mortier Departs 2001, Short-List for New Festival Director, Updating Rameau's Boréades, Circus Version of Magic-Flute, Busoni's Doktor Faust, Marathon Shakespeare Schlachten, Italian Fascist Don Giovanni, Zeitfluss New Music, Norrington & Schumann at Mozarteum, Salzburg Marionettes Coming To New York, New Classical CDs.
London Reviews by Lucy Komisar
London's Classic Revivals
The Royal National Theatre, in its South Bank complex an easy walk from Theatreland across the Thames at Waterloo Bridge, has two stunning productions, a naturalistic staging of Maxim Gorky's "Summerfolk" and a stylized vision of Edward Bulwer-Lytton's 1840 morality play, "Money."
London's Celebrated Centenaries
It's the hundredth anniversary of the birth of Noel Coward and going on the hundredth anniversary of the death of Oscar Wilde. Coward's "Hay Fever" got a devilishly delightful staging by Declan Donnellan, while "The Importance of Being Earnest" finds a more traditional treatment at the hands of Christopher Morahan.
London: New, Witty and Gritty
London in recent years has been awash with challenges to social mores and comfortable morality. "50 Revolutions" -- witty, and "Drummers, " -- gritty, were staged in theaters akin to New York's Off-Broadway.
Shakespeare's Globe
At the reconstructed outdoor Globe Theatre at Bankside, opened in 1997, Shakespeare's "Julius Caesar" and "A Comedy of Errors" are played to the pit in stagings that seek to capture the spirit of productions 400 years ago.
Where to stay in London
If you're doing a London theater trip, there are several main areas best to say in. Most convenient is the West End -- what the Brits call "Theatreland." You can move further west and live near one of the big parks or squares -- Green Park, Grosvenor Square, Hyde Park or Kensington Gardens. Or you can choose to be in Knightsbridge, Chelsea or Kensington, the trendy areas that are minutes from theaters by tube and have the flavor of an upscale Greenwich Village and Upper West Side. Lucy Komisar checked out hotels in each of those neighborhoods.
Lucy Komisar 's travel notes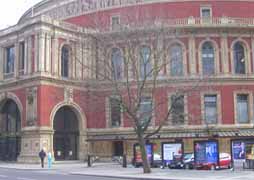 Albert Memorial Hall in Kensington, London. Photo by Lucy Komisar.
The art of sex and politics in Paris
Paris has always been stimulating to the artistic soul and also a little outrageous. Now there are two new, edgy museums with art that pushes the most controversial boundaries - sex and politics. These exciting additions to the Paris itinerary are the Museum of Erotic Art in Montmartre, and the Palais de Tokyo near the Arc de Triomphe.
Visiting Kensington, a chic residential corner of London
Where would you want to live if you lived in London? Lucy Komisar's choice would be Kensington, an upscale neighborhood in West London, just south of Hyde Park, close enough infact to walk to the park, as well as to Royal Albert Hall, the Royal College of Music, the Albert and Victoria Museum and especially to Kensington Palace, which was the home of Diana, Princess of Wales.
Danish dramaturg Jesper Bergmann (L) and Danish playwright Line Knutzon (R) at "Scandinavia On Stage" conference in NY. (Photo by Jonathan Slaff.)
Scandinavia On Stage in NY
In the past decade there has been an unprecedented explosion of new plays produced on numerous stages across Scandinavia. This new wave of Nordic theater was introduced to American theater professionals for the first time in a professional conference, "Scandinavia on Stage, " at the newly opened Scandinavia House, 58 Park Avenue, April 19-20, 2001. The New York Theatre Wire is pleased to offer in-depth coverage of the event, featuring "insider" perspectives on this vital movement, which has to-date been been a well-kept secret among Europeans.
Overview of the Conference
One cannot capture the full nature of this unprecendented explosion of new Scanadinavian theater in one or even two days, but the participants in "Scandinavia on Stage" could not help but marvel at the vitality of New Nordic Theater, a "well-kept secret" until now. By Philippa Wehle.
Spotlight on Swedish Theatre and Drama
Our inveterate traveler, Glenn Loney, uses his own overview of Swedish theater history and reflections from his travels to Sweden to offer a context for Americans now discovering the Nordic New Wave.
New Nordic Drama - On its Way out of the Drawing Room?
Monna Dithmer, a theater critic from Denmark, offers a professional's guide to the contemporary Nordic play and how it is finally breaking with the traditions of Ibsen and Strindberg.
The Danish Explosion
By the count of Danish dramaturg Jesper Bergmann, there has been a tripling in the number of significant Danish playwrights in the last 15 years. How did writing plays become the equivalent of Denmark's new national sport? Plus: portraits of four leading dramatists of the Danish New Wave.
Icelandic Theatre: a Mouse that Roars
Theater in this tiny nation has an almost unimaginable vitality. The capital, with a population of 150, 000, supports 25 to 30 professional productions per weekend. The entire country of 285, 000 has a theater attendance of 400, 000 seats per annum. The ferment of urban versus rural values, tradition versus modernity and introversion versus extroversion sets the creative tone. By journalist Havar Sigurjnsson.
For Comparison's Sake: The States of American Playwriting
Unlike our Scandinavian counterparts, the American mainstream is unaware of the writers shaping its theatrical culture from the trenches. By Todd London, Executive Director, American New Dramatists.


| lobby | search | home | cue-to-cue | discounts | welcome | film | dance | reviews |
| museums | NYTW mail | recordings | coupons | publications | classified |