"The 25th Annual Putnam County Spelling Bee," with a book by Rachel Sheinkin and music and lyrics by William Finn, opened May 2, 2005 at Circle in the Square Theatre and ran for 1136 performances, closing on Jan. 20, 2008. The show won numerous awards, including the Tony for Best Book of a Musical and Best Featured Actor. Certainly the show is spunky, original and fun, although somewhat light in music and plot.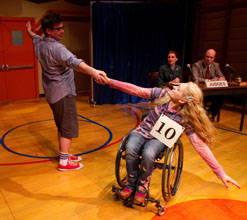 Photo by Mark Garvin, from left to right: Will Blum (Barfee) and Ali Stroker (Olive).
However, the Paper Mill Playhouse gave the show much needed depth and significance when director Marc Bruni decided to cast Ali Stroker, a 23-year-old wheelchair-bound actress, in the lead role of Olive Ostrovsky. Not only is Stoker charming and talented with a great set of pipes, she also inspired choreographer Wendy Seyb to create some very unique movement onstage. Seyb even put another member of the cast, Lyle Colby Mackston, who plays the exuberant Leaf Coneybear, in Heelys wheeled sneakers so he could also glide across the stage.
"The 25th Annual Putnam County Spelling Bee," about six oddball spelling bee competitors (not counting audience members roped into temporarily appearing onstage) trying to out-spell each other and win the glorious title of country champion, entertainingly covers some major issues youngsters face growing up: overbearing parents, unwanted erections, embarrassing last names, and general goofiness. But it does so with such warmhearted understanding and irony the audience hardly suspects it is being taught a lesson.
Three people preside over the competition: host Logainne Schwartzandgrubenierre (Ephie Aardema), Vice Principal Douglas Panch (David Volin) and Chip Tolentino (Brandon Yanez) the comforter, a former convict doing community service. The host is a smarmy but still sexy former spelling bee winner. The vice principal has recently recovered from a nervous breakdown. And Chip, who has a big one on his shoulder, seems to do more intimidating than comforting.
Photo by Mark Garvin, from left to right: The cast of The 25th Annual Putnam County Spelling Bee
A good deal of the musical numbers in Putnam County includes several performers or the entire company, and musical director Andy Einhorn gets great energy and harmony out of his singers. But the few solos allow featured actors to really show off.
"The 25th Annual Putnam County Spelling Bee" is a great family show. It harkens back to a time when musicals didn't necessarily have to include death-defying feats, sport a rock score to bring in a young audience or borrow actors from the silver screen to boost box office receipts. And this production emphasizes the significance of a theater like Paper Mill Playhouse in bringing affordable theater to those who don't necessarily want to brave the crowds or pay for the cost of Broadway.