R E V I E W S
Dance Reviews, Cabaret Reviews and Film Reviews are in their own sections
Spies for the Pope
Douglas Lackey has written a history play about the mostly-forgotten Italian philosopher Giulio Cesare Vanini, who was sent across Europe by the Pope in 1618 in an attempt to stave off what was to become one of the longest and most destructive wars in Europe--the Thiry Years War. Vanini sought to reconcile the increasingly volatile divide between Catholics and Protestants. He died trying. Eric Uhlfeder calls the play a rarity in contemporary theater: a clever well-conceived and beautifully produced slice of history that reminds us that despite the passage of time and enlightenment, there are some things that don't change.
Telling Tales Out of School
This production of "Telling Tales out of School" by Wesley Brown is directed by the legendary Woodie King Jr. the founder of the equally legendary New Federal Theatre with a production history of fifty-three years. It marks a high point in the present re-awakening of the NYC theater scene.
Melissa Etheridge makes magic in "My Window."
At the beginning of Melissa Etheridge's Broadway show, "My Window", she tells the audience that her life has been filled with drama, from the very day of her birth when the doctor was fifteen minutes late. Throughout the rest of the show, she brings that drama to vibrant life with song and brilliant storytelling. By Paulanne Simmons.
"Purlie Victorious" is back.
"Purlie Victorious," playwright-actor Ossie Davis's surreal satire about racism in the Jim Crow South, was first produced in 1961 at the cusp of the new civil rights movement. The Woolworth's lunch counter sit-ins in Greensboro, NC, had just taken place in February 1960. Six decades later, director Kenny Leon revives this subversive classic at the Music Box Theatre with a stellar cast. By Lucy Komisar.
The Lights Are On
You never know what will terrify people. It's easy to read the title of Owen Panettiere's play "The Lights Are On," without sensing the horror that Trish (Jenny Bacon) feels as she bangs on Liz's (Danielle Ferland) door. She has just driven home and is sure there is danger waiting in her upstairs bedroom. After peering through the window at her frantic neighbor and former friend, Liz chain locks the door. Then she deliberates, changes her mind, and opens the door. And now we have two mysteries that slowly unfold, not only about these two former friends but about the outsized fears and choices we have to live with, and the impact on our children. By Glenda Frank.
"Partnership" by Elizabeth Baker at The Mint
Mint Theater's latest production, "Partnership" by ELizabeth Baker, is a joyful, light-hearted piece of theatrical fantasy where the protagonist decides to give up her life's work—at the very moment that remarkable success is within reach—for the rapture of unexpected love. By Eric Uhlfelder.
"9/10" by Richard Willett
"9/10" revolves around eight characters who find themselves in different spaces high up in the WTC on the eve of the horror but, of course, totally unaware of what fate may befall some of them the next morning. By Beate Hein Bennett.
Here Lies Love
David Byrne's pop musical docudrama professes to be the story of Imelda and Ferdinand Marcos, their rise to power in the Philippines and the challenge to their dictatorship by Ninoy Aquino, who the Marcos government assassinated. It's a smashing production. But a flawed history. By Luy Komisar.
"Once Upon a One More Time"
Betty Friedan would have loved "Once Upon a One More Time," especially Brooke Dillman who plays O.F.G., the Original Fairy Godmother with wavy hair, a raspy voice and assertiveness that make her the feminist author's double. Lucy Komisar knows, because she worked with Friedan in 1969 and 70 as a vice president of the National Organization for Women (NOW).
She Likes "Ike"
Our divisive, divided country is hungry for peace and unity, but each party has very different views of the solution. Peace and unity are the values Dwight D. Eisenhower, our 34th president (1953–61), espoused all his life. Perhaps that helps explains the popularity of "Eisenhower: This Piece of Ground " by Richard Hellesen, directed by Peter Ellenstein, at The Theatre at St. Clement's. By Glenda Frank.
"Singin' in the Rain" at Weston (VT) Playhouse
Dorothy Chansky attends "Singin' in the Rain" at Weston (VT) Playhouse and reports, "everything in their new production was sort of old. But comfort food is not a crime, and the audience ate it up. "
The Rock & Roll Man
Ed Rubin writes, "OK, so they weren't exactly dancing in the aisles at the New World Stages Theatre the night that I attended The Rock & Roll Man. Forget that I said that. What the audience was doing to show their love for everything that was flashing before their eyes during the musical's fast-paced two act wonder-filled 2 hours and 20 minutes was hooting, hollering, whistling, laughing, clapping, snapping their fingers, gyrating in their seats and most surprising of all shedding nostalgic tears of joy, all of this while basking in the glorious glow of Rock & Roll."
The Cottage
A non-salacious play about sex? Probably not these days. You'd have to go back to the last century. And that is just what Sandy Rustin does, to 1923 in fact, exactly a hundred years ago. Rustin's sex farce, "The Cottage," is a hokey funny slapstick shambles set in a gorgeous English country house where, instead of the ubiquitous moose head on the wall there is an end table atop the base of a stuffed dog. Kudos for set designer Paul Tate dePoo III and for director Jason Alexander, who manages the farce perfectly; it is very clever, never silly. By Lucy Komisar.
"Shucked" with country music sounds is more clever and witty than corny
Lucy Komisar writes, "It's a funny hokey clever story that catches you unawares with its smarts. Because it's about corn."
"& Juliet" clever funny feminist rewrite of Shakespeare's star-crossed lovers
Don't ban great white male authors, rewrite them! What would happen if a feminist Anne Hathaway did a revision of husband Will Shakespeare's "Romeo and Juliet"? Where Juliet and other female characters in the story turn out to have agency? It's a musical delight (book by David West Read, music and lyrics by Max Martin), even for someone who is not a fan of pop rock. By Lucy Komisar.
Rock & Roll Man
Paulanne SImmons writes it is the polished performances of the cast, especially Covington as Little Richard, Andy Christopher as Buddy Holly, Matthew S. Morgan as Chuck Berry, Dominique Scott as Jerry Lee Lewis and Eric B. Turner as Bo Diddley that make "Rock & Roll Man" both rock and roll.
"Buddy: The Buddy Holly Story" at Weston, VT Playhouse
If you don't wanna dance to it, can the music really be rock 'n' roll? Not even remotely a headscratcher for Meredith McDonough, director of Weston Theater Company's "Buddy." The whole production is one long, tuneful, fun-filled romp through a playlist that just never quit(s), and the company handily earns that late-in-the-game participation of the other-side-of-the footlights ensemble. By Dorothy Chansky
The Thanksgiving Play
Playwright Larissa Fasthorse's Broadway debut, The Thanksgiving Play, begins with a video of schoolchildren singing "The Ten Days of Thanksgiving." It is so true-to-life – with the kids ranging from bored to nervous to enthusiastically displaying their pumpkins and moccasins as they sing about all the gifts the Indians gave to them – that we can't help laughing as we cringe. Pulanne SImmons writes, it is indeed the best part of the show.
Bob Fosse's "Dancin'"
Bob Fosse is the only theater choreographer whose name trips off the tongues of most theater-goers. OK, Twyla Tharp, but she has written mostly for dance venues, not theater. This is a reimagining of a show that opened on Broadway in 1978. It starts with the promise of no plot, no messages. Wish it were so. Forty-five years later, we are smothered in woke. By Lucy Komisar.
Camelot
Aaron Sorkin's rethink of Alan Jay Lerner's book of "Camelot" takes it smartly into the present, with more contemporary male-female attitudes and a heavy emphasis on social justice. The politics is solid, albeit presented in a hokey fashion (this is a musical), and the magical/mystical parts of the 1960 version have been cut, though the personal stories are still rather fanciful: the doomed romances are hard to believe. Just relish Frederick Lowe's glorious music and Alan Jay Lerner's sophisticated lyrics, overpowering and magical. By Lucy Komisar.
New York, New York wins on Stroman's dance, misses on story
The story doesn't match the choreography. Or the music and lyrics by John Kander and Fred Ebb, among the finest creators in the genre's history. Lin-Manuel Miranda gets credit for added lyrics. Susan Stroman, who made the dances and directed, is dazzling. Alas, book writers David Thompson and Sharon Washington not so much. Lucy Komisar sighs at the mis-matches.
Bad Cinderella
Little did Andrew Lloyd Webber know when he saddled his most recent musical with the ill-chosen name Bad Cinderella that he was handing theater critics here in New York a cudgel with which to beat his latest Broadway production to a pulp. And beat it they did, savagely so, to the point of forcing it to close at the Imperial Theatre on June 4, 2023 after only 33 previews, 85 regular performances, with a loss rumored to be in the neighborhood of $19 million dollars. By Edward Rubin.
Parade
Alfred Uhry's musical "Parade," co-conceived by Hal Prince with music and lyrics by Jason Robert Brown, is now playing to sell-out crowds and rave reviews, and back on Broadway after 25 years (for a limited run through Sunday, August 6) at the Bernard B. Jacobs Theatre in New York City. By Edward Rubin
The Sign in Sidney Brustein's Window
Lucy Komisar tell us this play is not as brilliant as "A Raisin in the Sun" but the themes are prescient, the actors playing Sidney and the three sisters are very good, Anne Kauffman's direction is lively and it's a fine theatrical event.
Eisenhower: This Piece of Ground
Lucy Komisar writes that "Eisenhower: This Piece of Ground" is fake hagiography about a man who signed off on CIA coups that killed democracies and multi-thousands of people.
The Shylock and The Shakespeareans
Larry Litt writes, "How much past and current antisemitism and Jewish paranoia is caused by William Shakespeare's dramedy 'Merchant of Venice?' That I believe is the question playwright and philosopher Edward Einhorn is trying to answer in 'The Shylock and The Shakespeareans." Though he doesn't answer that question he shows us how much trouble and pain "Merchant of Venice" has caused for both Jews and society."
Freedom Summer
Larry Litt writes, "I've heard it asked, "Can good hearted white people's guilt help overcome systemic racism?" The answer in part as presented by playwright Toby Armour in her drama 'Freedom Summer' is yes as long as they can overcome their white nervousness and paranoia. That's not so easy to do as shown in this historical document. "
"Prima Facie" and "Walking With Bubbles"
"Prima Facie" and "Walking with Bubbles" are about two women who get into terrible situations with men, a casual lover and a husband. By Lucy Komisar.

"Creditors 2023"
Theater for the New City presented August Strindberg Rep in a contemporary version of Strindberg's "Creditors, earning commendtion from Paul Berss presenting one of Strindberg's classics, for its role in spotlighting plays that underlie our modern drama, and for providing Mr. Greer with an extended development process for his version of this important play.
Here Are The Blueberries
Dorothy Chansky writes, "It's hard to imagine a greater ideological or social polarity than the one between Nazi sympathizers and concentration camp prisoners, but a look at experiences on both sides of the divide and into the abyss separating them is exactly what The Tectonic Theater Project has staged in "Here There Are Blueberries." The articulate, nuanced, and highly theatrical play started life at the La Jolla Playhouse in 2022 and will open in Manhattan next year as part of New York Theatre Workshop's 2023-24 season. For three weeks it is in Washington. It is stunningly good."
The Singing Sphere
Seven women stuck in a purgatoryesque bardo are waiting to be assigned to either their own heaven or hell of their making. Each had a place in the corporal world but now they are as lost as a beached jellyfish on a Florida beach. Roasting in the sun but not quite melted yet. All this is made palatable and possible by director Ildiko Nemeth of New Stage Theatre. Her signature style of ensemble directing once again creates a profound world on stage. By Larry Litt.

Bad Cinderella
"Bad Cinderella" is entertaining and fast-paced, a lot like Andrew Lloyd Weber's other musicals. It's camp, which is what ALW does best. And it has terrific politics! In a subtle way, it's about the UK. Brits will get this more than Americans. By Lucy Komisar.
"Parade"
"Parade" is a tragedy about the 1913 trial and 1915 lynching of Leo Frank, a Jew, in a Georgia still smarting from the loss of the Civil War. Fifty years later in Atlanta their descendants chant, "We gave our lives for Georgia" and wave Confederate flags. The play is vivid, riveting and never maudlin. By Lucy Komisar.
"The Understudy" at Morningside Players
Actors are immature idiots. Nothing new there. However there's a fascination with actors' lives that keeps us making them celebrities worth watching, admiring and pitying. Perhaps it's because they're so human in their failures and frustration. We can feel a sense 'shadenfreude' superiority at their deserved suffering. After all aren't all actors egomaniacs? These are some of the satiric questions asked in Theresa Rebeck's comedy "The Understudy." Human relationships are explored with a nasty knife in the back and a smile on the faces of the ensemble actors. Why oh why are actors so flaky with their lives? By Larry Litt.
Life of Pi
Turning a much beloved novel into a play is always difficult. But it becomes a real challenge when that novel is a fable of mythic proportions, a fable that contains live animals on a tiny raft, and a man-eating island. What's more, the novel has already been made into a critically acclaimed film. With all that in mind, we cannot help but give director Max Webster and his stalwart cast and crew enormous credit for staging "Life of Pi." That they do it so well is a testament to their talent. And we can only be grateful the show has transferred this season to Broadway's Gerald Schoenfeld Theatre after winning five 2022 Olivier Awards across the pond. By Paulanne Simmons.
Shylock and the Shakespeareans
In a curious way, Jamie Lloyd's powerful production of Henrik Ibsen's "A Doll's House," stark, with black-clad actors sitting on white spindle chairs or standing ranged across the back, seems more real than if it had a traditional set, with 19th-century furnishings matching the 1879 story date. (In fact, "1879" displayed on the backdrop is the most prominent part of the "set."). By Lucy Komisar.
The Rewards of Being Frank
"The Rewards of Being Frank," at New York Classical Theatre, is a fun romp through the drawing room and garden of Oscar Wilde's most famous play. It is not a rival, but homage to the source material with the leading roles shifted to the women. This Lady Bracknell (Christine Pedi) has a few randy surprises for everyone, Algernon (James Evans) emerges as the comic lead, and then there's the tutor, Frank (Moboluwaji Ademide Akintilo), with his Bernard Shaw bravura (think a young Alfred P. Doolittle, complete with a working class accent. Alice Scovell 's play is a sequel to Wilde's. By Glend Frank.
The Hunting Gun
Three letters, four human beings, living with interwoven fates and secrets in emotional isolation from each other. The individual dramas unfold with each letter. Yosuke Misugi, the central but silent male character, performed by Mikhail Baryshnikov, reads these letters from the three women in whose lives he was enmeshed for thirteen years: his wife Midori; his mistress Saiko; and Shoko, his teenage daughter by Saiko. Each letter is spoken by the woman who wrote it to him, and with each letter the individual drama is revealed. Miki Nakatani performs each woman's tragedy with individualized physical and vocal articulation that project the collective drama beyond any language barrier. By Beate Hein Bennett.
Pictures from Home
"Pictures From Home," currently running thru April 30, is the most delightful and thought-provoking play currently gracing the Broadway stages at this very momen
Hang Time
On the wisp of a play, writer-director Zora Howard ("Stew," Pulitzer Prize finalist) has created a powerfully evocative performance piece about three black men chewing the fat, just hanging out and passing time. Or maybe not. Maybe these men were executed for unmentioned crimes. Maybe lynched. The shadows they cast (Reza Behjat, light design) are hanged men. The elusiveness of the work, the many allusions – sometimes as subtle as bird song or a train whistle (Megan Culley, sound design), sometimes as disturbing as the actors' feet inches above the ground or their persistent twitching and oddly angled joints (Charlie Oates, movement director) – place them as conglomerates of rural black experience. By Glenda Frank.
Irish Rep's "Endgame"
Samuel Beckett's surreal vision of dueling human nastiness and compassion, misery and hope takes place in a nondescript walled space. Outside the world has ended, but somehow these people have survived the apocalypse. The Irish Repertory Theatre production, powerfully directed by Ciarán O'Reilly, envelopes you in a bleak mood conveyed by the gloomy dialogue as well as the dark red bricks. By Lucy Komisar.
Radio 477!
Since the invasion of Putin's war machine into the Ukraine on February 24, 2022 with its horrendous destruction of civilian life and infrastructure, the images of this destruction have invaded the daily news cycles in the US and the consciousness of Americans. So it was no surprise that the official opening of Yara Arts Group's "Radio 477!" drew a large audience to La Mama. By Beate Hien Bennett.
"Washington Square"
In Axis Theatre's mounting of Henry James' "Washington Square," the cast brought compelling to life a tale about how wealth is far from enough to bring about happiness or even contentment. By Eric Uhlfelder.
"Katy and Jennifer vs. The Flasher on New Year's"
It's New Year's Eve 2002 in New York City. Anxiety, precarity and death are in the air we breathe. This is the new year after the twin tower attack. Survivor's guilt abounds. So does hedonism and anger. Often in the same mind. Is there a safe place in the United States? What to do? Where to go? How to live? These the questions that 25 year old best friends Katy and Jennifer ask themselves and each other with their every breaths. And now, there's a creepy flasher in the hallway outside their apartment. Matt Morillo's newest play is comedy or dramedy with a touch of slapstick. Morillo always delivers real women struggling to gain control over the world around them. Sometimes they do. By all means get to it, says Larry Litt. For the truth of those times and for the laughs.
Two views of "Becomes a Woman"
Eric Uhlfelder writes that the thrill of coming to the Mint Theater is discovering the newest "lost play" Jonathan Bank has unearthed. And the current production of "Becomes a Woman," Betty Smith's first play, doesn't disappoint. She wrote the famed novel A Tree Grows in Brooklyn, which turned her into a household name in the middle of the last century. "Becomes a Woman," written in 1931, earned Smith a prestigious award from the University of Michigan along with $1,000. But it was never published nor produced. Lucy Komisar adds, "Smith is a too-little known as a playwright of the first wave of feminism. This production should help begin to change that."
Tennessee Rising
Here is the chance to see the emergent Tennessee Williams from his fractured childhood in St. Louis to his first successes as a playwright. Jacob Storms has crafted a rich script which he performs solo under the subtle direction of Alan Cumming on the intimate stage of the AMT Theater. By Beate Hein Bennett.
The Time Travelers Club, Manhattan Division
Playwright/director Barbara Kahn, who plumbs the past for inspiration, has returned to New York City in the year 1870 for her newest play, "The Time Travelers Club, Manhattan Division" at Theater for the New City. This time she mixes in a little science fiction. By Paulanne Simmons.
"Han!"at La MaMa
Director Thomas Richards' background in Grotowski's approach to creating the physicality of a performance from deep within the body in combination with actress Hyun Ju Baek's native Korean aesthetic and superbly trained instrument make "Han!" a spell-binding performance. Don't miss it. By Beate Hein Bennett.
"A Beautiful Noise," a Neil Diamond musical
Writers of tribute musicals often begin the story at a high point in the performer's life. Anthony McCarten has chosen something different for "A Beautiful Noise, The Neil Diamond Musical." It begins with an aging Diamond consulting his therapist at the urging of his family. Not a lot of energy in this, but director Michael Mayer makes the best of it. By Paulanne Simmons.
"Memorial"
"Memorial" purports to be the story of how young architect Maya Lin got the U.S. government to build her design of a Washington Mall memorial to the U.S. veterans of the American war against Vietnam. The problems run deep, says Lucy Komisar.
The Collaboration
" The Collaboration," a play about Warhol and Basquiat, is well worth seeing, if only to experience the finely calibrated rock star tour de force performances of Paul Bettany and Jeremy Pope. Yes! They really Rock. By Edward Rubin.
Asi Wind's Inner Circle
When Asi Wind is not slipping cards under peoples' watches or guessing the name of someone they're thinking about, he might be the guy you'd want to have a beer with. Just watch your wallet. By Paulanne Simmons.
Who Murdered Love?
If you're ready for a "noir" musical theater romp through the steamy post-WWI European art scene of the 20s and early 30s, come to watch a bunch of Dadaist/ Surrealist inspired characters --with a dash of American flapperdom-- performed by a talented ensemble of actors, see this Dada musical. By Beate Hein Bennett.
"Not About Me"
Eduardo Machado's memoir play is an elegy to friends whom he lost over the years to AIDS, and a soul-searching journey about his own identity as a bisexual actor and playwright of Cuban origin.

Between Riverside and Crazy
In this dysfunctional family near-soap opera by Stephen Adly Guirgis, the "good guys" and the "bad guys" are all con men, or women. The venue, a middle-class apartment on Riverside Drive in Manhattan, is a place for drive-by scams and attacks that have you shifting the characters between the hero and villain columns. And asking some questions for which answers are never there. Austin Pendleton directs. By Lucy Komisar.
Broadway-bound "Merrily We Roll Along" at NY Theatre Workshop
"How did you get to be here?" A common question often rephrased in conversation. But this Stephen Sondheim – George Furth production takes it dramatically smarter in multiple musical flashbacks, each chosen year before the previous one. And each vignette is a surprise.
"Darkness After Night: Ukraine"
Writer/director/actor Stephan Morrow offfers us a raw organic play that attempts to give an intimate look at the horrendous event that continues to unfold in front of us.
"Kimberly Akimbo"
"Kimberly Akimbo" is revival about an aging girl; the play didn't age so well. By Lucy Komisar.
"Becky Nurse of Salem"
Lucy Komisar writes that Sarah Ruhl's "Becky Nurse of Salem" falters, tying 17th century of oppression of "witches" to today's women's issues.
"Ohio State Murders"
This 75-minute drama by Adrienne Kennedy is largely a monologue, delivered expertly by Audra McDonald, but still a monologue. It was first produced thirty years ago, but this is the first time it's been on Broadway. By Lucy Komisar.
John Kelly in "Underneath the Skin"
Billed as "A Penetrating Portrayal of A Queer Giant," performance artist John Kelly's explosive gay-themed show "Underneath the Skin" – bolstered by actor/dancers Hucklefaery, Estado Flotante, and John Williams Watkins, each playing multiple characters, a slew of videos, (one featuring Lola as Gertrude Stein), lots of song and dance, oodles of simulated male to male sex, and a cornucopia of informative lecture-like projections, all centering around the life and work of little known historical footnote Samuel Steward (1909-1993), was extended due to popular demand. By Edward Rubin.
Some Like It Hot
"Some Like It Hot," with music by Marc Shaiman and lyrics by Shaiman and Scott Whittman, directed by Casey Nicholaw, sizzles when it doesn't fizzle, according to Paulanne Simmons. Lucy Komisar calls it "Brilliant, clever, trendy, stunning, wonderful, the best musical of the season, every number a show-stopper."
"Ain't No Mo'"
"Ain't No Mo'" by Jordan E. Cooper is a fantastical surreal In-your-face satirical pastiche of American black experience. It targets blacks (read the black bourgeoisie) as well as whites. You won't find anything as adventurous on or off Broadway. Which makes it sad it has posted a closing notice for Sunday, Dec. 18th, just two weeks after its opening. By Lucy Komisar.
"Afghanistan is Not Funny"
A Brit comic writer's take on western media lies about the American war. By Lucy Komsar.
The Very Last Dance of Homeless Joe
The many brilliant, lyrical passages of Rich Courage's tragicomedy remind us of the importance of hearing stories, understanding others, and learning from them. By Karen Bardash.
The Rat Trap
It's not hard to figure out why a play about marriage earned the title, "The Rat Trap." For those who aren't sure, the answer comes midway during the Mint Theater's production of this rarely seen Noel Coward play. Not long after rhapsodizing about marriage, a young wife realizes, "We're like two rats in a trap." By Eric Uhlfelder.
You Will Get Sick
Ed Rubin writes that "You Will Get Sick," currently playing Off Broadway at the Laura Pels Theatre here in NYC through Sunday, December 11, is the most riveting, and mind-stretching play that he has seen this season. The reason being, is that you really have to pay close attention to know where you are at any given moment, as there are more twists and turns then a frog in a blender. Blink and you are in another world.
Jefferson Mays Intrigues in "A Christmas Carol"|
Charles Dickens' novella, "A Christmas Carol," was first published Dec. 19, 1843. It met with immediate critical and popular success. The first run of 6,000 sold out by Christmas Eve. Three stage productions opened in February 1844. And since that time, the story has been adapted for film, radio, opera, ballet, animation, musicals and even a mime starring Marcel Marceau. One might well ask, what can anyone add to these numerous manifestations of the Dickens' classic? And then along comes Jefferson Mays' solo show that fascinates, entertains and frightens in its own unique way. By Paulanne Simmons.
"Two Jews, Talking" is a sitcom-style play with comic dialogue & serious message
It's not quite Mel Brooks' "2000 Year-Old Man," but Ed Weinberger attempts a take with two 3500 year-old geezers wandering in the desert on Moses' famous trek to "the promised land." By Lucy Komisar.
"Topdog Underdog" tells the fantasy and fakery of the underclass
Suzan-Lori Parks' plays is about fantasy and fakery, the desperation and dysfunction of the underclass. In this revival at the Golden Theatre, the actors are terrific. The script becomes soporific.By Lucy Komisar
Catch as Catch Can
In "Catch as Catch Can" by Mia Chung, directed by Daniel Aukin at Playwrights Horizons, Rob Yang gives a masterly performance as Tim Phelan, who has been hospitalized after an attempted suicide. The rest just confused our reviewer Glenda Frank.

"The Piano Lesson" still makes us take note.
"The Piano Lesson" was written twenty-five years ago. But, as this current Broadway production proves, the questions it asks about family relationships, our past and our future endure and prevail. By Paulanne Simmons and Lucy Komisar.

"L'Amour a Passy"
If you are ready for a delightful "rom-com" of a May-September love affair between the American Venerable Benjamin Franklin at seventy and a delicious Mme Hardoncourt Brillon at half his age (or less), then come and see "L'Amour a Passy" by GW Reed, set in 1777/78. You will spend a charming evening in the company of two witty people—it is a divertissement in the art of love and diplomacy. By Beate Hein Bennett.
Fukt
It's not often that a playwright can prove Shakespeare wrong, but in "Fukt" by Emma-Goldman-Sherman at The Tank, the name's the thing, and a rose called Emma has a different scent from a rose named Barbara or even one nicknamed Bobby. These are the three faces of a woman who was sexually abused by her father and who struggles to regain agency and happiness as she comes to terms with the past. By Glenda Frank
Chekhov's First Play
It's not really Chekhov's first play. It a clever take-off on a manuscript discovered in a Russian safe deposit box in 1921, the 19-year-old Chekhov's first try and justifiably never staged. Overabundance of characters, themes and action; it needed an editor. By Lucy Komisar.
1776
The best thing about "1776" is Peter Stone's script, which will never change. The controversy about this production staged by Jeffrey Page and Diane Paulus is about casting the men of this Continental Congress as female, including whites, blacks and transgenders. By Lucy Komisar.
Leopoldstadt
Tom Stoppard's brilliant play is about the self-delusion of upper-class Jews who thought their absorption into Austrian culture meant that in spite of years of anti-Semitism and rising Nazism they would not be in danger. Austrian Socialists and Social Democrats joined the Nazi rallies. The "Collective West," including Roosevelt, refused to take in more than a handful of Jewish refugees and left millions to perish. Stoppard found his Jewish history only 30 years ago at age 56. All four of his grandparents and three of his mother's sisters were killed by the Nazis. The play is how he imagines his family, who lived in Prague, were murdered in the Holocaust, except for his parents who fled with him first to Shanghai. By Lucy Komisar.
Bethune
If we recognize the name Mary McLeod Bethune, it's through her list of achievements-- educator, philanthropist, humanitarian, womanist, and civil rights leader. Playwright/actor Richarda Abrams has been fascinated by the black activist for more than two decades. In "Bethune, Our Black Velvet Rose," now at Theatre Lab, she has placed a heart in the center of the biodrama. By Glenda Frank.
The Kite Runner
Sometimes, a gripping story with universal relevance sells big. Such was the case of "The Kite Runner," Khaled Hossein's 2003 semi-autobiographical novel which was turned into a movie, a graphic novel, an audio tape, and a new Broadway play. By Edward Rubin
"Susan B." - How can you all not be on fire?
The line on top are Susan B. Anthony's own words and could not be timelier given the present attacks on voting rights and the Supreme Court's overturning of Roe v. Wade. The short narrative bio-play "Susan B." is centered on Susan B. Anthony's long fight for women's right to vote—a fight whose resolution in 1919 she did not live to see. By Beate Hein Bennett.
"Baldwin and Buckley at Cambridge"
The reenactment of the 1965 Cambridge University debate between James Baldwin and William Buckley is an interesting if minor moment in civil rights history, but a disappointment as theater. That is partly because two long monologues (not really a debate) and two short introducers don't provide enough dramatic tension for theater. You want a real interaction. And partly because two of the actors are fine but the other two are middling to mediocre. By Lucy Komisar.
"Hedda Gabler 1981"
While "Hedda Gabler" may not appear to have the immediate topical appeal, as Ibsen's "An Enemy of the People" where environmental and political corruption is the issue, or "The Master Builder" with its megalomaniac central character, the play certainly still resonates in terms of feminist expectations and gender relations, and the exertion of power. Robert Greer's adaptation of the play to 1981 Oslo was worth a try, but the production lacked the acting nuance to fulfill itself. Or else the essential themes of the 1891 version--the complexity of living under the strain of social conventions while instinctually longing to break free--don't update nicely. By Beate Hein Bennett.
Noises in my Head
"Noises in my Head," a new play by Turkish playwright Beliz Gücbilmez, translated by Manfred Bormann, Defne Halman and Fahri Öz, compacts the perennial major human catastrophes of war, displacement, poverty, and violence into a one-act one-woman play. The Woman is a cleaning woman who has worked in rich people's homes all her adult life. It offers the rare chance to hear the voice of a Turkish woman playwright in a masterful performance of a Turkish/American actress. By Beate Hein Bennett.
Weightless at WP Theatre
The subject matter of "Weightless," based on Ovid, is often quite heavy. Nevertheless, those who are willing to go on this modern journey of an ancient myth will find themselves captivated by a musical masterpiece. By Paulanne Simmons.
This Beautiful Future
Eric Uhlfeder attended "This Beautiful Future" at the Cherry Lane Theatre. Its plot of an improbable love story in World War II, sure to be shamed, may or may not have been "for our time," he thinks.
Strings Attached
Add "Strings Attached" by Carole Buggé to the list of recent plays addressing science in our lives. Set in a train heading to London are two cosmologists and a particle physicist. They are at once excited and apprehensive about seeing "Copenhagen," Michael Frayn's 1998 drama about the meeting between physicists Niels Bohr and Werner Heisenberg in 1941. Like Frayn, Buggé had kept her set simple and brings us three ghosts, who speak separately to each of the physicists: Sir Isaac Newton, Marie Curie, and Max Planck. By Glenda Frank.
"MJ," a pulsating jukebox musical, tells superstar Michael Jackson's career story
Lynn Nottage, who wrote the book for "MJ," is known for serious plays about the black experience, and this fits that bill as a struggle against the system. Director Christopher Wheeldon, also the choreographer, is the perfect helmsman. The show is about movement and the choreography is powerful. By Lucy Komisar.
"2 ½ BREATHS"
Every once in a while, a little-known theater company, usually from a distant city, mounts an amazing ground-breaking theatrical production, brings it to New York City for a limited run, and then returns to their home base leaving us all lusting for more. As luck would have it, this season NYC was graced by two such works of genius. First to open and running from May 19-June 5 for 15 performances was Las Vegas-based Loriaux House Of The Arts production of "2 ½ BREATHS," which played at the Chain Theatre. (The other was "The Orchard" at Baryshnikov ARts Center.) By Edward Rubin.
"The Orchard"
Edward Rubin writes, "I seem to remember reading, in all of the hoopla surrounding the Baryshnikov Art Center's Production of Chekov's The Cherry Orchard, somebody saying "Unlike anything that you ever saw before." This talking head could also have said, as audiences were soon to find out, that this production, adapted, created, reimagined, and directed by Kiev born Igor Golyak, and starring Mikhail Baryshnikov is a work of genius. Obviously, the great Chekov is embedded deeply in their bones."
Two views of "Audience" by Vaclav Havel
For the past 30 plus years, the Czech-American Marionette Theatre has delighted audiences with inventive versions of traditional folk material and original plays. This time for only four performances, CAMT presents a play by a contemporary author, by none other than Vaclav Havel (1936-2011) who, besides having been one of the foremost Czech playwrights, was also the last President of Czechoslovakia from 1989 until 1992 when the country was dissolved into two republics. By Beate Hein Bennett and Karen Bardash.
Oresteia
Robert Icke's "Oresteia" at Park Avenue Armory is a brilliant takes-your-breath-away modern version of the Greek narrative of Athens' war on Troy which, at its heart, is about male warmongering and sexism. By Lucy Komisar.
Into the Woods
When you're talking about a musical theater genius such as Stephen Sondheim, it's hard to pick favorites among his oeuvres, but "Into the Woods" is high on the list. Because with Sondheim's music and lyrics, and James Lapine's book, this staging by Lear deBessonet infuses joy. Because Sondheim-Lapine (who directed the original in 1987) take some vintage western fairy tales and, mining recognition for surprise, turn them magically into witty morality tales. By Lucy Komisar.
Mr. Saturday Night
Billy Crystal's story, book by Crystal, Lowell Ganz and Babaloo Mandel, based on the 1992 film, requires you to believe that Buddy Young, a washed-up comic got a new start when an Emmy's broadcast mixed up names and announced he had died and the Today Show invited him on to show it wasn't true. Maybe this worked 30 years ago. Now the book is silly, often crude, a bit vulgar, a bit TV, with jokes as dated as the Borscht belt routines he started out with. By Lucy Komisar.
"POTUS: Or, Behind Every Great Dumbass Are Seven Women Trying to Keep Him Alive."
Lucy Komisr attended "POTUS" and found it misogyny masquerading as feminism: crude, vulgar, at the intellectual level of 13-year-old boys, or maybe a local sex-themed comedy club that serves up booze and cheap laughs.
Funny Girl
The problem of this production is not that Beanie Feldstein does not make you think of of Barbra Streisand, who created the first "Funny Girl" star. It is that she does not make you think of Fanny Brice. By Lucy Komisar.
Richard III in the park
Richard III, the evil scheming murderous soon to be king of England after he murders the competition, was obsessed with his deformity, now believed to be a disease of the spine, which has been portrayed in Shakespeare's play over the centuries as a hump or a withered arm. In the vision of director Robert O'Hara, that essential part of the play is turned on its head. Richard, portrayed by the fiery Danai Gurira, is damaged only in his mind, his ethic, his soul. When he speaks lines about his infirmity, it makes no sense, at least at first. By Lucy Komisar.
Paradise Square
Larry Kirwan's "Paradise Square" is a smart, entertaining, serious, important musical about a real time in America, a look at the role of capitalism in slavery, whites and blacks running the underground railroad, and how capitalists divided them. Director Moises Kaufman knows how to make a show suffused with music into a riveting dramatic play. By Lucy Komisar.
"The Minutes"
If you want to see a serious, piercing, unforgettable play about the deep truths of America, see Tracey Letts' "The Minutes." It could be subtitled "The American Killing Fields." The expansion of colonial America to the West, its manifest destiny, a myth we've all learned in school, was a cover for genocide. The U.S. was built on savagery, a holocaust, the slaughter of Native Americans, and Tracey Letts tells it brilliantly. By Lucy Komisar.
"Epiphany" at Lincoln Center
In "Epiphany" by Brian Watkins, directed by Tyne Rafaeli, the guests, most in their 40s and 50s, are artistic or professional, and the conversation, which is the centerpiece, is the kind that wafts around New York parties when people show off their knowledge or talents or, no talent needed, loneliness and the need for other people. They mostly talk past either other, but it doesn't matter, because nothing new is said. Maybe this is satire? Director Tyne Rafaeli. is fine at moving the guests around, having them interact like at a real dinner party and eliciting their inner pretentions. OK, maybe this a parody of intellectuals. But it's not biting enough. In fact, it's meager fare. By Lucy Komisar.
Two views of "Hamlet" at the Armory
Purists may find fault with the way maverick director Robert Icke has updated Hamlet with modern technology, media and music. But although Icke's additions do result in a production that runs for 3 hours and 40 minutes, none actually change Shakespeare's original in any significant way. By Paulanne Simmons and Lucy Komisar
"Chains" by Elizabeth Baker at The Mint
Jonathan Bank's Mint Theater finally returned home to Theater Row after a long COVID-induced hiatus with "Chains" by Elizabeth Baker. By Eric Uhlfelder.
Lambs to Slaughter
Karen Bardash attended "Lambs to Slaughter," Khalil Kain's playwriting debut, and found it an important and relevant piece that should not be ignored. Impressively written, directed (by Reginald L. Douglas), and acted - it deserves a longer run in a larger house, she avers.
Existence
Pondering about "existence"—the what, the how, and the why—probably has been an intellectual and emotional quagmire of human questioning ever since we've evolved into a self-conscious species. At least for some who straddle the enormous space and time between Being and Non-Being. David Willinger's foray into this vast universe of inquiry is a picaresque, quixotic stage discourse. By Beate Hein Bennett.
The Orchard
Igor Golyak's adaptation of Chekhov's "The Cherry Orchard" stars a brilliantly effervescent Mikhail Baryshnikov, a fine dreamy Jessica Hecht, talented supporting players, a giant robotic arm topped by a ring-lit camera and a cute scampering robotic dog. And that's only the half of it, By Lucy Komisar.
Belfast Girls
The Irish Rep returns to live theater with "Belfast Girls" by Jaki McCarrick. Between the years 1848 and 1851 over four thousand Irish females took passage on ships from Ireland to Australia under the Orphan Emigration Scheme, established by Earl Grey. This action had the effect of relieving many of the workhouses and poorhouses of Ireland (already full to the brim with people seeking respite from the ravages of the 'Great Famine'), and of providing 'new blood' for the Colonies – wives, servants, farm-workers. The women who left were more generally known as 'orphan girls,' though many were neither orphans or, strictly speaking, girls. The most notorious and riotous amongst these – both in transit and on arrival in Australia – were known as the Belfast girls. By Edward Rubin.
A Healthy House
Karen Bardash attended "A Healthy House" by Tom Diriwachter at Theater for the New City and was overcome by remembrances of her own home renovations. She writes, "More than solid construction and an updated façade, a healthy house is ultimately a home in which the heart is."
The Verge
If you're in for a cozy interactive piece of chamber-theater—no more than ten audience members are admitted—make your way to a store front theater conveniently located near the Brooklyn Metro Center on the corner of Flatbush Avenue and Willoughby Street. You'll be admitted to…well, not a séance but something like a social game…no, not a murder mystery either but a post-funeral game. By Beate Hein Bennett.
"Golden Shield" shines, but takes on too much.
"Golden Shield," a new play by Anchuli Felicia King, is nothing if not ambitious. The issues the play covers include family relationships, personal responsibility, the law, totalitarian regimes, corporate culpability, torture and the way language can both help and betray us. The play is so complicated it takes the author several scenes to wrap things up even after the drama has pretty much ended. By Paulanne Simmons.
"Three Sisters" and "About Love"
Will Pomerantz's staging of Anton Chekhov's "The Three Sisters" may be small in size, in a space with just a few sticks of furniture and runtime cut from 3 hours to 2, but the conception and production work grandly. His "About Love," based on Turgenev's short story "First Love," isn't quite as perfect.
Which Way to the Stage?
Ed Rubin writes that MCC Theater's production of "Which Way To The Stage" running through Saturday, May 28 at Robert W. Wilson Theater Space at 511 West 52nd Street in Manhattan, is one of the most enjoyable plays he's seen this season. Not only has the play been extended a week - his very hope while watching the play - but the audience, a heavy contingent of yeah-saying youngsters, many obviously actors most likely seduced by word-of-mouth, not only continued to clap after the actors left the stage, but gathered in the theater's lobby to continue the conversation. And why not, as playwright Ana Nogueira, an actress herself, had just fed them the unvarnished story of life in the theater. The ups, and downs, and sideways.
"Hangmen"
Martin McDonagh is brilliant at dark surreal comedy. Lucy Komisar loved his past plays "The Beauty Queen of Leenane," "The Pillowman," "The Lieutenant of Inishmore," "A Behanding in Spokane" (it is as it sounds), and "The Cripple of Inishmaan." She says she wouldn't normally reel off such a list but they are every one smart, funny and very bleak comments on the human condition. Mayhem and murder abound. Nothing turns out as expected.
The Skin of Our Teeth
Lileana Blain-Cruz's direction in thi Lincoln Center production is sometimes so hokey that you think you're watching TV. But then she goes on target. The play at the end seems to show how the bad son represents the U.S. militarists now threatening America and the world through their "let's destroy Russia" operation so they can be the hegemons/rulers of the world. By Lucy Komisar.
"Suffs"
Lucy Komisar writes that Shaina Taub's "Suffs" is the play she's been waiting for about the too-little talked about struggle for American women's* right to vote. Asterisk: American white women, but a massive achievement none-the-less. Taub makes clear the internal conflict of the movement's failure to recognize black women as partners
"Paradise Square"
If you're a history buff and a stickler for details, you may take exception to some of the liberties taken by the book writers of "Paradise Square," Christina Anderson, Craig Lucas and Larry Kirwan. The musical, directed by Moisés Kaufman, certainly exaggerates the cordiality between Blacks and the Irish in New York City's Five Points prior to the Civil War. It seems not to recognize how precarious the position of even free Black men and women was in the North. Its portrayal of Stephen Foster and his music ignores the fact that Foster never stepped foot below the Mason-Dixon line and was mostly influenced by the Irish music he grew up with. And it asks us to believe that a runaway and hunted slave would risk capture by participating in a dance contest, no matter how much he needed the money. By Paulanne Simmons.
"Occasionally Nothing"
"Occasionally Nothing" by Natalie Menna, presened by Theater for the New City, reverberates with Beckettian absirdism. Ivette Dumeng directed this deceptively simple and funny play very imaginatively in terms of actor movement and placement that support a precisely paced rhythmic delivery of the text by a superb trio of actors. By Beate Hein Bennett.

AMERINDA does "The Trojan Women"
What about the history across the American continent of using women and children as commodities for servitude? As "property"? As commercialized or trafficked sex objects? And finally what about the history of female Black and Brown slavery in white male dominated colonial societies? This includes the fate of Indigenous women and children resulting from wars and official actions against Native tribes in the history of all the Americas. AMERINDA tackles this question with their production of "The Trojan Women." In the intimate TNC downstairs Cabaret, the painful dirge of Queen Hecuba and the women of Troy about their loss of family, home and status, and their impending exile and enslavement passes in a span of ninety minutes without pause. Sarah B. Denison's adaptation is reviewed by Beate Hein Bennett.
"Macbeth"
If, while sitting in Longacre theater, you closed your eyes during most of Sam Gold's "Macbeth," you would experience a pretty traditional presentation of the tragedy, with Daniel Craig a very good Macbeth and Ruth Negga an exceptional Lady Macbeth. If you opened your eyes, you would ask yourself where is this play set, what year is it, what are those three actors cooking? By Paulanne Simmons.
How I Learned to Drive
"How I Learned to Drive" is a brave and difficult piece that explores forbidden desires and abominable acts. But, after seeing it, we leave the theater none the wiser, says Paulanne Simmons.
Cosmicomics
Ildiko Nemeth's New Stage Theatre is presenting "Cosmicomics," a theatrically-transformed example of Italo Calvino's writing and European thinking. It's an evening of engaging, inspiring theater, says Larry Litt.
"God's Way" by Dahlia Harris
The famous saying "God works in mysterious ways" can certainly be applied to the actions in Jamaican playwright Dahlia Harris's play, "God's Way." It is a tightly scripted family drama around an absent father whose hidden economic activities are the source of the prosperous life of his wife and daughter as well as their undoing. By Beate Hein Bennett.
Spiderwoman Theater in "Misdemeanor Dream"
Spiderwoman Theater's "Misdemeanor Dream" is a pageant that provides a glimpse into the rich tapestry of Native American life, without any of the stereotypes that have skewed the common perceptions about "American Indians" fed by innumerable Westerns and novels. By Beate Hein Bennett.
"A Touch of the Poet" at Irish Rep
Paulanne Simmons opines, Eugene O'Neill was a great playwright. But "A Touch of the Poet" is not a great play. That's one of the problems with the current Irish Rep production.
Strindberg's "Dance of Death, Parts 1 & 2"
August Strindberg's "Dance of Death"(1901) was "choreographed by Friedrich Dürrenmatt" into "Play Strindberg"(1968), trimmed down from both parts into a seriocomic boxing match of twelve "rounds." Robert Greer, the Artistic Director of the Strindberg Rep, translated, has cut and compounded both parts into a compact downward spiral of mutual destruction. Since Strindberg is rarely performed these days, a trip to Theater for the New City is worth a re-acquaintance with this modern classic of intimate psychological probing into the banality of marital strife. By Beate Hein Bennett.
The Daughter-in-Law
Eric Ulhfelder hails the Mint's choice in coming back to life (after the pandemic hiatus) with a remount of D.H. Lawrence's "The Daughter-in-Law," helmed by its original director, Martin Platt. Lucy Komisar writes, "D.H. Lawrence's 1913 'The Daughter-in-Law"' is a classical misogynist play. The tired message is that to have a happy marriage, a woman must be subservient to her husband. This holds even if he's below her in intelligence and ambition and disinclined to better himself by work. She should move herself down a peg. And mothers are controlling harridans who spoil their sons' lives if they can."
"Crazy Meshugga Hurricane Earthquake" and "Di Froyen"
"Crazy Meshugga Hurricane Earthquake" - sounds like a comedy, no? But in our little village of New York City, it, and a sister play, "Di Froyen," turn out to be skillfully done works about basically good people who are deeply hurt, damaged, and in need of help and understanding that they rarely receive. Presented by Theater for the New City, and acted by the New Yiddish Rep, both plays are set in the Hasidic community and sadly could be considered studies in rigidity, and lack of compassion and basic kindness. By Paul Berss.
"Company" revival sheds sophistication for sitcom, though LuPone & Lenk shine
The 2006 version of "Company" was John Doyle's spare, stylized, sophisticated production that was a perfect match for the text. Actor-musicians sat on swivel stools atop plexi-glass risers. Everyone was elegantly in black. Hanging above a white Greek pillar was a huge square chandelier with glittering bulbs. The floor was parquet and the baby grand a Steinway. The set was a pastiche of soigné Manhattan apartments. Sigh. Not this one. By Lucy Komisar.

The Music Man
Paulanne Simmons writes, "This is a classically perfect musical, with a compelling mixture of songs (ballads, patter songs, marches, dances), two likeable lovers, adorable children, a good deal of farce and some excellent observations on human nature. All a director has to do is work with the material and let it shine. Which is exactly what Jerry Zaks does in this production."
The Garden of the Finzi-Continis
The Garden of the Finzi-Continis, a collaboration between the National Yiddish Theater Folksbiene and New York City Opera which opened Off Broadway on Holocaust Remembrance Day for a limited run of eight performance from January 27- February 6 at the Museum of Jewish Heritage. Sung in English, also with subtitles, and running three barely noticeable hours with one intermission, the opera sold out even before it opened. By Edward Rubin.
"The Same" by Enda Walsh at Irish Arts
Beste Hein Bennett reports, "This is chamber theatre in the truest sense. The intimacy of the space allows for experiencing the expression of profound human emotions through the actors' keen performance artistry of the spoken word in intimate motion—this is theater at its finest."
"I Just Want To Tell Somebody" with Ronald "Smokey" Stevens
Ronald "Smokey" Stevens gives a hair-raising tour de force performance in his autobiographical one-man play, "I Just Want to Tell Somebody," that follows his fabulous rise as a Black performer/actor on stage and screen to his cocaine driven fall into oblivion, even prison, and his ultimate recovery due to his basic will to live and his spiritual regeneration. By Beate Hein Bennett.
Kimberly Akimbo
"Kimberly Akimbo," the newly penned musical with book and lyrics by David Lindsay-Abaire ("Rabbit Hole," "Shrek the Musical") and music by Jeanine Tesori ("Fun Home," "Caroline, or Change") is the most loving, loveliest, and poignant theatrical experience of the year. By Edward Rubin.
The Streets of New York
If there is any melodramatic element Dion Boucicault did not put into The Streets of New York, this reviewer is at a loss to find it. There's an evil banker, the righteous poor, self-sacrificing lovers, a widowed mother, a vicious vamp, hidden evidence, an unexpected fire, attempted suicides… The play was written in 1857 and is set in New York City in 1837 and 1857, when the rich were very, very rich; and the poor were very, very poor. Sound familiar? By Paulane Simmons.
The Slave Who Loved Caviar
Ishmael Reed whom The New Yorker has called "American literature's most fearless satirist" has put his investigative mind and pen with this play on the ruthless art market as it devours artists for the ever-novelty-hungry economic elite. The artist becomes a cult object whose personality and creativity are sucked dry by a vampire market that looks for new blood, the more exotic the better. Such was the ironic fate of Jean Michel Basquiat (1960-1988) who, in the 1980s, rose within less than five years from being a kid street artist to become a celebrated collector's item--and not, as the play insists, just as ANdy Warhol's mascot. By Beate Hein Bennett.
The House of Lehman goes to Broadway
"The Lehman Trilogy" by Stefano Massini appears to be a love song to American capitalism, though if you look carefully, you will see some tarnishings and even betrayals. By Lucy Komisar. For Glenda Frank's review, go here.
Diana, the Musical
Lucy Komissr writes, "I thought this was going to be a tacky, yellow press redux of the paparazzi chasing Diana. I was wrong. It is a terrific feminist, anti-royalist story (book by Joe DiPietro) of what happens when a woman, facing a powerful institution (the "Royal Family") has the gumption to stand up and fight for her dignity."
Cullid Wattah
"Cullud Wattah" written by Erika Dickerson-Despenza and directed by Candis C. Jones is is billed as about "three generations of black women living through the water crisis in Flint, Michigan," where community water was poisoned because the Republican governor, Rick Snyder, wanted to save money and in 2014 switched from Port Huron water to contaminated Flint River water. Unfortunately, the political parts are few. By Lucy Komisar
Morning Sun
Manhattan Theatre Club's production of British Playwright Simon Stephen's three-generation memory play "Morning Sun" is simply thrilling to watch, see, and feel such a well-seasoned team coalescing as they slowly invade our innermost being. By Edward Rubin.
"Forbidden Fruit" by Ava Jenkins
I think it was Chekhov who commented that most tragedies happen around dinner tables. Black families are no exception. It is here that sibling resentments can fester, sudden revelations happen, and explosions rend a family apart. In "Forbidden Fruit," Ava Jenkins composed a compact series of scenes that build towards just such a situation. by Beate JHein Bennett.
Roundabout's "Caroline, or Change"
In this hokey, schmalzy soap opera about a black maid working for a Jewish family in 1963 Louisiana, the cast is better than the text. The script is by Tony Kushner – America's most over-rated unimpressive playwright — who based it on childhood memories. It was first presented in 2003 and it had the same flaws though less glitz, which must have been added to cover up the flaws. By Lucy Komisar.
Dan Wackerman does well by "Morning's at Seven"
"Morning's at Seven" written in 1939 by Paul Osborn, starts out as a small town family story of the innocent 1920s. It's often comic, but it's also a serious look at the difficulties and hidden sorrows that afflict people who seem quite comfortable, discontents that begin to dominate as they get older. This is a fine production, well-acted by an accomplished Broadway-credits cast and smoothly directed by Dan Wackerman. By Lucy Komisar.
"The Visitor," a hokey soap opera about ICE deportation, founders on politics
There are two good parts to "The Visitor." The first is when the sallow-faced economics professor (David Hyde Pierce) attempts to educate his students about the worst neoliberal economists of our age (Samuelson, others) though he doesn't call them that. A very funny and unintended satire of establishment economics. The second is the professor's very passionate – no – raging, excoriation of the American political system that condemns many asylum seekers to certain death in the dictatorships they fled, as has in fact been proved. By Lucy Komisar.
The Dark Outside
In this cold ironic and violent age, it takes a 95 year old playwright to allow the full range of emotions, especially Love (writ large), be expressed, exhibited, and amplified on stage. Bernard Kops presents the microcosm of a family where parents and adult children negotiate the delicate threads of relationships in their private urban garden inhabited by an ancient mulberry tree that has heard the plaints of generations. By Beate Hein Bennett.
Tammany Hall
On election eve, Lucy Komisar went to a political debate between the Democratic and Republican candidates for mayor of New York. I had a good time. No, it wasn't between the two lackluster candidates for mayor 2021. It was a much more exciting, well, much more fun event between the candidates and campaign boosters of Jimmy Walker (Martin Dockery), running for re-election, and Fiorella LaGuardia (a terrific Christopher Romero Wilson), seeking to dethrone the crook. It was "Tammany Hall" at Soho Playhouse.
Brecht on Brecht
Lucy Komisar writes, "I know Brecht through his iconic plays, "Mother Courage," "The Threepenny Opera" and more. But I hadn't heard his poetry, which was often more directly political than the allegorical stage works. In "Brecht on Brecht," the TBTB company at the A.R.T./New York Theatre on West 53rd Street provides those words in an entertaining cabaret style pastiche of talk and song that takes one through his political life and artistic career. "
Lackawanna Blues
In "Lackawanna Blues," master actor Ruben Santiago-Hudson recreates hardscrabble early life. By Lucy Komisar.
Mrs. Warren's Profession
Eric Uhlfelder writes that with this production, the audience can imagine just how life was for women without means little more than a century ago, before they had the right to vote, and the reasons why the world's oldest profession persists. Lucy Komisar grees that Shaw's century-old feminist satire of women selling sex still reverberates.
Persuasion
Adaptations are tricky. They have to feel fresh and new to people who know the source, but also remain true to the spirit of the work. And for those who have only heard the title, clarity and focus are essential, especially in dramatizing a novel with many characters. The Belgium director Ivo van Hove's directorial adaptations – some would say rewrites -- often seem more interested in shock value but his wide Broadway following, including me, have forged a third path. Bedlam is a New York gem, a premiere innovator in transforming classics, especially works by Jane Austen, into lyrical renderings. Songs, dance, and comedy have provided a lightness that seems very much in the spirit of Austen's work. By Glenda Frank.
"Six"
Paulanne Simmons says, Henry VIII's wives make a spectacle of themselves in "Six." The glory of this musical is its glitter, not its guidance. The lyrics are clever. The beats are infectious. The six singing, dancing and wisecracking queens have energy, talent and, most important, stamina! Better to ignore the preaching and party!
"Persuasion" at Bedlam
To see a Bedlam production constrained by a proscenium stage is like seeing a Bengal Tiger caged in a zoo. He'll meander the edges, constrained by the barriers. But he'll repeatedly test his confinement through all means possible. That's what Eric Tucker's latest colorful creation felt like to Eric Uhlfelder.
"Pass Over," a surreal satiric chilling view of ghetto's desperate young men
Antoinette Chinonye Nwandu's "Pass Over" is a surreal satiric funny biting clever horrific vision of what life is like for two young black men living in a ghetto whose borders are so fixed they can only dream of getting out, of "passing over," only one of the meanings of the play's title. The psychology of these members of the brutalized black underclass is riveting in its portrayal. A self-satisfied white pseudo-liberal is deftly skewered. Centuries of history are vividly encapsulated. All with smart, tough direction by Danya Taymor. By Lucy Komisar.
The Last of the Love Letters
"The Last of the Love Letters" features stunning Daniel J. Watts as enigmatic partner of failed couple. By Lucy Komisar.
Roles and Rules of Comedy
Comedy that captures the absurdities and peculiar coincidences of life is especially welcome in dark times. It is an essential ingredient for the healthy survival of the human spirit. Laughter disarms and arms at the same time—the laughter of derision that takes the prideful down a few pegs and the laughter that helps to diffuse tension and heals the wounds of insult. The six comic sketches of "Roles and Rules of Comedy" written and directed by Harold Dean James catch the pathos of accidental human collisions as well as the absurdities of such situations. By Beate Hein Bennett.
Ring of Fire at Weston Playhouse
Ring of Fire, Richard Maltby and Bill Meade's jukebox musical stab at portraying the life of Johnny Cash, has just enough script in it to hold together the songs that are its raison d'être. The narrative is barebones to the point of almost being generic: hardscrabble upbringing as a farm boy during the Depression; waiting outside the door of a major record producer to audition; performing at the Grand Old Opry, the place where he'll fall for the sassy June Carter; too much alcohol, too many pills, regret, and return to Jesus; bringing a modicum of solace and respect to Folsom Prison inmates. Check, check, check, check, check. Snippet of a set-up; cue a song. Repeat, repeat, repeat. This didn't prevent Weston (Vermont) Playhouse selling out the full run of the show before it even opened. Because, well, the promise of the songs. By Dorothy Chansky.
The Book of Moron
During Robert Dubac's 80-minute monologue, we are introduced to the various personalities who represent Robert's inner self (all played by Dubac). His Common Sense is a redneck. His Voice of Reason is an Englishman. His Inner Moron is a stoner. His Inner Asshole smokes invisible cigarettes. And his Inner Child just pouts and makes bad puns. With their help he finds out who he really is… or as much as one man is capable of knowing. By Paulanne Simmons.
The "Merry Wives" of Harlem
Shakespeare in the Park sheds a new light and different light on the Bard's farcical warhorse.
An Iliad
This "An Iliad," acted by David Bonanno and produced by Weston Playhouse in The Tent at Walker Farm in Weston, VT, would be a "don't miss" even in a season of too many plays; too little time. By Dorothy Chansky.
Judgment Day
"Judgment Day" is an enormously clever, funny, a bit profound, play by Rob Ulin about a very corrupt lawyer, Sammy Campo (a terrific, rotten to the core Jason Alexander). How corrupt? He's running a child-slave garment operation where kids get fed "healthy" paste, if they do the work. See it as a benefit for Barrington Stage. By Lucy Komisar,
The Two Noble Kinsmen
You can still catch this open-air "rompcomtragedy"—Besate Hein Bennett's newly coined phrase for this wildly energetic romp-- in the parking lot behind The Clemente, 107 Suffolk Street on the Lower East Side until July 30. She caught it in Bryant Park on July 20. The play is a sort of Shakespearian but more John Fletcher inflected Jacobean sex tragicomedy with verbal jousts, super-sexed hyperboles, and grandiloquent heroics. The director, Hamilton Clancy, Artistic Director of The Drilling Company has produced a cut version of less than two hours. Beate Hein Bennet writes that she was pleased to see children in attendance who were fully engaged in the theatrical happening and afterwards felt free to jump into the performance space; one little girl danced with Palamon (one of the eponymous kinsmen) while boys chased each other around the statue. This is the real spirit of theatre as a social art!
Fruma Sarah (Waiting in the Wings)
The very mention of the New York City's own wildly popular actress and comedian Jackie Hoffman – she of 1000 facial expressions, bodily quirks, a score of well-placed adlibs, and a mesmerizing voice that takes you prisoner with a waterfall of precisely enunciated words – signals that somewhere lurking around a corner is yet another not-to-missed Hoffman Happening. Well, the good news for Hoffman lovers is that the ever-glorious and incandescent Hoffman, along with fellow actress Kelly Kinsella, is back in the saddle again, and currently chewing up the scenery in E. Dale Smith's two-handed serio-comedy "Fruma-Sarah (Waiting In The Wings)," at the Chelsea-based Cell Theatre
SPEAKOUT: Protest Plays and More
With this online presentation Multistages, led by Lorca Peress, promised a "multi-cultural, multi-disciplinary online festival of commissioned new works in theater, dance, poetry, music and multimedia." It did indeed deliver eleven theater and dance segments of great variety, sensitivity, clarity, and purpose. Nothing arty or overly complicated; all direct and with understandable messages. By Paul Berss.
AUSTRALICANA -- Marc Shairman's "Fat As I Am" and Kander and Ebb's "Me and My Baby" were Fishman's lighthearted way of addressing her very obvious pregnancy. Photo by Neil Cohen.
Celebrating Two Countries: Australicana
"Australicana," which made its debut at the Triad, is Alexis Fishman's seventh cabaret show, but it's her first as an American citizen. The show celebrates her new status with a "deep dive into the chronicles of cultural confusion, hilarity and challenges of life as an Australican." By Paulanne Simmons.
Jacob Storms as Tennessee Williams.
Photo by Ride Hamilton
"Tennessee Rising: The Dawn of Tennessee Williams"
The amount of deep-diving research which helped Jacob Storms to fashion "Tennessee Rising," and that includes William's plays, movies, short stories, letters, interviews, several biographies, Memoirs (1975), and conversations with people who knew Williams, all of which Storms deftly embroidered into this play, is simply mind-boggling. Performed by the playwright at The Cell, its next stop is Rochester Fringe. By Edward Rubin.
Tiny Beautiful Streaming Things
"Tiny Beautiful Things," George Street Playhouse's filmed play, based on Cheryl Strayed's book, "Tiny Beautiful Things: Advice on Love and Life from Dear Sugar" (2012), a collection of Strayed's columns is beautifully brought to life by actress Laiona Michelle, who as Sugar, plays a down-to-earth, expletive-spouting advice-giving columnist. While the play's three accompanying actors, John Bolger, Kally Duling. and Ryan George, each playing a wide range of advice-seeking letter writers, occupy their supporting cameos quite nicely, it is Laiona Michelle's emotionally absorbing, take no prisoners star-turn that commands our fullest attention. By Edward Rubin.
Herding Cats
You might want to cover your ears. "Herding Cats" by Lucinda Coxon ("The Danish Girl") opens with twenty-something Justine ranting against her Gen X, pot-smoking, ex-hippy boss. But not listening would be a mistake. Justine is charismatic, a smart, witty, outraged woman, wondering how soon she can take a drink. Michael, her roommate, is so quietly supportive, you know he's harboring a secret. Maybe more than one. Ironically this revival of the 2010 play, again directed by Anthony Banks, has been facilitated by both intergenerational and transatlantic cooperation in a unique technical experiment. By Glenda Frank.
Bad Dates: A Dazzling Array Of Shoes, Clothes, Men, Police, and the Roumanian
For great fun, and a breathless romp through one woman's topsy-turvy life, "Bad Dates," George Street Playhouses' filmed version of Theresa Rebeck's 2003 zany one-woman play starring Broadway actress Andréa Burns ("In The Heights, "On Your Feet," The Nance"), is the hip place to be. By Edward Rubin.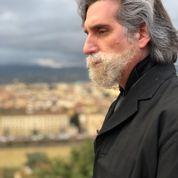 Tchaikovsky (Hershey Felder). Photo by Hershey Felder Presents and Marco Badiani.
The Melancholy Soul of 'Tchaikovsky'
Though the onset of Covid-19 darkened theaters around the world, not one to be silenced, the ever-spirited and extremely inventive Hershey Felder, currently sitting out the plague in Florence, Italy, decided to turn his solo-performed Tchaikovsky play – which premiered at the San Diego Repertory Theater in 2017 – into a full-length feature film. The end result being a beautifully crafted and directed (Hershey Felder and Trevor Hay), filmed and edited (Stefano Decarli and David Becheri), heart-felt love letter to both Tchaikovsky (1840-1893), the man and his music, and the city of Florence. By Edward Rubin.
Jessica Sherr as Bette Davis. Photo: Kent Campbell.
Bette Davis Ain't For Sissies.
Of all the celebs channeled by drag queens and female impersonators, Bette Davis, like flies to honey, has always been at the top of every performers list. Her mannerisms, her clipped New England cadences, her famous lines like "fasten your seatbelt this is going to be a bumpy ride," and the forever dangling cigarette in her airborne hand, like the actress herself, are legendary. Nevertheless, not until actress Jessica Sherr penned her one woman show, "Bette Davis Ain't For Sissies," has anybody dared to give us a wildly exciting, action-packed recounting of Bette Davis' life as a young aspiring actress hellbent on becoming a star. By Edward Rubin.
New Federal Theatre's 2020 Poetry Jam
Woodie King, Jr.'s New Federal Theatre presented its "2020 Poetry Jam: She Speaks, He Speaks, We Speak, Generations Speak," described as a program to "honor powerful voices, from revolutionary trailblazers to torch-bearing young artists, who invigorate today's Black verse." I tuned in on September 21. The group of poets represented an impressive variety of styles and themes, with an emphasis on social injustice and tragic murders in the Black community. Most of the poems were delivered by the eminent collection of poets themselves in deeply felt, passionate renderings. By Paul Berss.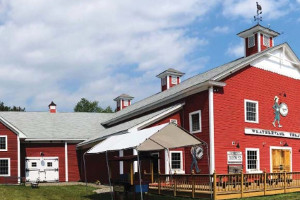 Weathervane Theatre
Theater Is Live And Well In New Hampshire
Philip Dorian voyages to Weathervane Theatre in Whitefield, New Hampshire to find that New Hampshire summer stock repertory theater is the first in the nation (since the pandemic's quarantines began in March) to offer live, professional indoor productions. Mr. Dorian reviews their two musicals: "The World Goes 'Round" (a total joy) and "Little Shop of Horrors" (never a dull moment).
Street Theater morphs into a virtual oratorio with "Liberty or Just Us: a City Parks Story."
For over four decades New York City summers have been blessed with Theater for the New City's annual Street Theater tour, which visits all five boroughs and entertains while it raises social awareness. This year, street theater has become virtual theater as Crystal Field and her band of troubadours embrace technology to bring their latest creation into the homes and hearts of New Yorkers. By Paulanne Simmons.
T. Scott Lilly sings "Joe Hill"

Cheryl Gadsden as Billie Holiday
singing "Strange Fruit"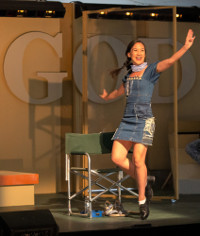 Kimberly Immanuel in "Learn Your Lessons Well." Photo by Emma K. Rothenberg-Ware.
Socially-distanced "Godspell" in the Berkshires
Philip Dorian attends the Berkshire Theatre Group Colonial Under the Tent production of "Godspell," the first Equity-approved stage production since the pandemic began, and muses "Who could have predicted back in 1970 that fifty years later, John-Michael Tebelak and Steven Schwartz's modest musical homily would be, for a few weeks anyway, the most famous play in America?"
Tartuffe by Zoom
Watching Tartuffe on a zoom digital screen was like watching hungry birds around a bird feeder. Each actor was interesting in their own way however none of them could hold hold the spinning feeder in place. That's not saying the acting wasn't up to the task. It was. by Larry Litt.
Dharon E. Jones as Jets leader Riff and Amar Ramasar as Sharks leader Bernardo. Photo by Jan Versweyveld.
West Side Story 2020
Ivo van Hove's brilliant reimagining of "West Side Story" tells gritty tale of immigrants, racism and police brutality. The Laurents/Sondheim story of a Hamlet style romance between two cultural opposites Tony (Isaac Powell) and Maria (Shereen Pimentel) turns much tougher, more realistic, darker, grittier than it's ever been before. This is not your grandma's "West Side Story." By Lucy Komisar.
Jennifer Van Dyck, Christopher Borg, Charles Busch. Photo byu Carol Rosegg.
The Confession of Lily Dare
In or out of drag, whether on stage or page, the 65-year-old actor playwright Charles Busch, with some forty years of show business under his belt, is a force to be reckoned with. "The Confession of Lily Dare," Busch's latest outing as both playwright and lead actress, is a humorous, fast-paced dish of delicious camp, a perfect antidote to calm one down in this age of age of anxiety. By Edward Rubin.
Beth Malone, center front, and cast. Photo by Carol Rosegg.
Two views of "The Unsinkable Molly Brown"
Philip Dorian tells us that a buoyant performance re-floats
"The Unsinkable Molly Brown" at Abrons Arts Center. Lucy Komisar cheers how the production puts a progressive, feminist spin on this 1960 show.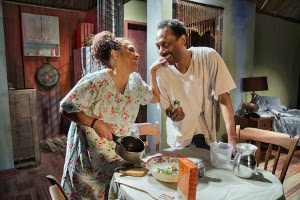 Michael Rogers and Joyce Sylvester in New Federal Theatre's production of "Two Can Play" by Trevor Rhone. Photo by Gerry Goodstein.
"Two Can Play" by Trevor Rhone
This delightful comedy by Jamaican playwright Trevor Rhone (1940-2009) celebrates several landmarks. First of all, it is 35 years since the play was introduced to New York audiences in 1985 by the Negro Ensemble Company under the direction of Clinton Turner Davis, who is also the director of the current revival produced by Woodie King Jr.'s New Federal Theatre. Both companies, NEC and NFT, are venerable African American companies that have brought the most important voices of African American theater for more than half a century to the stages of New York and beyond. In fact, the New Federal Theatre under Founder and Producer Woodie King Jr. celebrates the 50th anniversary this season in its present home at Castillo Theatre. By Beate Hein Bennett.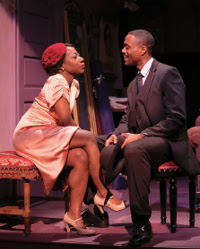 Alfie Fuller and Khiry Walker in "Blues for an Alabama Sky." Photo by Carol Rosegg.
"Blues for an Alabama Sky"
Glenda Frank writes that Keene Company's production of "Blues for an Alabama Sky" by Pearl Cleage offers a wonderfully old-fashioned drama about hope. It's set in 1930 in Harlem. The Harlem Renaissance is at its peak. The gifts of black artists and intellectuals have flourished and found new audiences. The Great Migration, the movement of six million African Americans from the rural South to the urban North, still offer promise. But the Great Depression is beginning to gobble up everyone's dreams. As the Covid-19 recession springs upon us, the play may offer ennobling lessons for us all about how to keep your sunny side up. Too bad it closed March 14, just as the quarantines began.
Ben Porter as Kipps going into the secret room. Photo by Jenny Robinson.
"The Woman in Black" is engrossing, entertaining English ghost story, in a bar
Arthur Kipps (David Acton), a London solicitor in his 60s, is a man with a story that must be told. In fact, the story has been running in London since 1989. It started in a bar in Scarborough, Yorkshire, moved to the West End, and now it's in a bar at the Club Car at the McKittrick Hotel on West 27th Street in New York. By Lucy Komisar.
Craig Smith as Ivan Ilyich. Photo by Gerry Goodstein.
"The Death of Ivan Ilyich"
With this American premiere, based on the novella by Leo Tolstoy and adapted by Stephen Sharkey, the Phoenix Theatre Ensemble invites us to witness a man's descent into the purgatory of dying. Craig Smith stars as Ivan Ilyich.
"Twelfth Night or What You Will" at The Guthrie
Venice is literally the watery city on the canal in the Guthrie's version of "Twelfth Night or What You Will." There were other pleasures, too. By Beate Hein Bennett.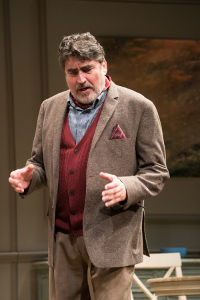 Alfred Molina as André in "The Father" at Pasadena Playhouse. Photo by Jenny Graham
"The Father" at Pasadena Playhouse
"The Father" depicts André, a feisty, independent man somewhere on the far side of sixty who has a bit of a mean streak and who travels a journey mandated and mapped by dementia. Starting out in his nicely appointed apartment, he appears in the play's final scene in the austere room of a nursing home crying for his mother while cradled in the arms of a nurse. Director Jessica Kubznasky's production had its fair share of Pasadena audience members gasping and, in a few cases, weeping before the curtain call. By Dorothy Chansky.
Gabriel Cañas, Paulina Giglio, Guilherme Sepúlveda, and Carlos Donoso. Photo by Maria Baranova.
Bonobo from Chile in "Tú Amarás (You Shall Love)"
After performing around the world, Bonobo, the internationally acclaimed Chilean experimental theater company finally made its way to New York City's Baryshnikov Arts Center, with "Tú Amarás (You Shall Love)," a socio-political offering with a surreal touch that examines what is an enemy, how do we create one, and how do we connect to others. By Edward Rubin.
Photo by Gerry Goodstein.
The Good Soul at Irondale
Irondale Ensemble Theatre has been staging plays by Brecht since 1984 with the first "The Good Person of Szechwan." It was a wild, raucous production. Their "Life of Galileo" last Fall was an impressive achievement, full of clever surprises and invention. Their "Good Soul" has much to commend it but it is a work in progress. By Glenda Frank.
CHEKHOV/TOLSTOY: LOVE STORIES -- Anna Lentz (Genya) and Alexander Sokovikov (Nicov) In "The Artist." Photo by Maria Baranova.
Chekhov/Tolstoy: Love Stories
Seeing unbearable poverty and injustice in Russia, Tolstoy asked, "What then must we do?" Miles Malleson, a little known 20th century English playwright whom The Mint Theater has brought to life in several remarkable productions, sought to address this question in plying together short stories by Leo Tolstoy and Anton Chekhov. Seeing the works of two of Russia's most critically acclaimed 19th-century writers come to life makes for an intriguing evening, but leaves you wondering if there might not be much more. By Eric Uhlfelder.
Bob & Carol & Ted & Alice are at it again, with music
The film "Bob & Carol & Ted & Alice" may have been cutting edge fifty years ago, but that same subject matter translated into the new musical adaptation from the New Group, with a book by Jonathan Marc Sherman, seems as appealing as a hangoverm says Paulanne Simmons. Edward Rubin chimes in noncommitally, adding reflections on the film.
Elise (Natalie Menna), in cahoots with her son-in-law Axel (Ryan Feyk), hides her deceased husband's letter from her daughter, Gertrude (Baily Newman).
Strindberg's "Isle of the Dead" and "The Pelican"
Theater for the New City and The Strindberg Rep must be commended for presenting August Strindberg's two chamber plays together on stage for the first time ever. Strindberg had written the play "The Pelican" in 1907 for his Intimate Theater in Stockholm and intended "The Isle of the Dead" as a prologue. However, the two plays were never played together until Ingmar Bergman directed them as a radio play in 2003; it was his last dramatic production. The new translation from Swedish into English by Robert Greer, the Artistic Director of The Strindberg Rep and director of this production, has dramatic bite and lays bare the psychic angst of the characters. It is Strindberg at his most virulently morbid in an Expressionist style that almost anticipates theater of the absurd. By Beate Hein Bennett.
L-R: Imana Breux, Mystie Galloway, Nya Bowman, Marc Deliz, Adrian Washington.
"a photograph / lovers in motion"
Ntozake Shange's "a photograph…" has been re-imagined/adapted and directed by Ifa Bayeza, her sister and frequent collaborator, in a production of Negro Ensemble Company at Theatre 80, 80 St. Marks. The play is set in the late 70s and deals with the raw emotions of African Americans, men and women, as they struggle with their legacy of interracial violence, sexual brutalization and self-hatred, the economic advances of a Black middle class whose identity as Blacks is contested by the Black Power movement, and the problematic social relationship between African Americans and white integrationists who had fought for equal justice alongside Blacks during and after the violent Civil Rights movement in the 60s. By Beate Hein Bennett.
Celia Rose Gooding as Frankie, Derek Klena as Nick, Elizabeth Stanley as Mary Jane, Sean Allan Krill as Steve. Photo by Matthew Murphy.
"Jagged Little Pill" gets it right
"Jagged Little Pill" is a terrific pop/rock morality tale, a soap opera musical for teens to help them understand their parents. Not bad for parents either. It's based on the music of Alanis Morrisette, with a book by Diablo Cody and smart direction by Diane Paulus. It's a mix of a few terrific professionals and very good all around musical theater actors. Especially Celia Rose Gooding gets into your blood and is hard to forget. By Lucy Komisar.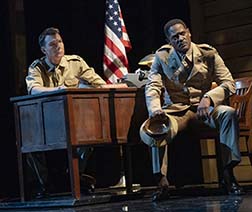 Jerry O'Connell as Captain Charles Taylor and Blair Underwood as Captain Richard Davenport. Photo by Joan Marcus.
The Roundabout's production of "A Soldier's Play"
The Negro Ensemble Company, Inc. presented "A Soldier's Play" by Charles Fuller, one of its "signature plays," twice in 2017-18 as part of its 50th Anniversary Season: first at Theatre 80 St. Marks and then again at Gene Frankel Theatre. Now The Roundabout Theater Company has picked it up. Charles Fuller's mystery race play, brilliantly directed by Kenny Leon, is still a stunner. By Lucy Komisar.
Romeo (Nikita Burshteyn) courting Bernadette (Anna Kostakis). Photo by Russ Rowland.
Forsooth? Fuggedaboudit!
Along comes "Romeo and Bernadette," which lovers of Shakespeare, musical theater and the blending of both, are urged to visit at A. R. T. Theatres at West 53rd and Tenth. Loosely (but recognizably) inspired by the tale of the star-crossed lovers, the play is a compact, two-hour treat from curtain to curtain. By Philip Dorian.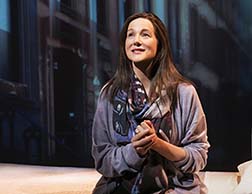 Laura Linney as Lucy Barton, and the Greenwich Village brownstone. Photo Matthew Murphy.
Two Views of "My Name is Lucy Barton"
We have seldom had two critics disagree so soundly. Lucy Komisar writes that Laura Linney creates a fine portrait of a women seeking to pull a life out of a harrowing childhood in a play that unfortunately descends into soap opera. "My Name is Lucy Barton" was a book by Elizabeth Strout, here adapted by Rona Munro and staged by Richard Eyre. Director Eyre, like Linney very accomplished, does a good job, almost making you forget that this is a potboiler. Edward Rubin tells us that the play, still essentially a piece of literature, is better read than seen. And being far too intimate for such a large venue; it is all but lost in space.
Benajmin Banneker puppet. Photo by Chris Ignacio.
The Transfiguration of Benjamin Banneker
These days, "arts and sciences" sounds like about as likely a pairing as, oh, maybe snowshoes and spaghetti, what with STEM and humanities understood by so many as antitheses with no hope of appeal across the aisle. The eighteenth-century Benjamin Banneker felt and acted otherwise, and in Theodora Skipitares's inventive theatrical investigation of this extraordinary man's life, science inspires poetry and sculpture, while painting is the realm of farmers and astronauts. By Dorothy Chansky and Beate Hein Bennett.
Fragile Explosion: Nina Simone
Larry Litt writes of seeing the closest he'll ever get to Nina Simone Live. Playwright Michael Monasterial's latest biographical tribute is titled "Fragile Explosion: Nina Simone." It's a low budget, high energy and way great musical that tells the truth about her successes, her friends, enemies and troubles through music and dialogue. Monasterial's well chosen words make valuable points and revelations about those turbulent times.
Photo by William Reynolds.
The Mikado
It's always a pleasure to see a revival. But it's a singular pleasure to see a revival by the New York Gilbert and Sullivan Players, who seem to have an instinctive knowledge of how to get these Victorian masterpieces right and relevant in the 21st century. By Paulanne Simmons.
Max William Bartos & Zara Devlin. Photo by Matthew Murphy.
Sing Street
In 2012 the musical, "Once," opened at the Bernard B. Jacobs Theater after making its off-Broadway debut at New York Theatre Workshop. Based on the 2007 John Carney film of the same name, the musical was about a Dublin street musician who is inspired by a beautiful young woman. The show won eight Tony Awards, including Best Musical, which meant it lasted another two and a half years on Broadway before closing in January 2015. This season, New York Theatre Workshop hopes to have similar success with an all too similar musical, "Sing Street." Paulanne Simmons thinks it was too much of the same.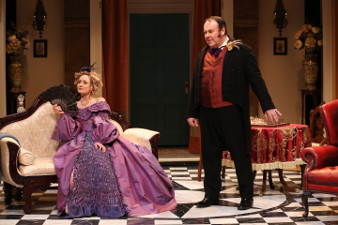 Rachel Pickup and Colin McPhillamy. Photo by Carol Rosegg.
London Assurance
Charlotte Moore's production of "London Assurance" by Dion Boucicault at the Irish Repertory Theatre is scrumptious. This is especially surprising for a British comedy of manners from 1841, one penned by 20 year old novice. Strong women and clever phrasing are script stand-outs. Reviewed by Glenda Frank and Edward Rubin.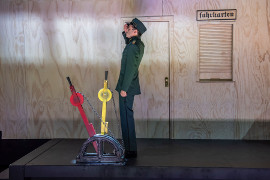 Luke Kirby (Thomas Hudetz). Photo by Stephanie Berger.
"Judgment Day" by Ödön von Horváth at the Armory
Sometimes fate forces us into lives that are too large, too complicated, too challenging. If the station master had not been so handsome, the train wreck would never have happened and 17 people would still be alive. Director Richard Jones has transformed Ödön von Horváth's 1937 Expressionist drama into a comment on fate. "Judgment Day" is a test of human courage in a world of shifting values, where guilt and innocence are not just intertwined, but sometimes integral. The satire is incisive, comical, and part and parcel of the tragic. Jones' surgically precise, sure-footed direction is ideal for the 55,000 foot theatre space of the Park Avenue Armory. This production is a work of art. By Glenda Frank.
Photo by Valeriya Landar
Opera GAZ at La MaMa
GAS, a word like a scream engulfing space! Gas, an element permeating space! Gas, an energy that can kill! Gas, an industrial product and present in the bowels of the earth! GAS is silent until it explodes! The Ellen Stewart Theatre LaMaMa presented the audience with a theatrical explosion--"Opera GAZ," imported from Kyiv, Ukraine. Virlana Tkacz, director of the YARA Arts Group in New York, created with the ensemble of Nova Opera Kyiv a production that is partly historical recovery, partly revolutionary music theater. By Beate Hein Bennett and Larry Littany Litt.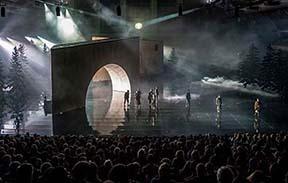 The cast of "Judgment Day." Photo by Stephanie Berger.
"Judgment Day" at the NY Armory
"Judgment Day" is a riveting combination of Brechtian social criticism and Ionesco political allegory, both à propos for a surreal story about Nazi era Europe. The events created by Odon von Horváth, the Austro-Hungarian playwright and novelist, are directed smartly at the Armory by Richard Jones. This important play by Von Horváth, who tragically died at 36, suggests he would have been a worthy member of the Brecht-Ionesco political playwrights group. By Lucy Komisar.
Photo by Joan Marcus.
"Fires in the Mirror" by Anna Deavere Smith, directed by Saheem Ali
In 1991 Crown Heights, Brooklyn, New York erupted. So why drag up history, especially such ugly history? Anna Deavere Smith saw an opportunity to let all sides be heard, perhaps to make peace. In the premiere at the Public Theatre, Smith performed and won the 1993 Drama Desk Award for Outstanding One-Person Show. In the current production, the versatile Michael Benjamin Washington plays the dozens of intersecting voices. The production is powerful both as theatre and as social commentary. By Glenda Frank.
Unmaking Toulouse-Lautrec
Art history can be a boring subject. Nerdly academics and rich girls wanting to be in the art industry abound in the best galleries and museums. Not the case with Bated Breath's "Unmaking Toulouse-Lautrec." In this wildly funny, sexy, and dare we say educational romp through the master's life we're treating to music, dance, eroticism and beautiful women as Henri T-L may have seen and felt them. By Larry Littany Litt
Adrienne Warren as Tina Turner, Daniel J. Watts as Ike Turner. Photo by Joan Marcus.
"Tina: The Tina Turner Musical"
Even if you don't like rock, you will appreciate Adrienne Warren's bravura performance in this feminist story about a woman who puts up with abuse for years and finally throws off her Svengali to become a world-famous singer. By Lucy Komisar.
Raúl Esparza as Harry gazes at his signature seared salmon. Photo by Joan Marcus.
"Seared" by Theresa Rebeck
On the menu of this clever, succulent play are the characters who make up the back of a boutique restaurant in Park Slope, a trendy neighborhood in Brooklyn where playwright Theresa Rebeck lives. Director Moritz Von Stuelpnagel makes them all eminently real, albeit somewhat New York neurotic in their own ways. By Lucy Komisar.
Len Cariou and Craig Bierko. Photo by Maria Baranova.
Harry Townsend's Last Stand
If it is true, as often stated, that there are only seven basic plots from which all plays are derived, one of the seven certainly involves conflicted parent-offspring relationships. Think "King Lear" and "Death of a Salesman" for prototypes. While George Eastman's "Harry Townsend's Last Stand" is not in those plays' lofty firmament (Is any?), it is definitely in that plot category. The play is a perfect fit for New York City Center's intimate Stage II. While it might not be substantial enough to sustain a long run in the Big City, Eastman's gentle comedy should have a viable afterlife. Two characters, one set, geriatric jokes, an excellent tag line (Sometimes it's harder to like someone than it is to love them) and a two-hour running time: a Regional/Community Theater dream. By Philip Dorian.
Sarah Lemp. Photo by Nonoka Judit Sipos.
Near to the Wild Heart
Ildiko Nemeth's stage adaptation of "Near To The Wild Heart" by Clarice Lispector is a prime example of how difficult literature succeeds on stage. Powerful and meaningful, showing us the heart and mind of well rounded characters, it's a must see for seekers of refined drama. By Larry Littany Litt.
Most of the cast of "The Crucible."
Photo by Ashley Garrett.
The Crucible
Our Eric Uhlfelder has no doubt that if Eric Tucker was given a shoebox in which to direct a play, he could concoct a hit. Played out across his trademark minimalist staging that focuses attention on actors and their words, Tucker's latest production--Arthur Miller's "The Crucible"—is extraordinary.
Mike Thornton as Trump.
The Capitol Steps
In The Capitol Steps' satirical revue, "The Lyin' Kings," the players announce that they put the "mock" in democracy. But there's no argument that both Republicans and Democrats in the best government money can buy mock the rest of us. By Lucy Komisar.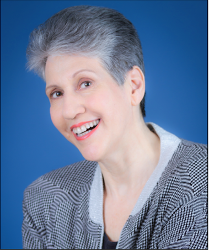 Publicity photo for Nancy Redman
Nancy Redman's still got it.
Well-known comic and actress Nancy Redman kept the audience at Theatre Row in splits with her one-woman show, "At Wit's End: A Home for Retired Comics," directed by Bill Cosgriff. In a red shirt, black trousers and a walking stick, she makes her way to the stage which is nothing more than a bare set up with a desk, chair and a hat, and a screen displaying Redman in her younger comic days. She's the fourth-floor representative at a nursing home for retired comics and we're all residents. A clever premise, indeed, one that works not just for the seniors in the audience but also for the younger lot such as our reviewer Lyle Andrew Michael.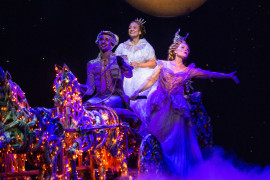 Off to the ball! -- Cinderella (Ashley Blanchett), carriage driver (John Peterson) and Fairy Godmother (Donna English). Photo by Evan Zimmerman.
Cinderella in NJ
"Rodgers and Hammerstein's Cinderella" comes by that official title honestly. Having gone through several revisions since its debut as a TV special in 1957, the show depends for its success (or not) on how well (or not) that legendary team's musical score is realized. How the vocal numbers are sung, how the orchestral arrangements are played, how the dance portions are choreographed. Plhilip Doran reports that the Paper Mill Playhouse production (of the 2013 Tony-nominated Broadway version) excels in those three categories and complements them with glittery special effects, creative lighting and gorgeous costumes.
Harvey Fierstein as Bella Abzug. Photo by Jeremy Daniel.
Bella Bella
Lucy Komisar deems Harvy Fierstein's solo play on Bella Abzug a "very moving story, an excellent performance by author Fierstein, and a monologue that should be delivered throughout the country."
Brian Cox as Lyndon Baines Johnson. Photo by Evan Zimmerman.
Robert Schenkkan's "The Great Society" at Lincoln Center
Lucy Komisar writes, "This is an incredibly important play. And brilliantly performed by Brian Cox and the others. It should be staged around the U.S. in major theater, community and college settings."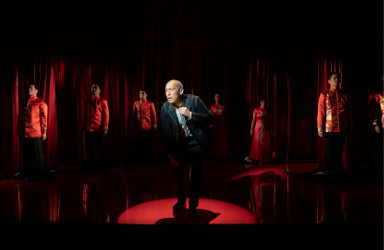 Francis Jue and the company of Soft Power. Photo by Joan Marcus.
Soft Power
In 2015 David Henry Hwang was stabbed on a street in Brooklyn. Some people might react with fear or anger. Hwang decided to write a musical, or rather what the authors call a "play with musical." By Paunanne Simmons.
Christian (Blake Jenner) and Roxane (Jasmine Cephas Jones) kiss. And Cyrano? If only. Photo by Monique Carlini.
"Cyrano" gets a makeover (and a nose job)
A new off-Broadway adaptation of Edmond Rostand's "Cyrano de Bergerac," titled simply "Cyrano," plays fast and loose with the 19th-Century playwright's masterpiece. Adapted and directed by Erica Schmidt, whose schoolgirl-cast "Mac Beth" was a stunner, the New Group production runs through December 13 at the Daryl Roth Theatre in Union Square. By Philip Dorian.
Heroes of the Fouth Turning
Will Arbery's latest play, Heroes of the Fourth Turning, having been extended two times by popular demand, is now running Off-Broadway through Sunday, November 17 at Playwrights Horizons. With more religious, personal, and political exposition (read talk) than many a mind can absorb at one sitting, Heroes of the Fourth Turning is essentially a snapshot of the current divisive state of affairs in this country. By Edward Rubin.
A fun night at "Carnival of Souls"
It's movie night karaoke fun with this doctored, neonized version of "Carnival of Souls" by Jack Feldstein and Ari Figueroa. The play, presented by New York Fringe Festival, is visually both film noir and psychedelic at once, giving me the feeling of being behind the action in some beautifully colored, mirrored, just-out-of-reach world. By Larry Littany Litt.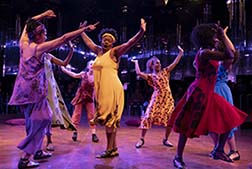 FOR COLORED GIRLS -- The company, photo by Joan Marcus.
"For Colored Girls who have Considered Suicide/when the Rainbow is Enuf" still raises consciousness
Ntozake Shange's 1975 play is a dramatized and choreographed consciousness-raising session. This is about blacks, so it includes a lot of race specific cultural facts. It could have been about women of any race or ethnic group. If you were a feminist in the 70s, you were likely in a consciousness-raising group. This was a powerful, visionary play for its time, and it gets a worthy revival at the Public Theater. By Lucy Komisar.
FORBIDDEN BROADWAY -- Joshua Turchin, Immanuel Houston, Aline Mayagoitia, Chris Collins-Pisano and Jenny Lee Stern, spoofing 'Moulin Rouge,' photo by Carol Rosegg.
"Forbidden Broadway's The Next Generation" is Woke
This marks "Forbidden Broadway's" 37th year of its much-anticipated musical parodies. The repertoire includes a variety from "Moulin Rude (Rouge)" to "Harry Potter & his Cursed Children," "Woke-lahoma" to "Evan Has-Been (Hansen)" and more.With performers who are smart, comic and in excellent voice, along with musical commentary that keeps you grinning, this year is another great show. By Lucy Komisar.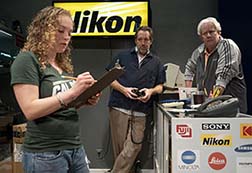 LINDA VISTA -- Caroline Neff as Anita, Ian Barford as Wheeler, Troy West as Michael, photo by Joan Marcus.
In Linda Vista, it's not a pretty view of a womanizer
This play depicting a womanizer going through a mid-life crisis is well-delivered. "Linda Vista" is an astute telling of a mid-life womanizer by a male playwright, it's certainly worth the watch. By Lucy Komisar.
IS THIS A ROOM -- TL Thompson as Agent Taylor, Peter Simpson as Agent Garrick, Emily David as Reality Winner and Becca Blackwell as unnamed agent, Photo by Carol Rosegg.
Is This A Room ends up as a Boring FBI Encounter story
With a title that's as vague as the play itself, "Is This A Room" by Tina Satter fails to impress. The attempt to subtly promote another "lack of U.S. intelligence, Russian-election hacking" story, the play, showcased at The Vineyard Theater, gives a false impression of "Reality," perhaps not strong enough to sway theatre-goers. By Lucy Komisar.
Emun Elliott and Marisa Tomei in "The Rose Tattoo." Photo by Joan Marcus.
The Rose Tattoo with Marisa Tomei and Emun Elliott
Roundabout's revival this season is blessed with leads that bring the happy couple to lusty life. Marisa Tomei is passionate, funny and sometimes just shy of tragic as the widowed Serafina Delle Rose, and Emun Elliot, is charmingly awkward as the truck driver who stumbles into her life and keeps it from falling apart. By Paulanne Simmons.
Nancy Redman
Nancy Redman, at her Wit's End
Nancy Redman returns to the United Solo Theatre Festival with her one-woman show "At Wit's End: A Home for Retired Comics," directed by Bill Cosgriff. By Jane Goldberg.
(A)loft Modulation
"(A)loft Modulation" is a flawed play in a flawed production but it brings that period of time back to vivid life. It's as though we were a fly on the wall. The slice of life play is not for everyone, but for those of us with a deep affection for Smith and the period, the play is catnip. By Glenda Frank.
Jimena Perea plays the young girl with dreams in "WIFEY." Photo by Christiana Rifaat.
WIFEY
Trump most recently suggested the U.N. withdraw support for abortion. Where does that leave a woman -- the mother that could have been, or chose not to? What is the role of a woman when she becomes a significant other? Does she carry an expiration date?"WIFEY" tackles such poignant questions against the backdrop of the 2016 and upcoming 2020 elections. The experimental play written and directed by Sarah E -- attorney by day -- is evocative with potential for a ripple effect, be it in the realm of women's or immigrant, or basic human, dignity. By Lyle Andrew Michael.
Boeing Boeing at Phoenicia Playhouse
This hilarious revival of Marc Camoletti's 1962 comedy is brilliant and charming because of Director Michael Koegel's insightful and glamorous casting. Boeing Boeing ran for seven years in London. The 2008 Broadway production won a Tony award. Working with local theater professionals, Koegel has woven as tight a web of farce as Larry Litt has ever seen.
Jonathan Groff and Audrey II. Photo by Emilio Madrid-Kuser.
"Little Shop of Horrors" returns
From the moment the girl group (also known as the Urchins) sings the opening "Prologue" of Little Shop of Horrors," in the new revival at the Westside Theatre, directed by Michael Mayer, we know we're in for two hours of exuberant joy. By Paulanne Simmons.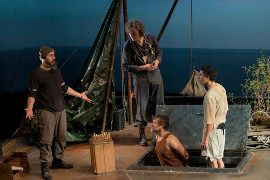 T. Ryder Smith, John Keating, Tom O'Keefe, and Daniel Molina. Photo by Ashley Garrett Photography.
Terra Firma
Inspired by climate change and increasing magnitude of man-made and natural disasters, along with an actual anti-aircraft platform built 12 miles off the English coast (known as Sealand), playwright Barbara Hammond sees "Terra Firma" as a metaphor for the human predicament. By Eric Uhlfelder.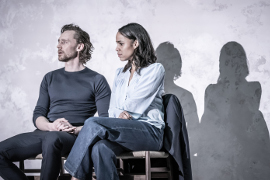 Tom Hiddleston and Zawe Ashton. Photo by Marc Brenner.
Betrayal
Straight from a successful run in London this past spring, we have Pinter's "Betrayal" again on Broadway. It is swathed, deservedly so, in over-the-top glorious reviews for both its director Jamie Lloyd, its English cast Tom Hiddleston, Zawe Ashton, Charlie Cox, and the play's pitch-perfect technical team. By Edward Rubin.
Sean Gormley and Haskell King. Photo by Carol Rosegg.
Kingfishers Catch Fire
Robin Glendinning has set "Kingfishers Catch Fire," his remarkable two-hander in a cramped prison cell in Rome, Italy, after World War II. Monsignor Hugh O'Flaherty, a Vatican priest who worked with the Resistance, is visiting Herbert Kappler (Haskell King), nicknamed "The Beast," a Nazi war criminal condemned to life imprisonment only because Italy has outlawed the death penalty. O'Flaherty says God told him to visit but during their conversation, we learn that the priest attended Kappler's trial and was astonished to hear him confess, condemning himself in sworn testimony. He has come to take the measure of his most formidable enemy. By Glenda Frank.
Stan Buturla, Connor Bond. Photo by Anthony Paul-Cavaretta.
"Ludwig and Bertie"
Theater for the New City presented Douglas Lackey's "Ludwig and Bertie," a historically-based play about the relationship betweenthe philosophers Bertrand Russell and Ludwig WIttgenstein. While the older Lord Russell was an established professor of philosophy and mathematics at Cambridge University's Trinity College with a long life and some eccentric "side trips," Ludwig Wittgenstein's life, abbreviated by cancer, was marked by intellectual brilliance, quixotic solipsism, and social upheaval. The juxtaposition of these contradictory personalities promises explosive drama, perhaps more than can be contained in one session of theater. By Beate Hein Bennett.
Robert Cuccioli (Caesar) and Teresa Avia Lim (Cleopatra). Photo by Carol Rosegg.
"Caesar & Cleopatra" at The Gingold Theatrical Group
The great thing of demanding so much from so little is it requires the audience to be that much more imaginative and engaged. David Staller's rapid-fire 2-hour production of this brief visit back to ancient times and his superb casting enables us to make the trip without a trick of stagecraft. By Eric Uhlfelder.
THE HEIGHT OF THE STORM -- Eileen Atkins as Madeleine, Jonathan Pryce as André. Photo by Hugo Glendenning.
The Height of the Storm
What happens to the partner of a 50-year marriage living without the other? What if the husband André dies and the wife Madeleine survives? What if the wife dies? What would each do? How would each cope? How would their children, in this case grown daughters, react?The Roundabout's "The Height of the Storm," written by Florian Zeller, translated from the French by Christopher Hampton, directed by Jonathan Kent, is a mystical memory play about surviving death and loss. By Lucy Komisar.
Katsura Sunshine's Rakugo
Such a surprise! To see a large, decidedly blonde and obviously Caucasian man performing a traditional Japanese art. Meet Katsura (Storyteller) Sunshine, the King of Kimono Comedy. Rakugo is the 400-year-old art of comic narration, and Sunshine is one of only two (of the 800) Rakugo masters who was not born in Japan. Yet it is Sunshine who was chosen to be Master of Ceremonies at the opening reception of the G-20 Summit in Osaka in 2019. Soon into the show, you understand why. By Glenda Frank.
WIVES -- Aadya Bedi as Diane, Sathya Sridharan as Henri II, and Purva Bedi as Queen Catherine de Medici. Photo by Joan Marcus.
Wives
The first half of Jaclyn Backhaus' feminist satire "Wives" is hilariously funny. The mordant wit doesn't last till the end, but the first parts are so good, it's very much worth seeing. The idea is to focus on the wives of some famous men. You haven't seen anything like it. By Lucy Komisar.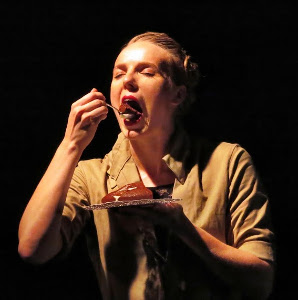 Alaine Hutton in "This Is Why We Live."
This is Why We Live
Poetry as concentrated language that shifts in tone and mood has always had a stronger impact when spoken, and if one adds the body as the conveyor of these shifting tones and moods, the experience is one of concentrated empathic sensations. The Open Heart Surgery Theatre accomplished this magnificently with Wislawa Szymborska's poetry in "This Is Why We Live" at La MaMa. By Beate Hein Bennett.
Sea Wall/A Life
"Sea Wall/A Life," two extraordinarily powerful one act plays, presented in monologue form, are holding court at the Hudson Theatre on Broadway. Fueled by strong reviews, and the star power of film and stage actors, Jake Gyllenhaal and Tom Strurridge, it is one of the most deeply moving productions currently gracing the stage here in New York City. By Edward Rubin.
Tara Lake in "I Know It Was The Blood: The Totally True Adventures of a Newfangled Black Woman."
Tara Lake knows it was the blood.
In "I Know It Was The Boood," actress, singer, story teller Tara Lake takes the audience on a trip through her own coming of age, beginning with an untroubled orderly middle-class childhood in New Jersey through the trials and tribulations of parental divorce and her ultimate triumph of gaining selfhood and identity rooted in the rich ancestral fabric of African-American womanhood. Her performance is a tour de force of song, poetry, and story that traverses generations, family celebrations, traditions of faith and church. By Beate Hein Bennett.
Strindberg's "The Father"
In plays, such as "Dance of Death," or "Ghosts," the wives are shown to gradually drive the men insane by their infantilizing, emasculating, and surreptitiously undermining actions while the husbands grow more and more paranoid and erratic in their attempts to maintain authority over themselves and their household. The present Strindberg Rep production of "The Father" in a new translation and directed by Robert Greer with editing by the actors Natalie Menna and Brad Fryman who play respectively the roles of the wife Laura and her husband, The Captain (the Father) exhibits the full range of Strindbergian angst with its deadly consequence. By Beate Hein Bennett.
Amie Bermowitz and Steve Brady. Photo by Andrea Phox.
Forgotten Man
You needn't be familiar with 20th Century Russian – Soviet Union, that is – history in order to appreciate D. W. Gregory's "Memoirs of a Forgotten Man." While a sense of that history will enhance the experience, "Forgotten Man" stands on its own as a gripping mystery-drama, premiering now through September 15 at New Jersey Repertory Company. By Philip Dorian.
Galen Ryan Kane as Bigger and Jason Bowen as the Black Rat in "Native Son." Photo by T. Charles Erickson.
"Native Son"
"Native Son," written by Nambi E. Kelley, is based on the 1940 novel by Richard Wright. Directed by Seret Scott, it is staged by The Acting Company at The Duke on 42nd Street. Galen Ryan Kane gives a shattering performance as Bigger Thomas, the anti-hero victim of Nambi Kelley's bravura take on Richard Wright's 1940 novel of the desperation of inner-city black men. With the help of a very talented Acting Company cast, Kelley and Scott have crafted a theatrical gem out of Wright's searing novel.
Adam Huff (Romeo) and Anwen Darcy (Juliet) on Juliet's balcony.
Shakespeare in the Parking Lot presents "Romeo and Juliet"
Shakespeare in the Parking Lot proudly presented a well paced and engrossing production of Shakespeare's "Romeo and Juliet" for its 25th Anniversary Season.. Running one hour and 45 minutes and free to the public, the play was set on the Lower East side of New York and performed in casual, even funky, modern dress. By Paul Berss.
Jacqueline B. Arnold as La Chocolat, Robyn Hurder as Nini, Holly James as Arabia and Jeigh Madjus as Baby Doll. Photo by Matthew Murphy.
Moulin Rouge
"Moulin Rouge," according to Lucy Komisar, is a hokey melodrama with old songs to choke a juke box. It's playing now at the Al Hirschfeld Theater. For how long, who knows, but the qualities Lucy cites were also present in the 2001 film, which only her editor and some other very select people still remember with disgust.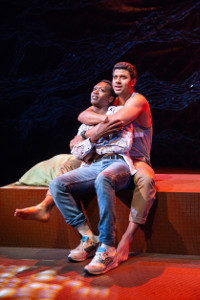 Ato Blankson-Wood and Robert Gilbert as Dembe and Sam. Photo by Jeremy Daniel.
"The Rolling Stone" - a play about the deadly plight of gays in Uganda
While New York City recently celebrated the 50th anniversary of the Stonewall uprising with much hoopla and an enormous traffic-stopping Gay Pride parade that went on well into the night, New York's Lincoln Center Theater chose to feature the other side of the coin by mounting the American premiere of playwright Chris Urch's The Rolling Stone. Sensitively directed by Saheem Ali – the play an import from London – is scheduled to run through Sunday, August 25th. In 2010 The Rolling Stone, a Ugandan newspaper, urged on by anti-gay Christian missionaries from the United States, started to publish the names, addresses and photos of suspected gay men which in turn inspired Urch to write this play. It is very real. By Edward Rubin.
Jonathan Cake as Caius Martius. Photo by Joan Marcus.
The "Coriolanus" caveat
"Coriolanus" is the Bard's warning of politicians' contempt for the people. In Shakespeare in the Park, Jonathan Cake is terrific as Caius Martius, the Roman general who is a master of war and an abject failure at politics. By Lucy Komisar.
The cast and Lauren F. Walker as Puck. Photo by Chad Batka.
Two views of "Midsummer: A Banquet"
Lucy Komisar writes that A café performance of "Midsummer Night's Dream" is quite a delightful way to spend any mid-summer eve. And the actors of "Midsummer: A Banquet" at Café Fae (829 Broadway), who double passing out tapas and wine to patrons, are as good as any you'll see on the boards. Paulanne Simmons calls it a very tasty tribute to the Bard, adding "Of all Shakespeare's plays, probably none goes better with a multi-course meal than this much beloved comedy."
Jacqueline Novak. Photo by Monique Carboni.
Organs, Oral and Orgasms, Oh My: "Get On Your Knees"
Let us clarify up front: the title of Jacqueline Novak's 90-minute theater piece is not an invocation to prayer. Rather, it refers to a position often identified with the performance of oral sex, a phrase Ms. Novak scorns in favor of the other two-word street term for the act. By Philip Dorian.
Andrew Mayer (plaid shirt) and Emma Degerstedt (green dress) and
cast of "I Spy a Spy". Photo by Russ Rowland.
Musical Score Lifts "I SPY A SPY"
The best element of the musical "I Spy a Spy," running through September 21 at the Theatre at St. Clements, is its music. Sohee Youn's diverse score is mostly easy-to-take rock and jazz, peppered with Latino, middle Eastern and Russian themes, befitting the ethnic makeup of the characters. And the four musicians who play it, anchored by musical director Dan Pardo's own versatile keyboard, might constitute the best small pit band off Broadway. By Philip Dorian.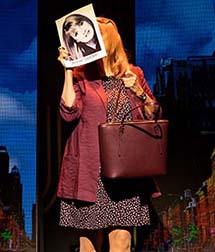 Annie Golden as Annie. Photo by Matthew Murphy.
"Broadway Bounty Hunter" a hokey comic thriller with message for women
A bit of summer fluff, slightly hokey, but with a good underlying message, this play by Joe Iconis, Lance Rubin, and Jason Sweettooth Williams, is about an "older woman," Annie (Annie Golden) who can no longer get roles in theater and is scooped up by a bounty hunting firm on the track of a drug trafficker hiding out in the jungles of Ecuador. By Lucy Komisar.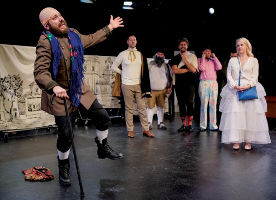 Joe Raik, Brendan Cataldo, Jim Haines, Nathan Tylutki, Brady Adair,
Jennifer Laine Williams.Photo by Rachelle White.
Between Actual and Fake: "The Potemkin Play" by Seth Garben
The story goes that Grigory Potemkin, one of the ministers and lovers of Catherine the Great of Russia, built an entire trompe l'oeuil village out of card board to fool the empress during an inspection tour into believing that he had done wonders in implementing her reformist policies in her "New Russia." It can be considered an early example of a marketing ploy that packages a simulacrum of reality to produce an illusion of actual reality. Seth Garben's "The Potemkin Play" bundles the present political reality, the state of theater in our cultural milieu of commerce, and the historical Potemkin village story into a satirical romp. By Beate Hein Bennett.
:John-Andrew Morrison,L Morgan Lee,John-Michael Lyles,Jason Veasey,Larry Owens(plaid shirt),Antwayn Hopper,James Jackson, Jr.StrangeLoop. Photo by Joan Marcus.
Letting It All Hang Out. And Then Some:A Strange Loop at Playwrights Horizons
In the past few years or so there has been a small tsunami of beautifully crafted, wonderfully acted, and solidly produced black-centric plays both on Broadway and Off that have examined from every conceivable angle - historically, sociologically, and psychologically - what it means to be black in the United Sates, both past and present.But not since "A Strange Loop," which is currently running thru July 28th at Playwrights Horizons, have we come across a many faceted in your face gay male character like Usher (the extremely talented Larry Owens) who spares no detail, however raw, intimate, personal, scatological and sordid – and it is all of those and more - in the telling and showing of his life. By Edward Rubin.
Week 2 Phoenicia Fringe Festival 2019 Reviews
This is the second week of Phoenicia Fringe Festival 2019. In this article, there are six short reviews of week two including: "Mind Salad," "Nazis and Me,""The Piece,""Fury!,""Invisibility,""Shadow Queens Rising," By Larry Littany Litt.
Pictured (I to r): Harvy Blanks, Jonathan Burke, Daniel J. Bryant, Ezra Knight, Toney Goins, Eric Berryman, Phillip James Brannon, April Matthis and Kenn E. Head. Photo by Joan Marcus.
Two views of "Toni Stone"
April Matthis, as Toni Stone (1921-1996), the first woman to play professional baseball in the Negro League, is knocking it out of the ballpark every night at the Laura Pels Theater through August 11.The play, lightly based on Martha Ackmann's book "Curveball: The Remarkable Story of Toni Stone," is overwhelmingly inspirational, deeply humane, and totally moving. By Edward Rubin and Lucy Komisar.
Santino Fontana as Dorothy, Julie Halston as Rita Marshall. Photo by Matthew Murphy.
"Tootsie" updates the gender-bending 80s film with a few nods to feminism
It's a stories about men pretending to be women walk a fine line between skewering sexism and practicing it. "Tootsie" falls on both sides of that divide. Book by Robert Horn based on the 1982 film, is somewhat outdated. Real gender-bending stuff makes it unbelievably tame. And those stereotypes just don't go away. By Lucy Komisar.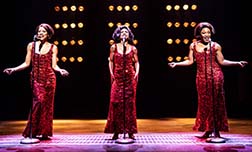 Taylor Symone Jackson as Mary Wilson, Candice Marie Woods as Diana Ross and Nasia Thomas as Tammi Terrell. Photo by Matt Murphy.
"Ain't Too Proud: The Life and Times of the Temptations" is glorious Motown
This is the best juke box musical since "Motown" and "Jersey Boys." In fact, it's about a Motown group that also started in Detroit and had the famous manager Berry Gordy. As one local explains, In Detroit, "you either sang or you join a gang. If you can't do neither, better learn to run." By Lucy Komisar.
Phoenicia Fringe Festival - Six Short Reviews
Phoenicia Playhouse in the charming upstate village of Phoenicia NY is producing the Phoenicia Fringe Festival two weekends in July. The Playhouse was built in 1887 for the Odd Fellows, a fraternal organization of theatrically inclined bizarre residents. In this article, there are six short reviews including: "Voice of Authority," "Om Shaadi Om," "I'm Just Kidneying," "I Favor My Daddy," "Smoker" and "American Horror Story." By Larry Littany Litt.

Saycon Sengbloh, Nathaniel Stampley, Eisa Davis, Anastacia McCleskey, &LaChanze in "The Secret Life of Bees." Photo by Ahron R. Foster.
"The Secret Life of Bees" Does Not Live Up to the Buzz
Fans of Sue Monk Kidd's 2002 novel, "The Secret Life of Bees," certainly greeted with great enthusiasm the news that it was soon to be turned into a musical. And considering the book had spent two years on the New York Times best seller list and was made into a film in 2008, this news came as no surprise. However, the musical that was created by Lynn Nottage, Duncan Sheik and Susan Birkenhead does not completely meet the novel's potential or the expectations of its fans. By Paulanne Simmons.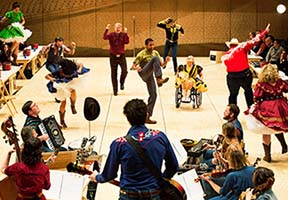 The cast in a hoedown. Photo by Little Fang.
"Oklahoma" sizzles with new look at women in early 1900s western territory
"Oklahoma." music by Richard Rodgers, book and lyrics by Oscar Hammerstein II; directed by Daniel Fish.Based on the Play "Green Grow the Lilacs" by Lynn Riggs. Racks of rifles are on walls circling the audience. Seven musicians sit in a center pit. The cast walks onto the plywood floor in cowboy boots. Patrons in the front rows are behind white-topped tables with red crock pots. The scene and audience are lit, no mikes except some hand mikes. This is going to be different. By Lucy Komisar.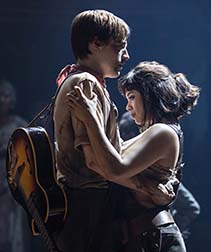 Reeve Carney as Orpheus and Eva Noblezada as Eurydice. Photo by Matthew Murphy.
Workers oppression is a theme of stunning radical play "Hadestown"
"Hadestown," written and composed by Anaïs Mitchell and directed by Rachel Chavkin, is a very radical play. It takes the audience to Hell, which is peopled by oppressed workers who have been indoctrinated to fear those who are poorer. Though that is probably not how it is described in the reviews you have read in mainstream media. It won the Tony for best musical play. But you probably have no idea what it is about. It's the censorship of cultural ideas. By Lucy Komisar.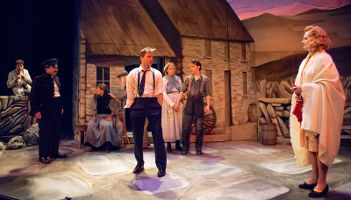 THE MOUNTAINS LOOK DIFFERENT -- Liam Forde, Ciaran Byrne, Cynthia Mace, Paul O'Brien, Jesse Pennington, McKenna Quigley Harrington, Daniel Marconi and Brenda Meaney. Photo by Todd Cerveris
Darkness On the Edge Of Town: "The Mountains Look Different"
New York's Mint Theater brings to the States one of Ireland's leading 20th-century playwrights, Michael mac Liammóir, whom The Irish Times described as "the dominant figure in the Irish theatrical world." Last Thursday night, "The Mountains Look Different," last produced 70 years ago in Ireland, finally enjoyed its American premiere. By Eric Uhlfelder.
Ademide Akintilo (Algernon) and Connie Castanzo (Cecily) in NY Classical Theatre's the Importance of Being Earnest. Photo by Jody Christopherson.
Summer In Manhattan: Laughter In the Parks with "The Importance of Being Earnest"
New York Classical is celebrating its 20th season of free summer theatre in the New York City parks with – laughter and gender-bending. In its latest offering, the dress – not the hat – unmakes the man. In one version of "The Important of Being Earnest," the Oscar Wilde masterpiece of comic invention, men are men, women are women, and often the twain collide, flirt, propose and battle for happiness. The plot is boy meets girl, boy loses girl, boy gets girl with marvelous blocking agents and lots of delicious deception. For years critics were under the mistaken belief that Wilde's aphorisms and quips were funny nonsense. A few are – like the dental jokes (cut from this production)– but most find truth in hidden places and have a depth that is probably one secret of the play's continual freshness. By Glenda Frank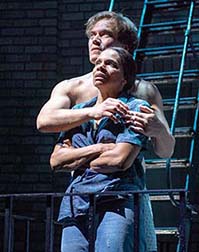 Michael Shannon as Johnny and Audra McDonald as Frankie. Photo by Deen van Meer.
"Frankie & Johnny in the Clair de Lune," a story of working-class love lives
It opens with sensual and noisy sex in the bed, the bodies turning and pushing against each other, the familiar noises with great realistic direction by Arin Arbus. And then not quite what you might expect. Frankie falls out of bed. And the post sex conversation; he compliments her breasts. She is not pleased. Is this how a love affair begins? By Lucy Komisar.
Lidia Velezheva as Baroness Shtral and Leonid Bichevin as Prince Zvezdich in practice duel. Photo by Valery Myasnikov.
"Masquerade," a Lermontov classic given striking surreal touch
Part Commedia dell'arte, part pageant, part ballet, with a touch of music hall comedy, "Masquerade" is a visual feast. Presented by the Vakhtangov State Academic Theatre of Russia in Moscow, it is directed by Rimas Tuminas of Lithuania. Though the major actors are all prominent in Russia, Tuminas is the unseen star of the show. By Lucy Komisar.

Kathleen Littlefield as convention cochair, Ginnie House as Frances Perkins and Claire Mikelle Anderson as Henry Wallace. Photo by Ahron R. Foster.
"Convention," a terrific reprise of 1944 Dem convention that chose moderate Truman for VP instead of Wallace
It could be the corruption of a convention where Bernie Sanders is set against a corporate Biden. State signs are set behind banks of seats. The music is of the 40s. Flags on the wall have 48 stars. Author Danny Rocco and director Shannon Fillion create an ambience at Irondale that makes you think you are there. By Lucy Komisar.
Danielle Brooks as Beatrice and Grantham Coleman as Benedick, Photo by Joan Marcus.
Public's "Much Ado About Nothing" takes Shakespeare to black Atlanta
A large banner on the brick house says "Stacey Abrams 2020." It's next spring. Abrams, who last year lost a close race for governor of Georgia amid reports of voter suppression, had talked then about running for president. The relevance of the sign is that Abrams is a black woman, and this version of Shakespeare's play about love and trust – or mistrust — sets it not Messina, Italy, but in modern-day Atlanta, with a black cast speaking in the local accent. By Lucy Komisar.
Nathan Lane as Gary, Kristine Nielson as Janice. Photo by Julieta Cervantes.
"Gary: A Sequel to Titus Andronicus" surreal comedy of mass political murder
Wildly funny and clever, this is a play a serious theater-goer cannot miss. It's a terrific campy surreal take on murderous war from the point of view of the workers who have to clean up the mess, the bloody bodies of Shakespeare's "Titus Andronicus."It takes only three actors, though the set requires some imagination. It should be produced all over the country! By Lucy Komisar.
Kate Hamill (Meg), Carmen Zilles (Amy), Ellen Harvey (Hannah), Paola Sanchez Abreu (Beth),and Kristolyn Lloyd (Jo). Photo by Matt Ross.
Louisa May Alcott's "Little Women," transcribed by Kate Hamill
If you don't know Kate Hamill, make haste to do so. New York theater is dominated by mega hits and movies turned Broadway show. But for those looking for more personal, thought-provoking evenings, Ms. Hamill, just 36, is making quite a name for herself in not just transcribing classic literature into plays, but doing so in a modern, wickedly fast-paced meter that leaves nothing sacred. This has earned her many professional honors, including a Helen Hayes Award for Most Outstanding Production and The Wall Street Journal's Best Playwright of the Year. By Eric Uhlfelder.
Pedro Pascal as Edmund & Jane Houdyshell as his father, Earl of Gloucester. Photo by Brigitte Lacombe.
"King Lear" with Glenda Jackson is brilliant and annoying
This "Lear" with Glenda Jackson as the king is sometimes brilliant, sometimes annoying.To be male and even supercilious, she makes her voice and demeanor angry, harsh, raspy, cackling. Indeed, Jackson is a brilliant actress, her voice and demeanor might be male, but she didn't persuade me she was a king. Or perhaps she was on the edge of madness very early in the plot, after her daughters' duplicity. As the play went on, I wasn't sure if she would shrivel or explode. By Lucy Komisar.
Anthony Arkin and Jane Bruce Photo by Russ Rowland
"Original Sound" Has an Interesting Theme
In our age of sampling, remixes and computer generated music, the definition of originality seems more than a little vague. Do artists own their work? Are they stifling creativity when they protect their copyrights? Are they merely protecting their own interests? All these questions, and a good deal more, are explored in Adam Seidel's "Original Sound," now staged at Cherry Lane Theatre, under Elena Araoz's skilled direction. By Paulanne Simmons.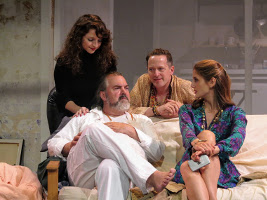 L-R: Alexandra Bonesho, Brad Fryman (as Bruno), John Gazzale, Elizabeth Inghram in "Zen A.M."
"Zen A.M."
Larry Litt writes that "Zen A.M." by Natalie Menna is an expose of the contemporary art and high society world that calls itself high culture. The play is a farce about the trials and tribulations of an untidy, inconsistent artist named Bruno, who has to fulfill a commission or else all hell will break loose.Well, it breaks loose anyway. If you have any interest in art and society, writes Larry, this comedic farce is well worth taking in. By Larry Littany Litt.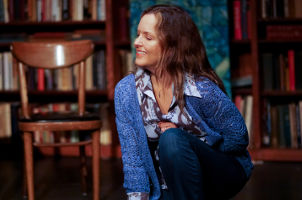 Alice Ripley. Photo by Jazelle Artistry
"The Pink Unicorn"
At the beginning of Elise Forier Edie's new play, "The Pink Unicorn," Trisha Lee (the luminous Alice Ripley) does not understand her young daughter when she announces she is genderqueer. By the end of the play she still does not understand but she has learned to accept and even celebrate human diversity. By Paulanne Simmons.
John Lithgow as Clinton, Laurie Metcalf as Hillary. Photo by Julieta Cervantes.
"Hillary and Clinton."
You are hit by the overwhelming sadness of everyone involved in Hillary Clinton's 2008 New Hampshire primary campaign against Barack Obama. Playwright Lucas Hnath and director Joe Mantello create a landscape of utter sleaze and despair. By Lucy Komisar.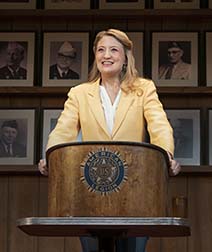 Heidi Schreck at American Legion hall with white men's photos on the walls. Photo by Joan Marcus.
"What the Constitution Means to Me"
If you don't want to go to a lecture about what is wrong with how the US government treats women and minorities, it's more interesting to go to a play. Such as "What the Constitution Means to Me," Heidi Schreck's take on how the Constitution is honored in the breach, "rugged" as the copy she carries says. Adult audiences in New York and other liberal enclaves nod their heads, and it's a good teaching moment for kids. Higher marks for politics than for drama. By Lucy Komisar.
Rana Roy as Stephanie Rahn and Jonny Lee Miller as Larry Lamb. Photo by Joan Marcus.
"Ink"
The Sun is a popular newspaper for the undereducated British masses. It was a broadsheet started in 1964, then reinvented as a tabloid five years later by the Australian Robert Murdoch and Larry Lamb, a North Englander he named as editor. They were outsiders to the London Fleet Street crowd and felt it. "Ink" a vivid newspaper story mixed with Murdoch's Sun melodrama.
By Lucy Komisar.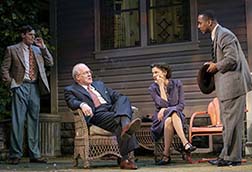 Benjamin Walker as Chris Keller, Tracy Letts as Joe Keller, Annette Bening as his wife Kate and Hampton Fluker as George Deever. Photo by Joan Marcus.
"All My Sons" denounces America's murderous corporate corruption
Jack O'Brien's crisp staging of Arthur Miller's iconic 1947 American morality play lays bare the corruption underlying the normalcy of American society. This story of 70 years ago could be easily replicated today. Oh, so easily. By Lucy Komisar.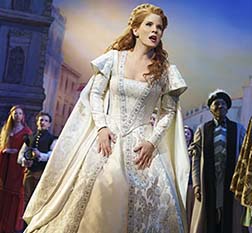 Kelli O'Hara as Katherine. Photo by Joan Marcus.
"Kiss Me Kate" at The Roundabout
How do you take a 40s musical built around a sexist Shakespeare play and make it delight today's audiences? With pizazz and charm, if you are Roundabout Theatre director Scott Ellis. In this version of Cole Porter's and the Spewacks' "Kiss Me Kate," the feisty heroine gives as good as she gets, and she and her erstwhile spouse playing Katherine and Petruchio land some good kicks to the others' derrieres. By Lucy Komisar.
Mary Candler (Mary) and Jory Murphy (Melville) in ":Mary Stuart". Photo by Allison Stock.
Hedgepig Ensemble in "Mary Stuart"
Sometimes the best theatre experience is at the small, off off-Broadway houses, like Access Theatre. It can begin with the journey – up the many stairs to the fourth floor space or the wait, while the company sends the elevator down to you. And it's even better when the company brings its passion to the stage, as Hedgepig Ensemble did to their revival of Mary Stuart. By Genda Frank.
Andre De Shields as Hermes. Photo by Matthew Murphy.
Hadestown
The afternoon Paulanne Simmons saw Anais Mitchell and Rachel Chavkin's "Hadestown," at the moment when Orpheus, despite Hades' injunction, turns around to face Eurydice, a young lady seated several rows in front of her gasped, "Oh no!" It's possible she was not familiar with the myth and thus was not prepared for its tragic ending. But Paulanne likes to think the dramatic staging and absorbing retelling of this ancient tale so captivated her that she forgot everything she had previously known. Great theater can do that.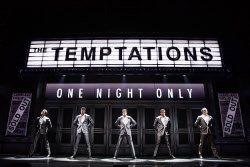 L-R: Ephraim Sykes, Jawan M. Jackson, Jeremy Pope, Derrick Baskin, and James Harkness in AIN'T TOO PROUD. Photo by Matthew Murphy.
Two views of "Ain't Too Proud– The Life and Times of The Temptations" at the Imperial Theatre.
Paulanne Simmons writes, "The story behind 'Ain't Too Proud,' as told by book writer Dominique Morisseau, is mostly a story of the music and not the men. This is both a strength and a weakness in the show. To be sure, the music of The Temptations is some of the best that ever came out of Motown." Ed Rubin adds, "I wish that I could say that Aint Too Proud turned me inside out and sent me directly to heaven."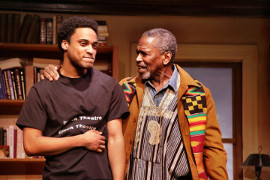 Tyler Fauntleroy as Taj, Kim Sullivan as Baraka. Photo by Gerry Goodstein.
"Looking for Leroy"
In "Looking for Leroy," which is having its work premier presented by Woodie King Jr.'s New Federal Theatre, Larry Muhammad's dramatic attempt to discover the authentic Leroy raises basic questions: What is the place and purpose of Black theater and the Black artist's relationship to himself and to his audience? These are highly charged political, existential, and aesthetic questions with artistic straightjacket potential. By Beat Hein Bennett.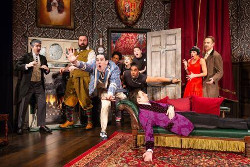 The cast lurches into "The Murder At Haversham Manor".
"The play that goes wrong" goes right Off-Broadway
Something funny happened to "The Play That Goes Wrong" on the way from Broadway to Off-Broadway. Fear not; everything that was funny during its nearly two-year run in the 922-seat Lyceum Theatre is just as funny at the 360-seat New World Stages, where it re-opened this week. The difference, though, is a subtle pickup in how the audience relates to the characters. For me – and I sensed it throughout the house – it became personal, akin to cheering-on a perpetually losing team. But a ton more fun. By Philip Dorian.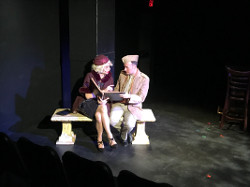 THE GLEN -- Photo by Shelter Studios
The Glen
"The Glen," written, produced, and directed by Peter B. Hodges is a 'must see' play. Currently running through Saturday, February 16 theShelter Studios' intimate 60-seat theater, "The Glen" is one of those plays, due to its short run, that sadly disappear as quickly as they appear. Hopefully future productions – its writing, direction, and acting is wonder-filled - will keep it alive and kicking. Though the play, with many unexpected twists and turns, was inspired by the life of Hodge's friend and mentor, the late theater and art critic Glenn Loney (1928-2018), the play's lead character, the twenty something year old Dale Olsen (Matthew Dalton Lynch), as the playwright's program note informs us, is not Glenn Loney. Dale is only "the character that enabled me to explore questions of identity, sexuality and family while following a path not entirely unlike the path that Glenn himself would describe to me as his personal journey." By Edward Rubin.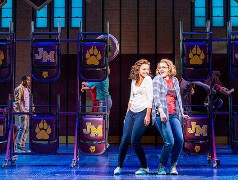 Back-to-back dancers: Isabelle McCalla, left, and Caitlin Kinunnen "Dance With You". Photo by Deen van Meer.
Prom
A couple kissing in front of Macy's in Herald Square is hardly newsworthy, but one at last year's Thanksgiving Day Parade actually marked a milestone in live TV – and was also a spoiler for a Broadway musical. Televised by NBC, "It's Time to Dance," the finalé number from "The Prom," ended with two young women sharing a loving kiss. So now you know how "The Prom" resolves. But any audience member who doubts that Indiana high schoolers Emma (Caitlin Kinnunen) and Alyssa (Isabelle McCalla) will end up together, are asheartless as the PTA folks who cancelled the prom because Emma wanted to bring Alyssa as her date. With composer Matthew Sklar and choreographer/director Casey Nicholaw, the cast is nigh flawless. Don't wait until someone else asks her/him/they/hir/zim. Get yourself a date and go to "The Prom." By Philip Dorian.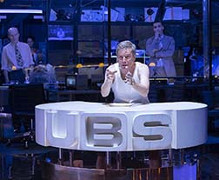 NETWORK -- Bryan Cranston as Howard Beale. Photo by Jan Versweyveld.
Network
This play, based on Paddy Chayevsky's classic film, serves as a commentary on the corruption of the American system, based on the idea that a corrupt upper class exploits the middle class and the poor for its own monetary gain. While the "media" glorifies neoliberalism, theatrical "fiction" is the only mainstream place where such ideas are permitted. News anchor Howard Beale (played by Bryan Cranston) announces he is going to commit suicide on air because he is being fired for poor ratings, which takes away all attention paid to other major global news. Directed by Ivo van Hove, the production has the stage set up as a TV studio with cameras moving around in a unique, immersive multimedia spectacle. By Lucy Komisar.
The ensemble draws lots to play Russian Roulette. Photo by James Rucinski.
"Citizens of the Gray"
Larry Littany Litt swoons for "Citizens of the Gray" by Elia Schneider and her Teatro Dramma at Theater for the New City, writing "This stimulating, gratifying and for some mystifying play is well worth your time. It speaks to our modern social dilemmas in silence, music and new forms of dance. It is a tragicomedy of philosophies and ideologies worthy of Charlie Chaplin."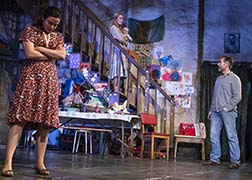 THE FERRYMAN -- Laura Donnelly as Caitlin Carney, Genevieve O'Reilly as Mary Carney and Paddy Considine as Quinn Carney. Photo by Joan Marcus.

"The Ferryman" a stunning indictment of both sides in the Irish Republican struggle
In Jez Butterworth's gorgeous play, directed by Sam Mendes with subtle power and intelligence, a dark moment suddenly is transformed into a charming rough idyll of Irish family life. Irish because it involves a brood of seven children, a lot of whiskey drinking, wit and occasional dancing of jigs. By Lucy Komisar.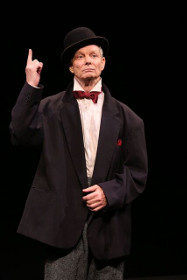 ON BECKETT -- Bill Irwin. Photo by Carol Rosegg.



Bill Irwin "On Beckett"
Whether you're interested in a master class on Samuel Beckett or the art of acting and mime, or you just love Bill Erwin, "On Becket" at the Irish Repertory Theatre will not disappoint. In 90 minutes, Irwin demonstrates unequivocally why he's a great actor and Becket is a great writer. By Paulanne Simmons.
PRETTY WOMAN -- Samantha Barks as Vivian Ward and Andy Karl as Edward Lewis, at the opera. Photo by Matthew Murphy.

"Pretty Woman" morality story pits prostitution v predatory capitalism
A story for our times about a billionaire Edward Lewis (Andy Karl) without morals, who would destroy a shipbuilding company and fire its workers, but learns something from a hooker. A Cinderella story which would not quite make it today. Because it's about a prostitute who reforms her John. It was a movie hit 20 years ago, but that was an epoch away. The book is by Garry Marshall and J.F. Lawton, the music and lyrics by Bryan Adams and Jim Vallance, based on the film by Lawton. Lucy Komisar would reject the story on the anti-feminist face of it, though turns out she is smarter than he is. But she liked the show.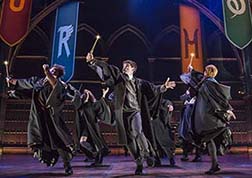 HARRY POTTER AND THE CURSED CHILD -- The company. Photo by Matthew Murphy.
"Harry Potter and the Cursed Child," a stunner for set & magic
Mixed with the magic and terrific scenery, there's a lot of stuff about fathers and sons, which is really the theme of the play, or the two plays which you can see on succeeding nights or a one-day marathon. Critics were requested not to give away the plot, which is easy to comply with since it's rather silly. By Lucy Komisar.

ARENDT-HEIDEGGER: A LOVE STORY -- Alyssa Simon, Joris Stuyck. Photo by Rina Kopalla.
Three views of "Arendt-Heidegger: A Love Story"
Author Douglas Lackey and director Alexander Harrington have managed to extract a thought provoking stimulating performance from two of the most controversial public intellects of the twentieth century: Hannah Arendt (1906-1975), a German-Jewish philosopher and social theorist and Martin Heidegger (1889-1976), one of the most renowned German philosophers to have succumbed to Nazism. The subject of their romantic entanglement, in conjunction with their political trajectories over the course of forty years, from the mid 1920s to 1964, is the dramatic core of this play in a series of 23 concisely scripted scenes. By Beate Hein Bennett, Edward Rubin and Larry Litt.
FEATHERS OF FIRE -- Zaul and Rudabeh. Photo by Fictionville Studio.
FEATHERS OF FIRE: A Cinematic Shadowplay from the Persian "Book of Kings" (Shahnameh)
Live-action, shadow puppetry, film, animation, music that seems to be now live, now recorded, images of nature on which the eye gorges, representations of good and evil, romance and tragedy, associated with storytelling on rapidly transforming scales--now epic, now lyric, now comic: Feathers of Fire has high theatrical ambitions indeed. It combines moving pictures and the stage in ninety minutes of spectacle that seems to call on story elements from every entry in Stith Thompson's folktale motif index and that recalls the 1926 shadow-puppet animation of Lotte Reiniger, The Adventures of Prince Achmed, with which Rahmanian became enamored to the point of obsession and then surpassed. By Mindy Aloff.
GETTIN' THE BAND BACK TOGETHER -- Mitchell Jarvis as Mitch. Photo by Joan Marcus.
"Gettin' the Band Back Together"
Lucy Komisar writes that John Rando is the best comic theater director she knows. The creative wit who oversaw "Urinetown," "The Toxic Avenger," "The Heir Apparent" and "All in the Timing" takes a deliberately jokey rock musical by Ken Davenport and, with excellent timing and staging, pokes fun at the genre as well as the state of New Jersey. She doesn't much like rock, she admits. She liked this play. (So did her editor.)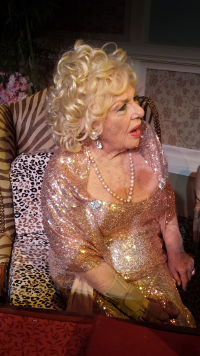 Renee Taylor. Photo by Ed Rubin.
Renee Taylor in "My Life on a Diet"
Most famous people long in the tooth, if they are not dead, quietly retired, or resting on their well-earned laurels, tend keep a very low profile. You rarely even hear about them. But not the indefatigable 85-year- old Renee Taylor, an Energizer bunny whose funny and bittersweet autobiographical one-woman-show, "My Life On A Diet," is currently playing to full houses at St Clement's Theatre here in New York City.
Two views of "My Fair Lady"
Paulanne Simmons writes that from Catherine Zuber's elegant costumes and Michael Yeargan's sumptuous set, to the delightful interpretation of Lerner and Loewe's magnificent score brought to life by Ted Sperling's musical director, Robert Russell Bennett and Phil Lang's arrangements, and Marc Salzbeg's sound design, Lincoln Center's "My Fair Lady" is a treat for the eyes and ears. Lucy Komisar adds that this time there's a feminist kick. And some class solidarity. Bartlett Sher's progressive production brings the musical back to its roots with references to the women's suffrage movement. Sher is attentive to George Bernard Shaw's intentions to comment on class disparity and social inequality. With wonderful direction, vocals, and set design, this comedy of manners is sure to delight.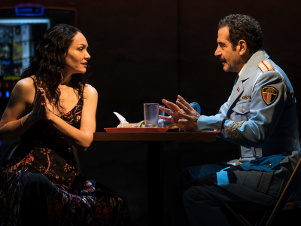 Katrina Lenk as Dina and Tony Shalhoub as Tewfiq in
The Band's Visit. Photo by Matthew Murphy.
"The Band's Visit"
When a musical transfers from off-Broadway to Broadway, there are always a few essential questions. Will the production work on a bigger stage? Will the sound fill a larger house? Will the show be true to the original, even with new members in the cast? Happily, The Band's Visit, helmed by David Cromer, answers all these questions with a resounding yes. By Paulanne Simmons.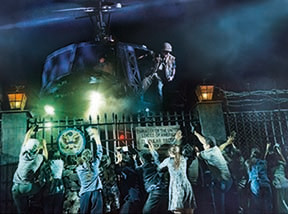 The famous helicopter escaping the fall of Saigon, and Vietnamese desperate to get on it. Photo by Matthew Murphy
Miss Saigon is Back
Claude-Michel Schönberg and Alain Boublil found worldwide success with "Les Misérables," a drama of the political. The personal stories were of Jean Valjean, the man imprisoned for stealing a loaf of bread, and the masses of the oppressed he represented. There was a minor love story. But in "Miss Saigon," the star-crossed lovers are the major focus, with the crisis of America's war in Vietnam and how it destroyed the country just a backdrop. So, this play is often hokey and not very satisfying. By Lucy Komisar.
Tina Benko as Calpurnia, Gregg Henry, Teagle Bougere as Casca and Elizabeth Marvel as Marc Antony. Photo by Joan Marcus.
The Public's "Julius Caesar" brilliantly trolls Donald Trump, and masses "resist"
Oskar Eustis, director of a mesmerizing Public Theater staging of Shakespeare's play about taking down an incipient dictator, says that "Julius Caesar can be read as a warning parable to those who try to fight for democracy by undemocratic means. To fight the tyrant does not mean imitating him." By Lucy Komisar.
Serhiy Zhadan performing song inspired by Timothy Snyder's book "On Tyranny." Photo by Waldemart Klyuzko.
1917-2017: Tychyna, Zhadan & the Dogs
It is a truism to say that our present world is in turmoil. Most of us are reeling from news about bombings, civil wars, millions of refugees migrating over the face of the earth, while fanaticism, nationalism, racism, xenophobia is grabbing the psyche of young and old. And the sense of political impotence alternates with rage about signs of backsliding into tyrannical modes of governance propped up by corruption and cronyism. However, a fighting spirit has also emerged among peoples. The present production at La Mama presented by the Yara Arts Group, conceived and directed by Yara's Artistic Director Virlana Tkacz, has brought together Ukrainian and American performing artists that take us through a compendium of political activism with music, movement, poetry and video imagery. By Beate Hein Bennett.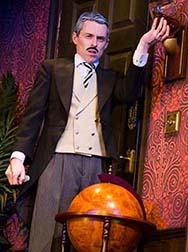 Jonathan Sayer as the butler Perkins pouring liquor down the phone. Photo by Jeremy Daniel.
"The Play That Goes Wrong"
One of the stars of this play is not human. It's the set for the riotous slapstick comedy put on by (real) British actors about a disastrous production of "The Murder at Haversham Manor" by a fakeuniversity drama society. Sometimes slapstick is silly, but this is exceedingly clever. By Lucy Komisar.
2 Views of"Come From away"
"Come from Away," a new musical by Irene Sankoff and David Hein at the Gerald Schoenfeld Theatre, is based on the true story of the almost 7,000 stranded passengers from 38 flights who were not permitted to cross into the United States on Sept. 11 and landed in the small town of Gander, population 9,000. By Glenda Frank and Lucy Komisar.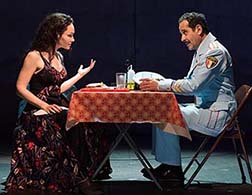 Katrina Lenk as Dina, Tony Shalhoub as the conductor. Photo by Ahron R. Foster.
"The Band's Visit."
An Egyptian police band, the grandly named Alexandria Ceremonial Police Orchestra, is supposed to play at an Arab cultural center in Israel, but gets the town's name wrong at the bus station and ends up in an Israeli backwater. "The Band's Visit" is a charming gem about human connections across political divides. By Lucy Komisar.
---
© copyright 2019, Metro New Media, Inc.
| lobby | search | home | cue-to-cue | discounts | welcome | film | dance | reviews |
| museums | NYTW mail | recordings | coupons | publications | classified |