NO EXIT- MAYBE?
"A Certain Quiet"
World Premiere of a new chamber opera by Haim Elisha
Libretto by Rina Willer Elisha
From the play "La Strana Quiete" by Renato Mainardi
April 30 to May 17, 2015
Theater for the New City, 155 First Avenue (at E.10th Street)
Presented by Theater for the New City
Thurs-Sat at 8 PM, Sundays at 3 PM
$18 general admission; box office (212) 254-1109
www.theaterforthenewcity.net
Reviewed by Beate Hein Bennett, May 9, 2015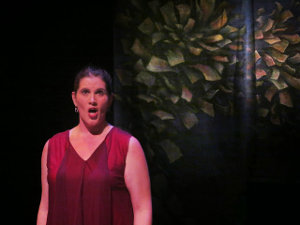 Jessica Bowers as Gaia. Photo by Rosalie Baijer.
Sartre's famous phrase "Hell is other people" certainly applies to the character constellation of this chamber opera, "A Certain Quiet" by composer Haim Elisha. Rina Elisha based her libretto on the play "A Strange Silence" by Renato Mainardi (1931-1977), an Italian playwright whose work emerged with success in the turbulent 60s on the Italian theatre scene but who has remained largely unknown in the US. The material lends itself very well to chamber opera and Maestro Elisha's score for a small instrumental ensemble of four strings, flute, percussion, and piano is light and flexible enough to let the voices of the characters soar and grumble through their emotional turmoil in the course of two acts. Kyle Ritenauer conducted an excellent ensemble of musicians and singer/performers through a richly textured melodic score. Rina Willer Elisha's libretto consists of a series of brief impressionistic scenes that exhibit the characters in their complicated relationships and contradictory feeling states. The plot revolves around the living arrangement of three characters: one man and two women; a third woman disturbs this triangle, a mother interferes every now and then; a second man (from the past) attempts to extract one woman from the triangle; two other male figures are casual interludes.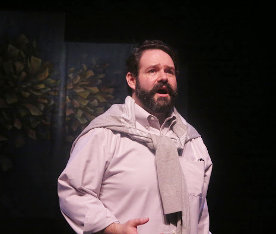 Aaron Blankfield as Dino. Photo by Rosalie Baijer.
Dino, performed sympathetically by tenor Aaron Blankfeld, is a rather feckless man of mediocre ambitions and success as a writer. At one point he states that "comfort has defeated my ambitions" and that "I can't go on like this." What is his comfort? He has agreed to stay in the home of his erstwhile lover, Gaia, a musician, while he betrayed her with his second paramour, Olympia, a violinist of casual talent, who remains in Gaia's home as well. Gaia is in full control of her home; her main ambition is to maintain "a certain quiet" in her life—and since Dino claims to be a man of no passion, "always lukewarm," and Olympia had come to her for support and peace, both are perfectly willing to submit to Gaia and accept her provision of comforts.
Gaia and her mother, Romana: Leslie Middlebrook and Jessica Bowers.
The full-bodied voice of mezzo soprano and commanding presence of Jessica Bowers presents Gaia as a complex figure of elegance and repressed sexuality; she even revels in the fact of uncertain gender identity as her father used to call her Raul. Her relationship with her formidable mother Romana, sung by mezzo Leslie Middlebrook, who makes periodic appearances with a bouquet of flowers in remembrance of her husband who committed suicide by drowning, is fractious. Gaia exerts uncanny control over Olympia, performed by Julia Radosz, whose many-hued soprano fits the mercurial character who is one moment abjectly dependent and despondent and the next full of gay flirtation.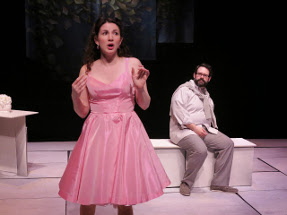 Carla and Dino: Samantha Britt and Aaron Blankfield.
Enter Carla, upsetting the barely attained "certain quiet!" She is a bundle of teenage pink puff sexy energy, sashaying all over the stage. Soprano Samantha Britt brings a new color to the musical score and a physical dynamic, distinct from the other two women. She easily arouses in Dino sexual desires he had not felt in his state of ennui. Now he has a problem—he likes all three women for different but equally seductive reasons: Gaia for her strength and comfort, Olympia for her presumed dependent frailty, Carla for her wild abandon.
Frank Basile as Raimondo.
As though this domestic complication is not enough, a voice (i.e. lover) from Olympia's past enters the scene. Raimondo, in full ranch owner regalia with ten gallon Stetson, has returned from Argentina and wants to lasso his ultimate trophy, Olympia. Bass baritone Frank Basile presents him as a properly impressive albeit naïve man, with alternately threatening kindness and loping charm. To round out the male presence, the second act contains two scenes in which the darker past occupation of Olympia is intimated: Raul, the electrician sung by Tenor Tai Collins, and performed for comic relief with pliers in hand, becomes a sudden object of Olympia's sexual desires from which he barely escapes. Remo, a casual john and the second object of Olympia's extra affairs, is performed effectively by Baritone Stan Lacy.
Olympia (Julia Radosz) is a figure of dependent frailty. Photo by Rosalie Baijer.
A visually pleasing unit set by Rand Angelicola with lighting by Brant Thomas Murphy allows the singers to intimate intimacy. The space is divided into two distinct areas: the color white dominates the front area with painted flat white flagstones, three tall suspended graphically represented white stacks of LP records, a white bench up-center, another white bench down-left, and upstage right a small abstracted white upright piano (for Gaia). A black sheer scrim separates the upstage space in which a character appears periodically as a kind of specter before entering the "real" space. In the back of that space are three abstract paintings in muted colors and of recessive size of what looks like sheets of paper dispersed by a gust of wind. All props, designed by Zoe Morsett, including a violin, a bottle of champagne and champagne flutes, are painted white. Stylish costumes, designed by Nancy Palmatier, add color. Gaia is dressed in flowing blues and purplish wine reds, Olympia in shades of turquoise and green, Carla in pink, Romana mostly in black. Dino wears loose slacks, shirt, and a vest in shades of grey. Raul, the electrician is in a yellowish orange overall, while Remo, the john, wears a green outfit, a bit like a hospital worker.
New Year's party in "A Certain Quiet."
The play "La Strana Quiete" was written in 1969, a time when in Italy many laws and conventions came under attack: the public began to clamor for the right to divorce, to have an abortion, to be openly homosexual, even to kiss in public. It was also the time when directors like Federico Fellini and Pier Pasolini satirized the hypocrisy and corruption of the political ruling classes and civil structures.
The figures in the opera "A Certain Quiet" reminded me of "8 ½" by Fellini, his satire of bored fashionable society. Especially their restive search for peace, their repressed but potent sexuality, their loveless but sentimental relationships, the energy with which they proclaim their self-disgust—all this drives these figures from one extreme moment to the next without transition. Rina Willer Elisha, as director, was perhaps too gentle with these characters, too respectful of offending the audience with more forceful interactions onstage, but the power of the music and the energy and expressive ability of the cast could have allowed for more physicality in a precise choreographed style. The characters are really more like figures or types that embody or present certain states of being and social attitudes, rather than fully developed realistic characters—it is the specific situation in a scene that determines the psychological state to be played out. However, to have the courage of producing a new operatic work of such rare finesse in New York, and to have the privilege of seeing it, is precious indeed.