"A Heavy Account Lies Against Us…"
The 50th Anniversary Off Broadway Production of
Martin Duberman's "In White America"
L-R: Bill Tatum, Shane Taylor. Behind: JoAnna Rhinehart.
October 15 to November 15, 2015
Castillo Theater, 543 West 42nd Street
Presented by New Federal Theatre,
Woodie King, Jr. Producing Director
in association with Castillo Theatre.
Thur, Fri and Sat at 7:30 PM, Sat and Sun at 2:30 PM
$40 general admission, $30 students and seniors
Groups (10 or more) $25
Box Office: www.castillo.org , 212 -941-1234
Producing company website: www.newfederaltheatre.com
Running time: 2 hours with intermission
Reviewed by Beate Hein Bennett October 24, 2015
"A heavy account lies against us as a civil society for oppressions committed against people who did not injure us, and that if the particular case of many individuals were fairly stated, it would appear that there was considerable due to them." Thus wrote the Quaker John Woolman in 1769 and is quoted by Ta-Nehisi Coates in his article "The Case for Reparations" (The Atlantic, June 2014).
Foreground: Shane Taylor. Behind (L-R) Nalina Mann, Bill Tatum, Ezra Barnes.
When Martin Duberman, a historian by profession, composed the play in 1963 exclusively from historic documents ranging from the 17th century to contemporary sources, the Civil Rights Movement was gaining momentum and would be received with ever more violent reactions. The Voting Rights Act was not ratified until 1964 (and is once again under attack). Schools and universities in the Deep South had to be forced by the federal government to integrate which did not happen without fierce resistance. Remember Little Rock, the case of James Meredith and "Ole Miss" vis-a-vis Governor Wallace, and numerous cases of anonymous violence! Lorraine Hansberry had dealt with the housing issue in a Chicago suburb in her play, "A Raisin in the Sun." The list of grievances is endless. The history of America is one that divides into the official myth of Manifest Destiny promoted by the white European settlers, and the shadow history of Native American, Black, Hispanic, and Chinese populations who were decimated, displaced, enslaved and exploited--and yet were the real source of American economic success!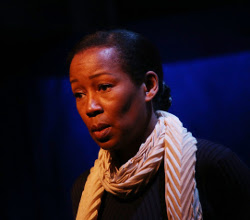 JoAnna Rhinehart
Duberman's play is a litany of real voices. Some express the manifold pain of slavery, the frustration of being systematically locked out of justice and education, of economic progress with decent wages, of habitable housing. Others are the loud voices of hatred and hypocrisy (notably Thomas Jefferson!) and the wily voices of patronizing rationalization (Woodrow Wilson). And there are some, such as John Brown and Nat Turner who rage and rebel against the system that destroys them. And then there is the memorable voice of Sojourner Truth whose thirteen children were all sold into slavery but who articulates, as no other, the double jeopardy of being black and a woman. The first voice in the play is that of a 17th century ship captain who describes in detail (and with empathy) the horrendous conditions in the bowels of a slave ship off the coast of Guinea en route to the Middle Passage.
The play opened originally on October 31, 1963 at the Sheridan Square Playhouse. Produced by Judy Rutherford Marechal, it won the Off Broadway Drama Desk Award and launched into stardom two black ensemble members, Gloria Foster and Moses Gunn. (Incidentally, at the same time in the winter of 1963 the first foundational meetings of the historic black radical Free Southern Theatre were held in Jackson, Miss.; in 1965 the company toured rural Mississippi with "In White America"—Richard Schechner became Producing Director in 1964 when the FST moved to New Orleans. If the reader wants to gain insight into the real logistics and dangers of black and white actors touring together in the South of the mid-1960s, read the Documentary, edited by Schechner and Thomas C. Dent and published in 1969.)
Art McFarland
New Federal Theatre's present production of the play is as fresh as it was then since it is playing in the shadow of the "Black Lives Matter" movement that has gripped the United States. The fact that it still feels poignant has several reasons. First of all, Charles Maryan's direction moves the ensemble of six actors from one testimony to the next in a seamless but differentiated manner that allows for individualized characterizations through voice and physical expression. Secondly, Chris Cumberbatch's stage is simple and functional with beautifully crafted wood furniture: in the center, a bench and a table with some old books, a couple of chairs and stools on the periphery, and enough free space. The lighting by Shirley Prendergast serves to highlight the actor who speaks and to change the mood, especially when music and sound effects provided with subtlety by guitarist Bill Toles underscore a raucous gospel hymn or a haunting blues, or a string of bells simulates the sound of shackles. Gail Cooper-Hecht designed tasteful, well-fitting dresses for the two women in the ensemble and appropriate suits for the three men—all in a style of no specific period thus underlining the timelessness of the play.
Foreground: Ezra Barnes. Behind: JoAnna Rhinehart, Shane Taylor, Art McFarland.
Last not least, it is the actors whose voices and bodies give life to the documents and the real persons behind the documents. Senior among them is Art McFarland, a veteran newscaster for WABC-TV, who has returned to the stage. He lends his powerful voice and presence to such varied voices as Frederick Douglass, Nat Turner, Booker T. Washington, and most unforgettable (and with sly humor) Father Divine. JoAnna Rhinehart riveted my attention as Sojourner Truth, and with her powerful rendering of the blues "Before I'll be a slave, I'll be buried in my grave and be free." She was able to embody many diverse characters with equal strength and very painful testimony with incredible self-control. Nalina Mann has to deal with the difficult task of presenting white female voices, notably Southern white women. Ezra Barnes and Bill Tatum give voice to the white characters that usually represent the power structure; the voices range in substance from vituperative to kindly paternalistic but there are a few sympathetic voices of reason. Shane Taylor, the young black actor, plays a variety of voices that spoke of extreme physical pain endured by slaves and slave rebels.
Woodie King Jr.,Charles Maryan, and Castillo's Artistic Director, Dan Friedman whose program notes articulate the relevance of the play to any understanding of American history, should be commended for having brought back Martin Duberman's history-come-alive drama.
Photos by Gerry Goodstein.