TWO PIONEERS OF BLACK THEATRE
Douglas Turner Ward, Negro Ensemble Company
Woodie King, Jr., New Federal Theatre
Douglas Turner Ward (L) and Woodie King, Jr. (R) sign sidewalk panels at Theatre 80 St. Marks.
Sidewalk Signing and Honors Ceremony
Theatre 80 St. Marks
80 St. Marks Place, New York, NY
November 16, 2016 4:30 PM
by Beate Hein Bennett, 11/16/16
Two giants of the Black theater movement of the 1960's were specially honored at a ceremony in the small East Village theatre that has survived gentrification. While entering the lobby of Theatre 80 St. Marks, I passed by autographed photos of luminaries of the 1950s white stage and cinema to be welcomed by the assembly of black actors, directors, and loyal collaborators of NEC and NFT. Their unabashed joy announced what was to come in the theatre itself: the honoring of Douglas Turner Ward and Woodie King, Jr., the two "grandfathers" of Black theatre under whose tutelage serious Black theatre artists, authors, directors, designers, and actors were spawned, cultivated, and promoted for the past fifty years.
In the 1960s a radical form of political theatre exploded on the scene that had the effect of a cultural earthquake. The Living Theatre by Julian Beck and Judith Malina rocked the scene in New York and Europe. Ellen Stewart, a Black fashion designer, opened LaMama on 4th Street and gave room to young theatre artists of all races. Under the leadership of Harold Clurman and Arthur Miller the Lincoln Center Repertory Company was established as a serious alternative to commercial Broadway for the presentation of drama that challenged perceptions of political and social history.
Theatre 80 St. Marks is a stone's throw from the St. Marks Playhouse, home to Negor Ensemble Company in the 1960s.
And then there was the black box theatre on the second floor of 133 Second Avenue, around the corner of St. Marks, where Lynne Michaels and Harry Baum had established their Open Space Theatre Experiment and where the NEC found its first home under the leadership of Douglas Turner Ward. In this space I encountered in January 1965 a kind of theatre that shook me to the core-- NEC's production of "The Toilet" and "The Slave" by then Leroi Jones, later known as Amiri Baraka. I had recently arrived, a nineteen year old German student, whose prodigious theatrical experience had been elegant professional productions in a red-gold-white proscenium theatre. After climbing rickety stairs to the second floor of 133 Second Avenue, I was confronted by a dark space where three urinals dominated the stage and where three young black men spewed their fury in a staccato of raw poetry. The second play, "The Slave" poured out the pain of segregation. These plays introduce me to the reality of Black America, an America that lived in the underbelly of rich segregationist white America, two separate unequal worlds whose lives were inextricably bound together. The ferocity of feeling, the rich language of body and soul, the serious vivisection of the body politic found expression in the new dramaturgy of Black authors presented by Black actors and directors who had found a home and encouragement at Douglas Turner Ward's NEC or Woodie King, Jr.'s NFT.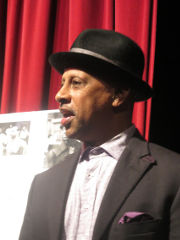 Reuben Santiago-Hudson entertained the audience with tales of early rejections.
The fact that these two landmark companies still exist and produce important work fifty years later must be credited to their indefatigable founders as was amply demonstrated by the speakers at the ceremony. In the fast pace of New York City where a sense of legacy is mostly eclipsed by the rush for the new, where buildings are torn down and spaces are repurposed, where people are quickly replaced and forgotten, it was heartwarming to listen to the grateful testimonies and laudations, often laced with anecdotes and raucous humor, by younger Black artists who "wanted [and are] part of this lineage." Reuben Santiago-Hudson, now a successful actor/director, entertained the audience with his humorous tale of early rejections. However, behind the humor lurked the plain fact of prejudicial type-casting that kept so many Black and Latino actors out of the theatrical main-stream. Woodie King, Jr., referring to the poster board with photographs of notable productions, such as Samm-Art Williams's "Home" and Charles Fuller's "A Soldier's Tale," a Pulitzer Prize winning play, spoke warmly about the actors who made their debuts in NEC and NFT productions-Denzel Washington, Samuel L. Jackson, Louis Gossett Jr. and so many more. Charles Weldon, who is the present Artistic Director of NEC and whose own career was launched at NEC in 1969, says "it behooves me to try to keep it going."
Woodie King, Jr. applies palm print to his sidewalk panel. Behind: Charles Weldon, current Artistic Director of Negro Ensemble.
To keep these institutions going is a permanent struggle for funds and affordable space. There is something ungrateful about New York City vis-a-vis its artists. The city earns billions through the work of non-profit institutions and their artists but many of them barely stay financially viable-the danger of being homeless and out on the street affects individuals as well as institutions. NEC has now found another home at Theatre 80 St. Marks whose owner Lorcan Otway "is proud and honored to host and welcome back the Negro Ensemble Company to the street upon which they changed the face of New York theatre and to help bring the historic play 'Day of Absence' to our stage now." On December 4, this satire by Douglas Turner Ward, in the direction by Arthur French and with some of the original actors, will begin a revival run at Theater St. Marks fifty years after its premiere with NEC. However, to help finance the production an Indiegogo crowd-sourcing campaign is necessary. After the loss of its Henry Street Settlement home downtown, NFT just found a permanent home at All Stars/Castillo Theatre at 543 W. 42nd Street where it has been performing several productions in the past and just concluded its revival of Laurence Holder's "Zora Neale Hurston, A Theatrical Biography" under the direction of Woodie King, Jr. with the formidable actors Elizabeth Van Dyke and Joseph Lewis Edwards.
Douglas Turner Ward and Woodie King, Jr. are now symbolically and literally concretized with their signatures and handprints in two sidewalk slabs in front of the theatre at 80 St. Marks Place, the mecca of the young as they drift through the East Village. If folks pay attention, they can stop and pay homage to two giants of American theater.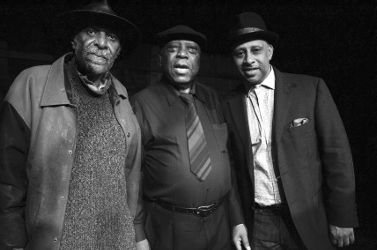 L-R: Doughas Turner Ward, Woodie King, Jr., Reuben Santiago-Hudson. Photo by Tanja Hayes.