An Italian Miracle
Teatro Patologico acting company with Pietro Grasso, President of the Senate of Italy.
"An Italian Miracle"
A Teatro Patologico Event
Presented byLaMaMa ETC
At The Club, 74a East 4th Street, NYC
December 12, 2016, 6-10:30 PM
by Beate Hein Bennett
"An Italian Miracle" was a one-time event to exhibit the work of Dario d'Ambrosi, Italian film maker, theater director and founder of the movement called Teatro Patologico (Pathological Theater), whose pioneering work with mentally disabled persons has caught the attention of Italian policy makers. The evening's program was designed to give insight into the philosophy, techniques, and effectiveness of D'Ambrosi's relatively new venture, called "The Integrated Theatre of Emotion." It's a full-fledged college program in performing arts for the mentally handicapped which is gaining traction in Italy.
D'Ambrosi's long-term friendship with the late Ellen Stewart, founder of La Mama, and her palpable support of his particular approach to theater has fueled the project, and this was impetus for holding the event at La Mama. What is special about his theatrical work with a broad spectrum of mentally disabled persons?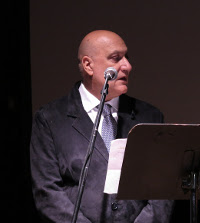 Dario D'Ambrosi
The B.A. training program for the mentally disabled was instituted in 2016 at the University of Rome Tor Vergata and is supported by the university and Italian Ministry of University and Research (MIUR). It is expected to have branches in Milan, Bologna, and other universities. D'Ambrosi also hopes to garner interest in the United States. The objective of the program is to offer training to the mentally disabled with mild to severe disabilities in all aspects of theater arts: acting, designing, writing, directing, music, and dance. The training is to empower them by unlocking their inherent talents through the arts and to provide them with a potentially sustainable way of living. The hope is that this approach has a broader application than conventional therapy that is aimed at normal functionality in society; rather it taps into the innate creative powers of each individual to give them dignity with and not despite their illness.
To elucidate the practice and the aesthetics of "the integrated theatre of emotion," the audience at LaMaMa was regaled in the course of the four hours to two films, directed by d'Ambrosi, a short performance by three teacher/members of the Teatro Patologico, a discussion with Dario d'Ambrosi with simultaneous English interpretation by Celeste Moratti, and wine and pasta for sustenance, courtesy of restaurant Serafina.
Scene from "Il Ronzo dei Mosche" (The Buzzing of Flies)
The first film, "Il Ronzo dei Mosche" (The Buzzing of Flies) with Greta Scacchi and Giorgio Colangeli is a phantasmagoria about some terrifying experiment to re-introduce madness into society in order to alleviate social boredom. By fascistic means using a group of black-clad thugs, a mad psychiatrist targets three slightly deranged people--the last three crazy people in the world-- to be captured for his experiments at his futuristic clinic. Torture, seduction, hallucinogens are used to drive these poor three specimens ultimately to suicide; Franco, a failed painter, whose son is lost to him because of a failed marriage; Matteo, an absent-minded reclusive dreamer whose parents fear and reject his abnormality; and Felice, a sweet piano player who is forced to make a living as a bank clerk and becomes entangled in a money confusion.
The film is photographed and edited to follow the inner experiences of the characters\u2014the buzzing of the flies is the metaphor of madness, visualized as flies caught in the ear canals. However, the film uses also the familiar trope of the true mad being the asylum keepers. The initial image of three mad visages mashed together in a vignette, like the fools in a Pieter Breughel painting, is dramatized through the experiences of the three victims whose madness is a result of society's perverse pressures.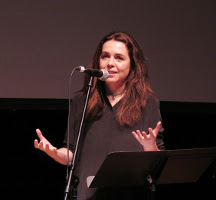 Celeste Moratti interpreted for Dario D'Ambrosi at the gathering.
A live performance with actress Celeste Moratti, pianist Francesco Santa Lucia, and percussionist/vocalist Papa Ceccio was a musical divertimento portraying the inner struggles of someone who is afraid that reality is slipping from his grasp. Beginning with wordless sound-scapes and Philip Glass type looping piano music, the piece gradually arrived at a text where words float around objects, and the utterer is afraid of misappropriating words. When voices and piano achieve harmony, the tension of inside/outside perceptions of reality becomes unbearable--an interesting aesthetic/psychic paradox. The problem reminded me of Oliver Sacks's study "The Man who mistook his Wife for a Hat."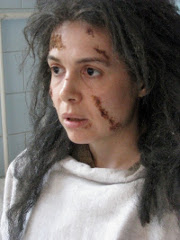 Celeste Moratti in "L'uomo Gallo" (Days of Antonio)
The second film, "L'uomo Gallo" (Days of Antonio) with Dario d'Ambrosi and Celeste Moratti as Antonio, is the purportedly true story of a young boy being kept in a chicken coop because he was born abnormal and, due to polio, useless to his farmer family. After a rape by the local prostitute, he is institutionalized in a remote asylum run by an autocratic psychiatrist and a nurse, reminiscent of Nurse Ratchett in "One Flew over the Cuckoo's Nest." The asylum is peopled by a variety of mentally challenged, some of whom appear to be played by actual disabled persons, such as one with Down syndrome, but the script obviously needed actors who could control what the director wanted. D'Ambrosi plays an obsessive-compulsive patient with a soap fixation on whom Antonio is dropped as a roommate. The film follows the evolution of their relationship as Antonio gradually loses his rooster behavior, is cleaned up with the help of his roommate, and begins to see himself more as a human being; the effort causes pulmonary emphysema, and he dies at age nineteen. The diagnosis was made by a physician himself an inmate but disregarded by the head psychiatrist whose own psychosis, an oedipal love for his mother and desire to be a ballerina, all performed in the secrecy of his private dwelling, eventually leads him to suicide by hanging. Again the trope of the keepers being the truly insane sadists versus the inmates being the ones with capacity to love and care for each other, considered normal virtues by a hypocritical society. Although this film contained also certain stereotypes, the story itself is touching and the action apparently was informed by d'Ambrosi's own experiences in an asylum.
While the therapeutic use of psychodrama, notably modeled after Moreno's school of psychotherapy, is familiar to psychologists, Dario d'Ambrosi's approach may indeed offer a novel kind of theater as well as a novel pedagogical opportunity, namely for the severely mental disabled to gain access to training that does not relegate them to some basic occupation where they might spend their days in lowly repetitive work. Rather, by having access to a university curriculum in theatre arts which incorporates a wide spectrum of creative work, the ill will gain a sense of self and dignity; their families and the surrounding community may gain by accepting the ill as contributing members of society instead of as liabilities that are at best hidden away at minimum cost or at worst ignored and left to rot on the streets or in prison. Not everything can be cured by medicines alone; not everything can even be healed. However, as the medical definition of mental disorder keeps shifting, perhaps the definition of what is art and theatre also can shift from a purely professionalized aesthetic to a human endeavor of creative expression, as is the rather inclusive concept of Performance.