A Mercurial Man
"LOOKING FOR LEROY"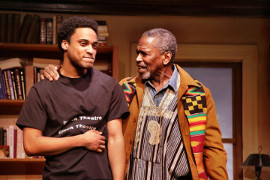 Tyler Fauntleroy as Taj, Kim Sullivan as Baraka. Photo by Gerry Goodstein.
February 28 to March 31, 2019
Castillo Theatre, 543 West 42nd Street, New York, NY
Presented by Woodie King, Jr.'s New Federal Theatre in association with Castillo Theatre
Thursday through Saturday, 8 PM, Sat. & Sun. matinees @ 2:30 PM
$40 gen. adm., $30 seniors and students, groups (10+) $25
www.castillo.org Ovation tix: 866-811-4111
Reviewed by Beate Hein Bennett, March 2, 2019
Kim Sullivan as Baraka. Photo by Gerry Goodstein.
Playwright Larry Muhammad crafted a two-character play revolving around the mercurial personality, character, and art of of LeRoi Jones/Amiri Baraka, one of the most significant 20th century Black playwrights—a status perhaps in contest with August Wilson.
The issue of name in African-American culture, and in the case of Amiri Baraka specifically, reflects the larger historical trajectory of Black America and its struggle with asserting an authentic identity. Amiri Baraka (1934-2014) was born Everett Leroy Jones but changed his name to LeRoi Jones in honor of Vincent Lushington "Roi" Ottley (1906-1960), author of "New World A-Coming: Inside Black America" (1943). After the assassination of Malcolm X in 1965, he adopted the name Imamu Ameir Baraka, eventually changed to Amiri Baraka. The (Islamic) africanisation of names became a cultural common-place among African-Americans in the late 60s and 70s as part of the pursuit of Black Nationalism in contradistinction to the integrationist politics of Martin Luther King Jr. Leroy/LeRoi Jones/Amiri Baraka incorporated in his own personhood the late 20th century struggles with identity and being a Black artist in the American cultural landscape.
Tyler Fauntleroy as Taj. Photo by Gerry Goodstein.
In "Looking for Leroy" Larry Muhammad pits an old Amiri Baraka struggling with his play, "The Most Dangerous Man in America (W.E.B. Du Bois)" against a young aspiring Black playwright, named Taj who comes to him as an intern looking for the mentorship of the "legendary" Amiri Baraka. Taj gets a history lesson about the struggles of Black aesthetics and Black politics from an impassioned Baraka infused with his own frustrations as he tries to incorporate W.E.B. Dubois's human and political endeavors into a producible play. Du Bois wrote the seminal "The Soul of Black Folks" (1903) and co-founded the NCAAP (1909) providing African-Americans with a platform that challenged the degrading stereotypes and political disenfranchisement.
Tyler Fauntleroy as Taj, Kim Sullivan as Baraka. Photo by Gerry Goodstein.
In Muhammad's play, Baraka feels stumped by the formative powers of this man but existential parallels are also drawn between the multiple personas that Du Bois adopted and Baraka's own political and artistic metamorphoses as poet, playwright, essayist, and critic—all imbued with the fire of the activist. When he is confronted and challenged by Taj, a college-educated self-confident millennial whose sense of Black identity is differently grounded, Baraka flies at the young man with a series of diatribes against those who have foiled his own attempts to create a distinct Black theatre aesthetic for Black folk to appreciate and accept as their own cultural domain In America. Taj's challenges and Baraka's diatribes/lessons dramatize the generational differences and difficulties within the community of male Black writers. (Black women writers have pursued a whole other trove of arguments.)
Producer Woodie King Jr., a member of the 60's Black theatre avant-garde has given these artists a stage for the past 49 years at New Federal Theatre, now in residence at Castillo Theatre. Both institutions have provided space for new voices and marginalized populations for decades. Amiri Baraka was a friend to both institutions. In fact, "The Most Dangerous Man in America (W.E.B. DuBois)" was first produced by Woodie King Jr. and premiered at Castillo in 2015. Thus it is only fitting that Larry Muhammad's homage "LOOKING FOR LEROY" has its world premiere on the same stage in the direction of Petronia Paley who played Shirley Graham DuBois in that 2015 production. Her direction deftly moves the play which is a contest of ideas and perceptions between two highly spirited personalities. Inspired by Baraka's life-long interest in jazz and its syncopated rhythms, she structures the verbal explosions, riffs, and variations of the arguments.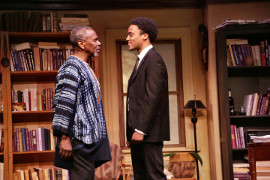 Tyler Fauntleroy as Taj, Kim Sullivan as Baraka. Photo by Gerry Goodstein.
The sound and media design by Bill Toles—drums at the beginning and between the scenes—underscores the mood of the action. Set designer Chris Cumberbatch creates Baraka's home office with book cases filled with books, jazz records, and a nook for a stash of Scotch —Baraka was a voracious reader with encyclopedic knowledge and a love of Scotch— a cushy chair upholstered with African cloth, and a desk with a laptop computer, Baraka's place of torture. The warm lighting designed by Antoinette Tynes sculpts the actors. Kathy Roberson's costume design for Baraka consists of several dashikis and a neat denim shirt reflecting his vacillation between being the "imamu" and being the Newark Black American author. Taj enters first wearing a smart black suit with a skinny black tie and a white shirt and is promptly mocked by Baraka for his outfit; subsequently he arrives dressed in dashikis and once in the black beret, black sunglasses, black jeans and top, a uniform reminiscent of the 70s Black Panthers.
About the actors who perform Muhammad's vision: Kim Sullivan plays Baraka with a gravitas veering towards self-righteous pomposity, a posture dented by Taj's innocent challenges. Tyler Fauntleroy, as Taj, matches Sullivan's Baraka in energy, intelligence, and fervor to "do the right thing." However, Kim Sullivan imbues Baraka also with vulnerability underneath his bluster that can be read as the melancholy realization that time has passed over him and made him into an icon but might also be the fear of failing to create an essential work of theatre, as he struggles with the Du Bois material. Tyler Fauntleroy/Taj spars with Baraka displaying the cruel charm of youth but with hints of insecurity about the life of a Black artist in a culture that is fraught with commercial expectations of what a Black artist is supposed to be and express. How to be authentic in a world that monetizes fakery?
Larry Muhammad's dramatic attempt to discover the authentic Leroy raises basic questions: What is the place and purpose of Black theatre and the Black artist's relationship to himself and to his audience? These are highly charged political, existential, and aesthetic questions with artistic straightjacket potential. Perhaps that is why LeRoi Jones/Amiri Baraka changed his personas like a chameleon. In a poem "A Short Speech to Friends" Amiri Baraka composed these gentle lines: "A political art, let it be tenderness, low strings the fingers touch…" [BHB]