"The Devil Made Me Do It…"
A Puppet Version of the Infamous Faust Legend:
"Johannes Dokchtor Faust: A Petrifying Puppet Comedye"
Petrifying Puppet Comedye," translated and directed by Vit Horejs. Faust and Devil in forest.
March 21– April 7, 2019
Theater for the New City, 155 First Avenue @10th Street, New York, NY.
Presented by Theater for the New City.
Thur. – Sat. 8 PM, Sun. mat. 3 PM
$18 gen. adm.; $15 seniors&students
www.theaterforthenewcity.net, (212) 254-1109. If attending any performance dressed in a Faust, devil, jester, or wizard, or Purim related costume, a 30% discount will be applied with code COSTUME.
Reviewed by Beate Hein Bennett March 22, 2019.
In this brief but entertaining production, staged in the intimate cellar space of Theater for the New City, two popular items are conjoined--the ancient art of puppetry and the dramatic legend of Dr. Faustus. In modern times, puppetry has regained attention in serious theatre as a means to express perennial topics larger than life, for example, through the art of Theodora Skipitares and Basil Twist and, since the 60s, Peter Schumann has dealt with social ills in his stagings with The Bread and Puppet Theater, a frequent and popular guest at TNC for decades.
Vit Horejs, the Czech born artistic director and puppet master of Czechoslovak-American Marionette Theatre (CAMT), which he founded in 1984, has scripted, designed, and performs in a traditional Old Bohemian style puppet theater version of the Faust legend with some updated political glosses. The text is composed of the simple language befitting a typical Kasperletheater with Punch and Judy style actions in an amalgam of invented accents and pseudo-Elizabethan phrasings, with a good dose of humor.
Of course, the stars within the miniature proscenium stage are the puppets of various sizes and styles; some are copies modeled after old Czech puppets, such as the Faust and the Mephistopheles puppets, the first having been created by a cobbler in a Czech-American community 200 years ago, and the latter made in Kladno [then Bohemia] 100 years ago. (Extensive program notes describe the Czech/Slovak puppet theatre traditions and CAMT's history.)
Faust and his servant, Wagner, with Vit Horejs (in floor).
In CAMT's present production the puppeteers are not only the voices and the invisible manipulators of the marionettes but also physically present within the proscenium frame; sometimes their hands demonstrate the dependence of the marionette, while in the forest scene their legs dressed in paint splattered pants form the massive swaying trees.
In the course of six "acts" and sundry scenes, we follow the basic parts of the Faust legend, starting in Faust's study with Faust complaining about his own sense of inadequate fulfillment as doctor of all sorts, last not least, being the famous doctor of theology at the University of Wittenberg [yes, the one of Hamlet's fame]. He wants more--he wants control of Life, all of it! Of course, this is where temptation enters, first in the appearance of the good and the bad angel with their dueling arguments, and ultimately with Mephistopheles, Lucifer's shape-changing emissary on earth who promises to fulfill ALL of Faust's desires but ONLY IF Faust signs a contract with his blood by which he surrenders his soul upon his death to Lucifer.
This basic trajectory of the original German legend of Faust, the necromancer dating back to the 15th century, was developed by Christopher Marlowe in 1588 as "The Tragical History of Doctor Faustus" and by Johann Wolfgang von Goethe over the course of his life-time into the enormous drama of Faust as a two-part epic in which Faust transcends time and space in the search for power and the secret of Life.
CAMT's "petrifying puppet comedye" is more modest but maintains some basic elements of the various stage versions: Faust's discontent as the source of his ambition and downfall; Mephisto's cunning trickery and seductions; the unsuccessful attempts of divine intervention; Wagner, Faust's pedantic, bumbling assistant; and several comic characters, traditionally peasants, servants, or students—in CAMT's version it is Pimperle or Kasparek, the peripatetic permanently hungry clown-servant; and the highborn kings, queens, or emperors whose stupidity and cupidity is satirized—in CAMT's version, the King and Queen of the Portugaliens, and Emperor Charles V with shades of contemporary politics. And there is the literal hell-hound that follows Faust everywhere.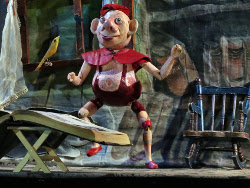 Kasparek reads in ancient books.
(In Goethe's Faust Part I, a poodle--"Das also ist des Pudel's Kern." [This then is the poodle's core.] follows Faust to his study and metamorphoses into Mephisto amidst a thunderous fiery explosion.) CAMT's tiny hellhound is a mutt with carmine ears. While Goethe's Faust at the very end of Part II is saved by female angelic intervention, and Mephisto loses his prey through a grammatical sleight of hand—I always thought this was old man Goethe's fear of divine retribution if he let the devil win—in Marlowe's and CAMT's version Faust is damned in a hell of theatrical horror. CAMT gives Pimperle the last word, as in common Elizabethan tradition where the clown steps out and thanks the audience wishing everyone "a happy good night."
The black-box space downstairs at TNC has the perfect atmosphere for CMT's old time puppet theater. A painted proscenium frame depicts two profiles of a lascivious tongue-wagging Mephisto, an impression of a contract with quill and lettering, a tightrope walker, a landscape of Lethe's gate to Darkness, and central above the worn red velvet curtain with fringe dominates a clown face in a fool's cap.
Suspended to one side are two old (?) wooden puppets, about 1.5 feet in size, notably a naked "Mephistofl" with long horns and a grotesque face in the style of an all-too-familiar 19th century cartoon, and a somber Faust-type scholar. Entering like a Salvation Army band the entire ensemble of five puppeteers who play many parts (Vit Horejs, Michelle Beshaw, Deborah Beshaw-Farrell, Jane Catherine Shaw, and Ben Watts) introduce themselves and the Prologue with the basic argument of the play.

The accordionist (Melissa Elledge) who accompanies the action and plays the entr'acte music takes her place near the audience to the right. The settings are contained within the frame and delicately painted like old-fashioned drops. (Painting by Beatrix Piesh, Julius Kozlowski, Stephanie Frank, and Jiri Voves with lighting by Federico Restrepo)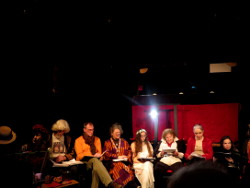 Reading of Marlowe's play. Photo by Marielle L'Hostis.
The Friday evening performance I attended had a special bonus after the puppet show, a staged reading of Marlowe's entire play with the puppeteer company, additional actors and musicians, and Crystal Field, the executive Artistic Director of TNC, as the "tragicall" Dr. Faustus. Afterwards audience and actors were regaled to a feast of cheese, meats, and the biggest bottle of red wine I have ever seen. We all had a "happy good night"—and the moral of the tale? Let each one ruminate on how the devil will get his due (or not).