Between Actual and Fake
"The Potemkin Play" by Seth Garben
July 18 to July 25
HERE Arts Center, 145 Sixth Avenue (entrance on Dominick Street), New York, NY
Produced by Sextant Productions as part of the Sublet Series @ HERE
Tues. – Thurs. @ 8:30 PM, Sat. 20th & Sun. 21th @ 4 PM
$20 gen. adm. For tickets: OvationTix at 866-811-4111 or 212-647-0202, also online at www.tiny.cc/thepotemkinplay
Reviewed by Beate Hein Bennett, July 19, 2019
R-L:Emily Sullivan (Lilya) & Joe Raik (Mikhail). Photo by Rachelle White.
The frequently used phrase "it's like a Potemkin village" as a metaphor for fakery relates to one of the more obscure bits of history. The story goes that Grigory Potemkin, one of the ministers and lovers of Catherine the Great of Russia built an entire trompe l'oeuil village out of card board to fool the empress during an inspection tour into believing that he had done wonders in implementing her reformist policies in her "New Russia."
It can be considered an early example of a marketing ploy that packages a simulacrum of reality to produce an illusion of actual reality. In our time of virtual reality this rings a familiar bell; in our present political theater, the boundary between actual reality and public perception of reality is becoming blurred. Fakery and accusations of "fake news" make the distinction between fact and fiction increasingly difficult. This makes for potent theatrical material –theater, after all, is the stuff where the actor's being and seeming are bundled into the same body, where face is mask and mask is face. Seth Garben's "The Potemkin Play" bundles the present political reality, the state of theater in our cultural milieu of commerce, and the historical Potemkin village story into a satirical romp. The Sextant Company production employs theatrical traditions from commedia dell'arte farce, to audience participation, to realistic discourse about theater functioning as cultural/political critique while trying to survive in an environment driven by the tyranny of profitability and positivity.
The set design of Roni Sipp and costume design by J'Mill Wintry Smith reflect in simplicity and choice of materials the reality of a financially strapped theater company, including flat cardboard painted props of a ship and waves carried by the actors/characters on Catherine's "inspection tour" and the calligraphically painted canvas drops draped over coat-racks meant to depict Potemkin's villages. (There is even a nod to Peter Brook and his concept of "poor theatre" in the use of a Persian design carpet, a frequent dominant set feature in Brook's productions.) Miriam Nilofa Crowe's largely flat front lighting design emphasizes the working rehearsal structure of the performance—an exception is the cold overhead targeted light in the holding cell scenes where the Director is being interrogated and tortured by the Minister of Culture.
L-R:Jennifer Laine Williams (Catherine) & John Lennartz (Potemkin). Photo by Rachelle White.
Under the direction of Jennifer Sandella, a cast of eleven actors play roles, in some cases more than one character, alternating between the present day theater company and the historical 18th century characters around Catherine the Great. Only the figure of the Director of The Theater of the Abyss (the name of the company) played by Isabella Knight, remains in the single role as the much harassed, frazzled yet indomitable, stern mother-of-them-all artistic leader. The harassments occur with the various figures of authority: the Minister of Culture, a Fire Chief, a Detective, a Landlord—all played with arbitrary authoritarian cruelty by a purple-gloved Joyia D. Bradley. John Lenartz as Manager and reluctant domestic partner to the Director takes on Potemkin in all his grotesque self-engrossed swagger while Jennifer Laine Williams portrays a donor with would-be actress ambitions who is flattered to take on the role of insatiably lusty and cunning Catherine with Brendan Cataldo as her latest flame Alexander Dmitriev-Mamonov. The actor who auditions for the role with his "professional experience" is a daytime TV series over-the-top caricature of a vain lover. Jim Haynes takes on the role of an actor with a chameleon face and permanent depression who hopes to be cast as Uncle Vanya or Willy Loman but is glad to act fake journalist Georg von Helbig (alias Grigory von Bigwig). Emily Sullivan as the young political activist and Joe Raik who drifts into the audition play their parts of smart-alecky peasant girl Lilya and Potemkin's smart serf/punching bag Mikhail. Brady Adair as a flaming queen in pink pants turns into Louis-Philippe, Catherine's French intellectual; Daniel Cabrera, a fire-brand Trotskyist, turned would-be-anarchist, becomes Austrian Emperor Joseph II, the would-be-reformist; Nathan Tylutki, the donor's bored husband, becomes sycophantic Stanislaw August Poniatowski, the Polish king who ultimately accepts the partition of his country by Russia, Austria, and Prussia—a historical fact in 1773. They are part of Catherine's hilarious "inspection tour" entourage holding up the card-board waves and ship—later the trio breaks into a raucous non-sequitur rendering of the Internationale.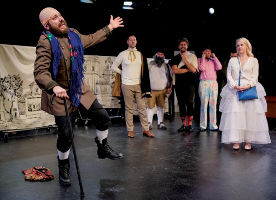 Joe Raik, Brendan Cataldo, Jim Haines, Nathan Tylutki, Brady Adair,
Jennifer Laine Williams.Photo by Rachelle White.
The Sextant Company is to be appreciated for the highly energized and committed if not always clear performances. However, I would recommend that the performance would gain by cutting some of the redundancies of authoritarian harassment scenes and Catherine-Mamonov lover scenes. Writers appear to have a difficult time culling extraneous clever lines from a script while actors love to play all the fun scenes—a common problem bedeviling play-script workshops.
A trimmer script would enable better control over rhythm and pacing— Garben's point of parallelism between Trump's authoritarian narcissistic absurdities and manipulations of fakery and Potemkin's venal sycophantic corruption and Catherine's arbitrary cunning reign is fully apparent to the audience, as is the need for real political counteraction without the final didacticism. Saving the theatre and arts communities from New York's greedy real estate development—they are fragile but NOT Potemkin villages—is the other salient message.