Yara Arts Group, marking its 30th season at La MaMa, brought to the stage of the Ellen Stewart Theater its recent collaboratio with Nove Opera Kyiv. The one-week engagement was reviewed by Beate Hein Benett on it opening, December 19, 2019 and by Larry Littany Litt on its closing date, December 22.
---
Beate Hein Bennett
"The Center Will Not Hold…"
OPERA GAZ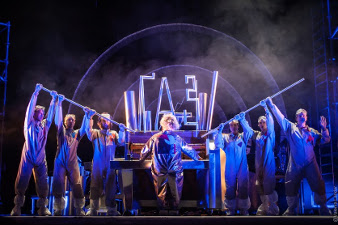 Photo by Valeriya Landar
Dec.19, 20, and 22, 2019
Presented by LaMaMa (Ellen Stewart Theatre), 66 East 4th Street, New York, NY
Co-production: Nova Opera Kyiv and YARA Arts Group
Thurs., Fri. at 7 PM, Sun. 3 PM (No Saturday show)
$30 gen. adm., $25 students and seniors (+ $1 facility fee); $10 with LaMaMa membership
Box office: 212-352-3101, www.lamama.org/gaz
Show's website: https://www.yaraartsgroup.net/gaz
Reviewed by Beate Hein Bennett Dec. 19, 2019
Human robots, worker ants, industrial hell, machines going beserk—OPERA GAZ!

GAS, a word like a scream engulfing space! Gas, an element permeating space! Gas, an energy that can kill! Gas, an industrial product and present in the bowels of the earth! GAS is silent until it explodes! The Ellen Stewart Theatre LaMaMa presented the audience with a theatrical explosion—Opera GAZ imported from Kyiv, Ukraine. Virlana Tkacz, director of the YARA Arts Group in New York, created with the ensemble of Nova Opera Kyiv a production that is partly historical recovery, partly revolutionary music theater.
Photo by Valeriya Landar
Inspired by Les Kurbas's 1923 theater production in Kyiv of "Gas I", part of a trilogy (The Coral, Gas I and Gas II) written between 1916 and 1923 by the German Expressionist playwright Georg Kaiser (1878-1945), Ms. Tkacz, together with composer/performers Roman Grygoriv (also conductor) and Illia Razumeiko (on the piano), conceived and composed the libretto, with live electronic music by Georgiy Potopalskiy. Live music on stage included superb musicians: cellist Zhanna Marchinska, double bass Nazar Strilets, Andrey Nadolsky percussionist, Ayk Egyian on vibraphone and percussion, Ihor Boychuk on trumpet, trombone, and flute, Sergiy Shava on tuba, and Oleg Nedashkivsky on French horn. I mention the musicians first because it is music that holds the performance together and drives it with all its varied colors from electronic sound manipulation to operatic scoring-- at one point Verdi inspired melodious ensembles and arias-- to percussive industrial and bomber airplane noises until the final act of absolute destruction and chaos. The ensemble of singer/actors of two sopranos, Anna Kirsh and Maryana Holovko, mezzo-soprano Oleksandra Maillet, baritones Andrey Koshman and Ruslan Kirsh, and bass Yevgeniy Rakhmanin are remarkable performers who execute the intricate dynamic choreography by Simon Mayer with precision and full engagement whether as robotic workers with stylized hammers or in almost trance-like state of utopian human romance or ultimately as a furious mob destroying themselves and their tyrannical environment—the gas factory--with their relentless ubiquitous mad clown dictators, conductor and pianist, superbly embodied by nimble Grygoriv and Razumeiko .
Photo by Evgen Maloletka
The ever flexible space of the Ellen Stewart Theatre allowed for a constructivist modernistic set, designed by Waldemart Klyuzko, Evhen Kopiov, and Watoku Ueno. It is somewhat reminiscent of the skeletal 1920s stages, inspired by Piscator, with platforms for the musicians and their instruments, movable steel pipes of varying lengths attached to the central upright piano which could be handled by the actors with mechanical motions to alter the piano sound. The background was dominated by three huge concentric glass circles of lights, reminiscent of the architectural bands of glass that adorned modern factories designed by Walter Gropius in the first decades of the 20th century. The metallic appendages and stylized metal tools used by the actors during the performance emphasized the industrial feel visually and aurally. Tetiana Sherstiuk designed for the workers grey unisex coverall costumes with cloth boot covers that looked as though made for work in nuclear plants. Lighting design by Jeff Nash and sound engineering by Caley Monahon-Ward completed the environmental effects of a factory moving inexorably towards the brink of disaster.
Photo by Valeriya Landar
A fragment of this production was first presented at the Art Arsenal in Kyiv in November 2018 as part of an exhibition "Kurbas: New Worlds" co-curated by Ms. Tkacz and Mr. Klyuzko. The complete work premiered at the National Theatre in Kyiv on June 11, 2019 and was subsequently presented at the Music Festival Vienna on September 17, 2019. LaMaMa must be congratulated for bringing this astounding work to NYC—unfortunately there were only three performances. However, considering the actual destruction of such an integral part as the central piano, a trumpet, and other instruments and props, it was probably impossible to do more performances. (Upon leaving the first performance on Dec. 19th, I noticed two more upright pianos, painted in metallic silver, perhaps waiting for their destruction.)
In rereading Georg Kaiser's GAS I, it struck me how timely the original play is in terms of our own period: the technological dehumanization, the huge economic gap between workers and corporate CEOs—major characters in the trilogy are the billionaire factory owner and the billionaire's son. The collusion between capitalist enterprises, the military, and the government and the expendability of human labor in the interest of power and profit drive the play. The dialogue is curtailed into slogans—contemporary twitter style is analogous to the Dada style of the 1920s. The mash-up of popular music and brutal music, biomechanical movement to emulate robotic factory work as well as emblematic emotion, or mob actions -- these are stylistic characteristics of the original 1920s productions that were re-imagined in "Opera GAZ." Ukrainian critic Ihor Panasov made the following cogent observation: "… what I think is most important in GAZ is the palpable and constant foreboding of a great explosion which drives this performance. Any person living in 2019 finds themselves in its epicenter. Technological, economic, social, and political crisis rage—authoritarian regimes, mechanized life surround us—all this is in GAZ."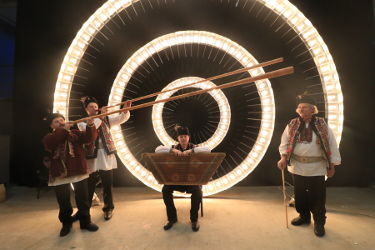 "Koliada: Winter Songs on Mars" -- The Koliadnyky (left to right) Mykjola Ilyuk, Mykola Zelenchuk, Vasyl Tymchuk and Ivan Zelenchuk. Photograph by Waldemart Klyuzko.
A small addendum: Ms. Tkacz and YARA Arts Group have been instrumental in introducing Ukrainian performers from different cultural realms to NYC. In early December at the Ukrainian Museum, a concert "Koliada" of traditional Ukrainian-Carpathian Winter songs was presented that featured musicians with ancient instruments from the Carpathian village of Kryvoryvnia, joined by NYC based Julian Kytasty, a 3rd generation bandura player and three singers from the group Ukrainian Village Voices, also based in NYC. "Koliada" is a winter ritual that predates Christianity but is now associated with Christmas. The songs, part of a caroling tradition, are evocative of communal life, as audience members of all ages began singing along. On December 21, the same group performed "Koliada: Winter Songs on Mars" at LaMaMa on the set for Opera GAZ. (Unfortunately, I was unable to attend it.) After the Dec. 19th performance of the opera, as the audience milled around on stage among the remnants of the final scene of destruction, I observed one of the Koliada performers-- a mixed expression of sorrow and puzzled humor on his face-- picking up the bent pieces of a trumpet and trying to figure out how to mend it.
---
Searing modernist opera leaves you wanting to see it resurrected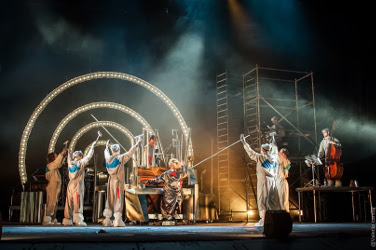 Photo by Valeriya Landar.
Opera GAZ
Created by Yara Arts Group and Novo Opera
Virlana Tkacz: Director, Concept and Libretto
Roman Grygoriv: Composer, Libretto and Conductor
Illia Razumeiko: Composer and Libretto
Waldemart Klyuzko: Set Designer
Simon Mayer: Choreographer
Tetiana Sherstiuk: Costumes
Reviewed Dec. 22, 2019 by Larry Littany Litt

Gas is the power driven blood of the industrial world's ubiquitous engine. Gas is about seeking out hidden chthonic death in difficult places where ancient animals and plants died eventually decaying then compressed into a liquid mass. We all know how gas rises to the surface then is refined for our human use. But what happens socially when it rests in a gas plant. What are the dramatic possibilities and interactions? Are humans and gas compatible or is gas a jealous lover/antagonist?


Photo by Valeriya Landar.
Opera GAZ is Yara Arts Group's reinterpretation of George Keiser's 1919 Expressionist play about an explosion in a Ukranian gas refinery. This version is one of the most searing intentional modernist operas I've ever seen. From the giant halo of blinking lights to the details of the Modernist designed piano, no essence of Opera GAZ's theatricality is left unnoticed. I was moved into another world of music and song where worker/singers in drab costumes enrich and reposition their lives as workers will do on the job with conflict, love and existential angst.

Roman Grygoriv, one of the opera's composers and librettists onstage plays a manic music ensemble conductor in the exposed risers and on the factory floor. His gyrations, dancing, and general chaotic movement attract the eye as the multi-talented singers form different choral lineups that project the difficulty of working around dangerous materials. The highly charged libretto moved me to spine-tingling expectation of the inevitable accident to come. All is not right in happy socialist worker land.


Photo by Valeriya Landar.
Every factory floor needs a stand up brothel piano to pace the workers and keep the rhythms of production apace with the boss's schedule. Composer and librettist Illia Razumeiko plays an altered, decorated piano as if he were in Fritz Lang's masterpiece Metropolis. This caricatured pianist slowly becomes unhinged and altered as the workers sing their way to the combustive crescendo of utter madness and real destruction. The pianist and piano descend into a shattering finale that burst my brain. I was glad to see and hear it. Could Yara/Novo do the same every performance? I'm left with questions about the mystery of this brilliant unique opera. Ms. Tkacz's direction stunned me. There was total audience silence throughout the performance. The end of this opera cross-fired my brain. Finally an apocalyptic theater piece that left me wanting to see it resurrected from the ashes of its infernal chaos. A must see if you hear it is being remounted.

"And God created the heavens and the earth, people, animals and plants, and all the elements but we created for them the energy for the entire industrial world… GAZ"