"So full of shapes is Fancy…"
Twelfth Night or What You Will
February 8 – March 22, 2020
The Guthrie Theater, Wurtele Thrust Stage
For tickets & information: Box office 612-377-2224
Or 1-877-447-8243 (toll free) or www.guthrietheater.org
Reviewed by Beate Hein Bennett February 23, 2020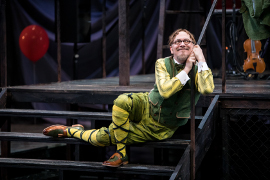 Malvolio. Photo by Dan Norman.
The comedy begins famously with "If music be the food of love, play on," and so it is with the Guthrie production , directed by Tom Quaintance, which is profusely laced with live music on stage, composed by Sartje Pickett. And there is much "play" of all sorts to be enjoyed—foremost, in true Shakespearian tradition, the play with gender and with shifting love. Shakespeare gave his romantic comedy a double title with an eye to the celebration of the Feast of Fools, an English Twelfth Night tradition-- Epiphany in Christian parlance-- when social intercourse was turned upside down with much tomfoolery, suspending normal social relationships with "what you will" before Lent set in with the grim reality of fasting and ruing, or before the Malvolios in society are "reveng'd on the whole pack" of merrymakers. Because as Feste the Fool concludes, "the rain it raineth every day." In fact the comedy begins after a storm on the seas has separated the twins Viola and Sebastian who end up separately stranded on the shore of Illyria—a place of fantasy and (in Shakespearean geography) near Venice, the watery city of the Carnival.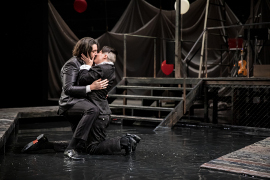 Orsino and Cesario, wet and sloppy. Photo by Dan Norman.
Water is a dominant presence in this production. Naomi Dawson designed an ingenious skeletal set for the ¾ thrust stage where planked islands are surrounded by water with wooden ramps leading into and around shallow pools. The platforms and elevated structures in conjunction with the ramps and the ubiquitous water made me think of Venice with its frequent flooding where people are used to marching through pools of water as a matter of course. Director Tom Quaintance begins the production by staging the watery "rebirth" of Viola and Sebastian with a full-blast typhoon during which the twins are flailing and flying in a desperate attempt to survive the commotion. (Some lines from "The Tempest" and "Pericles" are inserted into the action.) Carl Flink's choreography and Lighting Designer Yi Zhao together with Sartje Pickett's sound design create a graphic depiction of such a disaster. Viola emerges on Illyria's shore asking her rescuer: "What country, friend, is this?" Dressed and coiffed like a young man, she then leaps onto a platform joining the musicians and Feste. Like a rock singer, microphone in hand, she launches into a ballad for the pleasure of Duke Orsino—and thus we are at the beginning of the comedy of errors and eros with music as the "food of love."
Olivia and Sebastian. Photo by Dan Norman.
Costume designer Ann Closs-Farley supports the fresh youthful take on this comedy with a riot of colorful costumes. Androgynous eroticism underpins the quest for love and drives the comic action. Gender ambivalence enables the swift switches of amorous attachments and detachments. Duke Orsino is a young man, full of erotic self-love and longing; he is enamored with Olivia who rejects him since she is more in love with her state of mourning for her brother. However, she is quickly moved to embrace Cesario as her love object while Viola/Cesario, acting as the messenger of love and rejection between Orsino and Olivia, falls prey to her own amour for Orsino. Director Quaintance pushes the androgynous eroticism to hilariously absurd comedy by casting women as the comic duo Sir Toby Belch and Sir Andrew Aguecheek-- a reverse of boys playing women on Shakespeare's stage. Self-love infects all the characters to varying degrees, except for Feste, the Fool who holds the mirror up to all and speaks truth to power. Shakespeare parodies the ambitions of social climbers in the figure of Olivia's butler Malvolio; he becomes the object of a prank that strips him of his puritanical pretentions to dignity and lays bare his lecherous intentions towards Olivia. Her maid Maria delights in being the deviser of the prank but her marriage to Sir Belch is a sterile match in the end. In this production all three couples Viola-Orsino, Sebastian-Olivia, and Maria-Sir Toby are united on stage under an avalanche of red and white balloons floating down on them as Malvolio runs off promising revenge "on the whole pack" and Aguecheek slinks off stage alone. The lighter spirit of comedy banishes the darker side, albeit Feste in his final song reminds the audience of the inevitable darkness in life while only the theater gives momentary reprieve.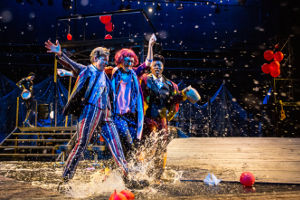 Sally WIngert, Sarah Jane Agnew and Joy Dolo. Photo by Dan Norman.
Director Tom Quaintance has assembled a spirited ensemble of actors who convey their delight of performance to the audience. As good sports they trudge lightly through the water or fall into it when the action calls for it. Nate Cheeseman as Orsino gives his character a good dose of ingenuous charm that modifies the pose of languid self-love. Olivia is played with delicious grace by Sun Mee Chomet whose voice makes music of Shakespeare's text. Emily Gunyou Halaas portrays the two faces of Viola/Cesario with persuasive expressiveness—her ability to show the subtle shifts of emotions as felt by the boy Cesario alias Viola, her comic adoption of boyish movements without parody, and her singing ability give her character an endearing quality. Jim Lichtscheidl's Malvolio is a study in butlerdom par excellence mixed with tartuffian hypocrisy, and yet as his toupee comes off and he is utterly humiliated, one cannot help but feel empathetic towards him. Sarah Jane Agnew's Maria with fiery red hair is a gamy maid with a quick wit that matches the comic duo Sir Toby Belch and Sir Andrew Aguecheek. The casting of these two characters was most surprising: Sir Toby Belch, usually played by a rotund Falstaffian actor, is here portrayed by Sally Wingert, a slender agile actress with a grayish unisex short haircut and dressed modishly in various three piece suits who plays Belch as an incorrigible hedonist with a great deal of humorous self-justification. Sir Andrew Aguecheek, usually played by a thin man with pallid complexion and a few strains of straw-colored hair, is portrayed here by Joy Dolo, a raucous plump black woman with a wicked glint of self-irony and an elaborate hair-do, dressed in outrageously glitzy funky suits. Both women play these male parts with such zesty pizzazz that undermines all the pretensions of manhood and embodies the paradoxes built into these characters.
While New York audiences can enjoy from time to time excellent Shakespeare productions at Theater for a New Audience, Lincoln Center, and BAM, the Guthrie is a unique theater institution in the US, not only because of its longevity of more than 50 years but also its wide range of theatrical offerings under the directorship of Joseph Haj, with a repertoire of ten productions this season and a fabulous building on the shores of the Mississippi River.