"Rage, rage against the dying of the light"
The Death of Ivan Ilyich
An American Premiere
Craig Smith as Ivan Ilyich. Photo by Gerry Goodstein.
"The Death of Ivan Ilyich"
February 29 – March 14
Paradise factory Theatre (Theatre B, downstairs) 64 East 4th Street, New York, NY
Presented by Phoenix Theatre Ensemble
Tues. – Sat. @ 7 PM, Sun. @ 2 PM
Gen Adm. $35
For Tickets: Call 212-352-3101 or www.phoenixtheatreensemble.org
Reviewed by Beate Hein Bennett March 3, 2020
Based on the novella by Leo Tolstoy and adapted by Stephen Sharkey, the Phoenix Theatre Ensemble invites us to witness a man's descent into the purgatory of dying. We enter a basement where an ellipsis of eighteen white chairs has been set up for the audience around a flat space littered with a collection of various small common items--a glass here, a half-empty bottle there, a pair of shoes, crumpled clothing, ripped pieces of brown paper with some writing etc. On each white chair is placed a light blue folded piece of paper: A headline reads "Make Peace with Mortality", an image of Caesar, and the syllogism: I. All men are mortal. II. Caesar is a man. III. Therefore Caesar is… Other inspirational texts are inside the folder.
We sit down, as in a group therapy session, watching as a half-naked man squats in front of one of three TV monitors that are interspersed among the chairs. He is focused on the grainy screen and seems to hold an inner monologue, subtly and slowly moving his hands and face as otherworldly sounds emanate from the screens. We know what we've come to see: A human being coming to grips with mortality, not someone else's, but his own. That is the sole subject of Tolstoy's novella and of the present actor's agon in the course of fifty-five minutes.
The man is Ivan Ilyich, embodied by Craig Smith, a veteran actor in the NYC off-Broadway scene, first with now fabled Cocteau Rep on the Bowery and since 2004 as the Founder of the Phoenix (together with his partner Elise Stone). The role has been skillfully extracted by Sharkey mostly from the last sections of Tolstoy's novella when Ivan Ilyich is forced to confront his slow death from a mysterious illness, caused by a fall from a ladder. Tolstoy explores the multiple psychological phases of a dying man who had climbed the social ladder to live the proper life of a magistrate, a public prosecutor, who is respected by his peers but continues to be driven by ambitions. He maintains the outward symbols of a proper family man but his misogyny undermines his marriage, and he faults his wife and daughter for their superficiality while he maintains the same social pretensions. The edifice of his proper life comes crashing down as he succumbs to physical decay and a spiritual crisis questioning the value of his life—he alternately bemoans and rages against the absence of meaning and "the absence of God"(Tolstoy). Tolstoy comes very close to 20th century Existentialism with his cool study in existential absurdity. In his sketchy text with rough language, Sharkey pushes the absurdity of IT ALL (Life) by keeping the focus on the increasingly acerbic observations Ivan Ilyich makes about the fake values that have controlled his entire life.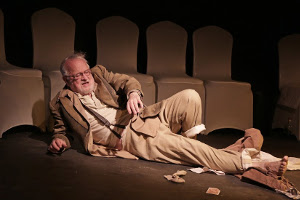 Craig Smith as Ivan Ilyich. Photo by Gerry Goodstein.
Craig Smith moves through the phases of a dying man with many expressive colors as he speaks to us directly—he rages against his illness; he simpers when he fears the darkness-- "the black sack"-- swallowing him; he tries to amuse with satiric renderings of family and friends as they come to visit, or as they attend his funeral. The place and time is fluid—much seems to be evoked from memory—some from earlier life, some from before his funeral. Most of the action, however, is driven by his physical and psychic pain and his opium nightmares. The young director Leo Lion, native of Russia and fluent in the language, moves Craig about the ellipsis constantly. Sometimes he lurches like a whirlwind of fury, or he interacts with images on the TV monitors, or plays with the detritus on the floor; at times he sits down among the audience and addresses it with a voice altering mic. The stage and lighting design by Juan Merchan with projections by Attilio Rigotti visually support the actor's movements and help to keep focus. Ellen Mandel has devised a varied soundscape that accompanies and signifies the layers of turmoil in Ivan Ilyich as well as suggesting some vestiges of music from Tolstoy's era. The choice of distressed modern period clothing in faded earth colors designed by Debbi Hobson seemed odd and did not signify any characteristic that I could associate with Ivan Ilyich. However, the actor Craig Smith seemed to be at home in the clothing—it did not impede his characterization in any way.
I would encourage attendance of this rare performance because it dissects a difficult subject—the art of dying-- that is deeply felt but mostly suppressed, and certainly avoided in the rush to sell the fountain of youth with images of happy folk riding motor cycles into the sunset of their lives.