Crazy, Stupid, Love: A Convincing Argument for Monogamy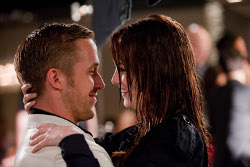 Ryan Gosling and Emma Stone in "Crazy, Stupid Love."
Eva Gabor once argued that "love is a game that two can play and both win." I guess she was in an optimistic mood. After all, she'd been married and divorced five times, most notably to a realtor, an osteopath, and a plastic surgeon.
Now Glenn Ficarra and John Requa, directors of one of 2009's funniest films ("I Love You Phillip Morris") and screenwriter Dan Fogelman ("Fred Claus") have teamed up to argue the same, but all the time admitting the game of love is not easy to win. Under their helmsmanship, The large-spirited "Crazy, Stupid, Love" is a continually entertaining adult comedy, at least for a major studio release.
The tale chronicles the travails of fortyish Cal Weaver (the affable Steve Carrell), who, during a romantic dinner with his wife Emily (Julianne Moore), learns she wants a divorce and has already slept with a co-worker (Kevin Bacon). There goes the American dream. Bye-bye to home, family, and a peaceful state of mind.
Suddenly on his own, the hapless Cal starts drinking at a bar night after night while bemoaning his plight ad nauseam to anyone who'll listen and to many who won't. To his utter surprise, during one of his "The Rime of the Ancient Mariner" rants, a fellow bargoer and apparent womanizer, Jacob Palmer (Ryan Gosling), decides to take Cal under his wing and transform the luckless loser into a suave winner. First get rid of those oversized suits, submit to a new hairstyle, and then shout aloud, "I'm better than the GAP." A moisturizer would help, too. After all, Jacob notes, the bags under your eyes "look like Hugh Heffner's ball sacs."
Step by step, Cal moves away from first-class "shlamazel-hood" and toward ladykiller hunkdom. But will success in the sack bring happiness? And what about Jacob? Maybe he can learn a few things about love from Cal.
With numerous familial subplots, sort of like three hyper-episodes of "Modern Family," "Crazy, Stupid, Love" explores love between the generations with aplomb, from preteen to teen to young singles to almost-over-the-hill. The cast is uniformly excellent , especially Emma Stone as a lass who gets sorely disappointed in l'amour, Jonah Bobo as a lad whose romantic fantasies belie his age, and Analeigh Tipton as a babysitter with an addiction for father figures. Only Marisa Tomei's Kate, a revengeful schoolteacher, winds up as an over-the-top, one-note cartoon characterization.
But it is Gosling who steals the show. Flexing his extraordinarily buffed torso and his acting chops, the young star proves his comic skills are as well honed as his dramatic ones, and that's saying a lot.