"Ghost Cat of Otama Pond:" Puss in Cahoots with the God of Retribution
by Brandon Judell
"Ghost Cat of Otama Pond," directed by Yoshihiro Ishikawa.
It's certainly nice to have a cultural institution within our midst that's not afraid of a little fun. So with high spirits in mind, the Japan Society (http://www.japansociety.org/) has initiated a fitting tribute to a Roger-Corman-like studio, Shintoho.
Appropriately titled "Shintoho Mind Warp: Girls, Guns & Ghosts from the Second Golden Age of Japanese Film," which sounds a bit like an Asian NRA convention, the festival will showcase low-budget to no-budget flicks featuring plots exploring/exploiting Japan's sex industry ("Flesh Pier"), bloodsucking ("Vampire Bride"), and a kabuki Macbeth ("Ghost Story of Yotsuyu"). Running from February 27th until March 10th in New York, these giddy, plasma-soaked celluloid offerings will then tour North America, hitting with a stake or two in hand San Francisco, Philadelphia, and Vancouver.
No doubt one of the highlights is the gloriously silly "Ghost Cat of Otama Pond" ("Kaibyo Otama-ga-ike") from 1960. Starting off a bit like "The Rocky Horror Show," two innocents get lost in the woods and wind up at the aforementioned body of water. Freaked out, Keiko, dressed in a tasteful pink frock with a jewel neckline, and her rather straight-laced but attractive fiancé, Tadahiko, follow a black cat to an abandoned house. Immediately, Keiko faints and receives a fatal feline curse empowered by the "awful force of vengeful fury."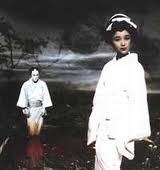 "Ghost Cat of Otama Pond," directed by Yoshihiro Ishikawa.
A local doctor, after performing an unsuccessful exorcism on Keiko, decides to spend the next hour explaining how the curse of the ebony pussy, whose name is Tama, by the way, came about. Flashback a century.
The samurai Yachimaru wants to wed the lovely Kozaso, but their dads are at war. You see Yachimaru's pop is a man of the people, willing to fight against the illegal taxation that is forcing his neighbors into starvation. Kozaso's pop, however, is siding with the local magistrate on the tariffs, carrying on an illicit affair with a trollop, and scheming to have Yachimaru's father and grandmother slaughtered, plus then wed his sister to an aging lout. If that isn't enough, the family house will be set afire while the young warrior is out of town. And when Yachimaru returns... Well, don't get the celebratory fireworks out yet.
Oscar Wilde once noted, "The good ended happily, and the bad unhappily. That is what Fiction means." In director Yoshiro Ishikawa's tale the motto is more "The good ended up kaput, and the bad haunted." Yes, cups of saki turn up blood red, grandmas with burnt crisp faces stalk bedrooms, and bodiless virgins appear in boxes. And then's there's the female demon with cat paws who noshes on snakes and a human or two.
With a striking palette of greens and vermillions, an eerie soundtrack, inept swordfighting, chintzy makeup, and a couple of performances that would fit right into an Abbot and Costello burlesque, "Ghost Cat" is the perfect film for those fans of tasteful B-cinema inanity.