MARI KIMURA AND JOSEPH KUBERA IN
THE INTERPRETATIONS SERIES AT ROULETTTE

Interpretations 32: Mari Kimura / Joseph Kubera
November 18, 2021 at 8:00 PM
Roulette Intermedium, 509 Atlantic Avenue, Brooklyn, NY 11217
A co-production between Interpretations and Roulette
Reviewed by Brad S. Ross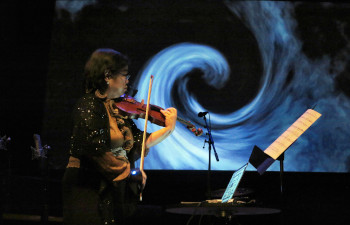 Mari Kimura's gloved bowing hand contains MUGIC®, a motion sensor and motion-driven interface for real-time multimedia performance effects, like the imagery appearing behind her in "Rossby Waving."
New sounds took center stage at Roulette on Friday, November 18, as the composer/violinist Mari Kimura and pianist Joseph Kubera performed an evening of contemporary chamber music. It was the second concert of the 32nd season of Interpretations, a series that focuses "on the relationship between contemporary composers and their interpreters."
The first half of the concert was devoted to the work of Kimura. Charmingly talkative, if occasionally discursive, Kimura has risen to fame in the past decade for her invention of the performance motion sensor MUGIC® (Music/User Gesture Interface Control), developed by the composer while she experimented with motion sensors at IRCAM. Described online as a "prototype motion sensor that enables you to use your movements to control virtually anything in software," the use of MUGIC® made for the most remarkable element of the evening.
The opening three pieces of the program were composed for the instrument by Kimura herself. The first of these was "Clone Barcarolle" (2009)—Kimura's first attempt at composing for MUGIC®. There wasn't much to this piece and it was clear that Kimura was still finding her footing with this technology when she wrote it. Characterized by a repeating ostinato melody, this served as little more than a curious teaser for the better works to come.
The next piece was "Canon Élastique" (2010), in which the MUGIC® was used to much more accomplished effect. The composer's Japanese roots were ever-present here as she used MUGIC® to rewrite the echoes of a pentatonic melody to form an otherworldly canon. These delayed repetitions made for engaging effect and sounded not unlike the tape delay effects created by an Echoplex in decades past.
This was followed by "Rossby Waving" (2017), which included visual accompaniment created by Kimura's friend Liubo Borissov. After a false started caused by a technical glitch with the video (isn't technology fun?), "Rossby Waving" began in earnest on a kind of eerie lament. The accompanying video began on a white circle that slowly morphed into abstract images of oceans and frozen mountain tops, before transforming into a spectral inferno. The music featured numerous glissandi and some impressive extended technique before book-ending on a haunting conclusion paired with the same white circle on screen.
Next up was the New York premiere of Dai Fujikura's "Motion Notions" (2019), the first composition ever commissioned for MUGIC®. Fujikura's work managed to hold its own against those of Kimura, demanding considerably difficult playing from the soloist. Inspired by the motion of bowing, Fujikura made skillful use of the violin—the end result being something of a frightening siren song.
Percussionist Aiyun Huang performing"Iron Bird for cymbal and MUGIC®." Motion sensor is worn in her gloves.
Kimura was then joined by the percussionist Aiyun Huang for the world premiere of "Iron Bird for Cymbal and MUGIC®" (2021). Here we were treated to some truly unearthly sounds. In addition to Kimura's melancholic violin part, the music was accompanied by the distorted sounds of human voices and a number of extended percussion techniques from Huang, who occasionally bowing or scratched her fingernails on the cymbal for various effects. Once, Huang even seemed to be flapping her hands as though they were butterflies. This absolute commitment to the piece by both players proved for a memorable performance.
In "Kismet" (2021), violinist Mari Kimura manipulates dog chew toy containg MUGIC®, a motion sensor and motion-driven interface for real-time multimedia performances. Device is also in her glove, as indicated by the blue light.
The last piece prior to intermission was the American premiere of "KISMET" (2021), also written by Kimura, for which she was joined by the members of Ensemble Decipher. For this piece, Kimura affixed the MUGIC® to a dog toy that was passed from performer to performer as the music progressed (this was originally intended for a frisbee, before the composer thought better of it). The other performers also contributed ethereal vocalizations reminiscent of the music of Caroline Shaw and Roomful of Teeth. If at times it all seemed a bit silly, the committed performances by Kimura and Decipher made it all very fun—something often lacking from a typical classical music concert.
Members of Ensemble Decipher manipulate a dog chew toy containg MUGIC®.
The second half of the program was performed in its entirety by the pianist Joseph Kubara and featured the works of four different composers. In sharp contrast to Kimura's wordiness, Kubera took the piano bench without preamble and dove immediately into the world premiere of Peter Gena's "Vaccinum, Covid-19 spike protein: Region V" (2021), a musical interpretation of the mRNA Covid-19 vaccine. Like much of Gena's other DNA-inspired compositions, "Vaccinum" was characterized by fairly meandering atonalism that seems to make more sense on paper than anything discernible in performance—its ending arriving almost arbitrarily on a final low and dissonant chord. Altogether, this made for a piece with a more interesting program note than the music it described.
Joseph Kubera at the piano
Next was Daniel Goode's "Piano Sonata No. 2: Memories of Pre-Minimalism, 1959 and Now" (2015), which quickly announced its more tonal-friendly nature with a boisterous introduction. Combining elements the composer wrote while a graduate student at Columbia University with new material from 2015, the work was refreshingly upbeat, but remained respectably thoughtful and introspective even at its most propulsive moments. The work also provided ample opportunity for Kubera to showcase his talent, whose dexterous playing brought the work to an intricate and sudden end.
The American premiere of Tom Johnson's "Block Design" (2005) followed. Inspired by the eponymous structures from combinatory mathematics, the piece was built upon a melancholic arpeggiating ostinato of ascending diminished chords. The composer described the construct in the program note better than I can paraphrase here, writing:
The configuration here is technically a 4-(12, 6, 10) block design, which in my musical terms means that there are 12 notes, distributed into 6-note arpeggios, in such a way that every combination of four particular notes comes together exactly 10 times in 10 different arpeggios. In fact, it is also true that every combination of 3 notes comes together 30 times in 30 different arpeggios, every pair of notes occurs 75 times in 75 different arpeggios, and each of the 12 notes occurs 165 times, in exactly half of the 330 arpeggios.
Did you follow that? While this concept may have seemed terribly clever on paper, the idea far outlived its welcome in performance—the belated ending coming only after an eternal rumination on this mathematical concept. This was also the longest piece of the night and, alas, very much felt it.
Fortunately, the program concluded on a much brighter note with the New York premiere of Daniel Rothman's "Queens Plaza" (1991, revised 2005). Inspired by the German painter Annette Besgen's "Queens Plaza II," this work's meaty notation that was noticeable even at a distance, filled with vivacious rhythms and densely packed counterpoint (a special nod must also go to the unnamed page-turner, who followed the pianist with herculean precision).
All in all, the concert was a mixed bag of contemporary works, featuring some of the brilliant highs and unfortunate lows one must inevitably experience in the discovery of new music. Special praise must go to Kimura and Kubera, however, who treated every piece with equal parts sincerity and professionalism; in this way, the composers were always allowed to speak for themselves, even if one didn't always appreciate what they had to say.