ANAHID SOFIAN CELEBRATES 35 YEARS
Anahid Sofian and Souren Baronian Ensemble. Photo by Stacey Lespinasse.
The Anahid Sofian Dance Company celebrated its 35th Anniversary June 28 and 29, 2014 at Manhattan Movement & Arts Center, presenting a retrospective of its signature works and works by guest artists: Nourhan Sharif and Dancers, The Sera Solstice Ensemble, Souren Baronian Music Ensemble and Carlos Fittante & Robin Gilbert. Ms. Sofian is a prominent instructor, performer, choreographer of Danse Orientale (Belly Dance) whose influence was showcased and celebrated in the evening.
Souren Baronian Ensemble performs on clarinet, kaval, oud, kanoon, violin and percussion. The choice of this ensemble was, in itself, a sign that the evening would be greatly autobiographical, since Ms. Sofian, like Mr. Baronian, is Armenian. (The band actually has two Armenians, Souren Baronian and Robert Boghosian. Its other musicians are Palestinian, Italian, Lebanese and Jewish.) The point was driven home again unmistakeably with "Communion" at the top of the second act, which contained a reading of "The Dance," a poem by Siamanto about the burning of twenty Armenian brides during the Armenian Holocaust, followed by a dance with eight women performed to "Taroni Oror," an Armenian lullabye song by Hasmik Harutyunyan. While Ms. Sofian's dance has a lot of Turkish aspects, she was reminding us of her Armenian roots. She was also reflecting on her role as a mature dancer and teacher.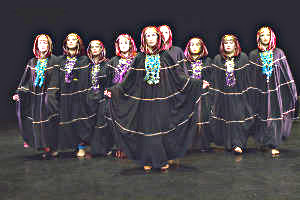 "Morocco." Photo by Stacey Lespinasse
Following a musical introduction by the six-member orchestra, the evening got underway on a very traditional note with "Morocco," a folk dance performed by nine women in black caftans. As they formed and re-formed in ranks of two and sometimes three lines, they were led by Ianeen Stevens who minded the ensemble like a mother to her flock. The dance is common to Morocco, Tunesia and Algeria.It was inspired by Berber dances that Sofian filmed in Marrakesh which actually have no relationship to belly dancing..
Jean Mustacchio with sword. Photo by Stacey Lespinasse
"Raks Beledi," a dance in Arabic rhythms, featured solos choreographed by three individual dancers, who riffed to a tone poem with their hand cymbals. It showcased the Sofian technique in cymbals, which is one of her specialties. "Ode: A Dance At Twilight," a dance with stately and formal partnering, sounded a very spiritual note, with Anahid Safian dancing the part of the spirit. Music was vocals by Irini Pappas. It was followed by Carlos Fittante and Robin Gilbert of BALAM Dance Theatre recreating the Sofian dance titled "Ma'Na," which was balletic and slow, with the pair largely swaying in muscular embrace on the floor. Floor work is another specialty of Ms. Sofian as is veil work, which was showcased in "Gazli," a slow work with three dancers, two all in red and one in blue. Ms. Sofian's spiritual sense was flying high again in "Nocturnal Ritual," whose Part I was focused on candles and whose Part II had Jean Mustacchio balancing a sword on her head while executing some exacting floor work as she scooted in a circle and offered some slow arm movement, following it all with some standing dance with the sword.
"Night Spirits." Photo by Stacey Lespinasse.
The first act was all pretty slow until modernism crept into the program to close the act with, "Night Spirits," a multidisciplinary work with balletic leaps, floor work, and an aerealist (Tara Quinn) descending from the ceiling on a bolt of fabric. Red-haired Natalie Nazario, who opened the dance and shook us loose with her concentrated energy and no little charisma, deserves to be singled out in this number. In Act II, following the aformentioned "Communion," we had "Garden of the Beloved," a dance of stillness performed by Ms. Sofian that is inspired by a poem about love.
The evening had so far primarily imparted Ms Sofian's spirituality and her Armenian soul, an experience of savoring traditions. Now the evening's energy went on an upswing. Dancers' midriffs, which had been mostly covered in earlier numbers, made a welcome re-emergence as Nourhan Sharif, Pamela Miel and Stephanie Skaferowsky performed "Egyptian Raqs Sharqi: From Women's Quarters to the Stage." That piece was accompanied in its Part 1 by the Souren Baronian Ensemble and in its Part 2 by "Sit El Hosen," a work of carnivalesque energy by Dr. Sami Farag that was originally written for Nagwa Fouad by Mohammed Sultan. In Part 2, the humor of the dancers' exaggerated flirting glances brought yelps of appreciation from the crowd.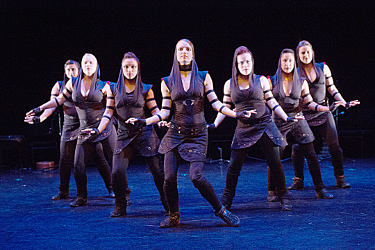 Sera Solstice Ensemble in "Future Human." Photo by Stacey Lespinasse.
With the entrance of Sera Solstice Ensemble, we were suddenly swept up into the future of Belly Dance. The troupe's work is labeled Tribal Fusion and it mixes Belly Dance liberally with elements of modern dance, hip-hop and martial arts. "Future Human" was set to a sound track I noted down as "Outer Space Radio," with recordings of "Up in The Clouds" by Mimosa, "What You Wanted to Feel" by Machine Drum, a Pixielord Remix, and "Parallel Jalebi" by Four Tet. It telegraphed futurism. The seven-girl ensemble provided their own percussion by slapping the stage floor. I took the dance to be something of narrative, reminiscent of Chaplin's "Modern Times," portraying a woman (something of a typist) who is driven crazy at work and later relaxes with a joint. Very precise movements were executed with machine-gun rapidity and mimetic poses flew past in delightful swiftness, leaving you to wonder "now how did she do that?" I was reluctant to applaud during moments of the dance because the images were going by so fast that I might miss something. Shimmy movements of Belly Dance, recombined with the jazz and hip-hop, revealed an haute creativity that left us energized and grateful. I had appreciated the elegance of the slow dances and how Ms. Sofian's veil solos can be articulate, especially for mature dancers. Yet I would testify that this fusion, with its raw originality, is a force to reinvigorate Belly Dance. Crafty Ms. Sofian had shown us the past, and the future.