WOMEN IN MOTION AT THE WEST END THEATER
Soaking WET: Works by Maura Nguyen Donohue, Garnet Henderson, Deborah Lohse, Zoe Rabinowitz and Catherine Tharin.
Presented by Women In Motion, curated by David Parker
May 21-24, 2015 at West End Theater, 263 West 86th Street, NYC
Reviewed by Barney Yates May 23.
I had previously only seen The West End Theater with conventional plays onstage. The playing area, positioned as it is under a very high, soaring church ceiling, has always struck me as hard to work with. It often seemed to suck up the light, imbuing the plays with an unwelcome drabness. So I was pleasantly surprised to see the space work so well for dance when I attended my first performance by Women in Motion on May 23. Introductory remarks by Jeff Kazin informed the audience of how the space had been custom-configured for Women in Motion's regularly occurring dance concerts. The curving back wall must have been a challenge to fit a special, custom-built dance floor against, but somebody has done an expert job of it. The space was well lit by Choe Z. Brown. From May 21 to 24, the program was "Soaking WET: Works by Maura Nguyen Donohue, Garnet Henderson, Deborah Lohse, Zoe Rabinowitz and Catherine Tharin." On the date I attended, one of the program's five pieces, "Twice" by Catherine Tharin, was not performed. But I was able to see the other four dances, all of which were interestingly conceptual.
The first piece of the evening, the Grahamesque "Don't Lean on Me, Man" by Garnet Henderson, explored themes of supportiveness between two women, through women's eyes. Henderson danced with Rebecca Hadley; they alternately held each other up, let each other fall, pursued and eluded each other. Mirroring gave way to one dancer picking up the other as if she were wounded. The lighting changed to chiaroscuro, then to backlit. The dancing was nicely precise. Girl 2 gets frantic as Girl 1 backs away. "You're driving me away" seems to be the message. I couldn't help wondering if it wouldn't have been more provocative as a duet between a man and a woman.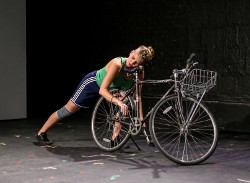 Zoe Rabinowitz, photo by Stephen de la Heras. This photo must be from a preceding performance, since the bikes in the show had no chains or sprocket.
The second piece, "be-seek-let," was by Zoe Rabinowitz with contributions by Lena Lauer, Kensaku Shinohara and Osias Yanov. The title reminds you of the Italian word bicicletta. Lena Lauer and Zoe Rabinowitz danced with ten-speed men's bikes whose front sprockets, cranks and pedals had been removed. The handlebars had not been fused. Thus configured, the bicycle is not a very agreeable dance partner. The front wheel and handlebars turn unexpectedly, making the frames floppy and hard to control.
Lauer and Rabinowitz embraced the bikes occasionally, sometimes they stuck a leg through the frame or lifted the bikes horizontally on their feet. Their movements were slow and posing. Anything faster, they would risk droppping the contraptions and hurting themselves. You realize: there is a problem in dancing with bikes because they have been used so memorably in acrobatics and circuses. So audiences have very high expectations when a two-wheeler makes an entrance. 'Nuff said.
Deborah Lohse as TruDee. Photo by Quinn Batson.
The third piece, "Dances for Lovers" with Deborah Lohse, was a solid hit. With Carol Burnett humor and a mullet haircut wig, she plays TruDee, a woman from Tuckahoe. The setup is that we are with her in Covent Garden and "Romeo and Juliet" is unfolding. She is Juliet, but this Juliet is enticing her Romeos in a disco or nightclub. It's a comedy turn that would make you think that Lohse deserves her own TV show. She is joined by a chorus of two middle-aged women who play cougars in the club. Lohse improvises with input from the audience, she acts passages from Shakespeare, she recruits a "Romeo" from the audience, she drinks Juliet's poison and dies. With her red lips, munching on red licorice, clad in coral pants, she is a commanding presence of a clown. Brava!
The final dance, "Tides Project: North Pacific Gyre," is a "trash vortex" by Maura Nguyen Donohue, a scored improvisational work danced to compositions by Adam Cuthbert and shakuhachi music by Perry Yung (who descends the center aisle at the dance's end). The imagery is all of the Seven Seas. The dancers are covered in grocery bags (you read Zabar's, West Side Market, etc. -- they're keeping it local) which wave and effectively suggest the motion of the waters. Donohue's troupe, named inmixedcompany, numbers about eight...but wait, there are more people concealed under all those bags! Some are dancers, others seem to be simply observers. There are about twelve of them and we even pick out a kid or two. The choreographer's children, I reckon.
The imagery is gently enveloping. The dancers spin expertly, they roll on the stage. Projections play on the curved wall surrounding the playing area. The waving bags are quite evocative in suggesting the tides, the storms, the swells and the breakers. From news coverage of the hunt for Malaysia Airlines flight MH370, we have learned that the Indian ocean is so filled with floating debris that aerial search parties cannot easily discern the wreckage of a plane among the rest of the floating plastic on the waters. Yes, our oceans are drowning in plastic, the detritus of our failed civilization. On stage, one dancer has a bag over her head, like a suffocating sea creature—don't try this at home! The stage picture is a beautiful Rorschach in which you see cataclysmic images, like a horizon of beached fish. My companion saw the end of the world in it. The experience was not cheerful, but it was impressive. The program tells us that Donohue loves the ocean and hopes her two children will still have a functioning one in the future. So do I.
Women in Motion supports and showcases female choreographers. Beginning as part of the EstroGenius Festival, the organization has come into its own as a volunteer-run fest that pushes artists further in their work, supporting them in inventing or reinventing their work. The intent of this program was to mix dance makers who are in different moments of their careers, hoping they would influence and challenge each other. Soaking WET will return to the West End Theater September 24 to 27, 2015 with a new program of dances by Karen Bernard, Rachel Cohen, Leslie Parker, Janice Rosario and Alice Tierstein. [B.Y.]