IMPERFECT RECIPES FOR THE TRAGEDY OF LOVE
Alessandra Corona Performing Works
May 30 and 31, 2017
Baruch Performing Arts Center, 55 Lexington Ave.
"Amore Impossibile," choreographed by Kristian Cellini
"Just Joy," choreographed by Guido Tuveri
Reviewed by Barney Yates May 30, 2017
Alessandra Corona and James Johnson in "Amore Impossibile." Photo by Natalia Bougadellis.
I thoroughly enjoyed my introduction to Alessandra Corona Performing Works on May 30, when I attended her program of new dances by Italian choreographers. She and her ensemble of six dancers (Alessandra Corona, Michael Bishop, James Johnson, Nicholas Montero, Fannon O'Brien, Cassandra Orefice and Maria Vittoria Villa) plus a narrator (Fulvio Della Volta) offered an evening of thoroughly Italian character. I mused it could have been titled "Dances of the Sunny Disposition." If you've been to Italy, you know what I am talking about.
Kristian Cellini hails from Rome and his "Amore Impossibile," a dramatic and passionate modern ballet, was inspired by "The Lady of the Camellias" (Dama Camellia), which is a Traviata theme. Throughout the piece, we watch a simple and gorgeous stage effect using a large mask placed stage left behind the action. The mask is illuminated with moving red spots--are they flower petals?--as the piece begins with a cast of four men and two women, all in grey but one in red, engaging in fast balletic movement. A provocative, poetic text is recited by Fulvio Della Volta. Original music is by American composer Thomas Lentakis and the program explains that the "expressive peak in the choreography" is emphasized by music of Chopin.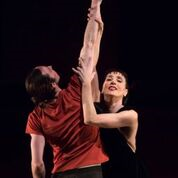 Alessandra Corona and James Johnson in "Amore Impossibile." Photo by Natalia Bougadellis.
The girl dancers all have long hair and so does Alessandra Corona, the lead female dancer (an aspect of the production that is not displayed in the photos here, unfortunately). I begin to muse that the hair is a character in the piece. James Johnson partners with Ms. Corona, dressed in a red coat. A stunning duet--a love dance-- is offered by bare-chested Corona and Johnson. The narrator, handsome in blue, explains that "Time steals the moment." The men execute a running dance; the man in love is tormented by two men and assaulted. All the dancers exhibit superb control throughout. I particularly admired the back bends of Maria Vittoria Villa as she danced with Johnson.
The narrator's monologue, which I received later, establishes the love affairs we are witnessing. Anthony, a young man taken by desire, is betrayed by doubt. For John and Lukas, it's all powerful and violent. For Julie, sex provokes and divides. For Helen, silence condemns and kills. Isabelle is seduced by lust, devoured by passion and defeated by regrets.
Ahhh, love and life. Broken hearts. Trust and betrayal. Alessandra Corona, the senior dancer, is also the most beautiful in her forms: elegant and delicate.
After intermission, "Just Joy," choreographed by Guido Tuveri of Sardinia to music by Thomas Lentakis, begins with movement that seems evocative of the folk dances of local festivals. That's the undercurrent of the piece. The girls wear short velvet black dresses over longer dresses and they hold the short ones as they turn. We get a ladies' choice. As they dance in a circle, a man dances around them and throws flower petals. Johnson, dressed in a red shirt, stands out--is he the dance captain? Corona socks the floor with a white cloth; Johnson rolls toward her with a bouquet. He ties her hair around her neck. Another male dance rolls through and removes the flowers and cloth. Two leads, Corona and Johnson, and Michael Bishop, partner in a love dance and she is lifted throughout. She takes two men under her wings, literally.
I am watching this, savoring the thoroughly Italian characters. The movement becomes too fast, with simultaneous narratives, for me to grasp a central one. There emerges a duet where lovers beat each other up. The moral seems to be, sometimes you get hurt and you want to make up. Ahhhh. Love is messy.