Alessandra Corona Performing Works presents works by Manuel Vignoulle and Guido Tuveri
Michael Bishop and Parris Lewis. Photo by Natalia Bougadellis.
December 7 and 8, 2018.
"W2! (Women Too!)" by Manuel Vignoulle
"Interaction" by Guido Tuveri
Presented by Alessandra Corona Performing Works
GK Arts Center in Dumbo
Reviewed by Barney Yates December 7, 2018
Alessandra Corona Performing Works presented a double-bill of "W2! (Women Too!)" by Manuel Vignoulle and "Interaction" by Guido Tuveri to GK Arts Center in Dumbo December 7 and 8, 2018. It was an evening of dance dedicated to the relationship of the sexes.
The subject is an unremarkable choice in our #MeToo era, but the emotional effect of the dances, which seemed affirming to heterosexual courtship or to the concept of monogamy (depending on whom you spoke to in the audience), was. There was a joy that the performers brought to the work, whether they were dealing with love and its rituals, or its abuses which rankle us so much in this time. (I'll make a snarky note and say that at least in these dances, nobody is undesired, which is a refreshing change from the sometimes state of things.)
Manuel Vignoulle, originally from Paris, created "W2! (Women too!)" explicitly to explore the evolution of the male-female dynamic in history form the contemporary man's point of view. It's a dance for seven performers, including Alessandra Corona, who is sooo sexy as her shirt billows out as she is flung and spun in a duet with Brian Castillo. The score uses Baroque music, arranged by Thomas Lentakis, specifically selected to evoke the old fashionedness of tradition and its rules. "W2! (Women too!)" opens by introducing its characters in a frieze in which four female characters get up from a white chair to make room for a single male character. Soon two more men come to pay court. The women are dressed in black corsets over black dresses. A balletic sequence begins to classical strings and accelerates into fast movement with stomping. As the men lift the women, holding them over their shoulders, I find myself grateful for the spaciousness of the playing area at GK arts center, which makes room for high moves (and in part 2, high projections) and takes the light beautifully. The "theatrical" aspects of the performance, notably spoken passages by Parris Lewis, make us realize the piece is ballasted with theater in its concept. Or at least as far as its creator explained in a published piece I read.
The spoken passages of the dance include outcries like "my body belongs to me" (the ensemble), "We should all have the right to be treated as humans despite race, gender, religion, sexual orientation, so forth" (Michael Bishop), "Nobody should be bound, limited or altered in any way by another person, unless requested" (James Johnson), "The fact that I'm showing some skin doesn't mean that I want you to touch whatever is exposed and it definitely doesn't give you the right to do so" (Maria Vittoria Villa), "This vessel never felt like mine. I guess because I was always conditioned to give" (Parris Lewis) and "Why should I shrink myself so as not to offend" (Cassandra Orefice). In the process for this work, Vignouile charged his ensemble, especially Parris Lewis (who is also a singer and a writer), to write spoken texts for themselves based on reactions to historical events and passages from literature. These guided them in evolving their own characters for "W2! (Women Too!)."
A similar strategem underlay a piece I had seen a couple of weeks earlier: "Citizens of the Gray" by Elia Schneider at Theater for the New City. But Schneider's ensemble evolved their sexual roles from characters in modern classic plays by Strindberg, Ibsen, Tennesee Williams and Inge.
There is lots of preaching about sexual equality. The declarations by Parris Lewis, who is African American, bring a Black defiant message. There is lovely floor work and contortions like you nevvah saw. Michael Bishop, costumes in a black skirt, is particularly engaging and has leg moves far beyond the normal range. The dance occasionally settles into a directness that I found unnecessary. But this qualification is unnecessary; overall, it's all played with a gusto and conviction that was thrilling.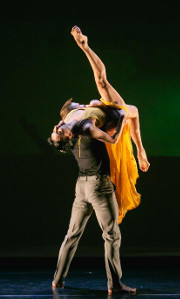 Alessandra Corona with James Samson. Photo by Natalia Bougadellis.
The second dance, "InnerAction" by Guido Tuveri and Company, was a new piece for seven exploring the process of surrendering emotional defenses. The piece opens with a man in an overcoat with a red flower in his lapel, whom I understand to be in the role of the perpetual suitor. Out of the stage right wing comes Alessandra Corona, tethered to a man in the wing. I get it: the man in the wings is her mate, the guy in the overcoat is her temptation. Flashing behind the dances were projections of bees, daddy-long-legs and ants that I don't understand. (The program advises that "performers and the audience are invited to focus their attention on suggestive images, in the form of short video clips which will be projected randomly.")A woman in a floral dress (Maria Vittoria Villa) and a man in a blue shirt (James Johnson) engage in a lovely languid duet set to "Summertime" from Porgy and Bess, as interpreted by Andrea Motis, Joan Chamorro Quintet & Scott Hamilton. Background projections turn to flowers. The music turns to Bossa Nova and we get bees in the background. A duet between James Samson and Ms. Corona impresses; she's in a yellow dress that goes with the yellow of the bees. The men don suit jackets and the women dance with them. There's no literal narrative now that I can see until one man steps out of the group to photograph the assembled.
I leave the performance pleased and energized. After the performance, there were Sardinian cheeses and other treats served in the lobby. Corona and Tuveri are both from Sardinia.
Bottom line: we are lucky to have Alessandra Corona and her lovely collaborations with choreographers from her native Italy and others we might not otherwise have discovered.