THE REBELS ARE OLDER NOW,
AND STILL GOOD-HUMORED
Laura Pawel Dance Company
March 15-16, 2019 at Chen Dance Center, 70 Mulberry Street
Reviewed by Barney Yates March 15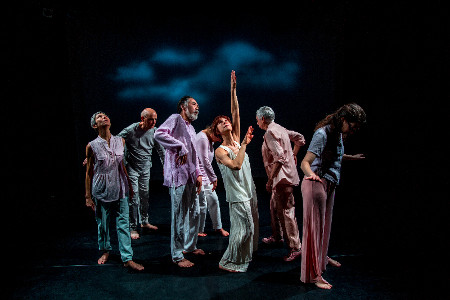 Laura Pawel and Dancers
Laura Pawel is ever true to her specialized early modern dance aesthetic. Her "non-technical" work was a legitimate style when it emerged in the late sixties, a time of re-imaginings. It offered pedestrian, everyday movement and improvised talk as a trained dancers' rebellion against formalism. And here it is, at Chen Dance Center in Chinatown, true to its origins, for all of us to see and re-experience (or experience for the first time), performed by people who set the style. In watching it, I only wonder how it strikes audience members it may be new to, who don't share the dance community's institutional memory.
One of my teachers would have found the essence of luxury in their rebellion: having great technique and then not using it. There is great risk in the whole enterprise: improv is, as a genre, hit or miss. The dancers are all, well, mature now. But at least there's an intrinsic humor in older people. Pam and Jim Finney have a comedic quality. Elaine Myrianthropulos seems to always look like she's smiling.
The pre-show announcement by stage manager Anna Koslin, effacing and beaming simultaneously, tips you off that you are headed into something unusual. The evening starts with "Sunset Beach" (2018), in which four dancers (Stacy Berkheimer, Jim Finney, Pamela Finney and Elaine Myrianthopoulos) are laying out in the light of a sunset, as established by a background projection. There are gentle arm gestures and much text about what I assume are improvised subjects: mostly what happened on a highway ramp. It's performed at the start to soft guitar music (or should I say, along with the music--they don't exactly move to the music). Later in the piece, Pamela Finney discourses on finding a rotten pumpkin in a sandbox. Throughout the evening, music by the protean Celia Coleman Quartet (Celia Coleman-piano/composer, Pasha Karchevsky-trumpet, Peter Brainin-saxophone and Chris Haney-bass) takes many forms, from atmospheric guitar to progressive jazz. Are we supposed to take the improvs seriously? Jim Finney has found a baby crying in a parked car and taken the risk of picking up a stranger's baby, he declaims. The movement is general stepping and waving.
In "Comfortable Silence" (2016), a duet with Laura Pawel and Stacy Berkheimer, we see that Laura can still move fantastically and everything she does is expressive. The jazzy music with a horn and baritone sax is a delight. With this score, you couldn't go wrong, I think to myself.
"Cloudy, With a Chance of Rain," the premiere, has Jim and Pamela Finney and Elaine Myrianthopoulos performing to a quiet ghostly score that was recorded. The movement seemed to say the coming rain had activated their arthritis. The improvisation included tone poems in the form of breath sounds and stuff like "Nyuck Nyuck Nyuck Woo Woo Woo Woo." You could drift off to the music.
After intermission, there is "Tete a Tete" (2013), in which Stacey Berkheimer and Laura Pawel are working off each other much more than the ensemble had been been in "Sunset Beach" and "Cloudy, with a Chance of Rain." I delight in the quizzical look on Laura's face and in her angular body. The evening ends with "Plain and Fancy" (2017), in which the projection of "Sunset Beach" comes back and the music is the star. Jim Finney draws cards which seem to have clues for the performers' improvisations. I find myself toe-tapping to the progressive jazz, which was, I might say, a guilty pleasure.