MARTITA GOSHEN EARTHWORKS IN
"BETWEEN HEAVEN AND EARTH"
June 13 and 14, 2019
The Scripps Studio at Paul Taylor Dance Studio
551 Grand Street, Manhattan
Reviewed by Barney Yates June 14
Martita Goshen created "Between Heaven and Earth" to be the fourth part of a quartet of dances celebrating the the "greatest American race horse," Barbaro, who captivated the world with his breezing win in the 2006 Kentucky Derby but shattered a leg in the Preakness just weeks later. The ordeal of his surgery and near recovery was closely watched and he became an unusual cause célèbre. He was cared for by the finest equine surgeons at New Bolton Center at the University of Pennsylvania and daily bulletins on his condition kept fans on edge. He eventually was overcome by complications of his injuries and had to be euthanized in 2007.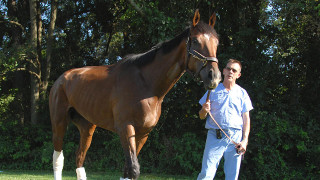 In this photo provided by the University of Pennsylvania, School of Veterinary Medicine's Dr. Dean Richardson walks with Barbaro as he grazes on Friday, Aug. 11, 2006, at the University of Pennsylvania's New Bolton Center in Kennett Square, Pa.
Beside her choreography, Martita Goshen is also known as a conservationist. Her works are largely inspired by the environment and animal world--she has also created works about whales and elephants--and her Earthworks performances have been presented in conjunction with Greenpeace, the Cousteau Society, the Animal Welfare Institute and Center for Environmental Education. Her last name resonates with track people in another way. Goshen Historic Track is a historic half-mile harness racing track in Goshen, NY. It opened in 1838 and is now the oldest continuously operated horse racing track in North America. (I don't think her family founded it.)
Postcard image for "Between Heaven and Earth"
Like the previous installments of Goshen's Barbaro series, "Between Heaven and Earth" was a work of peaceful movements and an elegaic tone, set to compositions by varied composers, some classical, some folk and contemporary.
In "Between Heaven and Earth," Ms. Goshen joined with her ensemble of five women and one man, carrying Barbaro's coolout blanket onstage, which became a central, sentimental symbol of the piece. We were treated to a poem from Barbaro's memorial. The opening of this dance concert, a movement titled "Flashback," was a dirge. All the music was painful. Ms. Goshen offered us a solo with a lot of reaching and gesturing.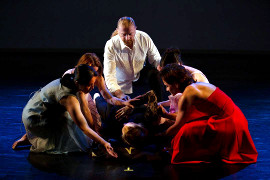 The company, with Martita Goshen in the middle with the horse's blanket. Photo by Francisco Gratiano.
In the second movement, called "The Heart of the Matter," exploring the discovery of common stories between horse and human, the highlight was provided by Annmaria Mazzini, who partnered with Ionna Ioannides. Mazzini later partnered nicely with Richard Kilfoil in a subsequent movement, 'Connections." Patricia Ruiz, in a flashy red dress, offered spirited energy in her duet with Kilfoil a little later. Grace Ho filled out the ensemble nicely. The sections of this third movement were aptly named Comfort, Hope, Trust and Forgive-- things you do at a funeral. By the fourth movement, titled "Full Circle," you realized that the whole evening seemed to convey the shock and numbness of grief. Throughout the program, there was nothing equine in the movements. It was a fairly standard modern dance vocabulary and the dancers were just...well... us.
Dare I theorize that a horse's death represents a bigger death in this concert? Are the qualities of nobility, heart, courage and sacrifice--what we associate with these steeds--lost in our time, and so we mourn? It's all so pitiful, because these noble animals are dying for our pleasure and our greed.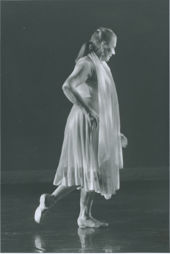 Martita Goshen
Barbaro's fate assumes particular poignancy as we watch racehorse deaths spiking this year. Please read on--I am going to talk about something you don't normally get in theater and dance publications, and it's not leading to the conclusion you would expect. I want to make the point that in thoroughbred racing deaths, while we are transfixed by the beauty and majesty of the fallen athletes, we are generally unaware that these fallen champions are also youngsters.
Last time I went to Saratoga for the thoroughbreds, a few years ago, the whole racing card was for young horses: maidens (i.e. horses that have not won a race), two year olds, three year olds... These young, unproven horses are harder to handicap because they have few starts and it's nearly impossible to guess their form. It adds uncertainty and unpredictability to the racing. Is this bad? Let's see.
As of this writing, 30 horses have died at California's Santa Anita -- one American thoroughbred track--this year. Nearly ten horses a week on average died at American racetracks in 2018, according to the Jockey Club's Equine Injury Database. That fatality rate is two and a half to five times greater than in the rest of the horse racing world. I read that 200 horses lost their lives in British races in 2018.
Equine Veterinary Journal recently published the first study of its kind to compare mortality in three racing breeds (thoroughbreds, standardbreds and quarterhorses), and this study, by University of Guelph, represents the most complete data set on the issue so far. Researchers analyzed race and trial run data from the Ontario horse racing industry. They found that about one per cent of racing thoroughbreds die annually in association with racing or trial runs. The mortality rate and risk is lowest for standardbreds, at 0.28 deaths per 1,000 race starts, and an annual death rate of 0.23 to 0.24 per cent. This breed, interestingly, is given more extensive training preparation and racing. Mortality related to high-intensity exercise in quarter horses was 1.49 deaths per 1,000 race starts, with an annual death rate of 0.60 to 0.69 per cent from the activity.
These stats did not break the fatalities down by the horses' ages, but I'll bet that thoroughbred racing deaths are heavily slanted toward younger horses. When I was in the racing business, I knew a harness trainer named Walt Warrington who was tearing up the Pennsylvania tracks with a stable of Anzac (Australian and New Zealand) trotters and pacers. Walt told me that down under, in Australia and New Zealand, they don't bring horses to racing until they are six or seven, so they enjoy long racing lives that are much more injury-free. It may have been true, at least at the time, at least in harness horses. Mature horses have bones and ligaments that have solidified. Two and three year olds don't. Interestingly, only sixteen horses died on New South Wales (Australia) racetracks between January 1 and June 30 this year and another 13 were euthanised after being injured in a race. That's pretty slim compared to North American numbers.
Now remember, we describe Barbaro as a horse, but he was struck down as a colt. The Triple Crown is a trio of stakes races for three year olds.
My personal feeling is that we have too many stakes races for young horses, causing an unnecessary financial incentive for owners to race them when they are too vulnerable for the racing lifestyle and the type of work they are called on to do. If there were equivalent purses offered in races for aged horses (in racing terms, "aged" means five and older), we might see the athletes of the thoroughbred industry enjoy longer, healthier lives and racing careers. And please remember, an aged horse is just as beautiful to watch racing as a colt or filly. None of the pageantry and beauty of the sport will be lost.