Welcome to the New York Theatre Dance Wire Attic.
This is a directory page for archival articles indexed by our internal search engine.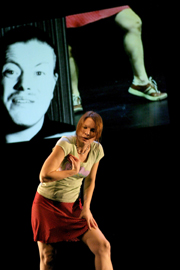 Sourcing Stravinsky-- "Track 11," Dayna Hanson and Linas Phillips. Performer: Dayna Hanson. Photo: Julieta Cervantes.
Stravinsky Reassembled
Almost ever since there was music by Stravinsky, dancers have danced to it. That the choreographic possibilities of his rhythmically supple scores have not been exhausted was demonstrated in "Sourcing Stravinsky," the program of new dances and theater pieces Annie-B Parson curated at Dance Theater Workshop. By Jack Anderson.
Stephen Petronio Company, "BLOOM." Elena Demianenko, Jonathan Jaffe, Jimena Paz. Photo: Chris Woltmann.
Petronio's Springtime
Just look at our world: global warming, devastating storms, political scandals, wars, threats of war, unending disasters. No matter what the calendar says, this may be a perpetual winter of discontent. But at the Joyce Theater, the Stephen Petronio Company keeps dancing through spring. Petronio has often choreographed mysterious and even disquieting works. Nevertheless, in these troubled times he turns his attention to spring. What's more, his dances do not appear to be mere escapism. Petronio's spring has significance. By Jack Anderson.
MARTHA GRAHAM -- Dancer Fang-Yi Sheu in "Cassandra." Photo by John Deane.
Martha Graham: Synthetic and Real
On April 18, 1926 the Martha Graham Dance Company gave its first performance. On April 18, 2006, the company celebrated that event with a gala. In the 80 years since its debut, it has survived many crises including recent managerial and directorial ones. Yet it dances on, and so there was an appropriate air of festivity about this program of excerpts from Graham works, plus a few by Ruth St. Denis and Ted Shawn with whom Graham danced before striking out on her own. By Jack Anderson.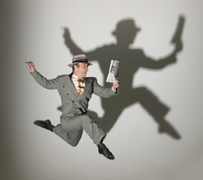 James Sewell Ballet -- Benjamin Johnson in "Guy Noir: The Ballet." Photo by Erik Saulitis.
James Sewell Ballet
James Sewell creates ballets with ideas. Some of them work better than others. Nevertheless, when his Minneapolis-based James Sewell Ballet came to the Joyce Theater, it avoided familiar balletic formulas. Just as villains in fiction and drama often prove more interesting than noble heroes, Sewell's demonically possessed individuals were more striking than his angelic celebrants. Yet he made their journey to serenity convincing. By Jack Anderson.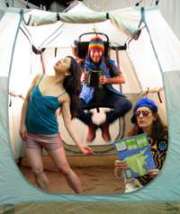 "Travels, Tours and One-Night Stands" -- Kim Ima, Chris Wild and Onnie Johnson.
Travelers' Tales
Journeying became a joy in "Travels, Tours and One-Night Stands." What the production at La MaMa celebrated was wanderlust itself, the excitement of taking off just for the adventure of experiencing the unfamiliar. By Jack Anderson.
TOOTHPICK EPICS -- Photo of Tero Saarinen by Marita Liulia.
Tero Saarinen's Toothpick Epics
Finland's Tero Saarinen originally called his group Company Toothpick. He soon must have found this a frivolous name for a serious endeavor. So it's now the Tero Saarinen Company. But during its first New York season, that old name sometimes seemed apt. Saarinen's works are as pared down as toothpicks, with never more than three people on stage at any time. Simultaneously small-scale and grand, these dances are toothpick epics. The choreography often makes people appear to be carving movements out of space, as if out of stone, and Mikki Kunttu's protean lighting designs fill empty air with a sense of mysterious presences.
Mark Morris' "Four Saints in Three Acts"
Mark Morris Premieres
The New York premieres of the Mark Morris Dance Group's 25th anniversary season at the Brooklyn Academy of Music came during the company's final set of performances (March 22-25). By Jack Anderson.
Paul Taylor's Many Worlds
Paul Taylor's dances are often seductive. But just as theatergoers are ready to succumb to them, Taylor can provide a choreographic sock to the jaw. His works both caressed and attacked viewers' sensibilities in a City Center season notable for its generous repertory. Two premieres demonstrated how Taylor can create distinct choreographic worlds, some of them contradictory. By Jack Anderson.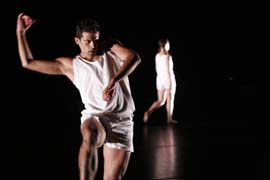 Antonio Ramos (front) and Paige Martin (back) in ''Not-About-AIDS-Dance'' by Neil Greenberg. Photo by Chris Woltmann.

Neil Greenberg: As Time Goes By
Neil Greenberg's program came during Gay Pride Week, an ideal time for this double-bill. AIDS first attracted attention 25 years ago. In 1994, a slide projection in Greenberg's "Not-About-AIDS-Dance" confessed that he was HIV-positive. Today, Greenberg is still dancing, still choreographing, and offering a revival of "Not-About-AIDS-Dance." By Jack Anderson.
Julio Bocca's Farewell
Julio Bocca has retired from American Ballet Theatre. The great Argentine dancer has always been both a showman and an artist, and his artistry was remarkable in four works during the company's summer season. By Jack Anderson.
Jenifer Ringer, with from left, Jonathan Stafford, Amar Ramasar, and Sean Suozzi in "Russian Seasons." Photo by Paul Kolnik.
NYC Ballet: Final Diamonds
The New York City Ballet's last two diamonds truly glittered. These were the final new works in its Diamond Project series of premieres: Jorma Elo's "Slice to Sharp" and Alexei Ratmansky's "Russian Seasons. Neither choreographer is widely known in America. These works suggest they should be. "By Jack Anderson.
ROD RODGERS: CONTINUING -- Kim Grier and Martha Tornay in "When We Were Young." Photo by Herbert Delancey.
Rod Rodgers: Continuing
Rod Rodgers, a longtime presence on the downtown dance scene, died in 2002. But his Rod Rodgers Dance Company, now directed by Kim Grier, remains a presence there. A festival called "The Dance Legacy Continues" proved that Rod Rodgers Dance Company seeks to be a continuing presence. By Jack Anderson.
Eiko and Koma: "Cambodian Stories: An Offering of Painting and Dance"
Eiko and Koma usually dance alone, rarely choreograph for others, and often concern themselves with mighty cosmic forces and archetypal patterns. Yet their new "Cambodian Stories: An Offering of Painting and Dance" has a cast of 11, and mingles earth and cosmos, history and myth, and life and art in an unusually poignant manner.
See: NYC Ballet: NYC Ballet--Concertos, Etc.
NYC Ballet--Concertos, Etc.
"Let's choreograph a concerto!" Concertos inspired two recent productions in the New York City Ballet's Diamond Project festival. Both received their premieres May 10, and were repeated together, May 20. By Jack Anderson.
"Saints and Sex"-Dancers: Aaron Mattocks, Jennifer Lafferty, Laura Arrington, Renee Archibald, Rebecca Serrell, Omagbitse Omagbemi, Derry Swan, and Darla Villani. Photo by Paula Court.
Saints and Sex
Religion and sex often find themselves locked together, sometimes in rapture, sometimes in torment. Christopher Williams vividly choreographed both conditions. By Jack Anderson.
CEDAR LAKE - "HAMMER" Dancer: Jessica Lee Keller. Photo: Paul B. Goode.
Nietzsche at Cedar Lake
New York City has recently gained some fine new spaces for dance, and Cedar Lake in the Far West of Chelsea is a particularly impressive one. The 16,000-square-foot Cedar Lake, originally two adjacent garages built in 1914, is especially well-equipped, with generous rehearsal areas and a 191-seat theater with a spacious stage. The building has its own dance company, Cedar Lake Contemporary Ballet, directed by Benoit-Swan Pouffer, formerly of the Alvin Ailey American Dance Theater, and he appears to favor a sharp, assertive performance style. The last production was "Dream Collaborations," a program of one-act ballets inspired by dreams. The dreams are back, this time sharing a season with Pouffer's new "Hammer," an hour-long piece inspired by Friedrich Nietzsche's "Twilight of the Gods," in which, the choreographer says in a program note, that the philosopher "talks about posing questions and challenging life with a hammer." By Jack Anderson.
Forsythe's Contrived Chaos
In "Kammer/Kammer," William Forsythe creates chaos for his Forsythe Company, which now has dual headquarters in Frankfurt and Dresden. Because Forsythe is a brainy choreographer, the chaos is cunningly contrived. That's why this two-act piece is often pretentious and yet, for me at least, finally gripping. But the key word here is "finally."
NYC Ballet: Two Diamonds
The New York City Ballet has opened its sixth Diamond Project festival of premieres by international choreographers. This one's first two offerings included intriguing pieces by Mauro Bigonzetti, from Italy, and New York's Eliot Feld. Just mentioning Feld's name can make some balletgoers furrow their brows, for he can be an exasperating choreographer. Yet Feld may also be an essential one. By Jack Anderson.
Gary W. Jeter, II. Photo by Lois Greenfield.
Philadelphia Energy
Philadanco commands the stage. Joan Myers Brown has trained her Philadelphia dancers to attract, and hold, attention, and they certainly did so at the Joyce. By Jack Anderson.
Photo by Bruce R Freeley.
Shen Wei's Moving Brushstrokes
Shen Wei has studied painting, as well as dancing, which may help account for the distinctive look of his productions, which he both designs and choreographs. He also invests the choreography itself with painterly qualities. In both of his pieces at the Joyce, the stage could be likened to a painter's canvas and movement phrases resembled lines or brushstrokes. By Jack Anderson.
Animals are permitted at Yubiwa Hotel. Photo by Kunihiko Hatase.
Strange Doings at Yubiwa Hotel
The flier for "Candies: girlish hardcore" quotes a Japanese newspaper's claim that the company "stimulates all five senses." The more I thought about this the more alarmed I became—smell? taste?—but the performance, though a bit puzzling at times, was not so traumatic as all that. By Henry Baumgartner.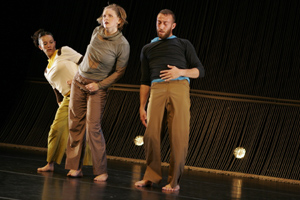 Rebecca Serrell, Meredith McCanse, and Lawrence Casella in Nelson's new ''Mean Piece.'' Photo by Julieta Cervantes.
A Mean Piece from Jeremy Nelson
Jeremy Nelson's program at DTW began with a work from 2004, "Accent Elimination." Five dancers slide and spin in front of a backdrop that shows a large red feather and a line of meaningless characters such as computers like to spew out when something's not going right. By Henry Baumgartner.
Neil Greenberg soloing in his ''Disco Project.'' Photo by Julieta Cervantes.
The Bessies: Rite of Autumn
One of the harbingers of a new dance season in New York is the return of the Bessies, the downtown dance and performance world's annual awards ceremony. Of course it is written on high that such awards must have a pompous-sounding official name as well as a friendly-sounding official nickname, so these are the New York Dance and Performance Awards. By Henry Baumgartner.
The San Francisco Ballet Returns
Making its first New York appearances in four years, the San Francisco Ballet demonstrated that it remains a major company. Its most eagerly awaited production was Mark Morris's three-act "Sylvia" which, at its premiere in 2004, apparently surprised some San Franciscans who, knowing that Morris can be prankish, expected an iconoclastic treatment of Delibes's score. Instead, he took this tale of nymphs, dryads, and shepherds quite seriously, with classically-based dancing and unexaggerated mime. All this attested to Morris's musical intelligence. By Jack Anderson.
"Sundown" on the Gowanus Canal by Yoshiko Chuma and the School of Hard Knocks. Photo by Jonathan Slaff.
"Sundown" on the Gowanus Canal
Yoshiko Chuma's "Sundown" celebrated urban gawking. It also suggested that seven is Chuma's lucky number, for this seven-hour event (3-10 p.m.) presented in the year's seventh month involved seven dancers under Chuma's direction, seven trombonists playing a score by Christopher McIntyre, and a set of seven-foot cubes designed by Ralph Lee. By Jack Anderson.
Photo by Igor Sapina.
Chunky Move and Clunky Men
Just as social dancing causes certain men to show off on the floor, it keeps others clinging to the wall. Gideon Obarzanek choreographed a sympathetic portrait of both agile and maladroit gentlemen in "I Want to Dance Better at Parties," presented by his company, Chunky Move, from Melbourne, Australia. By Jack Anderson.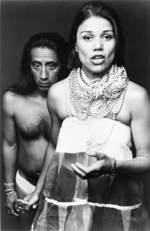 Patricia Hoffbauer & George Emilio Sanchez in "LaMaMa Moves!"
La MaMa Dances On
Dance events have long come to La MaMa. But now dance abounds in the theater center's three spaces in "La MaMa Moves!", a series featuring 50 attractions curated by Nicky Paraiso and Mia Yoo. By Jack Anderson.
"underground" Heather McArdle and Joseph Poulson. Photo by Vartoogian.
Dorfman Among the Weathermen
Although David Dorfman's "underground" lasts less than an hour, it could be debated for hours on end. At the same time, it must be said that the questions it asks might be raised equally well by newscasts or ethics textbooks. However, in this case, it is, unquestionably, Dorfman's dance-theater work that provokes thought, even though his creation does not abound in revelatory theatrical images: "underground" is more important for what it suggests, than for what it shows. By Jack Anderson.
''Several Witty Observations'' Katarzyna Chmielewska. Photo by Piotr Woloszyk.
Polish Playfulness
The Dada von Bzdülöw Theatre of Gdansk has made its American debut with Leszek Bzdyl's "Several Witty Observations à la Gombrowicz." No one need know anything about Gombrowicz to enjoy these choreographic observations, presented in association with the Polish Cultural Institute. By Jack Anderson.
Keigwin's Finger Food
Larry Keigwin called his program of brief dances "Portraits," an appropriate title for these sharply-drawn sketches. His portraits also provided choreographic finger food, for finger motions dominated much of the evening. By Jack Anderson.
"Dancing vs. The Rat Experiment" by Witness Relocation.
Rat Dancing
Life can be a rat race, people can act like rats, and Dan Safer makes such behavior intellectually provocative in "Dancing vs .The Rat Experiment (or: I Have to Believe That All Men Are Basically Good)," the dance-theater piece he directed and choreographed for Witness Relocation, a troupe that has recently returned from a two-year residency at the Patravadi Theater of Bangkok, Thailand. By Jack Anderson.
Laughing Stone Dance Theater.
Laughing Stone's Pilgrimage
It was easy to tell that seven members of the Laughing Stone Dance Theater had embarked upon a mighty quest in Sin Cha Hong's "Pilgrimage." They were impossible to miss in their long thick robes and enormous headdresses that rose like spires. There were yoke-like poles attached to their backs, and footgear resembling pedestals or stilts made everyone tower over the stage. By Jack Anderson.
Conscience, Elegies, and Ballet Theatre
American Ballet Theatre deserves praise for once again including "Dark Elegies," Antony Tudor's ritual of mourning, and "The Green Table," Kurt Jooss's anti-war ballet, in its autumn season. Both are ballets of conscience and compassion. By Jack Anderson.
Meredith Monk, Theo Bleckmann, Katie Geissinger. Photo by Stephanie Berger.
Monk and Transience
A capital letter wasn't necessary. Meredith Monk calls her new production "impermanence," and she's right in making her title lower-case. By Jack Anderson.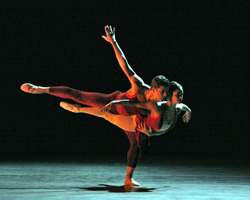 Misty Copeland and Marcelo Gomes in Jorma Elo's " Glow-Stop". Photo: Marty Sohl.
Ballet Theatre's Affirmations
American Ballet Theatre's fall seasons at the City Center feature what it has always done best: mixed programs of diverse one-act ballets. Of course, it can also offer other things: for instance, multi-act spectacles in spring at the Metropolitan Opera House. But the company first achieved fame in the United States, and then abroad, with its mixed bills. By Jack Anderson.
"Push". Photo by Bill Cooper.
Guillem and Maliphant
Sylvie Guillem, a French ballerina with what appears to be an infinitely pliable body and equally stretchable artistic interests, and Russell Maliphant, a Canadian-born British-trained dancer and choreographer with equally eclectic tastes, have joined forces. The result is "Push," an evening of three solos and a duet, all choreographed by Maliphant, that is the first event in an exchange program involving the New York City Center and London's Sadler's Wells Theater. By Jack Anderson.
Merce Cunningham's "eyeSpace." Photo by Anna Finke.
City Living, Cunningham Style
At first an intriguing announcement: the audiences uses iPods to hear Mikel Rouse's score for Merce Cunningham's new "eyeSpace." And it is fun. According to the company, because Rouse's complete score lasts 60 minutes and the dance lasts only 20, no one can hear the entire composition at any one performance. Moreover, setting the iPod on "shuffle" means that the device will randomly order the sections of the score. So you have no idea if you heard anything that anyone else did. By Jack Anderson.
Falling for Dance Again
The excitement continues. The third annual Fall for Dance Festival at City Center was once again a success, possibly even a greater one than its predecessors. By Jack Anderson.
What's New at Ailey
The Alvin Ailey American Dance Theater's winter seasons at the City Center have become welcome alternatives (or, some might say, antidotes) to the "Nutcracker" epidemics that sweep through this region annually. The performances were packed, audiences were enthusiastic (usually with good reason) and, in addition to many old favorites ("Revelations," of course, among them), there were new pieces and revivals. By Jack Anderson.
Walking Pretty
Oopalie Operajita avoids strutting. She has a gold business card. As one turns and shifts it, the panel glitters. Type font: deep red. Printing: double-sided. One side of the card reads: "Oopalie Operajita, Political Adviser and Strategist, Choreographer and Classical Odissi Danseuse, Adviser to Mr. Naveeen Jindel, Honourable Member of Parliament." The other side reads: "Cicero, A Trans National Advisory, Oopalie Operajita, CEO." Her diplomatic and political service may well have helped to hone a certain tactical panache—and dignity—in her stage persona. Reviewed by Molly McQuade.
Charemaine Seet, Krista Jansen, Alexis Murphy. Photo by Steven Schreiber.
Elkins and His Favorite Things
In "Fraulein Maria," Doug Elkins and some of his friends danced their way through one of his favorite things: the film version of "The Sound of Music." Elkins left no doubt about his fondness for this adaptation of the Rodgers and Hammerstein Broadway hit, calling it in his program note "the greatest movie musical ever made," presumably surpassing such other possible contenders for the title as "The Wizard of Oz," "Singin' in the Rain," "42nd Street," "An American in Paris" and, more recently, "Chicago." By Jack Anderson.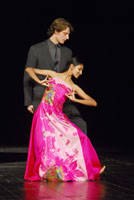 Nefés: Pascal Merighi with Shantala Shivalingappa. Photo by Stephanie Berger.
Bausch's Ode to Istanbul
Gorgeous. That's not a word often applied to Pina Bausch's choreography. Her works can easily be called powerful, scathing, satiric, and yes, at times, compassionate. But gorgeous? How many are gorgeous? "Nefés" is. By Jack Anderson.
Ballet Preljocaj: "Noces." Photo by JC Carbonne.
Ballet Preljocaj
Angelin Preljocaj may be an idea-driven choreographer. His two works at the Joyce were certainly dominated by ideas. Even his company's name reflects a certain idea about dance, one now common in Europe. In America, the word "ballet" in a company's name can indicate that, however far that company strays from classicism, it nevertheless remains grounded in traditional technique; in Europe, however, "ballet" can be a synonym for theatrical dance in general. By Jack Anderson.
''Kagemi: Beyond the Metaphors of Mirrors'' Sankai Juku lines up under the lotuses. Photo by Jacques Denarnaud.
Kagemi: Beyond the Metaphors of Mirrors
A man covered in dusty-looking white paint stands on a round platform in front of a small forest of strange white flowerlike things; the rest is darkness and silence. Everything we see is either black or white. By Henry Baumgartner.
''Ballet Memphis'' at Joyce Theater
Martha Clark's "Garden of Earthly Delights"
Tanztheater Wuppertal Pina Bausch: "Bamboo Blues" at BAM
A theatrical portrait of Anita Berber
American Ballet Theatre at City Center
Eiko and Koma in "Hunger" at Joyce Theater
San Francisco Ballet at City Center
"Trajal Harrell at the End of Time" at DTW
Fall For Dance: Thoughts on Programming at City Center
Christopher Wheeldon's Second Season at City Center
BalletMet's Mild Audacity at Joyce Theater
Three Filipino Choreographers at Flushing Town Hall
"Tidal" by Noord Nederlandse Dans
Federico Restrepo's "In Retrospect"
"Lady of the Camellias" at ABT
"A Palo Seco" with Rebeca Tomás
Joys of Repertory: Thoughts on Two Companies
"Come Fly Away," Twyla Tharp's latest choreographic excursion into the music of Frank Sinatra
In "Come Fly Away" Tharp honors Sinatra on a grand scale. The two-act production is set in a nightclub designed by James Youmans, and couples flock there, ready to dance into the wee hours to music by an on-stage band to which Sinatra's voice has been added. Tharp and Sinatra artistically may be kindred spirits, for they can unite seemingly disparate qualities: both can be smooth and tough, worldly and sentimental. So what's the problem? By Jack Anderson.
"Runaway" by Larry Keigwin -- Ryoji Sasamoto, Charlotte Bydwell, Aaron Carr, Ashley Browne, Gary Schaufeld. Photo by Christopher Duggan.
Larry Keigwin: City Choreographer
Larry Keigwin is a native New Yorker. You could guess that. His dances reflect city rhythms. But not just any old city. These works have the constant bustle of a city fueled by nervous energy. A city like New York, for instance. By Jack Anderson.
"Xenakis and Japan"
"Xenakis and Japan"
"Xenakis and Japan" made it seem like 1967 all over again at Judson Memorial Church. Or 1966. Or 1968. Or any of those years when the church was regularly the site of unusual dance performances that attracted eager audiences. By Jack Anderson.
"ARMORY SHOW" -- Jose Tena & Davon Rainey. Photo by Michael Hart.
"Armory Show"
Brennan Gerard and Ryan Kelly, of Moving Theater chose a grand site for their "Armory Show": the Park Avenue Armory at 67th Street and Park Avenue, a castle-like building of 1881 now considered one of the great examples of New York's "Gilded Age" architecture. By Jack Anderson.
"BLOW OVER" -- Richard Alston Dance Company. Sadler's Wells 2 Oct 08 (L-R) Hannah Kidd, Wayne Parsons. Photo by Dee Conway.
Richard Alston Dance Company
Much of Richard Alston's choreography is well-mannered. "No surprise there," some dancegoers might say. "After all, he's British." And, yes, he is. And yes, too, certain manifestations of British arts are known for their grace and decorum. In dance, the major exemplar of this sort of art is Frederick Ashton. Alston can be regarded as one of his successors. But choreographic decorum can turn into what a German critic analyzing British dance some years ago called "teacup gentility." Although Alston can seem at home among the teacups, he's also capable of spiking his choreographic tea with stronger stuff, as he tried to do, with mixed results, at the Joyce. By Jack Anderson.
"A LIGHT CONVERSATION" -- Photo by Christian Glaus.
"A Light Conversation"
When was the last time you attended a dance performance for which the accompaniment was a discussion of the life and teachings of Søren Kierkegaard? For that matter, have you ever attended any dance performance to a text by that 19th-century Danish philosopher? Wally Cardona and Rahel Vonmoos created just such a dance with their collaboratively choreographed duet, "A Light Conversation," and it turned out to be neither intellectually inscrutable nor theatrically dreary. By Jack Anderson.
"BURN THE FLOOR"Trent Whiddon, Patrick Helm, Damian Whitewood, Robin Windsor, Sasha Farber, Peta Murgatroyd, Henry Byalkov. Photo by Joan Marcus.
"Burn the Floor" presents exciting competitive ballroom dancing with a contemporary edge
"Burn the Floor" is an exciting review of ballroom dancing through the decades, from Latin and Afro-Brazilian rhythms to modern jazzy idioms. Through you never saw any of this in a real ballroom. The numbers, the wild fast movements, come out of the competitive dancing that these couples have done all over the world. By Lucy Komisar.
"Sundowning"
Gregory Dolbashian's new Dash Ensemble made an ambitious debut with "Sundowning," a choreographically forceful and strongly danced hour-long work that commanded attention from its opening moments when Christopher Ralph, Jonathan Windham, and Antonio Brown lurched onto the stage with big kicks, fluttering hands, and firm gestures of support when Brown unexpectedly kept falling. By Jack Anderson.
"Songs of Ascension"
Songs of ascension is the latest work of choreographer by Meredith Monk created with artist Ann Hamilton. It is a Gesamtkunstwerk, a total work of art that fuses music, text, drama, scenery, and dance into an indissoluble whole. "Songs of Ascension" is also a spiritual vision. By Jack Anderson.
Cherkaoui's Dancing Brain
Dance and strokes are not usually two things that are commonly linked, but choreographer Sidi Larbi Cherkaoui has been inspired by "My Stroke of Insight," a memoir in which Dr. Jill Bolte Taylor describes her slow recovery from a severe stroke, to base his latest dance piece "Orbo Novo" on. By Jack Anderson.
LUCINDA CHILDS DANCE -- L to R: Sharon Milanese, Shakirah Stewart, Katie Dorn, Brett Alan, Vincent McCloskey, Kate Fisher and Travis Magee. Photo by Sally Cohn.
The Lucidities of Lucinda Childs
The dances of Lucinda Childs clear the choreographic air. Their almost unfathomably complex, yet visually lucid, patterns are antidotes against the miasmas of muddy spatial shapes and hazy kinetic ideas, and their vigor prevents them from being mere soulful wafting about. By Jack Anderson.
Photo courtesy of CEC ArtsLink
New Russian Choreography at the Storefront
The Storefront for Art and Architecture is a curious exhibition space with paneled walls that can open and swing into the street, thereby blurring distinctions between inside and outside. Given its protean capacities, it became an intriguing site for an untitled collaboration, usually diverting, but sometimes troublesome, involving Russian choreographers Alexander Andriyashkin and Tatiana Luzai and stage directors Kseniya Petrenko and Aleksei Zherebtsov. By Jack Anderson.
TULSA BALLET AT THE JOYCE -- Rupert Edwards and Alexandra Bergman. Photo by Ralph Cole.
Discovering Tulsa Ballet
For dance lovers in New York, and many other parts of the country, Tulsa Ballet must be perpetually discovered. To people in much of both the East and the West, Tulsa is geographically remote, being way out there far from anywhere. Yet audiences who do discover Tulsa Ballet can get excited about it, as I know from my own experience. By Jack Anderson.
The dance, "Turning Heads, Frocks in Flight" reflected the harmony of the dancers' movements with the architecture curves of the plaza. Photo by Douglas Back, 2009, courtesy of Lower Manhattan Cultural Council.
Gabrielle Lansner's Human Scenery
South Cove Plaza in Battery Park City served as the stage for Gabrielle Lansner's "Turning Heads, Frocks in Flight," and her dancers became part of the scenery, thereby enhancing the attractive scenery already there. A wooden jetty, approached by a curving bridge, curved into the Hudson River, and overlooking the area was a little belvedere reached by curving stairways. Although pedestrians were ceaselessly passing, the plaza was a peaceful spot; the river lapped at the jetty, and one could enjoy both patches of sunlight and soothing shade. Lansner's dance for twelve women was agreeably peaceful in its own way with, appropriately enough for this setting, many curves. By Jack Anderson.
Paula Mann in "I Love Tomorrow."
Paula Mann's Dancing Thoughts
Paula Mann realizes there are times when dancing and thinking are similar. Bodies jumped and twisted on stage like thoughts jumping and twisting in the mind in "I Love Tomorrow," presented by her Time Track Productions of Minneapolis. Mann, active in New York, 1980-86, moved to the Twin Cities in 1987, and they have become her choreographic headquarters. "I Love Tomorrow," created in collaboration with Steve Paul, who provided both the intricate media effects and the sound composition, joined thinking and dancing in a mysterious pas de deux. By Jack Anderson.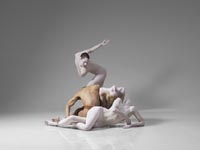 Shen Wei's "Re- (I, II, II)" did not stint on visual spectacle. Photo by Lois Greenfield.
Shen Wei Hits the Silk Road
Shen Wei, a familiar presence to regular attendees at the Lincoln Center Festival, returned with "Re- (I, II, II)," a trilogy of pieces inspired by journeys to Tibet, the Angkor temples of Cambodia, and the Silk Road. By Henry Baumgartner.
"New Russian Choreography: An Informal Showing"
We all know about Russian ballet. But what about Russian modern dance (or contemporary dance, or whatever you want to call present-day non-balletic theatrical dance)? It's scarcely known here. Yet it does exist. And, to judge from this showing, it may be worth knowing. By Jack Anderson.
l. tarin chaplin, choreographer, activist, writer and dancer. 1941- May 25, 2009
In Memorium: l. tarin chaplin (1941-2009)
It is with profound sadness that we announce the death of our beloved flame-haired beauty, our mama, l. tarin chaplin, who died of cancer May 25, 2009. By Tamara Chaplin
Women of Verona in "Romeo & Juliet, On Motifs of Shakespeare." Photo by Gene Schiavone.
Mark Morris's Shakespeare
With so many dull versions of Prokofiev's "Romeo and Juliet" around, the prospect of a new one does not automatically warm the hearts of seasoned (or should I say jaded?) dancegoers, who might well exclaim, "Must we have to sit through this stuff again?" And when Mark Morris announced his own "Romeo," his basic notion sounded gimmicky. He proposed staging Prokofiev's never produced original version, complete with happy ending. That might have made despairing dancegoers cry, "Do we have to sit through this even once?" Fortunately, it proved (at least, most of it did) well worth sitting through. "Romeo & Juliet, On Motifs of Shakespeare" was the first "Romeo" I've seen in a long time that made me really curious about what would come next. By Jack Anderson.
Captain Petronio on the High Seas
Stephen Petronio choreographically navigated stormy seas in "I Drink the Air Before Me," successfully bringing his new hour-long work into a safe harbor. Petronio is known for turbulent dances. But here he's created a piece rich in fantastic implications as well as powerful actions. By Jack Anderson.
Goode, With Twist
Wonderboy is a winsome lad. The title character in the Joe Goode Performance Group's "Wonderboy" spends a lot of time in front of a window gazing at the street, marveling with expressive gestures at what he sees, and sometimes commenting verbally on it. When he rises to walk, he teeters a bit, yet gets around well, which may be surprising, given the fact that Wonderboy is a puppet. The show is a collaboration (quite a felicitous one) between Goode, a choreographer, and Basil Twist, a puppeteer. By Jack Anderson.
"Sleepless." Photo by Joris-Jan Bos Photography.
Two Second Companies (The Nederlands Dans Theater II at Joyce Theater)
Youthful energy warms the heart, and youthful attractiveness gladdens the eye. But these youngsters were more than good-looking: they were surprisingly confident and agile, capable of doing anything choreographers might wish. No wonder their companies put them in ballets filled with steps. Lots of steps. Surfeits of steps. By Jack Anderson.
Burt Supree. Photo by Lois Greenfield.
A new Web site collects the writings of the late dance journalist Burt Supree.
In honor of this excellent writer, Burt Supree's friends and colleagues created a Web site, www.burtsupree.com, to save his work and pay tribute to Supree. You can find two decades of his wonderful work, his biography, moving pictures of him and his friends, and his unpublished poetry. It is also an opportunity to discover or rediscover more than five hundred reviews written by Supree for the Village Voice. By Suzanne Trouve Feff.
Mandance Project at Joyce Theater. Photo by Chang Chih Chen.
"Mandance Plus Women Plus Horse"
Eliot Feld, ever restless: since the 1960's he's explored countless choreographic styles, with results ranging from the wonderful to the woeful, and he's reconfigured his company several times. He calls his present organization Mandance Project. Yet its season included women and separate performances by Horse, an all-male Taiwanese group. By Jack Anderson.
Lori Belilove. Photo by Vladimir Lupovskoy
The Pleasures of Isadora Duncan
As a choreographer, Duncan had a remarkable sense of rhythm and dynamics. She could devise innumerable variations on such basic movements as walks, skips, runs, and gallops; the steps may have been simple, yet the theatrical results they produced were complex, and music and movement were always in harmony. By Jack Anderson.
Eddie Taketa and Natalie Desch in Doug Varone's Alchemy. Photo by Phil Knott.
Doug Varone Dreaming Awake
Doug Varone turned three dances into dreams fleshed out before our eyes. Although the figures in them had solid bodies, they moved with the speed and fluidity of phantoms, forming images that were often as vivid, transitory, and inscrutable as those in dreams. By Jack Anderson.
Chameleon by Itzik Galili. Photo by Rosalie O'Connor.
Fresh Air at Aspen Santa Fe
The air must be fresh in Aspen, and in Santa Fe as well. Something out West has given Aspen Santa Fe Ballet remarkable brio. Directed by Tom Mossbrucker and Jean-Philippe Malaty, this company of twelve spirited dancers has a diverse and somewhat offbeat repertory, and it's managed to thrive in two home towns, succeeding in the sort of dual-city scheme that has defeated other companies with similar ambitions. By Jack Anderson.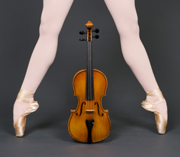 Photo by Kristin Lodoen Linder.
Miro Magloire New Chamber Ballet
As a concept, "chamber ballet" is quite suggestive. Sensitive choreographers and their collaborators can let tiny spaces, small casts, and limited technical resources inspire productions of great intensity and subtle detail. There are possibilities in chamber ballet Magloire has yet to explore, possibilities which, if realized, might make his company's offerings seem not just likeable, but memorable. By Jack Anderson
"frame of view" (lower case) by Didy Veldman. Photo by Julieta Cervantes.
Anxiety Returns to Cedar Lake
No matter how many dancers were on stage in the works presented by Cedar Lake Contemporary Ballet, the space was always crowded: not with people, but with spirits of anxiety which, though invisible, made their presences deeply felt. Cedar Lake productions are haunted by anxiety. It dominated the company's offerings last winter. And now we have another program of great anxiety. By Jack Anderson.
Alvin Ailey American Dance Theater's J. Roberts, R. Robinson, C. Brown and R. Deshateurs in Hope Boykin's "Go In Grace". Photo by Steve Vaccariello.
Holidays With Ailey
It's easy to enjoy the Alvin Ailey American Dance Theater. No wonder the company has established itself as an annual holiday attraction. Because its dancers always perform full-out, its programs can warm the iciest of weathers. So, once again, we had a festive Ailey winter season, this one marking the company's fiftieth birthday. By Jack Anderson.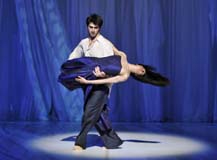 Damiano Ottavio Bigi and Tsai Chin Yu in "Bamboo Blues" . Photo by Richard Termine.
Pina Bausch in India
Breezes always blow in India, usually gentle ones, for India can be a pleasant place. That's what Pina Bausch seems to believe, judging from "Bamboo Blues," the latest of the travelogues she has choreographed for her Tanztheater Wuppertal Pina Bausch. Once again, she has made a country her troupe has visited the basis for an idiosyncratic evocation of a foreign land that appears to be inspired by dreams and fancies, as well as hard facts. By Jack Anderson.
Anne Carson With Dancers
Anne Carson is an unusual poet. She's highly learned, in fact, a classicist. But her imagination can take surprising freewheeling leaps, and both erudition and eccentricity were evident in this collaboration involving dance and sculpture. By Jack Anderson.
Sin Cha Hong in "Godot" at La MaMa E.T.C. Photo by Jonathan Slaff.
Godot Dancing
Just as the full title of Liszt's "Dante Sonata" is Sonate d'après une lecture de Dante, so Sin Cha Hong, in her "Godot," provides us with a Danse d'après une lecture de Beckett. What is important for Liszt and Hong is not specific plot developments, but the personal feelings that arose in them after reading their literary sources. Hong's feelings about "Waiting for Godot" may not be everyone's. But Hong states them sincerely and makes a case for them. By Jack Anderson.
Javier Boné-Carboné as Sebastian Droste, Sarah Lemp as Anita Berber.
A Theatrical portrait of Anita Berber
Although surely horrendous to travel down, the road to ruin can be a scenic route to behold in the theater, and one of the most spectacular stops along the way is Berlin between the two World Wars. Weimar-era Berlin is revisited in "Oh, Those Beautiful Weimar Girls!," conceived and directed by Ildiko Nemeth, written by Mark Altman, choreographed by Julie Atlas Muz and Peter Schmitz, and inspired by one of that period's most bizarre figures, the dancer Anita Berber (1899-1928). By Jack Anderson.
Gillian Murphy and David Hallberg in the pas de deux from "Romeo and Juliet" (Romeo's Farewell) by American Ballet Theatre atNew York City Center. Photo by Gene Schiavone.
Tudor and After at American Ballet Theatre
American Ballet Theatre gave audiences much to applaud during its fall season, especially the productions of its Antony Tudor Centennial Celebration. In fact, the Tudor works were so good and so well danced that one could feel disappointed even while applauding: there simply wasn't enough Tudor to see. If this was not a celebration on the grand scale of the retrospectives that the New York City Ballet has mounted in the past to honor George Balanchine and Jerome Robbins, we still could be grateful. By Jack Anderson.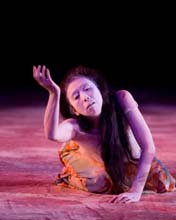 "Hunger"by Eiko and Koma at Joyce Theater, Dancer: Eiko . Photo by Gregory Georges.
The Hungers of Eiko and Koma
With their slow-motion depictions of sentient creatures and non-human primordial forces struggling and enduring, Eiko and Koma have long concerned themselves with hungers for sustenance, hungers that cannot always be satisfied. But these are not the only sorts of hungers these Japanese performers and choreographers care about. Life may involve hungers for companionship and love,and there are hungers for transcendence that express themselves in spirituality or art. The new "Hunger" expresses all these longings. By Jack Anderson.
San Francisco Ballet in Mark Morris' "Joyride" at New York City Center. Photo by Erik Tomasson.
San Francisco Ballet Celebrates
The San Francisco Ballet is now 75 years old, and it deserves to celebrate. Although it has had its financial ups and downs, it nevertheless soon demonstrated that ballet could flourish outside New York. It has trained scores of good dancers and has attracted good dancers to it. Most important of all is the way it has encouraged new choreography. Although when it was still quite young it offered pioneering productions of the complete "Coppélia," "Swan Lake," and "Nutcracker," its emphasis has been on one-act productions of many kinds. By Jack Anderson.
"Trajal Harrell" byTrajal Harrell at Dance Theater Workshop October 14, 2008 , Dancers :Christina Vasileiou; Sirah Foighel; Will Gordon; Liz Santorol. Photo by Alexandra Corazza.
Trajal Harrell at the End of Time
Much thought presumably went into Trajal Harrell's elaborate "Quartet for the End of Time." Much technological gimmickry certainly did. It wasn't enough. By Jack Anderson.
Fall For Dance: Thoughts on Programming
Fall for Dance truly made City Center a center: a magnet drawing audiences, a meeting place at which dancegoers could gather night after night. Other worthy festivals often scatter attractions throughout several venues. Take London's comparable Dance Umbrella. According to the September issue of Britain's "Dancing Times," this year's Umbrella has scheduled October performances at 13 indoor spaces and at least four outdoor parks and greens (quite optimistic about England's autumn weather, these Londoners seem to be). The scope of Dance Umbrella is impressive, yet Jack Anderson wonders if its impact is somewhat diminished by such a spreading of activities in a city already blessed with a fine spread of dance events.
from left: Leanne Benjamin, Drew Jacoby, Rubinald Pronk, Beatriz Stix-Brunell Christopher Wheeldon's "Commedia" at City Center. Photo by Erin Baiano.
Christopher Wheeldon's Second Season
As it was last year, Morphoses is an aggregation of fine dancers, some of them stars of well-established companies. What Morphoses would be like as a permanent organization remains to be seen. Morphoses is still morphing. By Jack Anderson.
Dancer : BalletMet Dancers, Photo by: Sheila Hunt
BalletMet's Mild Audacity
It's not often that ballets endorse Presidential candidates. But that's what Warren Adams's "The Audacious One" seemed to do. As stirring excerpts from Mozart's "Requiem" thundered away on tape, a community appeared to quarrel until a firm, controlled leader (the quietly authoritative Lynnorris Evans) brought harmony. Although characters lacked specific names in "The Audacious One," because Senator Barack Obama did write "The Audacity of Hope," it was easy to suspect that the ballet's leader symbolized the Democratic Presidential candidate. By Jack Anderson.
Yangtze Repertory Theatre of American presented "For Me For Us For Everyone," Variations in a Foreign Land IX, September 26 and 27, 2008 at Flushing Town Hall. "Shinka" by Leonides D. Arpon.
Three Filipino Choreographers
Yangtze Repertory Theatre of America presented its ninth installment of its ongoing dance series, "Variations in a Foreign Land" at Flushing Town Hall. Works by Max Luna III, Gerald Casel and Leonides D. Arpon were featured. This evening by three Filipino choreographers worth getting to know was subtitled "Akin, Amin, Atin," which means "For Me, For Us, For Everyone" in Tagalog. And that it was. By Jack Anderson.
Jerome Robbins Celebration
To coax an adjective from the name Jerome Robbins--in order to summon what he did, with peremptory concision--turns out not to be so easy, after all. (By contrast, "Balanchinian" has served well enough for years.) Is it to be Robbinsian, or Robbinsonian? Robbinsesque, perhaps? They all sound dreadful, like war upon the teeth. Yet some adjective along those lines still seems needed, no matter how well or badly his dances survive a choreographer who is no more. For Robbins was distinctly different from his peers, and still is, however difficult it may be to define the difference precisely, now. Another reason also recommends itself: At its best, his work is all but indescribable, unusually so even in the typically transitory business of the dance. By Molly McQuade.
ROYAL BALLET OF FLANDERS -- Claire Pascal, Wim Vanlessen in "Impressing the Czar." Photo: Stephanie Berger for Lincoln Center.
Forsythe's Extravaganza
Certain types of large-scale European ballet productions baffle, or even outrage, American balletgoers: ostentatiously serious works crammed with symbols and concepts, as well as steps. William Forsythe's "Impressing the Czar," an evening-long work from 1988 that the Royal Ballet of Flanders has revived for Jazz at Lincoln Center, is such a piece. "Why the clutter?" Americans fond of Balanchine's lean creations might wonder. "Why not just let dancers dance?" Well, Forsythe's dancers do dance, sometimes spectacularly. But clutter is part of Forsythe's point, and his choreography often makes clutter funny. By Jack Anderson.
SummerDANZ: 12 Nights of Dance - 5 Different Programs
Dance closes down in some places during summer, only to flourish in festivals elsewhere. But New Yorkers don't have to leave town for festivities. For instance, there's SummerDANZ, the 2008 Guest Artist Series at Dance Theatre Workshop. Curiosity drew Jack Anderson to two groups, each celebrating an anniversary: Paradigm, now 10 years old, and Zenon Dance Company, from Minneapolis, now 25.
Cedar Lake Contemporary Ballet performing Jo Stromgren's "Sunday, Again" at the Cedar Lake Theater. Photo by Nicholas Roberts.
"Sunday, Again," by the Cedar Lake Contemporary Ballet
Children are bored on Sundays. So the old saying goes. Grownups can get bored, too, Jo Stromgren might add. As evidence, the Norwegian choreographer has created "Sunday, Again," which Cedar Lake Contemporary Ballet presented in its American premiere. With "Sunday, Again,", Cedar Lake, tucked away in Chelsea, has demonstrated that it's now a vital part of the New York ballet scene.
Vanishing Point, at the Danspace Project, St. Mark's Church
A family, a farm, a funeral. These are major concerns in "Vanishing Point," which Tom Pearson and Zach Morris collaboratively created with their dancers: Donna Ahmadi, Marissa Nielsen-Pincus, Tara O'Con, and Jennine Willett. Since its setting is the South, you can add to that thematic mixture bluegrass and booze. But "Vanishing Point," though often inexplicable, consistently held interest for almost an hour. Few spectators may have known why, or even when, any of its incidents were supposedly happening. Yet the characters (and, of course, the artists who created them) presumably did, and they communicated their involvement to the audience.
Ballet Biarritz at the Joyce Theater. Photo by Olivier Houeix.
Ballet Biarritz at the Joyce Theater
Ballet Biarritz promised much with two works reflecting France's longstanding fascination with Spain. Good-looking dancers and designs attracted the eye, and the ear was ravished by scores by Maurice Ravel and Manuel de Falla. But these fancy trappings adorned inexpressive choreography by Thierry Malandain, the French company's director, and ideas announced in the program notes were not always actualized on stage.
Orietta Crispino in "Appearance - A Suspense in Being."
"Appearance – A Suspense in Being"
Throughout the day, we respond to scores of sensory and emotional stimuli, sometimes with grandly-scaled movements, sometimes with only flickering, nearly invisible, gestures. There are also times when our actions are carefully calculated because we deliberately want to show the world something; yet we can also use movements and facial expressions as armor to protect ourselves. By Jack Anderson.
Karine Plantadit in "La Voix" by John Selya. Photo by Burke Brown.
La voix
A tour de force of acting became a tour de force of dancing in "La Voix," the dance-drama for Karine Plantadit that John Selya based on Jean Cocteau's "La Voix Humaine (The Human Voice)," a one-character play actresses have adored since the 1930's. Given its dramatic meatiness, it's easy to understand why, for it depicts a woman's frantic telephone conversation with the lover who is abandoning her and permits its interpreter to display many manifestations of longing, heartbreak, and despair. By Jack Anderson.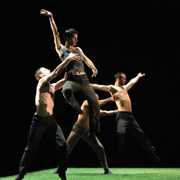 "The Green" from The Scapino Ballet. Photo by Hans Gerritsen.
Scapino Ballet Rotterdam
No doubt about it, Scapino Ballet Rotterdam has grown up. Founded in 1945, Scapino originally specialized in children's programs. But, in time, the troupe transformed itself and on its previous, but infrequent, New York visits, it brought us adult fare. Now, in its first engagement here since 1994, it proved to be an invigorating company with serious, but not lugubrious, ballets that received high-voltage performances. This was ballet as truly adult entertainment. By Jack Anderson.
A scene from New York Theater Ballet's Lilac Garden from Antony Tudor. Photo by Richard Termine.
The Importance of Antony Tudor
According to the Antony Tudor Ballet Trust, 27 companies scheduled performances of Tudor ballets between 2007 and 2009. That's a lot. But it's not enough. The American dance world needs Tudor's ballets, and needs them now. The most obvious reason for reviving Tudor is that his ballets are good. We tend to think that there are not all that many of them. Yet, although he was not as prolific as some other important modern choreographers, there may be more available, or potentially available, Tudor ballets than we might hastily assume. And they can add welcome variety to our repertories. By Jack Anderson
"Nightspot" -- Twyla Tharp in Miami
Twyla Tharp in Miami
When Diaghilev said to Nijinsky, "astonish me!," Tharp's nightspot is what he meant! Wild; chaotic; exuberant; feverish; Miami's City Ballet dancers mesmerized the audience with a multi-leveled, multi-cultural, multi-movement and mixture of musical genre cum masterpiece. The whole piece exploded red hot! Tharp, who loves to collaborate with diverse artists, brilliantly chose rocker Elvis Costello for her musical score; and outlandish designer Isaac Mizrahi as her designer. Tharp said that Nightspot contained her imaginary vision of Miami, according to the Miami Herald. This vision of Miami's hallucinatory crazed nightclubs, fascinating mixture of sexual love, violence, international grounding, Latino mixtures, spontaneity, and shockingly improvised whirlwind events all find their complexity embodied in the disciplined magnificent dancing of eighteen of the ballet's dancers. By Melinda Given Guttmann.
King Arthur: Amiable, Although Invisible
Mark Morris intended his "King Arthur" to be a divertissement. King Arthur is the principal character of "King Arthur," the so-called "semi-opera" that John Dryden and Henry Purcell created in 1691. But even though Purcell composed ravishing music for it, Arthur never sings a note. Nor do other major characters. This semi-opera is a strange Baroque hybrid: a play in which the drama is spoken and the music is reserved for interludes. Because Mark Morris decided he disliked the drama, he jettisoned both plot and dialogue in his production for the New York City Opera and his Mark Morris Dance Group, thereby making an odd work odder. What's left is "King Arthur" without King Arthur, a plotless entertainment balletomanes might call a divertissement and theater lovers might consider a revue. By Jack Anderson.
Dreaming Along With Paul Taylor
Whatever bright publicist thought of calling the Paul Taylor Dance Company's City Center engagement "The Dream Season" deserves a bonus. The phrase sounds good in advertisements. Yet it's more than fancy talk, more than hot air. Taylor's two premieres this season concerned dreams, and the season as a whole provoked thoughts about the kinship between Taylor's dances and dreams. By Jack Anderson.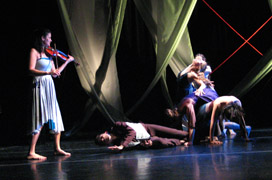 OUT OF PLACE -- Iva Bittová and members of Wendy Osserman Dance Company at the Hudson Guild Theater.
Haunted Place
Wendy Osserman's choreography and Iva Bittová's music made "Out of Place" a journey to a haunted place of ghosts, spirits, werewolves, and spells somewhere in Eastern Europe where venerable Slavic and Yiddish traditions mingle and the air is filled with scraps of old ballads and fragments of almost-forgotten, yet still disquieting, folk tales. By Jack Anderson.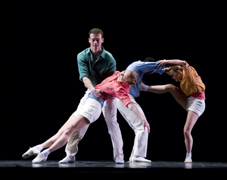 Kansas City Ballet Dancers Deanna Hodges, Paris Wilcox, Lateef Williams & Caitlin Cooney. Photo by Steve Wilson
Kansas City Celebrations
The Kansas City Ballet, which celebrates its 50th anniversary this season, brought part of its birthday party to New York. Two of the three ballets it offered could be considered toasts: one to the company's past, the other to Kansas City itself. By Jack Anderson.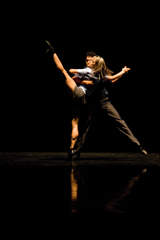 Ballet de Monterrey. Claudia Bandín and Yosek Prieto. Photo by Grapatango
Ballet de Monterrey
Ballet de Monterrey aroused curiosity. Here was an unfamiliar company in eight unfamiliar works, all on Latin American or specifically Mexican themes. Moreover, when the curtain rose on the Mexican troupe's first ballet, there was the pleasure of watching sleek dancers moving precisely. But they did so in slick choreography, not just in this piece, but throughout the evening. By Jack Anderson.
Nikolaj Hubbe's farewell performance. Photo by Paul Kolnik.
New York City Ballet: Two Premieres and a Farewell
The New York City Ballet's winter season featured two premieres (one big, one little) and a farewell performance that left many cheering dancegoers misty-eyed. By Jack Anderson.
Trisha Brown: The World Beyond the Wings
Often, when actors or dancers step offstage, we may feel they temporarily cease to exist by being out of sight and out of mind until the plot or the choreography necessitates their return. But in some of Trisha Brown's programs, including this one, she creates the curious impression that when her dancers vanish from our view they may still be moving before other people somewhere else: other worlds are waiting in the wings. By Jack Anderson.
The Clarities of Christopher House
"Timecode Break" opened with its 12 dancers in loose, nondescript, and never distracting costumes by Jeremy Laing, standing alert as the lights gradually brightened and Phil Strong's taped score filled with cheeping and almost birdlike sounds. This was, in effect, a dawn, and House's choreographic day got underway with calm unhurried movements that gave the audience lots of time to gaze while amorphous cloudlike and watery shapes floated across a screen at the back of the stage. Nevertheless, a concern for clarity dominated Christopher House's "Timecode Break," a mixed-media production for his Toronto Dance Theater. Long before it was over, the 65-minute work had become a celebration of lucidity in which chaos always gave birth to clear forms. By Jack Anderson.
Photo courtesy ofLingo.
Lingo's Party
Lingo made a dance performance resemble a party. Well, sort of. You could also say that, in "Lingo," this Seattle troupe, directed by KT Niehoff, made a dance performance emerge out of a party. By Jack Anderson.
Cedar Lake Contemporary Ballet performs "Rite" by Stijn Celis. Dancers: Acacia Scacte, Oscar Ramos (back) and Jon Bond. Photo: Paul B. Goode.
Cedar Lake's Glamorous Angst
Anxiety prevails at Cedar Lake this winter. So does glamour. Both coexist quite nicely in the new triple-bill by Cedar Lake Contemporary Ballet. By Jack Anderson.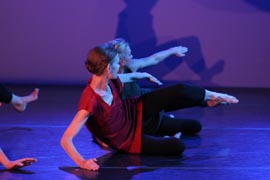 Photo by Paula Court.
Melissa Fenley: " Strength and Sensibility
For the past thirty years, Molissa Fenley has attracted attention with dances demanding great strength and stamina. Her new dances still do, but other, perhaps unexpected, qualities are now discernible in them, as well. Wit, for one. And lyricism. By Jack Anderson.
Japanese Fog
In the Next Wave Festival at BAM, fog occasionally filled the stage in Hiroshi Koike's "Ship in a View" which, as performed by his company, Pappa Tarahumara, was most effective when it conjured up the strangeness of life in a remote Japanese seaside community. Although the production was Japanese, its sense of alienation and melancholy in an indifferent universe recalled some of Ingmar Bergman's films. By Jack Anderson.
Pele Bauch and dancers crawl along the floor in "-ism." Photo by Steven Schreiber.
Pele Bauch's "-ism"
The first two pieces on New York choreographer Pele Bauch's program at Joyce SoHo, though certainly individual enough, were hardly shocking. But the enigmatically titled "-ism," the third and final piece on the bill, came as a bit of a surprise. By Henry Baumgartner.
On our way to the land of the bizarre with Michael Helland in "The Dress Up Show." Photo by Steven Schreiber.
Michael Helland Dresses Up for the Theater
One quality that is surprisingly often missing from downtown art, even dance, is sheer theatrical zaniness. Perhaps some feel it detracts from the serious appearance of their work. Fortunately, here comes Michael Helland with enough nuttiness to make up for weeks of lugubriousness. By Henry Baumgartner.
"Red Carpet 1967" by Yoshiko Chuma and The School of Hard Knocks, part of "60s Snapshots" at Lincoln Center Out of Doors, August 23, 2007, in which choreographers evoked the open-air theatricality of that era. Dancers (L-R): Christopher Williams, Yoshiko Chuma, Ursula Eagly. Trombonist: Photo by Jonathan Slaff.
Summers, Solomons, Soto, and Chuma Show Their "60s Snapshots"
Not all the choreographers represented in "60s Snapshots" are really of an age to represent the Sixties, but I'm not complaining very loudly, because Gus Solomons jr., Merián Soto, Yoshiko Chuma, and Elaine Summers and their dancers and collaborators put on a wonderful show. And the price was right: this program was part of the Lincoln Center Out-of-Doors free outdoor summer performance series. By Henry Baumgartner.
Yuko Kaseki in "A Timeless Kaidan," created, choreographed and directed by Ximena Garnica, presented by Theater for the New City Nov. 6-8, 2007 and part of 2007 CAVE New York Butoh Festival. Photo by Dola Baroni.
The New York Butoh Festival Rides Again
Every two years the folks who run the tiny but invaluable Williamsburg performance space called Cave somehow produce a New York Butoh Festival. Of the three programs Henry Baumgartner managed to catch, two were part of an Emerging U.S. Artists Series, and so featured local artists as well as a few from around the country. But by far the biggest production seen was a production named "A Timeless Kaidan" at Theater for the New City. By Henry Baumgartner.
Seniors Battle Ballet
Seniors and larger than ballerina sized women performed "Fielday," choreographed by Naomi Goldberg Haas, at Abrons Art Center, 466 Grand St., New York this past weekend. The packed audience, standing room only, walked out into the chilly evening exhilarated. By Ellen W. Lytle.
Tero Saarinen Company's "Borrowed Light," performed at BAM. (Left to right) Tero Saarinen, Heikki Vienola, Henrikki Heikkila, Carl Knif. Photo by Jack Vartoogian.
Tero Saarinen's Communal Austerity
Tero Saarinen's "Borrowed Light" is a strange, impressive, and sometimes disturbing musical and choreographic depiction of a community locked together in a common faith. The tenets of that faith never become explicit, although they are presumably religious. What interests this Finnish choreographer is how force of convictions allows these people to persevere.
Julie Kent and Gennadi Saveliev in ABT's "Fall River Legend." Photo by Gene Schiavone.
Through Modern American Ballet History with American Ballet Theatre
In addition to giving fine performances, American Ballet Theatre stimulated thought about its own history and the development of modern American ballet in general. Surveying the autumn repertoire, one could argue that its two best ballets were the oldest: Jerome Robbins's "Fancy Free" (1944) and Agnes de Mille's "Fall River Legend" (1948). Taken as a whole, Ballet Theatre's little panorama of modern American ballet suggests that both dramatic and abstract dance forms today lack the imagination that enlivened choreography in the recent past. Yet no one really knows how ballet can be revitalized. If we did, we wouldn't be admitting we're worried. By Jack Anderson.
Compania Nacional de Danza -- Yolanda Martin and Dimo Kirilov. Photo by Tom Brazil.
Three European Contemporaries
There's an increasingly common theatrical dance form: not really ballet, at least ballet in the strictest classical sense, for it may incorporate modern dance steps, yet not pure modern dance, for its choreographers may require performers with ballet training, even though they may not have to dance on pointe. Call it contemporary dance, perhaps. Whatever it's called, it's everywhere, especially in Europe, and three notable companies specializing in it visited New York recently: one from Switzerland (Ballet du Grand Théâtre de Genève), one from Spain (Compañía Nacional de Danza), and one from Denmark (Danskdansetheater). By Jack Anderson.
"Morphoses" by The Wheeldon Company. Photo by Erin Baiano
Wheeldon's Morphoses
The inaugural New York season of Christopher Wheeldon's new troupe attracted large enthusiastic audiences, and in many ways the cheers were justified. Wheeldon is a talented choreographer, he used live music, and the fact that Morphoses included principals and soloists from several companies suggests that dancers enjoy working with him. Nevertheless, there were problems of personnel and repertory. By Jack Anderson.
"Pamina Devi," photo by John Shapiro
Spectacles Re-Imagined
Two very different sorts of productions derived from 18th-century spectacles arrived in New York. "Pamina Devi," inspired by Mozart's "Magic Flute," came from Cambodia. "Zélindor," which François Rebel and François Francoeur composed in 1745 for the splendors of Versailles, had its modern world premiere in what at first seemed a conventional non-theatrical concert performance by groups from New York and Washington, D.C. Then flights of fancy made their presentation theatrically and choreographically, as well as musically, magical. By Jack Anderson.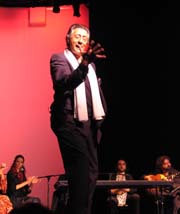 FLAMENCO WITHOUT FRILLS -- Miguel Peña Vargas, known as El Funi, in "Maestría" by the Arte y Pureza Flamenco Company of Seville.
Flamenco Without Frills
Flamenco is music, as well as dance. That was one message of "Maestría" by the Arte y Pureza Flamenco Company of Seville. There were no fancy production numbers, no bits of showbiz glitz. This was flamenco without frills. Seven performers simply appeared to be friends assembling to dance, sing, and play the guitar. They did all that quite well and without haste, insinuating their way into theatergoers' hearts, rather than walloping the audience with socko effects.
Shantala Shivalingappa performing "Varnam" in Fall for Dance Festival. Photo by Stephanie Berger.
Fall for Dance Festival at City Center--Another Feast of Appetizers
Fall for Dance programs can be fun even before the curtain rises. These annual festivals, which bring a multitude of companies and performers together for only $10 a ticket, attract hordes of dancegoers eagerly greeting one another and chattering away, as if at a party. The tidbits on stage become a feast of appetizers suggesting what a rich banquet dance can be. By Jack Anderson.
Miki Orihara in Martha Graham's "Errand into the Maze"

Martha Graham Dance Company and Isadora Duncan's "Iphigenia"at the Joyce
By a happy fluke of programming, in only a few days one could see works by two great American modern dance pioneers, Loîe Fuller and Isadora Duncan (only Ruth St. Denis and Maud Allan from the pioneering days would have made this matriarchal list complete), as well as a collection of pieces by Martha Graham, from the next generation. It was an enlightening experience, for it revealed how varied modern dance was from the outset and how varied it remained as it developed. By Jack Anderson.
Sarah Hook Dances, "Rue," performed by Mary Cochran. Part of Dancenow/NYC Festival. Photo by Steven Schreiber.
Choreographic Canapés: Dancenow
In only a few years it has become the custom to launch autumn dance seasons with sampler programs by assorted companies and soloists that resemble cocktail parties serving choreographic canapés: bits and pieces in many styles for audiences to savor. Although no single nibble may fully satisfy hungry dance lovers, an evening of snippets can be quite tasty. Fall for Dance has received justifiable acclaim for its annual autumnal gatherings. But this year Dancenow/NYC came first on the calendar with its Festival at Dance Theater Workshop, under the artistic direction of Robin Staff. By Jack Anderson.
Aaron Thayer and Robin Cornwell in Smuin's "Schubert Scherzo." Photo by Tom Hauck.
Smuin Ballet
Michael Smuin, the San Francisco choreographer who died unexpectedly this April at the age of 68, was an eclectic who prized the virtue of craft. The program that his Smuin Ballet brought to the Joyce attested to his eclecticism. He showed three ballets that honored three different cultural traditions, from Japan to Ireland to Brazil. By Jack Anderson.
Lincoln Center Festival 2007 presents Ballet National de Marseille performing "Metapolis ll" at the New York State Theater on July 25, 2007. Pictured are Baptise Herbert (foreground) and Golan Yosef (crouching, background). Photo by Stephanie Berger.
Building Sights: The Lincoln Center Festival 2007
By stretching, bending, or variously positioning themselves, dancers can resemble buildings. By seeming to twist or thrust through space, buildings can recall the frozen motions of dancers. Just as choreography arranges groups of bodies into dances, so architecture arranges groups of buildings into cities, and people live, for better or worse, in both dances and cities. "Metapolis II," presented by the Ballet National de Marseille, was a reminder of the similarities between dance and architecture. Also, an installation by David Michalek called "Slow Dancing," in which video portraits of dancers unfolded with glacial, but hypnotic, slow motion on three enormous panels. By Jack Anderson.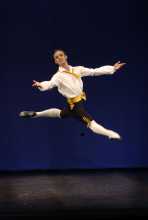 Thomas Lund in "Napoli" at Jacob's Pillow. Photo by Henrik Stenberg.
The Danes at Jacob's Pillow
A little company called Dancers of the Royal Danish Ballet brought much Danish joy to Jacob's Pillow as part of the festival's 75th anniversary season. Like its predecessors, this ensemble features works by August Bournonville, the great 19th-century Danish Romantic choreographer, and the group includes such distinguished Bournonville stylists as Gudrun Bojesen and Thomas Lund. By Jack Anderson.
American Ballet Theater and the New York City Ballet
Once again, as has become the custom at this time of year, American Ballet Theatre and the New York City Ballet had late spring and early summer seasons at adjacent Lincoln Center theaters, seasons prompting cheers, tears, and furrowed brows. A biting review of over ten pieces ranging from Othello to Sleeping Beauty. Also, after over 30 years of dancing, Kyra Nicols says goodbye to the New York City Ballet. By Jack Anderson.
''Cambiodian Stories Revisited.'' Photo by Takahiro Haneda.
Eiko and Koma: "Cambodian Stories Revisited"
This new work became a companion to "Cambodian Stories: An Offering of Painting and Peace," which the Japanese-born dancers and choreographers presented last year at the Asia Society along with young Cambodian students from the Reyum Institute of Arts and Culture in Phnom Penh. Combining dance movements with a demonstration of how pictures can be painted, that production commented with subtle eloquence on Cambodia's turbulent history and affirmed art as a way of remembering and healing. By Jack Anderson.
Fábio Pinheiro in Portuguese Thunderstorms' ''Seven Bird Dreams.'' Photo By Galina Lukianovich.
Portuguese Thunderstorms
Vasco Wellenkamp sent choreographic thunderstorms crashing upon the stage in his new double-bill for his Portuguese company. His kinetic lightning bolts were vivid and the action was turbulent. The most striking features of Wellenkamp's choreography were its abrupt contrasts between tension and looseness and its intricate twisting movements for standing, crouching, and bending dancers. By Jack Anderson.
Jody Sperling and Loïe
Jody Sperling has fun with dance history, in part because she takes it seriously. She has long been fascinated by Loïe Fuller, that early 20th-century pioneer of modern dance and multimedia theater, and has made several attempts to devise works employing Fuller's costuming and lighting effects. Two Fuller-inspired productions accounted for much of the magic of Sperling's latest program. By Jack Anderson.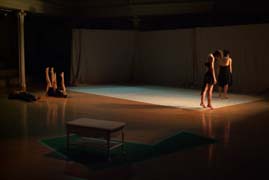 ''Delirium, or that taste in my mouth.'' Left to right - Pedro Osorio, Amanda Loulaki, Carolyn Hall, and Rebecca Serrell. Photo by Joanna Seitz.
''Delirium, or that taste in my mouth''
Amanda Loulaki's new piece at Danspace, ''Delirium, or that taste in my mouth,'' is the most interesting work I have yet seen from this choreographer. A quartet of excellent dancers make up the cast, including Loulaki herself and the astonishing Carolyn Hall. The work is dark and sensuous; it consists mainly of solos and duets performed as the rest of the dancers remain still or do something simple in the background. By Henry Baumgartner.
Ballet Memphis
Ballet Memphis is the third enterprising out-of-town company to show an unfamiliar repertory here recently. First came bright choreography from the Aspen Santa Fe Ballet. Then the Cincinnati Ballet introduced us to the Italian choreographer Luca Veggetti. And now the Memphis troupe, directed by Dorothy Gunther Pugh, has presented an assortment of one-act works. By Jack Anderson.
"Dance Party"
How wonderful it is to live in a great city, especially a city that dances. No wonder, then, that "Dance Party," a program shared by Keigwin + Company and Chris Elam/Misnomer Dance Theater, made city life a perpetual block party. By Jack Anderson.
Luca Veggetti and the Cincinnati Ballet
The Cincinnati Ballet's visit to New York offered glimpses of dances by Luca Veggetti, an Italian choreographer little-known here, who contributed three small-scale ballets to scores for solo instruments by the Japanese composer Toshio Hosokawa. Victoria Morgan, the company's artistic director, has encouraged Veggetti in recent seasons, and his ballets pique curiosity with their juxtapositions of propulsion and restraint. By Jack Anderson.
Sam Archer and Kerry Biggin in ''Edward Scissorhands.'' Photo by Richard Termine.
Matthew Bourne: "Edward Scissorhands"
It's easy to call Matthew Bourne's "Edward Scissorhands" a musical comedy without songs or dialogue. In fact, it's often been called that. Like many musicals, it's a splashy fast-paced show brimming with energy. But you needn't venture beyond the dance world to find a term to characterize it: "Edward Scissorhands" is a ballet. Yes, a ballet. By Jack Anderson.
Paul Taylor: Smiles and Sighs. Scene in ''Lines of Loss''. Photo by Lisa Michael.
Paul Taylor: Smiles and Sighs
The Paul Taylor Dance Company opened its season with a triple-bill all smiles and sighs, smiles prompted by "Company B," sighs by "Roses" and the new "Lines of Loss." Dance after dance by Taylor is rich in ambiguity. Botbh sections of the two-part work for three woman and two men are choreographically identical, and both are danced within and around a large white cube designed by Alex Katz. But they have different casts, different scores by Donald York, and different lighting designs by Jennifer Tipton. By Jack Anderson.
''Contemporary Quartet''
The adjective ''contemporary'' was chosen, and the word ''future'' was not. So this program wasn't up to the folly of prophesying, at least not explicitly. Yet the four choreographers offered by the program were selected from a broad field nowadays of strivers and their striving. What does the choice tell us, and how do the four ballets and their makers speak to us, as well as to and for the company itself? By Molly McQuade.
Dancers pushing the envelope in DD Dorvillier's ''Nothing is Importanttt.'' Photo by David Bergé.
''Nothing is Importanttt''
I'd been forewarned that DD Dorvillier's new piece, ''Nothing Is Importanttt,'' would be a bit strange, but of course I dismissed this out of hand—a downtown dance piece that's a bit strange? Hell, they all do their best to be as weird as can be. To break out of the pack and do something memorably strange (and that you can't get arrested for) is not easy, but Dorvillier did in fact deliver the goods in her show's final section. By Henry Baumgartner.
Magic Act
For director Philippe Decouflé, the theater is a magic place and performances are magic acts. He has often created large-scale conjurations proclaiming this faith. But in "Solo: Le Doute M'Habite (The Doubt Within Me)" he was alone on stage. Nevertheless, he tried to fill it with illusions, with the aid of videos by Olivier Simola, lighting by Patrice Besombes, a sound design by Claire Thiébault (incorporating a French music-hall song by Bourvil), and live music by Joachim Latarjet on a number of instruments. By Jack Anderson.
Scene in "Three Atmospheric Studies" by The William Forsythe Company. Photo by Stephanie Berger.
The Forsythe Company: "Three Atmospheric Studies"
"My son was arrested." This episode shows Forsythe's flair for devising group movements. His theme may be chaos in the streets, yet everyone is carefully spaced and their flinging and twisting steps, though signifying disruption, are lucidly ordered so that events can be savored as well as watched. Read the full review by Jack Anderson.

Updating Classics: When? Why?
''There come times when people staging classic works of theater or dance feel an urge to update them, perhaps because they fear those pieces are now so familiar that they should be seen afresh. So drastic changes may be made in period and locale. The results are sometimes stimulating, sometimes merely peculiar.'' Jack Anderson went to Copenhagen and came back with some thoughs on new stagings.
Sprenger's Triangle
Jack Anderson writes, "Let me confess. I'm a mathematical dummy. I couldn't fathom the theoretical principles guiding Megan V. Sprenger's "No Where," for which Sara Grundel, a mathematician, served as an adviser. My mind just didn't get this dance. But my heart and nerves did."
Blood, Sweat, Tears, and Carmen
Although all dancers surely sweat on stage, choreographers seldom make them appear to be portraying people who are sweating in real life. Ramón Oller left no doubts that characters sweated in his "Carmen" for Compañía Metros of Barcelona. Set to an adroitly arranged collage of music by Bizet and Martirio, this was a gritty adaptation of the familiar tale in modern-dress costumes designed by Mèrce Paloma, who put the men into undershirts, and with all events taking place on the roof of a tobacco factory (as a sign on the building made clear) designed by Joan Jorba. The action was fierce, the characters looked street-wise, with nothing picturesque about them. By Jack Anderson.
Comic-Book Commedia
It's hard to guess how much Julie Atlas Muz wished her ''Divine Comedy of an Exquisite Corpse'' to reflect Dante's ''La Divina Commedia. The results resembled a melodramatic action-packed, yet often funny, comic book. By Jack Anderson.
''Body, Mind, and Mann''. Photo by Stephanie Berger.
''Body, Mind, and Mann''
John Neumeier is an erudite choreographer who often crams ballets with literary and historical allusions. Yet he can also give the impression that he is still a young man plunging headlong into new artistic and emotional worlds for the first time. His works abound with contrasts between youthful excitement and mature sophistication. Such juxtapositions are certainly present in his "Death in Venice'', performed at BAM by Hamburg Ballet. By Jack Anderson.
''Armitage Gone'' Photo by Richard Termine.
''Armitage Gone''
The new program by Karole Armitage's company, Armitage Gone! Dance, performed at Joyce Theater from February 6 to February 11, was the world premiere of "Ligeti Essays."
New York City Ballet: Winter Season
The New York City Ballet offered a new work, a revival of an unusual old one, and a new programming policy. In some ways the premiere and the revival were more interesting to ponder than to watch, for each raised questions about balletic esthetics. By Jack Anderson.
"Sweet Fields" by Twyla Tharp. Photo by Rosalie O'Connor.
The Balletic Pleasures of Aspen Santa Fe
What a nice performance this was. The dancers looked good and danced well, and if no one appeared to have strong dramatic projection, that quality was not required on this occasion. What made everyone distinctive was an ability to move with confidence, yet without pretensions. And although the company has only ten members, the choreography never made the stage appear impoverished. Tom Mossbrucker and Jean-Philippe Malaty, the directors, have formed the balletic equivalent of a fine chamber-music ensemble. By Jack Anderson.
Jeremy Wade: Sex and Glory
Jeremy Wade's "Glory" suggests that he's among those artists and visionaries who regard sexual ecstasy as a form of spiritual enlightenment (and it might well be). His duet has attracted international attention since its premiere in 2003, and now that I've finally seen it I can understand the fuss. By Jack Anderson.