Melinda Given Guttmann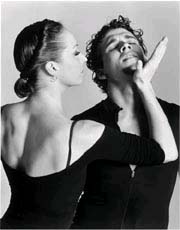 "Nightspot" -- Twyla Tharp in Miami.
NIGHTSPOT:
exploring love's dark side
Twyla Tharp Choreographer
World Premiere
Miami City Ballet
Arsht Center
Miami Beach, Florida
March 20-30, 2008

When Diaghilev said to Nijinsky, "astonish me!," Tharp's nightspot is what he meant! Wild; chaotic; exuberant; feverish; Miami's City Ballet dancers mesmerized the audience with a multi-leveled, multi-cultural, multi-movement and mixture of musical genre cum masterpiece. The whole piece exploded red hot! Tharp, who loves to collaborate with diverse artists, brilliantly chose rocker Elvis Costello for her musical score; and outlandish designer Isaac Mizrahi as her designer.
Tharp said that Nightspot contained her imaginary vision of Miami, according to the Miami Herald. This vision of Miami's hallucinatory crazed nightclubs, fascinating mixture of sexual love, violence, international grounding, Latino mixtures, spontaneity, and shockingly improvised whirlwind events all find their complexity embodied in the disciplined magnificent dancing of eighteen of the ballet's dancers.
The color of this passionate work is hot red! The costumes an admixture of purple with hot in red balletic tutus, red jumpsuits, hip-street attire, glittering club costumes, vaudeville hats and canes, work-out clothes, and eastern martial arts outfits. Even the lighting by John Hall proves, to be a spectacle of red, continually reforming a dance of spotlights in new constellations.
Elvis Costello's score reinforces with nine instruments the fragments of genres, moving from Latin ballroom dancing, to booming drum beats, to lyrical ballads and folk music, to hard, edgy rock: from strings, horns, guitar, in a roller-coaster of sounds which parallel and subvert the dancing. The band, like the orchestra in the pit remain in the dark, reinforcing the feeling of being covered by darkness.
Tharp's post-post modern fragmentation allows the work to billow out with allusions to weird, erotic, playful, fantastic, happenings in all the eery nights everyone experiences and experiences like a nightmare or a dream. In post-modern style, the idealized feminine ballerina, becomes replaced by an outraged slapping, pushing and shoving rejecting lover who comes back to a classical lift of holding her legs tightly around the post-modern highly athletic male dancers. In an era of rehab, squabbling bitterly splitting and reuniting Hollywood couples which affect all American relationships. Bits of narrative are explored and abandoned. The dancers come together in abstract formations; and as suddenly as they appear they surprisingly disappear.
It also alludes to the hot spots of war, outrage, violence, cultural intolerance and hatred scattered globally from night terror in Iraq, to genocide in Darfour and Tibet. This is combined with more lyrical dance forms, intertwining leap turns, fouetees, and lifts from classical ballet, death twirls from figure skating, a variety of seductive Latin dance forms, Middle East images, with snake-like floating arms against swirling muscles from bellydancing; and theatricalized Eastern Zen and Karate. The marital arts culminate in a tradtional fight to the death between two primal male dancers. She also explores hip-hop, tap dancing, folk dancing, and a beathtaking tango which spirals towards death.
The dance revolves around three couples, although their couplings are erratic
and the personalities and extraordinary virtuosity and brio of the dancers. An overall rage of suffering to live take precedence. Coupled or in groups the intense ebb and flow of interactive velocities compelling the volcanic movement of the piece take it in constantly unexpected directions. Underlying the theme, details of nostalgia for romantic love appear. Dancers kiss on the mouth, a man kisses a woman's hand, a woman gently fans herself fragily.
The couple in red, Garcia-Rodriguez and Callie Manning take the spotlight more than the others. Their dancing is a superb as any other major company; they burn a hole into your heart with their passionately disruptive, jealous, and obsessive relationship.
The climax of the piece occurs when Garcia-Rodriguez is carried on the shoulders like a king on a stage-long train of wafting red fabric onto the stage. The permutations of playing with the fabric , into which dancers fall, roll over, and hold it full out like an Eastern river from a Noh play resonates with the depth love, drowning in fear, and is shaken liken an endless river of desire. In a Youtube video, Tharp claims that video is the medium of the future; and will insure that the details of her dancer's work and their intentions will remain as an archive for future generations. In her book, The Creative Habit," 'learn it and use it for life" Simon & Shuster, 2003, she claims that creativity is less a matter of genius than of disciplined work habits. She expects "insane commitment" from her dancers and she achieves it. She has choreographed over thirty-five works, and at 66, one hopes for a plethora of more super-imaginative innovations. In spite of her disclaimer, Tharp deserves to be honored as a genius.
Tharp explored the 'dark side of love' with so many allusions and forms that it is impossible to reveal their codes or describe them in a review. We live in an era of this dark side; and Miami proved to be a perfect metaphor for this conscious and unconscious experience of our increasingly inhuman planetary experience in which love has become a nostalgic flashback.
The curtain call of Nightspot continued the dance; and ended in a well-deserved standing ovation.
NYTW readers may email Melinda Guttmann at: starnyc@aol.com

| lobby | search | home | cue-to-cue | discounts | welcome | film | dance | reviews |
| museums | NYTW mail | recordings | coupons | publications | classified |