"Potion"
Stolen Chair
At People Kitchen and Lounge
163 Allen Street, New York, NY
Opened March 2, 2014
Tickets: $25 at www.stolenchair.org or 212-868-4444.
Reviewed by Dorothy Chansky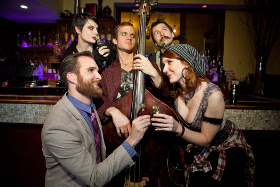 Potion featuring Raife Baker, Liz Eckert, Sean Cronin, Noah Schultz and Natalie Hegg. Photo by Carrie Leonard.
Doubtless you've heard the one-liner about the person who claims to drink to make other people more interesting. "Potion", set and staged in a bar, gives big pause for thought about that reasoning—reasoning that may get pretty fuzzy if you indulge in the three drinks (included in the ticket price) accompanying the show's three parts. The inclusion of a Mixologist on the list of production and design credits was a first for me.
"Potion"'s thin premise is that Charlotte, an experienced bartender with a great bedside manner, can fulfill pretty much everyone's emotional needs but her own. Her libations are more than drinks. They are actual potions, made to customer specifications. Want more sex appeal? Check. More backbone and chutzpah? Can do. Less dorkiness? Just wait a few minutes till the concoction kicks in.
The one thing Charlotte can't seem to do, however, is to get her boss, Tom, to love her. What plot there is here turns on whether Charlotte can muster her talents and make a drink that will do just that. Otherwise, health inspector Mr. Forth is going to close the place down. Natalie Hegg's Charlotte is a blend relaxed, downtown self-assurance with just a hint of desperation; Raife Baker's Tom is all business. You almost think he's in the wrong one, what with his office attire and straight demeanor, but someone has to crunch the numbers and it's certainly not going to be Charlotte. Their first tiff is over what she was thinking (she doesn't remember) when she ordered ten cases of lychee nuts for the bar.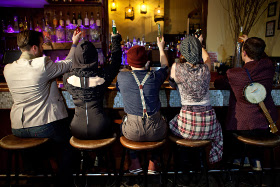 Potion featuring Raife Baker, Liz Eckert, Noah Schultz, Natalie Hegg and Sean Cronin. Photo by Carrie Leonard.
Into this world stagger Andi (Liz Eckert), clad in black with a mood to match, and the preppy duo Emma (Molly O'Neill) and Philip (David Skeist). Emma wears glasses and wishes she had more gumption. Philip sports an argyle sweater and looks like a refugee from the 1950s. Before the evening is over she'll be dancing on the bar and he'll be off in a corner with Andi, stripped down to a black wife-beater, showing a lot of tattooed skin, and smooching up a storm.
Sound schematic? Well, it is. But the schematism is actually the cleverest part of the work. Writer Kiran Rikhye took archetypes from operas, mapped out a story, and then used actual arias, duets and trios as templates for the rhythmic and verbal elements of the dialogue. So words get repeated; phrases are sometimes snippet-like and sometimes soaringly extended; characters' speeches overlap; and words are occasionally shared. Rikhye's original text is a good reminder of how much fun a performance can be even when situations are corny. Here the actors speak rather than sing, but Sean Cronin's musical accompaniment provides movement and mood.
Director Jon Stancato has staged the piece to take place at, on, and behind the bar as well as in a dark corner and in front of the tables where the audience is seated. Stancato and Rikhye are the creative duo behind Stolen Chair, whose range and originality seem to know no bounds. This is the third of their shows I have seen in as many years and without a program I would never have known that the same pair put a fictionalized biography of two real Edith Wharton-era women active in show business in an actual tea room "Bachelors' Tea Party"; staged an entire piece about a sad clown in the style of a black-and-white movie (complete with original score and intertitles); and now used Italian opera to grid out a modern day John loves Mary who pines for Dan who secretly lusts after Susan in just the sort of place where such a thing might play out.
Potion featuring Raife Baker and Natalie Hegg. Photo by Carrie Leonard.
Does it work out in the end? In a manner of speaking, yes. The bar is saved, the customers will be back, and the audience is invited to stick around. Bonus: you get to take home the list of ingredients for the drinks, and if you've never had it before, chipotle chile powder will probably go on your list of ways to spice up the rim of your margarita glass. (The main liquor in mixologist Marlo Gamora's "On Pins and Needles" is mezcal, but the chile powder rim works for either.) Oh, and speaking of recipes, I think the press release also promised magic. That's got to be what accounts for the resolution with the lychee nuts.
---
"Potion" is a magical elixir that charms the audience

"Potion."
Conceived by Kiran Rikhye and Jon Stancato; written by Rikhye, directed by Stancato.
People Lounge, 163 Allen Street (south of Delancey Street; F train to 2nd Avenue stop; Allen is a continuation of First Avenue, so take at First Avenue exit.)
Live music by Sean Cronin; Cocktails by Mixologist Marlo Gamora.
Sundays at 7pm.
http://www.stolenchair.org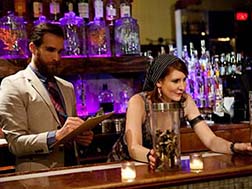 Raife Bakeras as Tom and Natalie Hegg as Charley, Photo by Carrie Leonard.
The Stolen Chair Company did last year's brilliant (and Drama Desk nominated) production, "The Man Who Laughs." So it is no surprise that this season's offering is a supremely inventive and clever site-specific production at a Soho bar. It takes place in the People Lounge on Allen Street south of Delancey. The admission includes three very exotic, interesting, tasty cocktails!
But more than that, the production is an intimate look – from a fly-on-the-wall vantage point – of what happens at a bar among the owners, bartender and patrons, especially regarding their romantic desires and connections.
Since the Stolen Chair Company is never ordinary, the dialogue is done as non-musical opera. That means that the text is spoken, not sung, but it's said in cadences, in duets and pieces for four, characters speaking over each other as if they would do singing opera. And the pieces and cadences are based on real operas. Quite extraordinary!
The place is Charley's Potion Lounge Speakeasy. Patrons are seated at low seats along the walls opposite a real bar.
The founder and owner, Charley/Charlotte (Natalie Hegg), is dressed gypsy style with a too-low-cut top. Turns out she is in love with her business partner, Tom (Raife Baker).
The bartender Jim (Noah Schultz), with a Dali moustache, is ready to deal with patrons' problems (but not those of his bosses).
The plot is a bit like a bar-scene soap opera, but much more immediate, up-close, and more diverting. The cast is first-rate. Collaborators Rikhye and Stancato create an utterly realistic mood.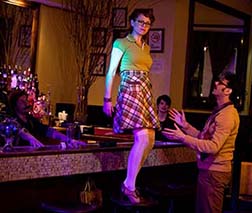 Noah Schultz as Jim, Molly O'Neill as Emma, Liz Eckert as Andi, David Skeist as Philip, Photo byCarrie Leonard.
Andi (Liz Eckert) an unhappy character who doesn't like anybody, arrives and soon tells all that "humanity is pitiful." Jim says, "You hate us, but come here…" Andi: "Because you allow me a minute or two of relief."
It's a reality show, like overhearing a bar conversation. Emma (Molly O'Neill), a patron, says, "I don't think I've found who I am." Charley replies, "We can make you whoever you please." Charley says, "Everyone wants to change something."
There's also interaction among the staff, especially between Charley, who is secretly sweet on Tom. "Charlotte why do we have ten crates of lychee nuts?" She: "They were such a bargain."
Patrons come in. A guy, Philip (David Skeist) comes on to Andi, hitting on her.
Ed Forth (Jon Forehlich) a health inspector, suggesting he might give the place a bad report, wants a drink potion that makes women fall in love with him.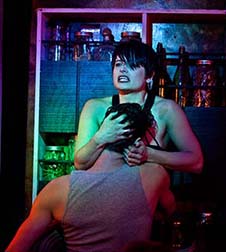 David Skeist as Philip and Liz Eckert as Andi. Photo by Carrie Leonard.
There's also the magic of the cocktails that are served through the evening, with labels such as "Curiosity." They are, we are told, potions that affect how you are. Charley says, "Our drinks intoxicate but do much more."
The bar is a drinks hall of mirrors that takes peoples' traits and problems and magnifies them. Philip and Andi have a hot interaction that moves through the bar salon/audience.
Patrons get to sample drinks called "Curiosity," "Pins Needles," and "Love Potion." It's all indeed quite intoxicating.
"Potion, a play in 3 cocktails." Conceived by Kiran Rikhye and Jon Stancato; written by Rikhye, directed by Stancato. Stolen Chair at People Lounge, 163 Allen Street (south of Delancey Street; F train to 2nd Avenue stop; Allen is a continuation of First Avenue, so take First Avenue exit.) Live music by Sean Cronin; cocktails by Mixologist Marlo Gamora. Sundays at 7pm. 212-868-4444. The bar is small, so reservations online or by phone recommended.
The cocktails are "Curiosity:" rye, cynar, lemon juice, honey, lemon twist; "Pins & Needles:" mescal, ginger beer, green chartreuse, lime juice, chili salt rim, lime twist, and "Love Potion:" lambrusco, gin, absinthe, syrup, lemon juice, lemon twist.
Visit Lucy Komisar's website http://thekom