"Fiddler on the Roof"


"Fiddler on the Roof"
Arena Stage, 1101 Sixth St. SW, Washington, DC
October 31, 2014 – January 5, 2015
Tues.-Sat. evenings; matinees Sat. & Sun. & selected Wednesdays
Full calendar: http://tickets.arenastage.org/
Tickets: $50-99 at arenastage.org or 202.488-3300
Reviewed by Dorothy Chansky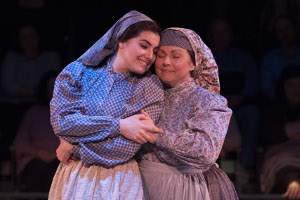 (L to R) Maria Rizzo as Chava and Ann Arvia as Golde. Photo by Margot Schulman.
It's hard to remember a time before Fiddler on the Roof, although arguably that's exactly what Fiddler wants us to do. The show, which turns fifty this year, was born in a decade when Jewish themed musicals had become fashionably kosher. But unlike the 1961 Milk and Honey—set in the then-newish state of Israel and no longer much produced—or 1966's Cabaret—Holocaust themed, prized for it outré, louche setting and its handy metaphors for racism of many sorts—Fiddler has held its own everywhere musicals are done and has served as a primer on the world it portrays. No matter that the show constructed a few of the traditions its fans can take for old world. (E.g., Orthodox Jewish weddings were old school before the band played "Sunrise, Sunset"; the famed bottle dance was concocted by choreographer Jerome Robbins.) For many Americans, the way it is in Fiddler is the way it was.

Jonathan Hadary as Tevye and the company of Fiddler on the Roof. Photo by Margot Schulman.
Arena Stage's fiftieth anniversary production of Fiddler is nothing if not loving and celebratory. Its 29-member cast sings gorgeously. Director Molly Smith's staging is deft and fluid. Todd Rosenthal's set features a wooden-slatted version of the yellow brick road to suggest both endless going in circles but also the way out. Paul Tazewell's costumes are true to babushka-and-tzitzit expectations while also evoking, via a subtle color palette of browns, beiges, and blues, an environment at once vibrant and faded. Parker Esse's adaptation of Robbins's choreography leaves memories intact while openly speaking to an audience-in-the-round. The dream sequence looks like a Chagall come to life. The pump spews real water. The candlesticks look just like great grandma's.


All of this is to say that it may be impossible to actually rethink Fiddler. Like Lincoln's stovepipe hat, its familiar iconicity resists resistance. As my cousin Carole leaned over and whispered to me midway through act one, "if one of the actors keeled over, either of us could run on stage and sing every single song." Indeed.
Maria Rizzo as Chava, Dorea Schmidt as Tzeitel and Hannah Corneau. Photo by Margot Schulman.
So, are we stuck with paint by number in perpetuity? Not entirely. Because this Fiddler's Tevye, Jonathan Hadary, is a subtle bundle of revelations. He manages to embody an archetype without commandeering the entire show, thereby recalibrating much of what many of us may have thought we knew about Tevye, the wise but perplexed milkman with the independent-minded daughters. The famous Tevyes have been big men: Zero Mostel, Theodore Bikel, Topol, Alfred Molina. Hadary, with his slight build and vaguely hangdog face, could easily fade into the ensemble, were it not for his wily way with a gesture, an emotion, an inflection, a step. The tradition of which he so famously sings in the opening number cannot simply be the realm of matchmakers, evil eyes, hand-braided challahs, and fortune-telling dreams. That's nostalgia. The real tradition here is the tradition of adaptation. The iconoclastic daughters who choose their own husbands and ways of doing Judaism are right in step with the patriarch Abraham, whose original act of devotion to the Jewish God was literal iconoclasm: he smashed the idols in his father's shop. When the pogrom-beset villagers leave for America in Fiddler's final scene, it is, of course, with a mixture of trepidation and hope. It's easy to imagine (if one wants to) a larger-than-life Tevye finding an America where he is at sea absent his comfy status as big fish in little pond. But Hadary's almost deferential caginess hints at something else, namely the survival-with-integrity that will be the key to immigrant survival for those able to bend and adjust.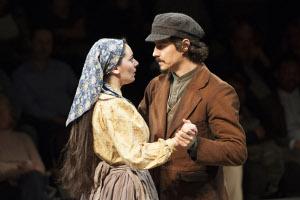 (L to R) Hannah Corneau as Hodel and Michael Vitaly Sazonov as Perchik. Photo by Margot Schulman.
Hadary enjoys pride of place, but he is hardly alone in his sure handed portrayal. Ann Arvia's Golde is a perfect blend of baleboste and vocal angel. Joshua Morgan's Motel the tailor manages modesty with backbone; he may be lacking in splashy prospects, but he is no nebbish. The freethinking daughters (Dorea Schmidt, Hannah Corneau, and Maria Rizzo) make credible siblings and also distinct impressions.

There may or may not be a revisionist Fiddler out there somewhere. The great granddaddy of regional theatres—institutionalized to the max—isn't the place one would find such a thing in any case. What is on display at Arena is entirely suitable to a fiftieth anniversary—golden, warm, familiar, cherished, and not looking to change.