"INDECENT" AT ARENA STAGE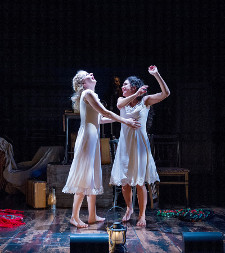 (L-R) Susan Lynskey and Emily Shackelford , with Ben Cherry in background. Photo by C. Stanley Photography.
"Indecent" by Paula Vogel
Arena Stage
1101 6th St. SW, Washington, D.C. 20024
Ran November 23-December 30, 2018
www.arenastage.org
Revoiewed by Dorothy Chansky
When Paula Vogel's incandescent "Indecent" opened in New York in 2016 it was the darling of the LGBT theatergoing world. Arena Stage positioned its recent production as a play addressing Jewish themes. Both angles are, of course, correct. As one of the characters in "Indecent" asserts, "the play belongs to the people who labor in it and the audience who put aside the time to see it." As this play also asserts, however, neither labor nor audience is a permanently fixed thing, and my vote is for this being a play about endurance, perseverance, and principles, although the pressure points here are certainly lesbianism, Jews, intolerance, and hypocrisy.
Ben Cherry (Lemml) and the cast. Photo by C. Stanley Photography.
Vogel crafted her play around the history and fate of a Yiddish Theatre classic, Sholem Asch's 1906 "The God of Vengeance," which features a Jewish brothel owner (Victor Raider-Wexler in "Indecent"'s play-within-a-play) seeking to assuage his guilt by paying for a torah. Meanwhile, his over-protected young daughter (Emily Shackelford) has discovered love and acceptance in the arms of one of the downstairs working girls. At the climactic moment of "God of Vengeance," the hypocritical father throws down the torah and also relegates his daughter to life as a prostitute in a very unsubtle announcement that payback is due. In "Indecent," the key moment recuperates the pure love of the two young women, even as such love could still get them ostracized or worse in many parts of our world.
"Indecent" tells the story of Asch, his play, and his players as they go from relative unknowns to European stardom to censorship in the United States. The young Asch (Max Wolkowitz) takes his new work—his first play—to be read by his local literary club in Warsaw. The guys (of course it's all men) are scandalized, all save one—the country yokel cousin of one of the literati who just happens to be visiting. This cousin, Lemml, is to become the play's stage manager. Lemml remembers to perfection how the play came to life but how it all ended is something he can't seem to recall. By the conclusion of "Indecent," to which Lemml is our guide, the audience is likely to recall the opposite.
Lemml (compellingly played with warmth and backbone by Ben Cherry) sees the poetry in the love scenes, where the others at the initial reading only see scandal. The play gets a production in Berlin, however, and goes on to be the toast of many towns, including Moscow, Bratislava, and Istanbul. When the chance comes to go to New York, "Indecent"'s director Eric Rosen lines the Arena company up, full of hope, facing right and ready to head for the New World. The image will be revisited in the opposite direction shortly before "Indecent"'s horrifying conclusion.
Vogel's conceit is to tell a largely linear story in what might be called a posthole method. Scenes deliver just enough information for us to grasp the emotions and the stakes and be ready to move to the next. Such things as the European tour are written almost as a collage of iterations of the climactic moment repeated as, in this production, the names of the cities where the play is a hit are projected above the actors, who shift their positions subtly to show that this is the same scene but on a series of stages. Projections also tell us when the actors have shifted languages. Rosen is a master at seamlessly rearranging performers to take us from backstage to the personal worlds of the key characters to moments heightened as "onstage." Set designer Jack Magaw has surrounded a largely open playing area with evocative objects that can easily move into play when needed and return to background, creating a palimpsest of nostalgia and regret as the story gathers momentum.
(L-R) Emily Shackelford and Max Wolkowitz. Photo by C. Stanley Photography.
The New York censorship of "God of Vengeance" doesn't happen right upon the play's Gotham opening. As long as the production was offered in Yiddish, the authorities took no notice. But a move uptown to an English language production set off alarms. Vogel adds to the historic story by writing the costs of second-language acquisition into her fictionalized saga of the European actors who brought their show across the ocean. One of the actresses—the one playing the naïve daughter—simply cannot learn English fast enough or well enough to reprise her role and she is fired a week before opening night. Vogel ups the stakes by having this actress as well as the one playing her lover be a real-life, offstage couple. It takes a police shutdown of the show and the older actress (richly rendered by Susan Lynskey) spending the night in jail for her partner to realize that love is more important in the long run than any role or play. In one of several instances of shifting and sharing, Emily Shackelford plays both the English-challenged Dina and her theatrically inexperienced, debutante replacement.
Alas, Asch himself adopts an attitude of "it's time to move on," but in his case it is the wrong stance. Having traveled from plays to novels, a comfortable home on Staten Island, and a growing awareness in the 1920s of anti-semitism in Europe (he is a delegate to a committee to investigate pogroms), he can't see the point of defending his early opus or his company of actors. Besides, he can't sleep and is finally taken by his wife to see a psychologist. Theatre seems like a back-burner issue at best.
It is Lemml who is the voice of conscience here. (Not for nothing is he our guide to the evening's unfolding, both forward and retrospectively.) America is not only not a panacea, it is not even a place where newcomers or other kinds of outsiders are welcome, much less given a fair shake. Vogel cleverly upstages the (semi)famous Asch, the cause of whose play she has taken up, by giving the last word to her fictional Lemml. In a reversal of the production's early lineup of the company to head west, Rosen puts them in a column facing left, ready to go back to Europe, where they anticipate the freedom to present their beloved, moral, romantic, idea-driven play. Wrong choice, but integrity is no guarantor of physical safety.
Their final performance takes place in an Anne Frank-like attic, where the Yiddish theatre company are hiding from Nazis. The actors are too exhausted or ill to manage more than one act at a time, but they perform what they can nonetheless. Until they are discovered and the ending Lemml cannot remember is the one we cannot forget.
I have said nothing about the music that infuses this fluid, evocative production. It is performed onstage by a small ensemble of instrumentalists who also play minor characters in the story. The most haunting piece of music, though, is nothing Yiddish or mood-invoking. Rather, it is "Oklahoma," the title song from Rogers and Hammerstein's 1943 runaway hit. A snippet of it wafts in to remind us that in the middle of the twentieth century, this is the theatre Americans embraced, while Yiddish speakers were marched to their deaths, whether or not for the theatre they embraced. "Oklahoma" remains one of the most-performed American musicals in the world and is slated for a 2019 (re)opening on Broadway. Maybe it's time for the myriad high schools that revive this chestnut to think about staging "Indecent."