"Ring of Fire"

Weston Playhouse
The Tent at Walker Farm, 703 Main Street, Weston, Vermont
August 11th – Sept. 5th
Box office: 802-824-5288 or www.westonplayhouse.org
Reviewed by Dorothy Chansky
L to R, Jacob Brandt, Larry Tobias, Michael Hicks, Seth Eliser..
Photo by Hubert Schriebl.
Humorist Sandra Boynton once created a cartoon pig whose recipe for chocolate chip cookies could be paraphrased roughly as "just enough cookie dough to hold the chocolate chips together."
"Ring of Fire," Richard Maltby and Bill Meade's jukebox musical stab at portraying the life of Johnny Cash, has just enough script in it to hold together the songs that are its raison d'être. The narrative is barebones to the point of almost being generic: hardscrabble upbringing as a farm boy during the Depression; waiting outside the door of a major record producer to audition; performing at the Grand Old Opry, the place where he'll fall for the sassy June Carter; too much alcohol, too many pills, regret, and return to Jesus; bringing a modicum of solace and respect to Folsom Prison inmates. Check, check, check, check, check. Snippet of a set-up; cue a song. Repeat, repeat, repeat.
This didn't prevent Weston (Vermont) Playhouse selling out the full run of the show before it even opened. Because, well, the promise of the songs.
I'm as much of a fan of the Cash songbook as the next gal. (For the record, not all of that songbook was written by Cash himself. "Ring of Fire" was penned by June Carter and Merle Kilgore; we have Shel Silverstein to thank for "A Boy Named Sue.") But tunes and some pleasant voices aside, this production—with one glowing exception—expends a lot of energy without ever quite bursting into a sustainable flame.
Six performers play a plethora of Cash and Carter family members over two generations as well as Opry musicians, that record producer (Sam Phillips), and a few others. There is—wisely—no attempt to mimic the famous. Rather, the project is to serve as energetic vessels to deliver the songs and simple narrative. Jacob Brandt and Michael Hicks do yeoman work on guitar, piano, mandolin, banjo, bass, fiddle, harmonica, and for a brief moment on trumpet. Hicks delivers a heartbreaking, unadorned rendition of "Why Me, Lord?" (by Kris Kristofferson and recorded by Cash, among others). Dorothy Stanley and Meguri Nakamura play younger and older June Carter Cash, with Nakamura singing a lovely if wholly "uncountry" rendition of "I Still Miss Someone," here in the stance of Cash's first wife—the one with whom he split up over too much time on the road away from home, too many drugs, and too much interest in June Carter.
The standout exception to the overall sense that most of these performers have never done any time in the south is Larry Tobias, who shares the role of Johnny Cash with Seth Eliser. The two do team tag between the older Cash (Tobias), who narrates mostly in the past tense then trading places with Eliser, who steps in for embodied show-and-tell in a present-tense mode. Both sing lyrically and play guitar well, but the white-haired Tobias has a gravitas and perspective that bring a mid-twentieth century C&W ethos to life. When he is center stage the show takes off, albeit in spurts. His program bio is modest; a little internet searching, however, reveals that he is both a native of the South and the featured performer in a show called "The Grand Tour," which is a tribute to George Jones. Google if you like. The well-produced trailer for that show does ignite sparks.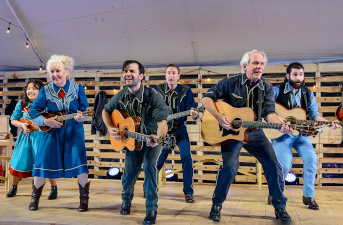 ront row: Dorothy Stanley, Seth Eliser, Larry Tobias;
back row: Meguri Nakamura, Michael Hicks, Jacob Brandt.
Photo by Hubert Schriebl.
To give the real Johnny Cash his due, the lyrics to "The Man in Black" ring with American grit and soul in the midst of the panic, pain, and high emotions in our country at this perfect storm moment of pandemic-driven poverty, rampant illness, lack of universal health coverage or eldercare, and asking ourselves about the human loss in Afghanistan over the past twenty years.

Well, we're doing mighty fine, I do suppose
In our streak of lighting cars and fancy clothes
But just so we're reminded of the ones who are held back
Up front there ought to be a man in black.
I wear it for the sick and lonely old
For the reckless ones whose bad trip left them cold
I wear the black in mourning for the lives that could have been
Each week we lose a hundred fine young men.
Johnny Cash won thirteen Grammy awards, five Country Music Association awards, a 1996 Kennedy Center Honor (at which event daughter Roseanne's rendition of "Walk the Line" brought tears to his eyes and had Bill Clinton mouthing lyrics silently from his balcony seat), and a Medal of Arts award in 2002—a year before his death.
"Ring of Fire" fizzled on Broadway in 2006. In Weston, adding a flatbed truck for the performers' arrival at the under-the-tent playing area (the platform stage looks like a cross between a roadhouse and a packing crate; set is by Scott Zielinski) is one instance of the yee-haw tone that this production too often takes, even as it misses such subtleties as recognizing that "gone" and "alone" really do rhyme in the right dialect.
Cash and his songs deserve the position they hold in the pantheon of American culture and music, country and otherwise. If Weston's production has, to my eye, a prodigious expenditure of sweat and energy in an ethnographically out-of-tune mode, that takes nothing away from the accomplishments of its motivating force of nature.